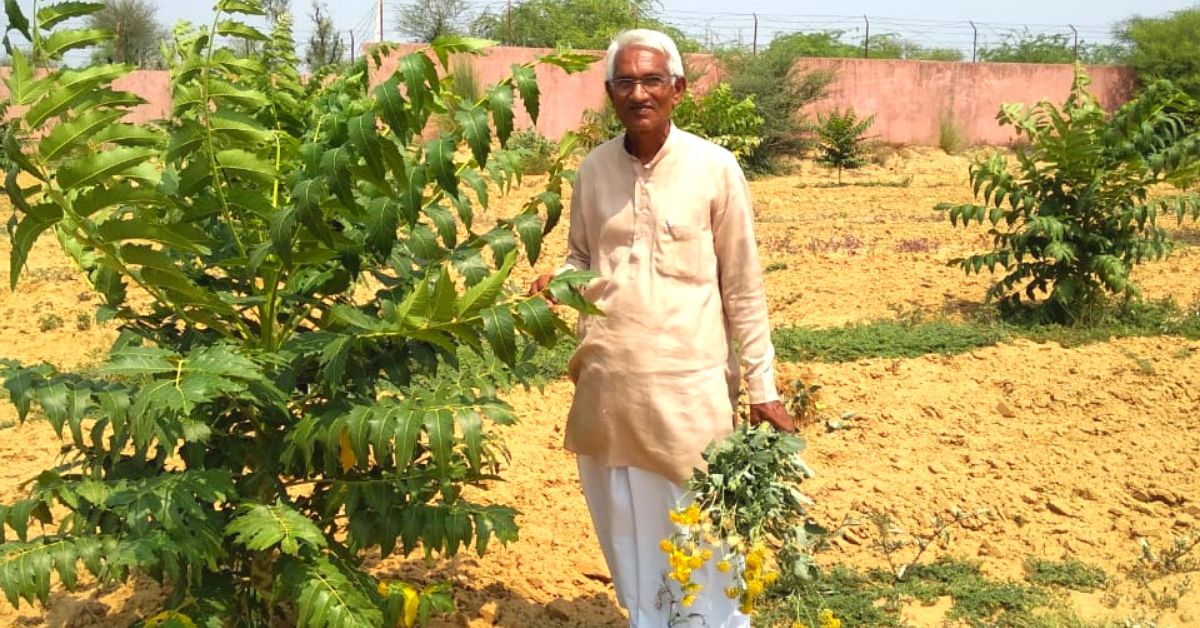 What's more? Sundaram Verma from Sikar district has also saved seven lakh litres of rainwater in just a couple of days!
If I were to tell you that only one litre of water is needed to grow a tree, you would possibly react in three different ways—assume I have gone berserk, wonder if I am watering the tree secretly, and finally, call me a cheat.
---
Want to grow your own farm but do not have space? Check out this cost-effective Pindpipe Bullet – Mini Hydroponic growing kit for in-house farming here. 
---
These are the reactions that Sundaram Verma from the Danta tehsil in Rajasthan's Sikar district still gets even after successfully growing 50,000 trees with a technique that requires only one litre of water per tree, that too in an arid region!
Verma accidentally developed this particular technique of 'Dryland Agroforestry' in 1985, which promotes water use efficiency and maximises production.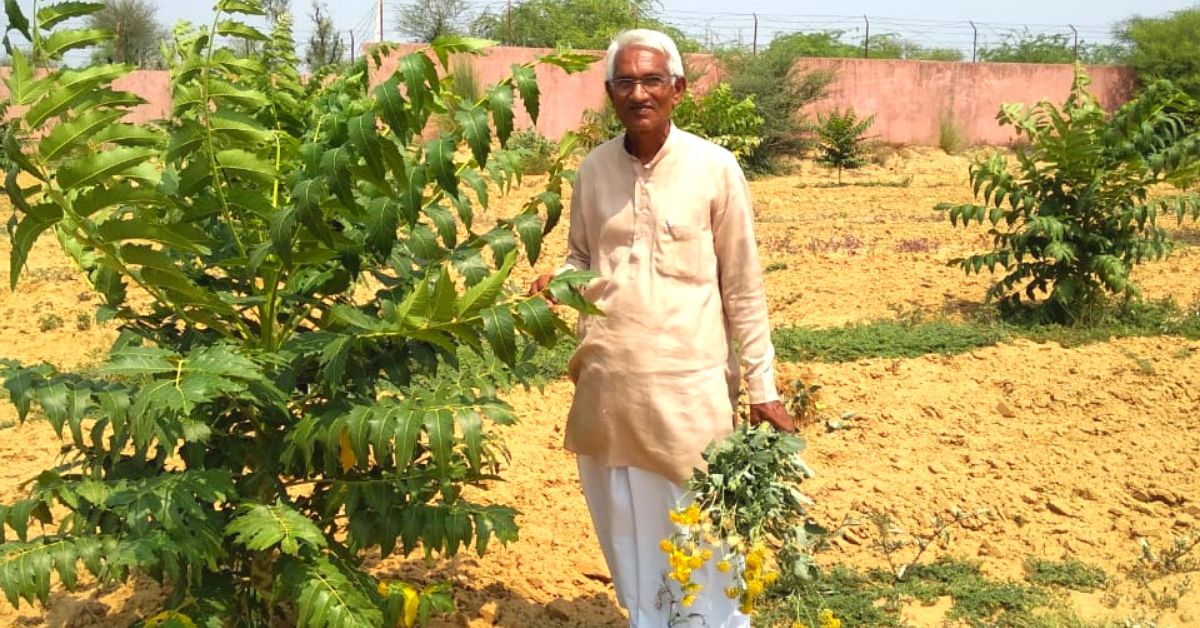 Just a year before the innovation, at the onset of the monsoon, Verma had planted several saplings on the borders of his 17-acre family-owned farm. Despite giving sufficient water to the new plants regularly, they died during the summer season the next year.
With no other alternative, he again dug holes during the monsoons, and planted saplings of neem, chilli and coriander, among others. But this time, for convenience, Verma planted the saplings closer to his home situated right in the middle of his farm that grows rice, pulses, grains, fruits and vegetables.
Following this, he initiated the levelling process (that went on till September) on his farmland to cultivate crops. Soon the harvest season began and as he got busy with the process of harvesting the crops, he forgot to water the tree saplings.
To his unending surprise, the plants survived without a single drop of water!
For days I tried to figure out what went wrong that made the plant survive without water. Finally, I realised that the levelling process had broken the capillary movement of water, Verma tells The Better India (TBI).
For the next couple of months, he conducted experiments by digging, planting and levelling the ground. He came to a conclusion that the rainwater stored underground gets evaporated through weeds and upward movement of water leaving the sub-surface dry.
Thus, Verma started working on a method that could lock the water in the soil, thus providing water automatically to the plants in dry regions.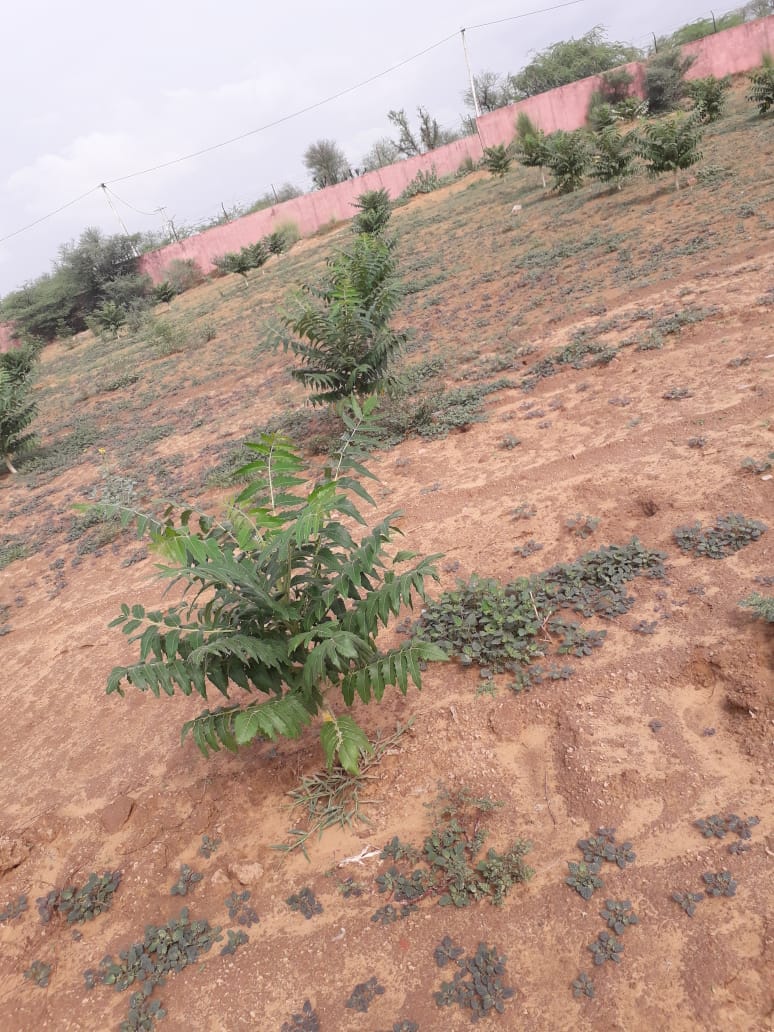 Meanwhile, he also got an opportunity to study dryland farming at the Indian Agriculture Research Institute in New Delhi through Krishi Vigyan Kendra (KVK), "Since I was working with KVK to help me increase my agricultural output, they suggested that I study the dryland farming system. That two-month course significantly enhanced my knowledge and helped me develop the one-litre water method," says the 68-year-old.
Finally, after 10 years of rigorous trial and errors, Verma cracked the formula to grow all kinds of trees including the fruit-bearing ones.
"It was my grandfather who started farming first in the family and since then my entire family has been growing crops. While growing up, I used to help my father and uncles so I was sure of becoming a farmer. But it was my graduation course in Science that taught me to experiment and continuously invent new methods. These two reasons kept me motivated through all my failures and kept my dedication steady for a decade," says Verma.
Following are the steps that Verma uses to grow trees with just a litre of water:
1. Level the farmland to prevent rainwater from draining away.
2. For 5-6 days after the first rain, plough the fields till one feet deep to remove the weeds and capillaries so that rainwater can seep into the ground and does not rise to the surface.
3. Deep plough for the second time immediately after the rains are over. This will turn the upper soil to a minimum of 10 inches deep in the field locking the water in the soil.
4. A few days after the second ploughing, dig pits of one-feet-deep and 4-5 inches wide.
5. Plant the saplings in the pits and ensure that the roots are at least 20 cm below the surface. Cover the plant with wet mud to keep the moisture for long.
6. Finally pour one litre of water in the pit and allow the plant to grow.
It helps to plant the saplings by September end as the temperatures in Rajasthan are low at this time of the year which allows roots to penetrate as deep as possible. As we enter summer, the top soil surface starts to dry up and the moisture content of the plant moves downwards.
This moisture content will push the roots further down toward the water. This way, the plants absorb water from deeper levels helping it grow without the need for extra water.
Tip: Verma strongly recommends weeding the field once every three months so that the water does not evaporate.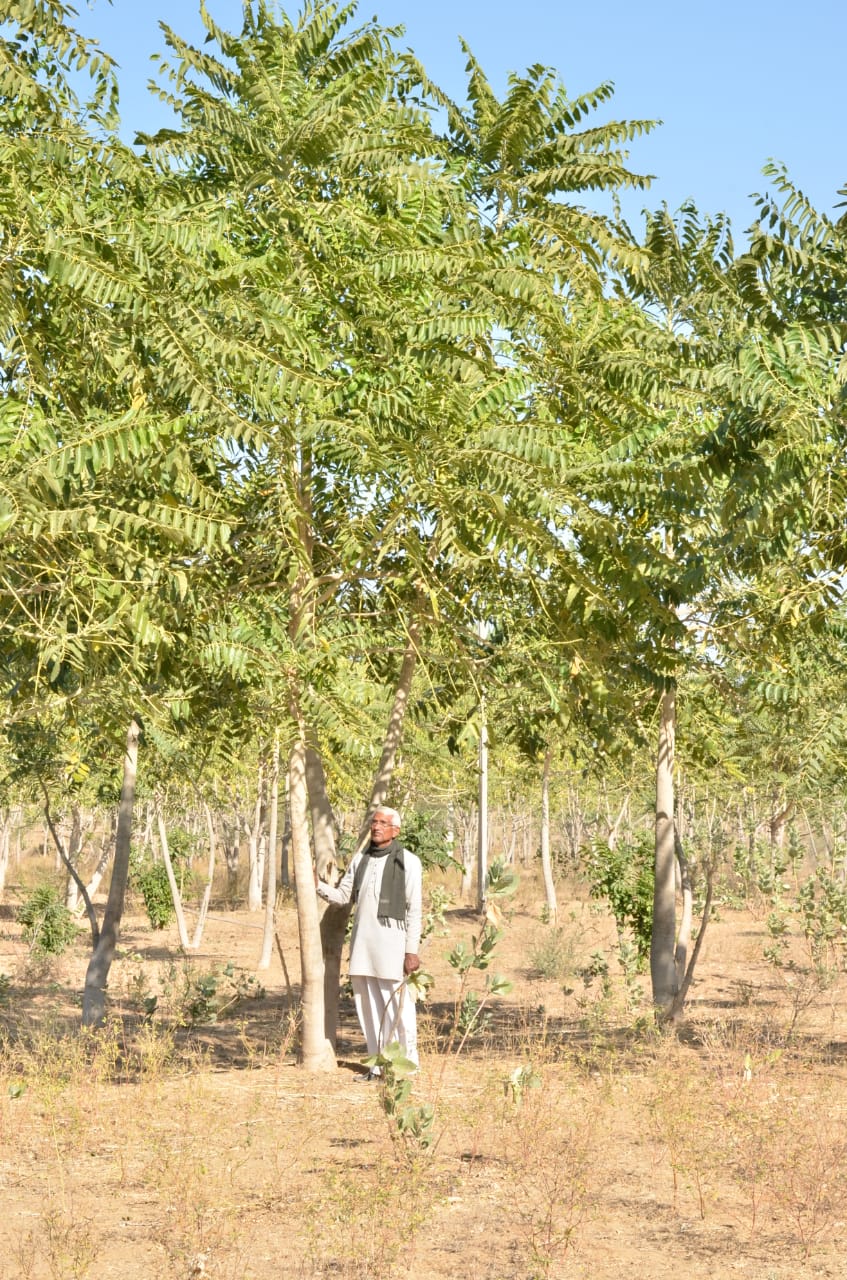 As for the survival rates of trees planted via this method, Verma says if they survive the first two weeks, they will live forever.
The biggest story lies in Verma's own farm. Ten years ago, he planted 600 saplings of pomegranate in one hectare of the land using one litre of water. Today, he sprays water onto the fruits and the survival rate of the trees is 100 per cent.
Verma has planted all kinds of trees, including fruit trees, fodder plants and forest trees.
"Using the one-litre technique, I have also planted Eucalyptus, a tree that requires a lot of water, in a dry land of Rajasthan," claims the farmer.
No wonder that for his unique method of growing trees, Verma received several national and international awards like Award for Innovative Farmer-At international Conference on social perspectives in agricultural research and development (2006), the International Award For Agro Biodiversity by (IDRC) International Development Research Center in Canada (2007), National innovation Foundation-India, Award for Scouting (2005 and 2015).
Verma also gets invited to international platforms to speak about his technique. In 2007, he delivered the opening speech at the International Treaty on Plant Genetic Resources for Food and Agriculture in Rome.
Water-Saving Technique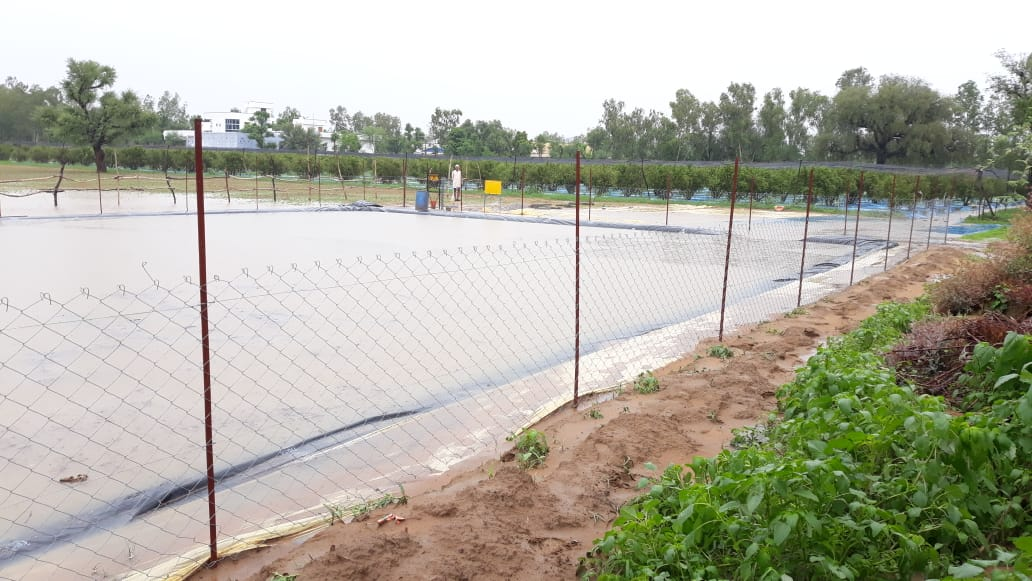 For a while, Verma continued to fetch water from a nearby well and the lake like his father and grandfather had done for many years. However, after the well and lake went dry, Verma started purchasing water from tanker agencies. While his technique is cost-effective for trees, the crops require more water and this burns a hole in his pocket every year.
Every year we earn up to five lakhs from selling our produce and in today's time it is not enough. My sons have their own shops. Since it is not profitable, they detest farming. Most of my savings are drained in buying water, he says.
To overcome the water problem, Verma dug a huge pit and covered it with a polythene sheet to collect rainwater, "The plan is to collect 2 million litres of water that can be used for one hectare of land. It rained for a couple of days recently and the pit has already collected seven lakh litres of water.
Verma uses traditional methods taught by his father that use less water, "My dad would also fetch the wet mud from the lake and mix cow dung in it. The wet mud would retain the moisture and the cow dung would prevent capillaries from growing."
Using the scientific technique of one litre water and old tactics of my elders certainly gives satisfactory results, he adds.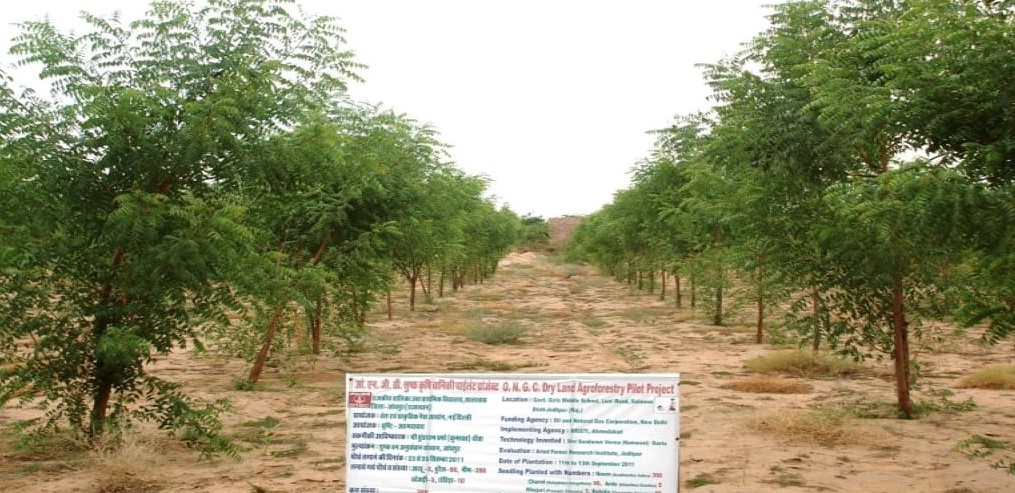 As the number of water-stressed cities in India is increasing, Verma's technique can provide a huge relief to the farmers.
We can survive the water crisis if we modify our traditional methods of farming and move toward water-saving techniques like the dryland agroforestry. If I, a farmer in Rajasthan, can save 7 lakh litres of rainwater in just a few days with a simple method, then farmers in states like Maharashtra and South India can definitely benefit significantly, he signs off.
If you wish to get more guidance on Sundaram Verma's one-litre technique, you can write to him at: sundaramverma@yahoo.co.in or call him on: 9414901764
---
Also Read: Driverless Tractors & Diya 'Guards': How Low-Cost Innovations Can Transform Farms
---
(Edited by Saiqua Sultan)
Like this story? Or have something to share?
Write to us: contact@thebetterindia.com
Connect with us on Facebook and Twitter.
We bring stories straight from the heart of India, to inspire millions and create a wave of impact. Our positive movement is growing bigger everyday, and we would love for you to join it.
Please contribute whatever you can, every little penny helps our team in bringing you more stories that support dreams and spread hope.
Tell Us More