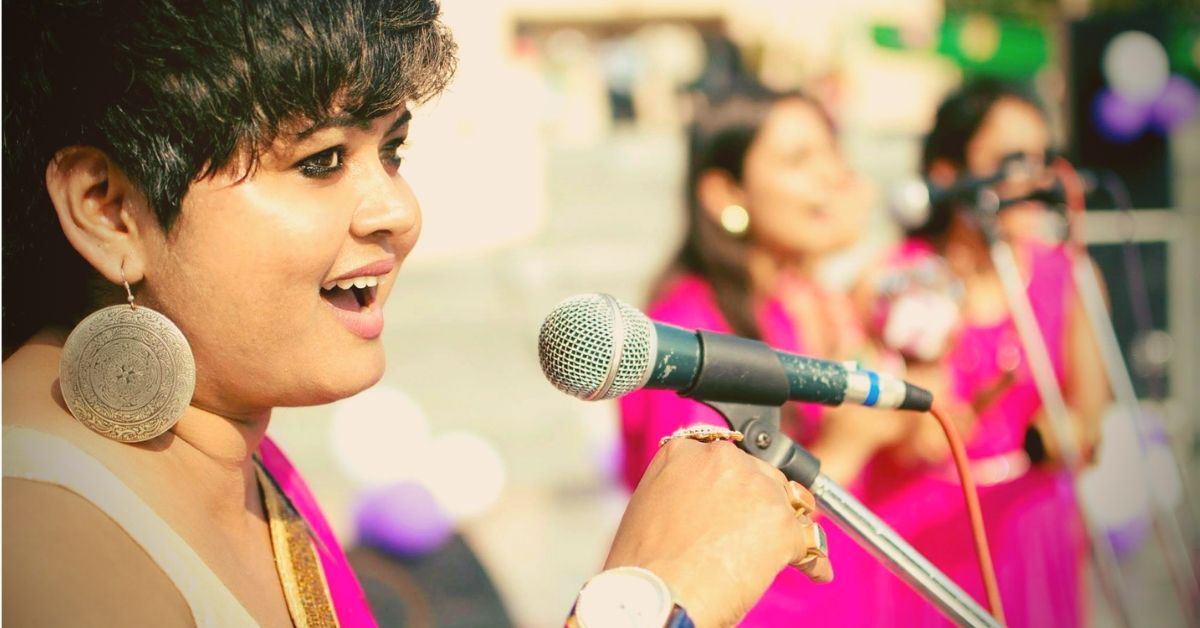 "The issues we raise affect not just women, but men as well. And, that is why our band has so many male supporters. At the end of the day, gender equality is not shifting oppression from one to the other. It is about eliminating it altogether."
The clock struck 5, and the doorbell rang. She peeked from the kitchen and called out to wait. Securing the lid, she placed the pressure cooker on the gas stove and ran to open the door.
Instantly, a group of young women hurried in. With a sparkle in their eyes, they set up their instruments amid laughter and giggles galore. Someone rushed to the kitchen to fetch a chimta (tongs). She then wrapped a pair of ghungroo around it, fashioning it as a desi tambourine.
After a few minutes of tuning, the music began.
This is how the mornings for an all-female mission rock band, Meri Zindagi, begin. The venue is the home of lead singer-songwriter, Jaya Tiwari, in Lucknow.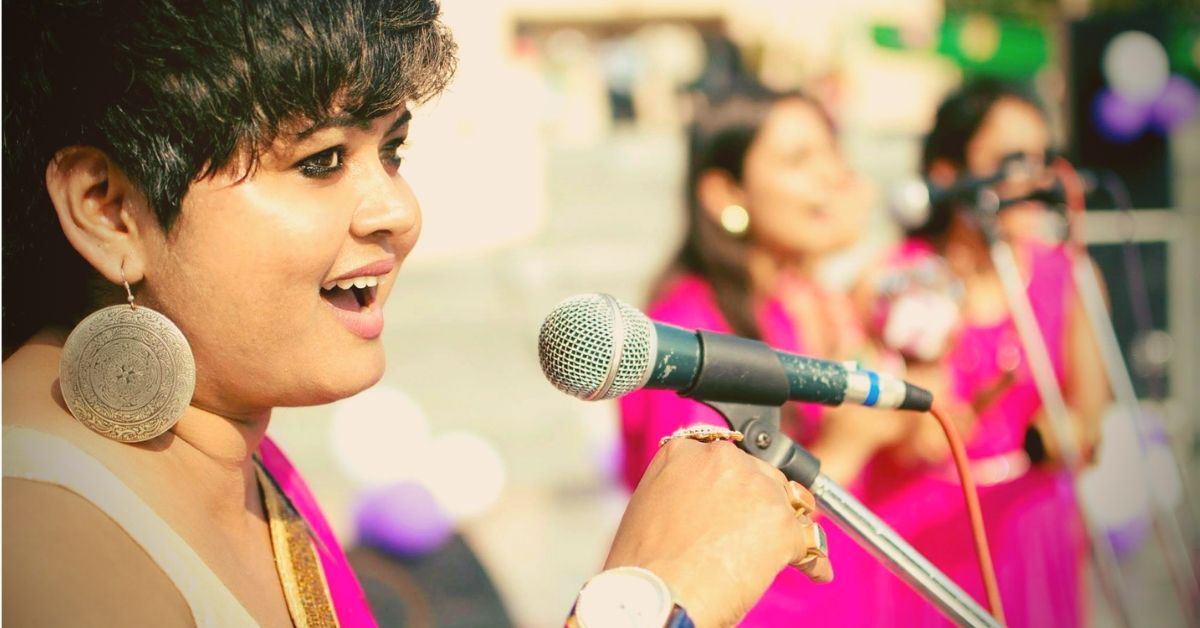 Apart from their unique approach to music, what sets them apart is the subject of the songs, as all of them revolve around social issues, especially those about women. They feel that their music has a mission to make India better.
"We are a bunch of simple, middle-class women who juggle their ordinary lives with the extraordinary. We wake up early and finish our jamming session by 7.30 am, and move on with our jobs, housework or college. We sing, play and do household chores all at the same time, and we love our lives!" shares Jayam in conversation with The Better India.
'Dreaming ke pressure cooker ki seeti ko bajney do… Kajal chudi bindi jhumke payal se sajney doo.. Mere hausalon ke shankh naad bajney do bajney do bajney do…'
A few lines from their new song illustrates the daily lives of these and many more women. Jaya says that all her songs draw inspiration from their common lives—the whistle of the pressure cooker is a wake-up call to dreams, to get ready and face the world head-on.
"For women, be it in any field, success is never easy. We have big dreams and bigger hurdles to overcome. So every day is like a battle. This song represents that journey, where much like the battle clarion call, the whistle wakes you up to be ready for your daily battles so that one day you are victorious!" adds Jaya.
This is among many other topics addressed by the UP band, which is already gaining quite a fan-following across the country.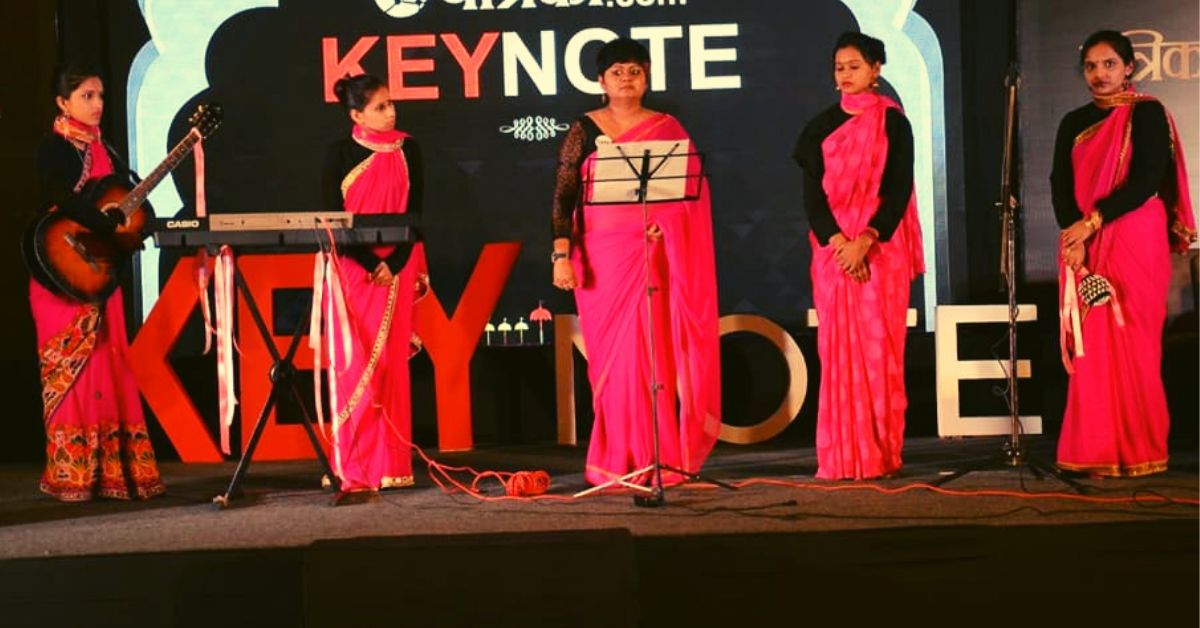 From girl-child education, female infanticide, women farmers, child marriages, domestic violence and eve-teasing to more generic social issues like anti-smoking have found musical interpretation in the band's work.
"In Uttar Pradesh, one out of five girls is subjected to child marriage. Their dreams and ambitions decay and die after this. We wanted to portray issues like that in our songs. These issues need to come out of intellectual circles or big conference halls into the open, amid the common people. And, we are happy that we can do so, and that our audience values our lyrics and music. In many of our performances, they even begin to sing with us, making it a more interactive experience of awareness and entertainment," says Jaya. She has a PhD in music and has been a radio jockey for more than five years.
Meri Zindagi began in 2010 and has undergone several changes with many of its core members taking a backseat.
"After a number of downfalls, I managed to resurrect the band in 2013, with three more girls. But, two of them had to step back due to personal reasons. Over the years, this has happened several times as many women can't continue the band because of pressures from family or in-laws. But, we like to think of this band as the safe space, a 'maeka', which no one leaves. It's just that our family keeps growing," the 38-year-old composer shares.
Apart from Jaya, the band has four more members now.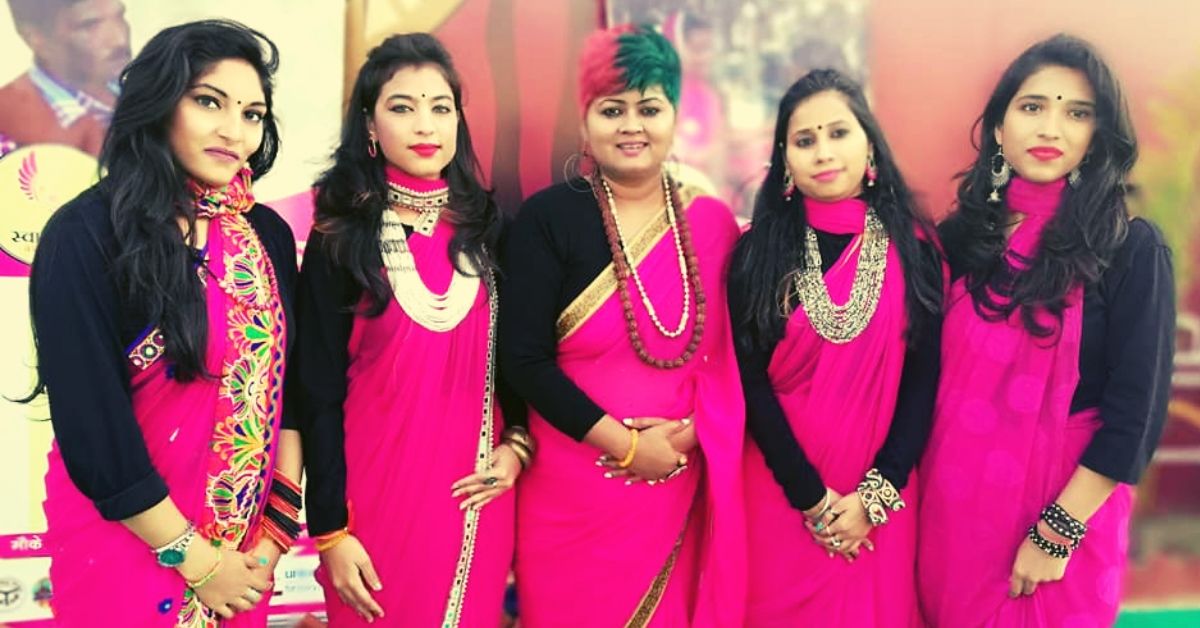 Niharika Dubey (28) plays the synthesiser; the guitarist Poorvi Malviya (22); Anamika Jhunjhunwala (17) on the drums; and vocalist-cum-percussionist Saubhagya Dixit (20)—all grooving to catchy tunes in their pink kurtas and sarees, their symbolic attire.
Youngest among them, Anamika is still in school and has been playing the drums since she was eight. When Jaya learned about her exceptional talent, she requested her to join; she is now an integral part of the band and jams via Skype every single morning.
Constant support to the band, Niharika, a radio-jockey, was Jaya's student and among the first few people to join. After her, many others have followed, some could sustain, while others had to move on.
As Jaya puts it, the doors and windows to the band are always open!
So far, the band has composed over 70 songs, which include jingles for All India Radio, UP Mahila Police, CRS – Gurgaon Ki Awaz and Women Power Line 1090. They have also done more than 100 shows, both in rural and urban areas. They have also initiated a few successful campaigns like 'no sutta' (anti-smoking), #humkaalehain (prejudice on colour) and #maaki (against derogatory female-centric slangs).
Jaya proudly adds that despite being primarily driven towards female-centric issues, their fan base has a substantial male population as well.
---
Also Read: Meet 'Guitar Rao', an Engineer Who Quit a Cushy Job to Give Music Lessons for Re 1!
---
"The issues we raise affect not just women, but men as well. And that is why our band has so many male supporters. At the end of the day, gender equality is not about shifting oppression from one group to the other. It is about eliminating it," she concludes.
(Edited by Shruti Singhal)
Check out one of their songs here:
We bring stories straight from the heart of India, to inspire millions and create a wave of impact. Our positive movement is growing bigger everyday, and we would love for you to join it.
Please contribute whatever you can, every little penny helps our team in bringing you more stories that support dreams and spread hope.