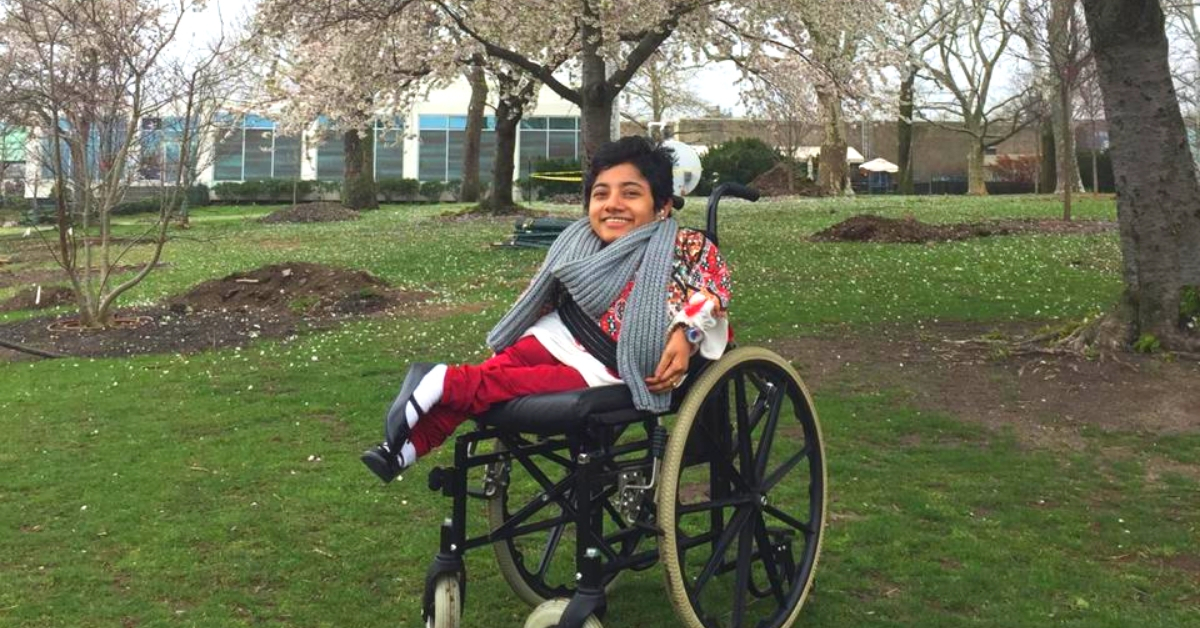 For Dhanya Ravi seeing her parents cry every time she would be rushed to the hospital or when she would refrain from eating a cake fearing her teeth would break was more heartbreaking and painful than breaking bones.
The universe took nine months to craft me,
Yet, it wasn't enough for my bones to be crafted to perfection
-Dhanya Ravi
At first glance, you might sympathise, feel sorry or wonder what is up with the girl in the wheelchair. But her childlike smile with a hint of quirkiness will push you to know more about her. Once you to break the ice, her intriguing words, sharp wit, and chirpy attitude will bowl you over.
While conversing, do not panic if she breaks a bone upon sneezing, as this is what she calls 'another day of life.'
On international Wishbone Day, 6 May, meet Dhanya Ravi, fondly known as 'India's Glasswoman' from Kerala now settled in Bengaluru.
29-year-old Dhanya suffers from Osteogenesis imperfecta (OI), also known as brittle bone disease. It is a rare genetic disorder that mainly affects the bones making them brittle and prone to easy breakage.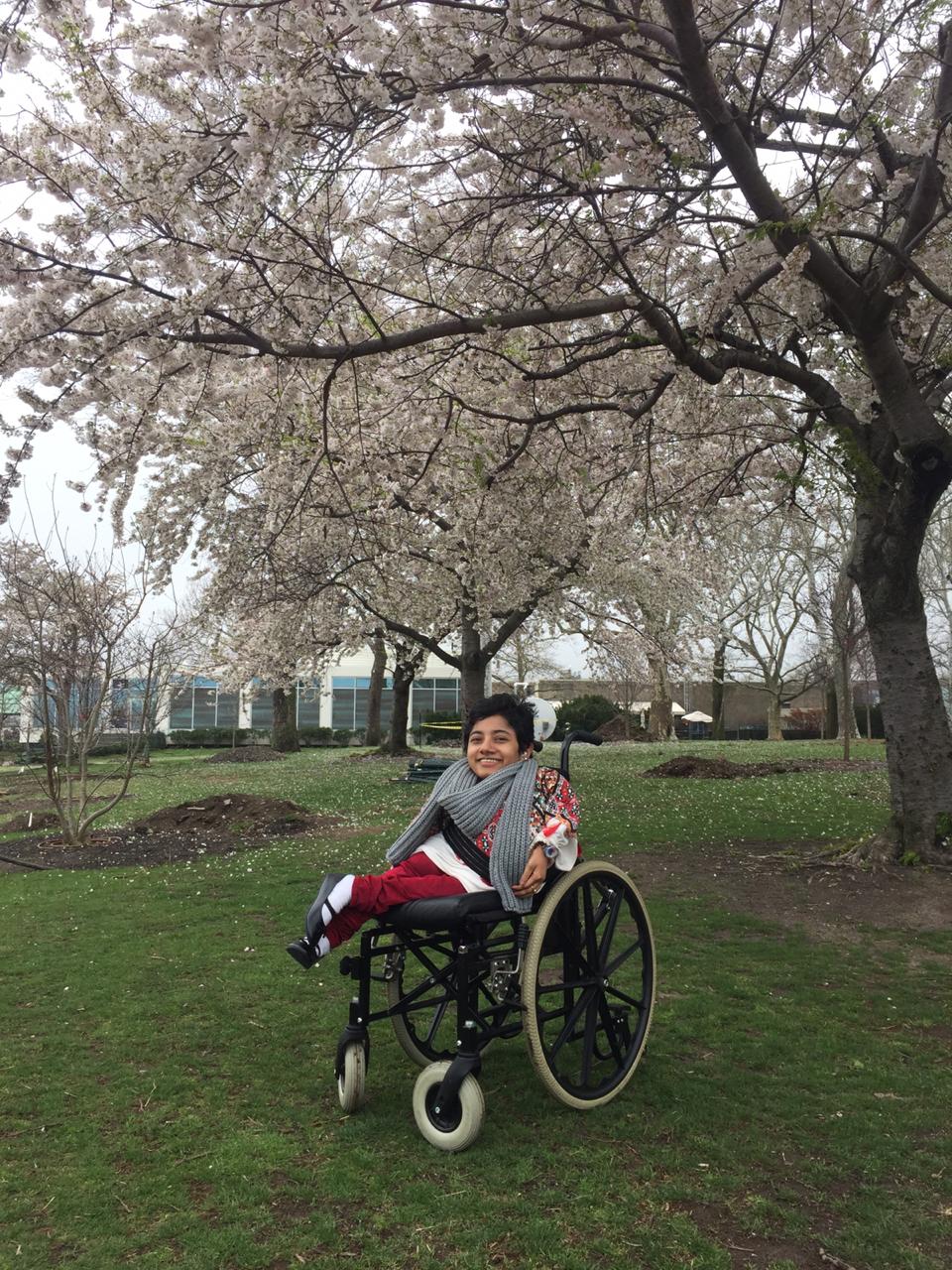 Dhanya took birth in the winter of 1989, in a family that eagerly awaited a girl child. Her parents Ravi and Nirmala were overjoyed but underlying the happiness was a thread of worry over the constant crying and health issues of the newborn.
Dhanya was only 56 days old when her thigh bone broke. It was then that medical experts identified the symptoms of the rare disease in the newborn.The doctors had to relay to them the sad news of their daughter having been born with OI. They also informed Ravi and Nirmala that as OI is incurable, Dhanya's life would not be like that of another child.
To provide Dhanya (which translates to 'blessed' or 'great') the best medical care, her parents travelled across India but with no tangible results.
Like every parent, we wanted nothing less than the best for our daughter. But wherever we went, the doctors told us that her survival is a miracle. Many hospitals shut their doors. In times like these, the doctors are supposed to give counselling and help the patients and their family, Ravi tells The Better India (TBI).
Each day, there was new learning for Ravi and Nirmala. When Dhanya became old enough to understand the precarious situation of her body, her parents, instead of restraining her in overprotective bonds and suffocating her childhood, allowed her to grow wings and fly solo whenever and wherever she could.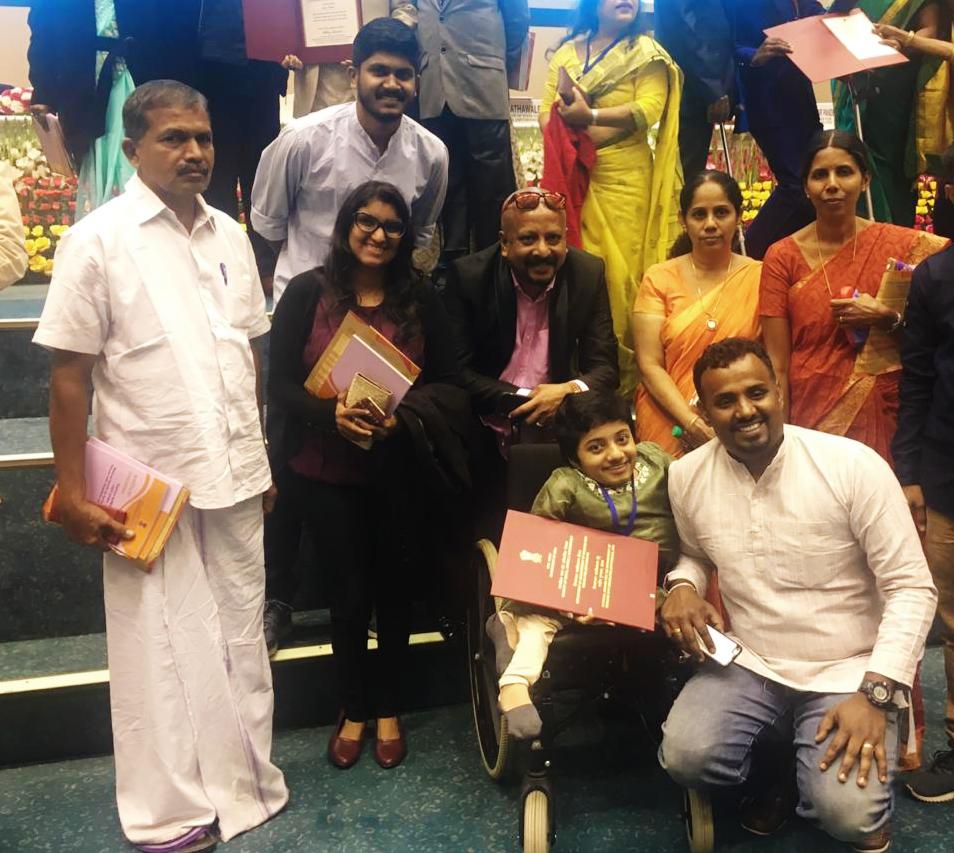 In an exclusive interview with TBI, Dhanya describes her childhood as a beautiful journey with miracles abound.
I was around five years old when I understood what is OI. In very simple terms I was told that my bones would break for no reason. I was mentally prepared to lead to a different childhood but every time a bone would break I would be clouded by gloominess. With a persistent support from my parents and brother Rajesh, I'm still finding possibilities to overcome my challenges.
Even though Dhanya was given the freedom to think for herself, and make her own decisions from a very young age, the environment and mindset prevailing in the society served as a reminder that she is a different child.
At an age where other children would be busy buying toys, Dhanya was busy selecting her wheelchair. There were times when people would come up to a 14-year-old Dhanya and ask the reason behind her appearance. Instead of feeling sorry for herself or being embarrassed, the teenager would calmly explain her condition with patience.
Till date, people look at me as if I am an alien. Because there is a lack of awareness about rare diseases and sensitivity around the subject, people stare, and some even pass comments. My parents are bothered by it, but I tell them their daughter is a celebrity, she says in a telephonic interview from her brother's house in Boston, United States.
Forbearance, being her one true virtue, Dhanya suppressed her desires to do everything a kid her age was doing, "It was tough seeing the kids in my building play and run around with so much ease."
Dhanya, however, is grateful to her elder brother Rajesh who made sure that the spirit of sibling rivalry was always present in the house. From fighting over the TV remote to awaiting their favourite 'Mango' season, they were each other's biggest supporters and critics.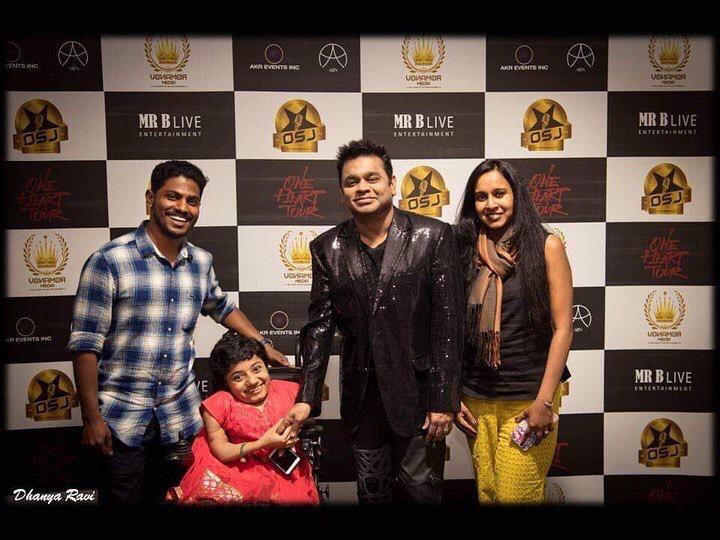 While she tried to do the most basic things in her daily life, hospitals remained a constant throughout her childhood and now, "There are more fractures in my body than wounds. Due to dental and eye deformities or respiratory issues, I became very familiar with hospitals at a very young age, and soon it became my second home."
Once in two weeks, a bone would break, and due to this severe health risk, many schools in Bengaluru turned Dhanya away. So, she chose the next best thing to mainstream schools—home and completed her high school with home tutoring.
Dhanya owes her educational life, knowledge and her love for writing to Victoria, her neighbour, who spent an hour every day with her for almost ten years, "Victoria aunty is the epitome of selfless love. She didn't even take a penny for tutoring and mentoring me. More than textbook chapters, I learnt life lessons from her."
Victoria's constant motivation and support from friends to pursue higher education helped Dhanya clear a preparatory course from Indira Gandhi National Open University (IGNOU). She also completed an Online Novel Writing certificate course.
To sum it up, Dhanya's childhood was different but a happy one.
For her, seeing her parents cry every time she is rushed to the hospital or her refraining from eating cake fearing her teeth breaking, was more heartbreaking and painful than having her bones break.
Every part of her body has been through excruciating pain many times, and there is no way to know or prepare for the next episode. Every time a bone breaks, her mobility in the affected area is restricted, "Thank god my tongue doesn't have bone," she chuckles.
Opening Pandora's Box
Life took a dramatic turn when Dhanya discovered another side of life that was sans any dependency, weakness or pain.
It was coming across Classical music, the world of cinemas and novels. Since Dhanya was confined to the four walls of her bedroom, she grew up listening to the music of the likes of composer and singer A R Rahman, K J Yesudas and Raveendran Master, a popular South Indian music composer and playback singer from Kerala. "I am very fond of music as it helps me heal every time I am down."
An avid reader, fiction is her favourite genre and authors like Preethi Shenoy, and Dr Paul Kalanithi are the reason behind her penchant for writing.
Internet is another source that helped build her an active social life and connect with like-minded people, "Computer opened a plethora of doors that helped me become the person I am today."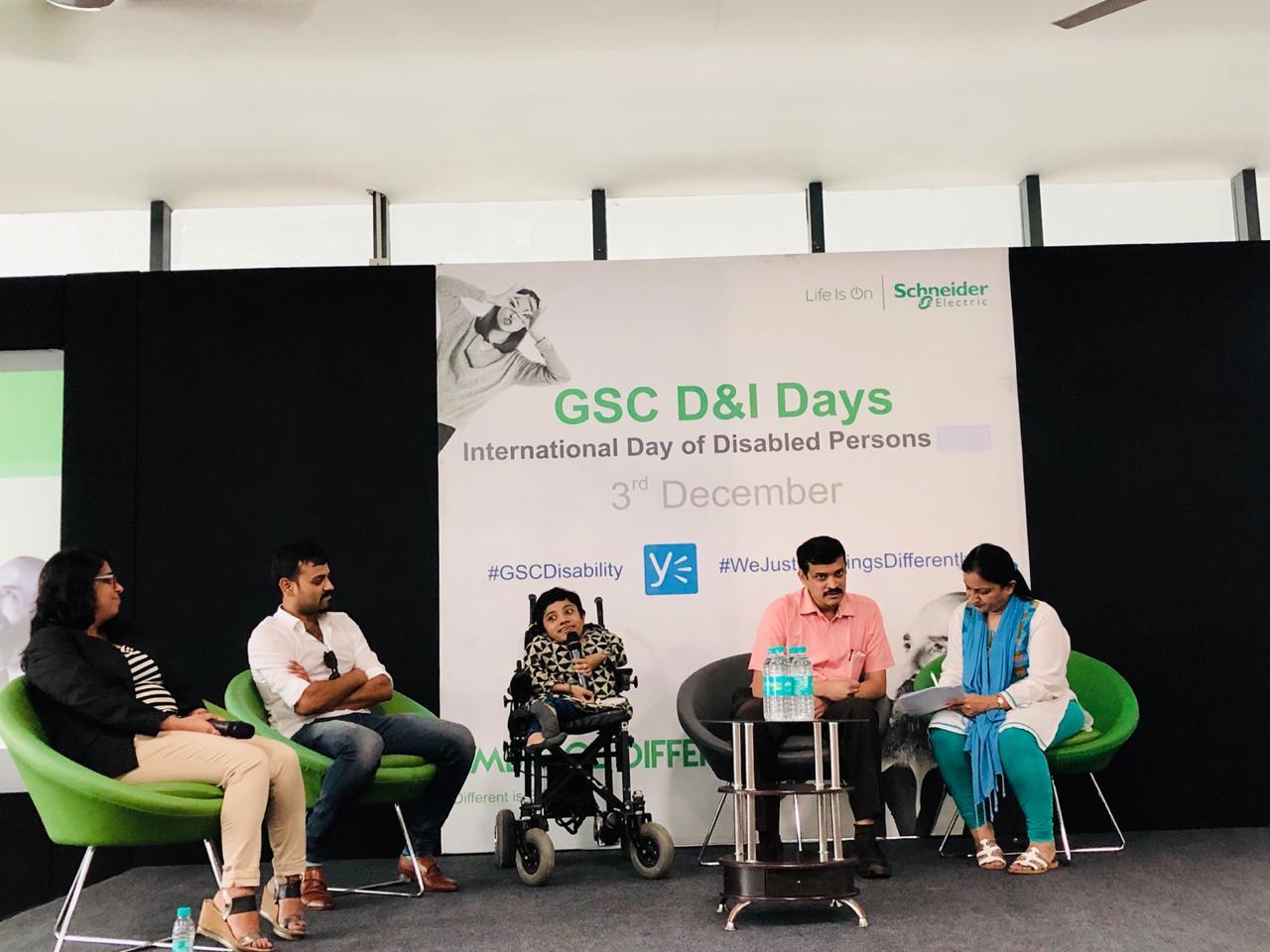 Today, Dhanya maintains a personal blog 'Dhanya Ravi – Where words speak' and she is also working as a freelance columnist and web content writer. She regularly updates her blogs with her personal experiences and quotes penned by her to help people like her overcome challenges.
"I was born rare, will die rare and I will remain rare," reads one of the quotes.
She started reaching out to people living with OI or with other rare conditions. This evolved her as a person and also made her more aware.
It was through the power of the internet that she came across Binu who lives with OI. When Dhanya reached out to her readers and friends to raise funds for his surgery, she received a tremendous response. Dhanya and her online friends were able to aid Binu. After surgery, he now works as an assistant in a Kochi hospital.
Post this incident, Dhanya made it her mission to create awareness and sensitise people about rare diseases.
I want to educate people about inclusion and acceptance and empower people with disabilities. Even now there are stigmas in the society and parents are often ashamed to take their child with deformities out. Many parents are not fully informed about the way they should handle such kids, she says.
Though the situation has improved, there is still ignorance and lack of proper healthcare facilities, "Presently, there are very few health care facilities in India that are equipped with a rare disease cell. If enough education and counselling are given to people, then such diseases can be prevented with the right precautions."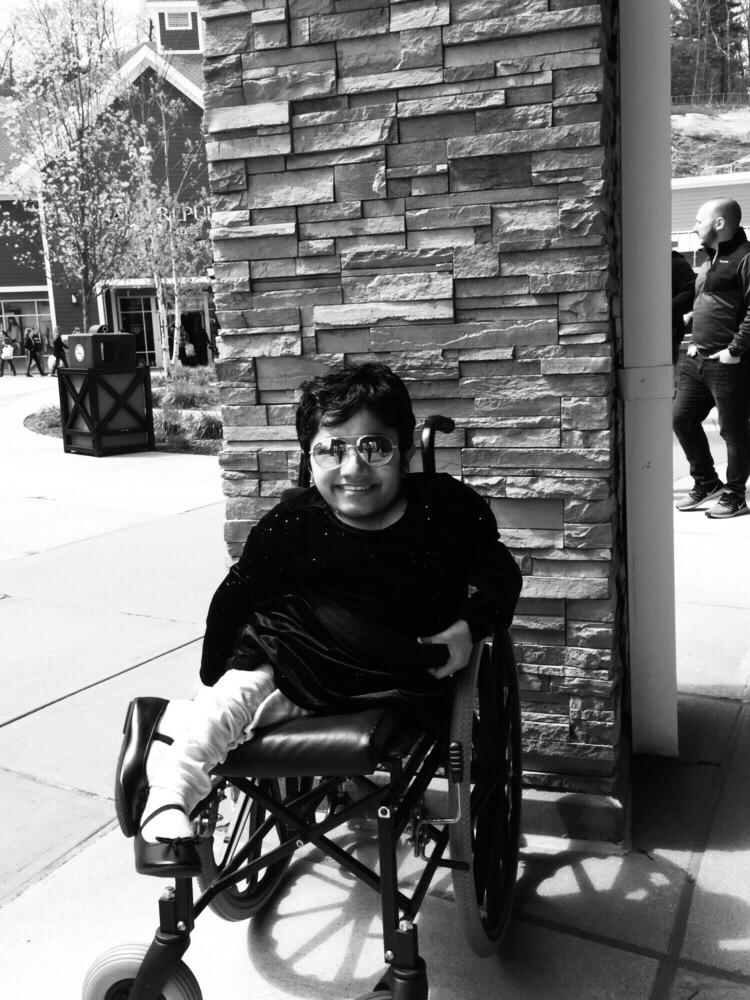 Echoing her sentiments Dhanya's physician Dr Sunitha says, "Routine screening and genetic abnormality tests and awareness about it should be given more priority. Not everyone is as strong as Dhanya is."
For the last couple of years, she has been associated with several NGOs that work towards the same cause. From speaking at events like marathons, TEDx Talks to delivering motivational talks in educational institutes, Dhanya is doing everything in her capacity to reach out to the maximum number of people.
Such events have also increased her social circle, and now she has several friends who understand her situation and are always there for her. One such friend is Namitha Kumari, a thalassemia patient. Namitha recently launched her website 'Open Platform for Rare Disease' (OPFORD). It is a digital platform to connect rare disease patient communities, parents and caregivers to improve diagnosis, treatment and care of rare diseases.  Dhanya, along with her peers, is helping out Namitha spread awareness about the website.
There are no barriers in our friendship despite our limitations. We help each overcome our own issues, and I am blessed to have her in my life, Namitha tells TBI.
Arjun Som, a life and relationship coach is friends with Dhanya for four years now and is also a silent supporter who is only a phone call away, "Dhanya is so full of life that it is challenging to not be friends with her. Her adorable and warm smile will make anyone comfortable. We have conducted several awareness drives together and will continue to do so in future."
Dhanya received the National Award 2018 in the Role Model category by the Department of Empowerment of Persons with Disabilities India for her activism. She is also a recipient of 'Brave Bangle Award 2012' and 'Annual Inspired Indian Foundation (IIF) Award 2014.'
When Disability Is Just Another Word
Currently, Dhanya is visiting her brother in Boston despite knowing the risks of travelling across continents. She left India in January, and so far, has managed to tick off a couple of things from her bucket list.
From going to New York to see the Statue of Liberty to spending time on the beaches of Miami, Dhanya is shattering all the myths and limitations that are tagged with the disabled.
She is also actively spreading awareness in America about rare diseases. A few weeks ago, she was a part of a fundraising event in Boston where she helped an NGO from Kerala, "People are the same everywhere, and even here ignorance regarding rare diseases is rampant."
Strange looks from people in foreign countries have not deterred Dhanya's quirky humour. When a local asked Dhanya where her legs were, she said, "My legs are very much here, Just that they are not as tall as yours."
For Dhanya, her disability has unlocked the tremendous potential inside her, "My disability taught me that nothing could scar my confidence as long as I choose to keep my face towards possibilities. And, there is always a hidden blessing beneath all seeming adversity."
Her only appeal to the parents of children with or without disabilities is identifying the potential of their kid and nurturing it with care.
Every child is blessed with skills and honing it is the parent's duty. Give your child education and let him/her explore social life. This will help them become a better person each day.
Dhanya is grateful to her parents and brother, who believed in her and remained a source of strength at every step. She is thankful to her childhood friends who did not treat her any different and stuck with her throughout.
As she counts and appreciates the number of blessings in her life, her nephew is waiting impatiently to show her his new PlayStation. She has a busy schedule ahead, and come evening; she has to attend a social gathering.
Nothing has changed for Dhanya, and yet every day is a new day for her that she embraces with excitement and a little bit of nervousness.
Dhanya's chirpiness, her undying spirit, optimism for life and droll humour has not only encharmed but has also inspired me.
If you wish to know more about Dhanya, need help or want to help her, you can write to her at rdhanya20@gmail.com. You can also follow her updates on the Instagram handle.
---
Also Read: This Father's PIL Could Change The World For Indians Suffering From Rare Diseases
---
(Edited by Saiqua Sultan)
Like this story? Or have something to share?
Write to us: contact@thebetterindia.com
Connect with us on Facebook and Twitter.
We bring stories straight from the heart of India, to inspire millions and create a wave of impact. Our positive movement is growing bigger everyday, and we would love for you to join it.
Please contribute whatever you can, every little penny helps our team in bringing you more stories that support dreams and spread hope.