A resident of Kalyangiri, Hashmath Fathima started gardening seriously when she moved to her current house in Mysuru about 26 years ago.
---
Welcome to My Garden Series by The Better India, where we feature stories about gardening and homebound farming initiatives submitted by our readers. If you have any stories to share as well, write to us at editorial@thebetterindia.com.
---
Many people pursue gardening—as a hobby or just for aesthetic reasons. And then there are some for whom gardening is much more than just a hobby—it is a passion.
Hashmath Fathima from Mysuru is one such person.
Her love affair with plants and flowers started at a young age, and today, at her home in Kalyangiri, you can find over 40 varieties of flowering plants, creepers, and trees, each of which she has meticulously planted and nurtured on her own.
Speaking to The Better India, Fathima shares that she started gardening seriously when she moved to her current house about 26 years ago.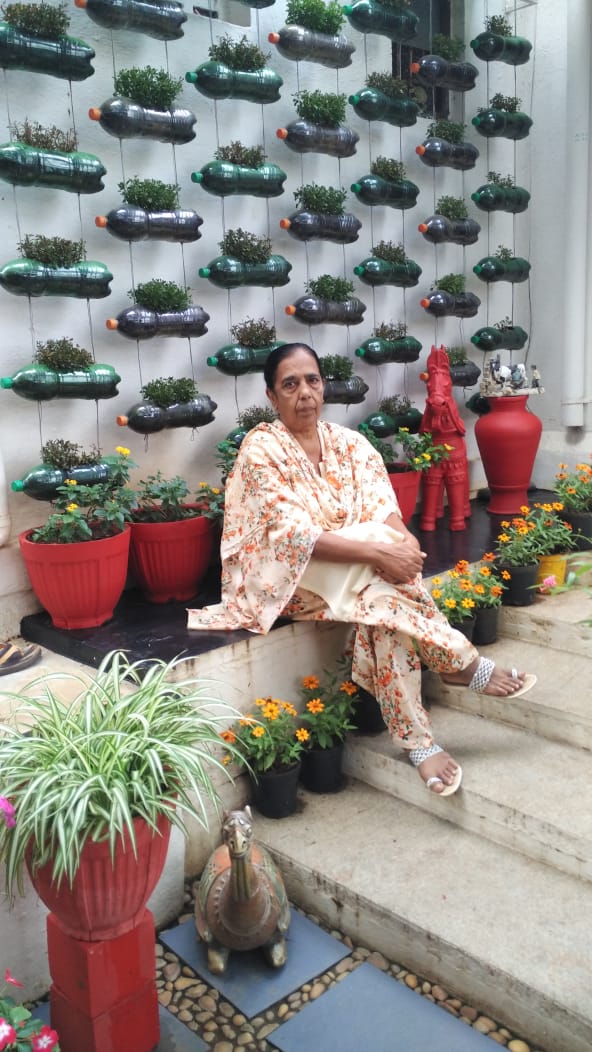 Her home covers only a tiny portion of the 40×70 ft plot where she lives, and the rest of the area is a garden.
In addition to the 800 or so mud pots, what makes the garden a real treat to the eyes is the creative manner in which she has used spliced bamboo, used tyres, old shoes, and discarded plastic bottles to pot plants.
Fathima has also developed a vertical garden that entirely consists of plants hanging out of plastic bottles.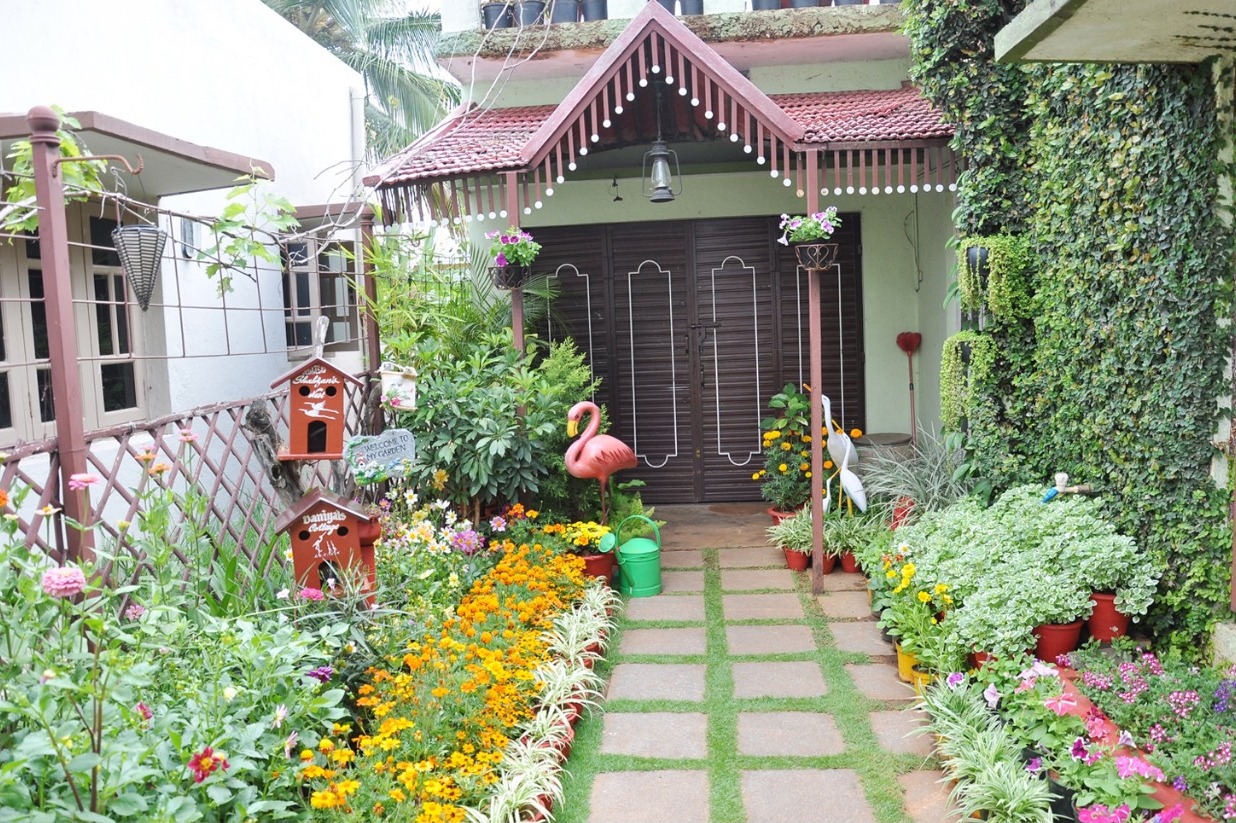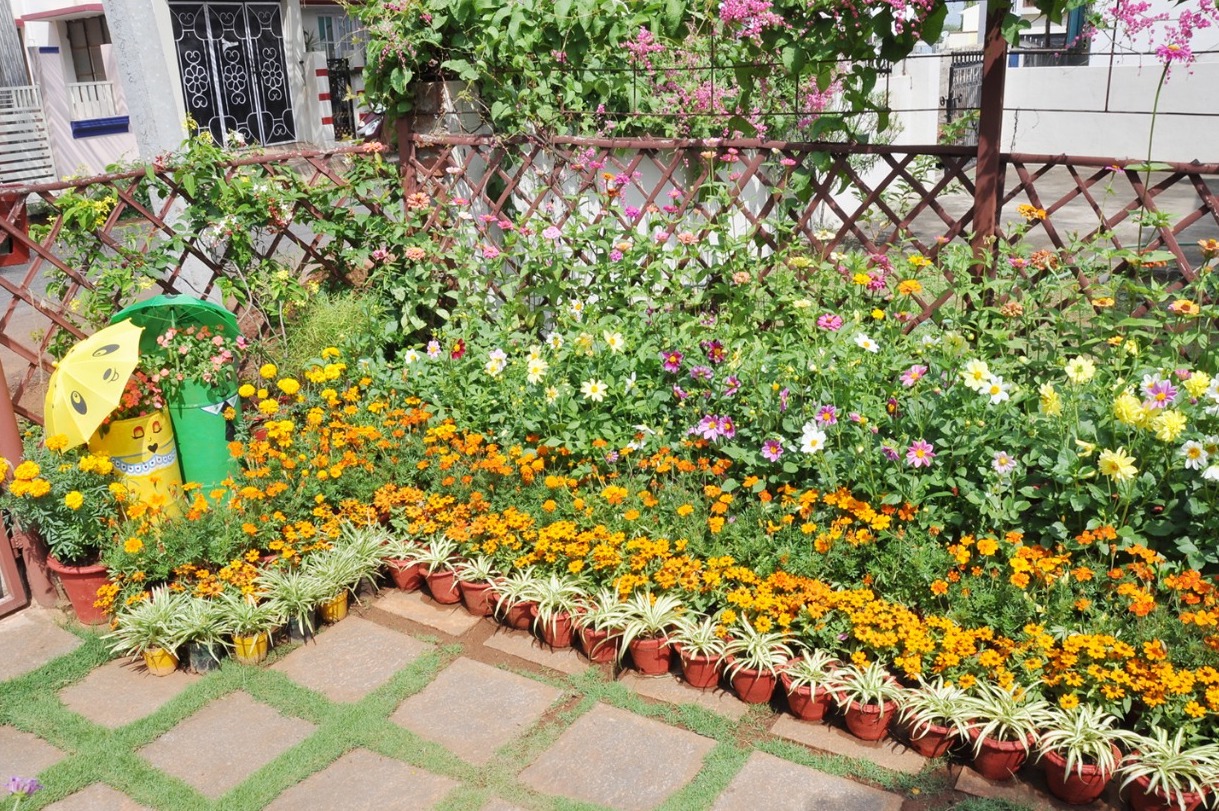 "I used to follow a lot of gardening channels and pages on the Internet, from where I got the idea of using plastic bottles, old shoes, and even discarded tyres as planters. It has been three years since I first began using these," she says.
Look around, and you will see frangipani and mango trees, and flowering plants like dahlia, marigold, zinnia, hibiscus, begonia, daisy, dianthus, verbena, petunia, anthurium, zenobia, geranium, and gladiola.
These are tastefully laid across beds that are interspersed with statuettes, fish ponds, stone benches, pebble arrangements as well as an aviary, which is home to over 50 love birds.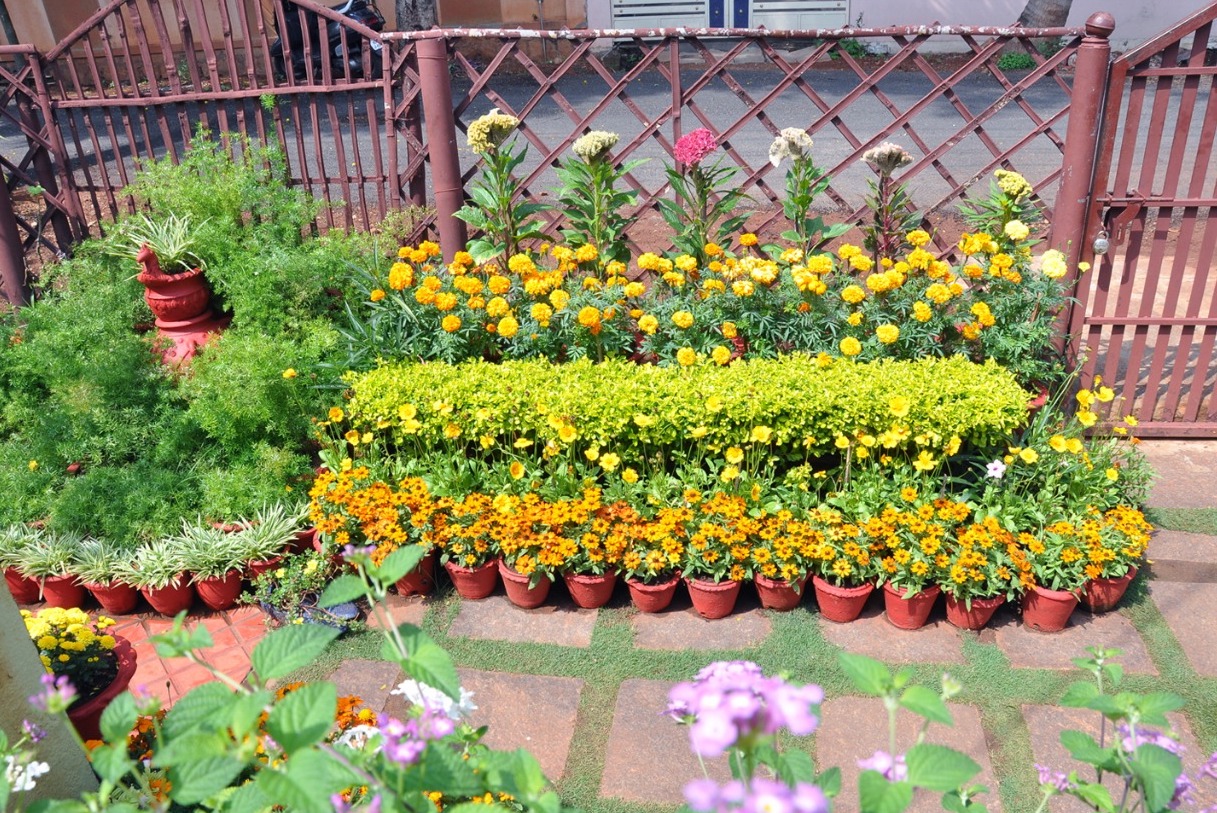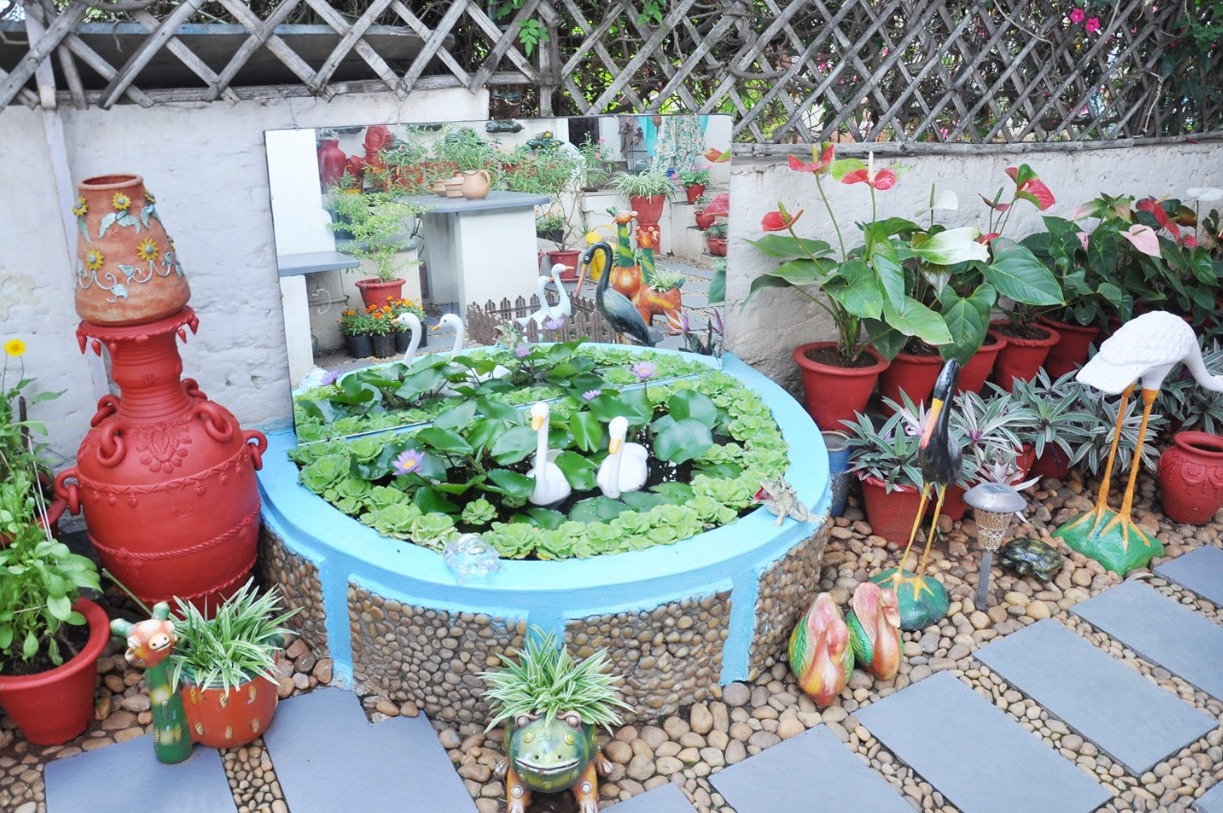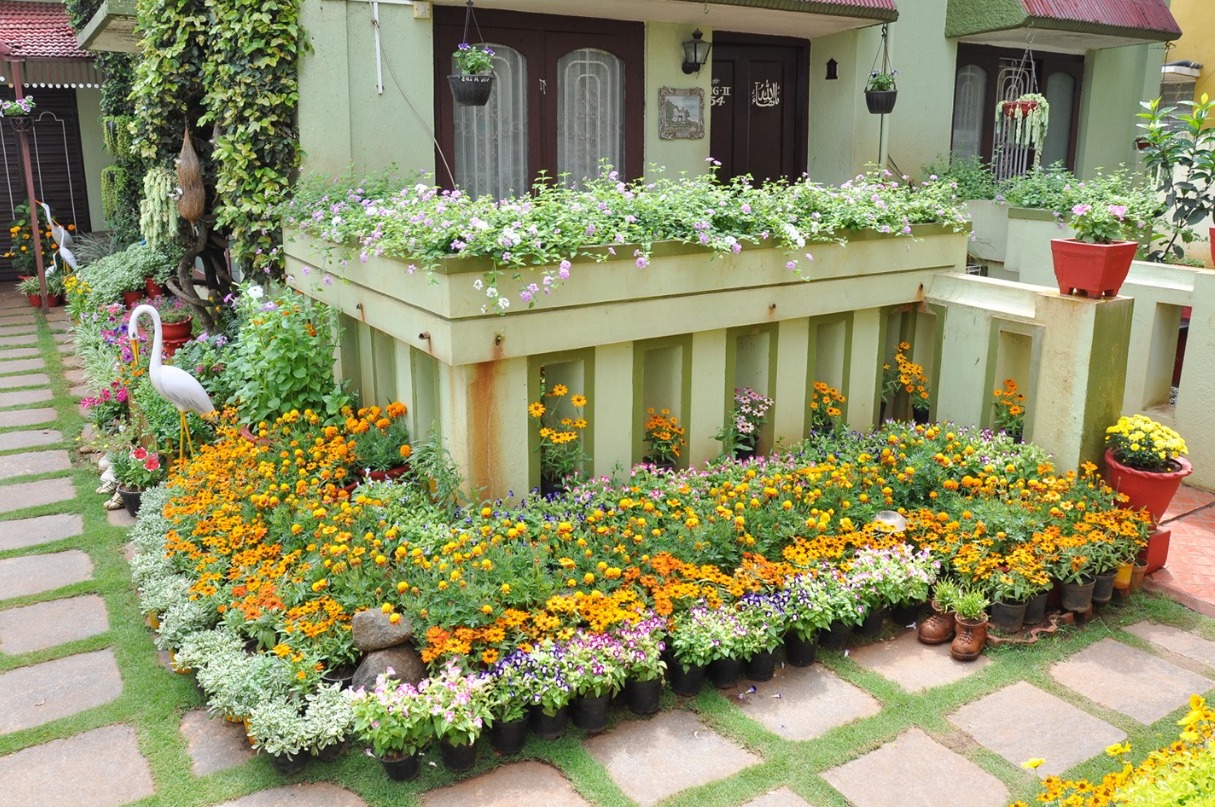 "While some trees and plants have been there since the beginning, most of the flowering plants are seasonal. I only use naturally made manure for the plants that I used to mix myself earlier. Now, I have employed a gardener to help me in the process as I also run a boutique, which takes up a lot of time. Nevertheless, I spend two hours every day in the garden tending to my plants," she adds.
With the kind of care and attention that Fathima showers on her garden, it is no surprise that it has received the top honour in the 'Home Garden Series' at the Dasara flower show organised by the Mysore Horticultural Society for the eleventh time in a row!
People often drop by to see the garden and take tips, and Fathima is more than happy to host or assist anyone who reaches out to her.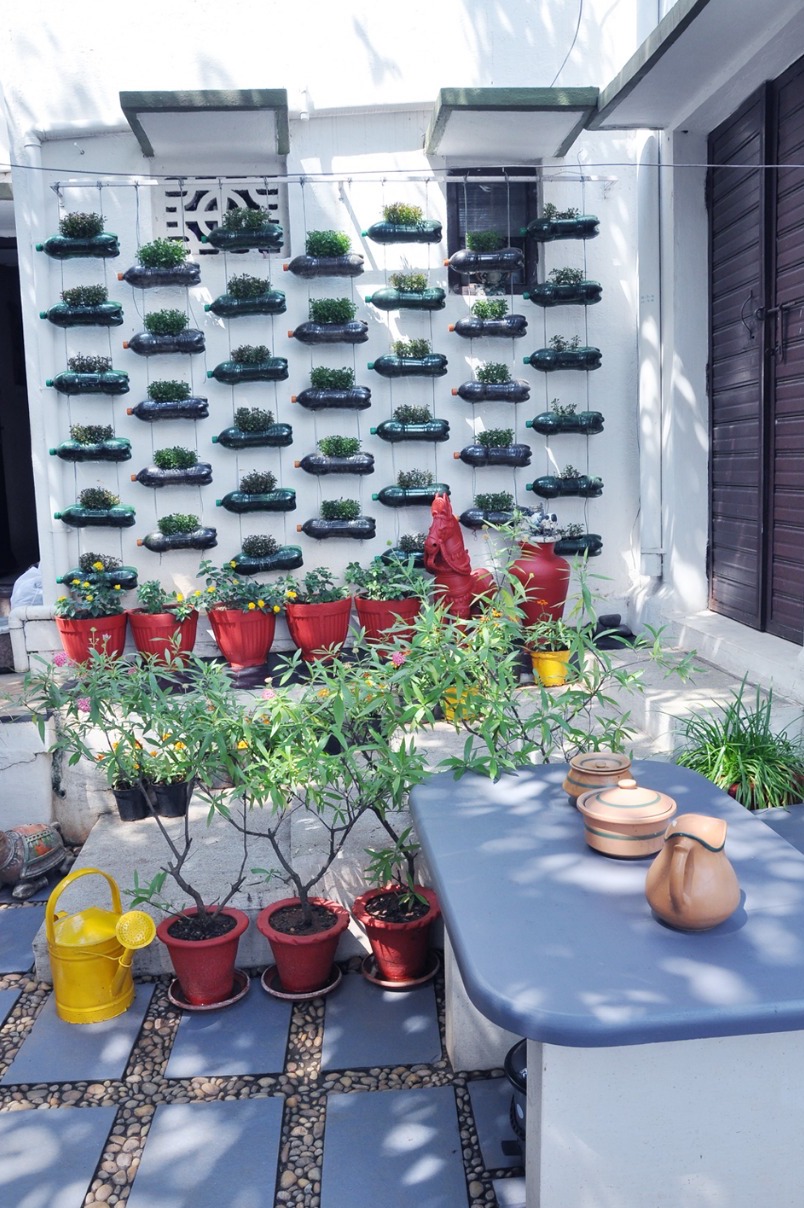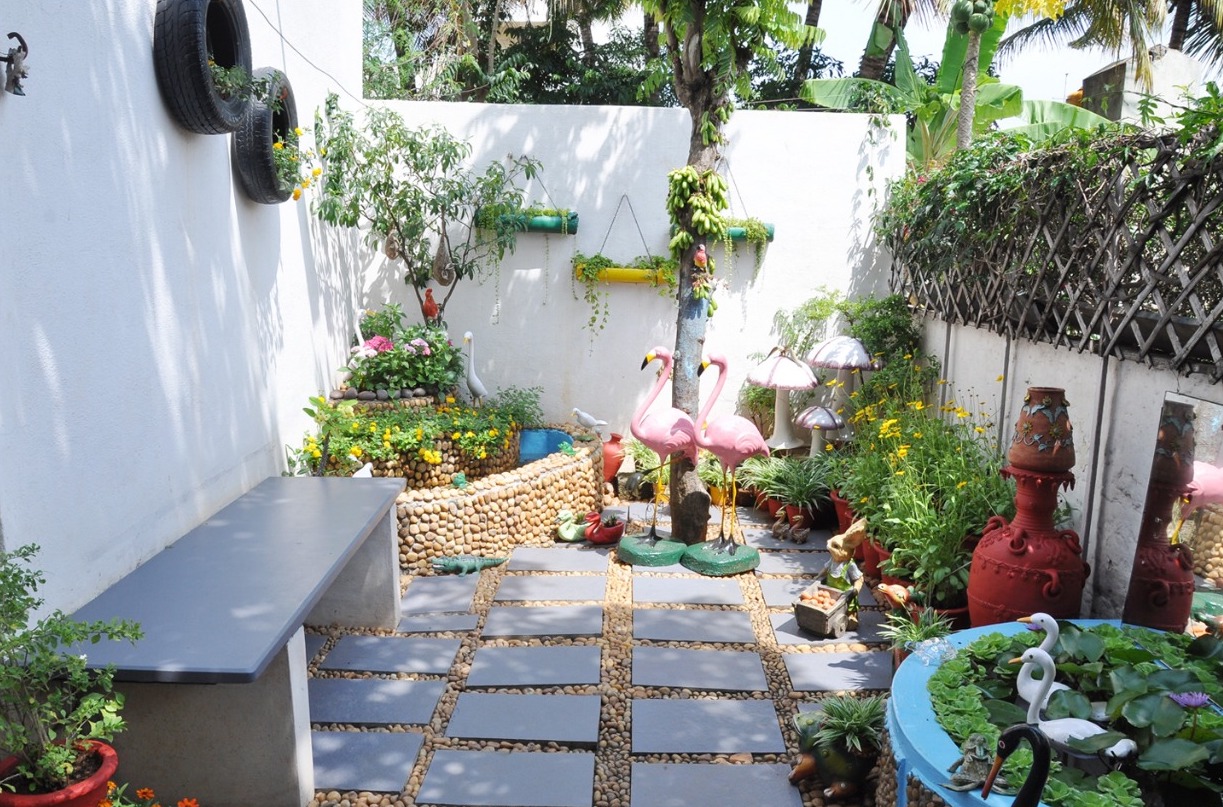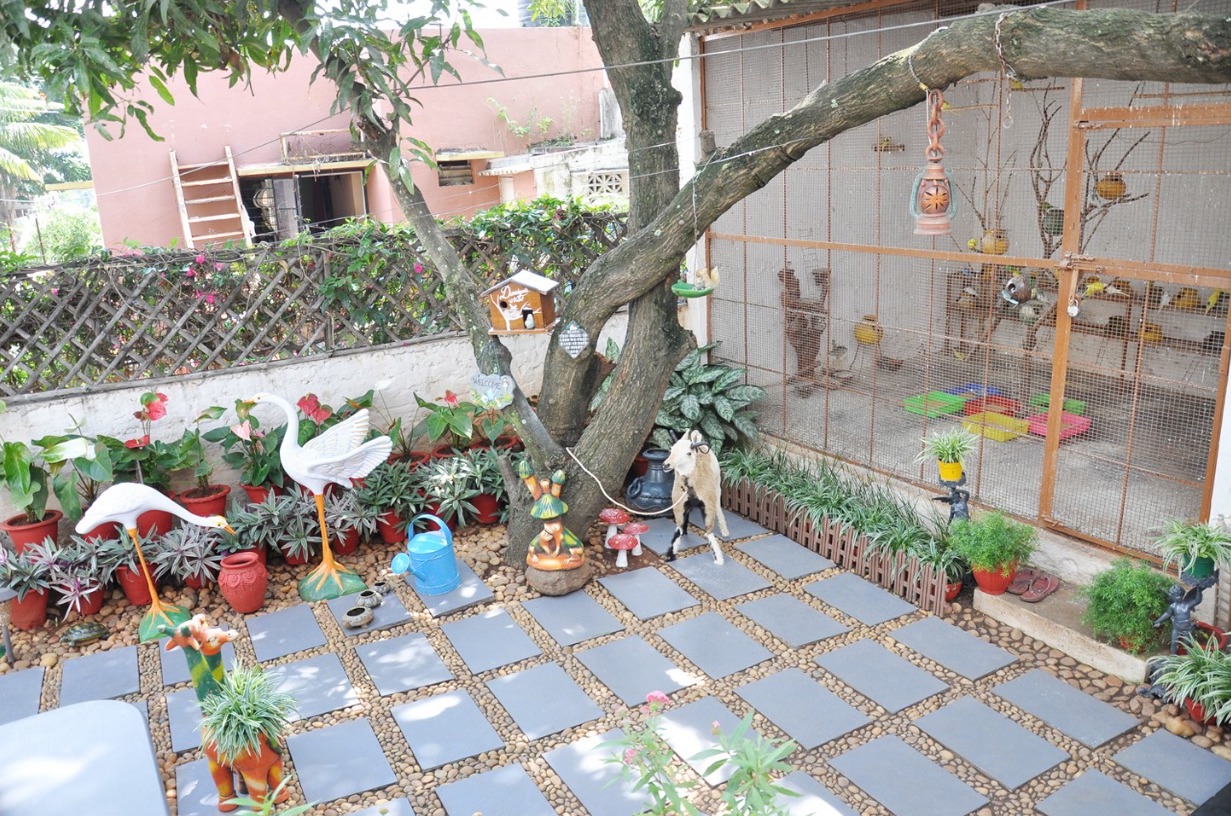 "Gardening enthusiasts and plant lovers from as far as Gulbarga, Bhatkal, Hyderabad and many other cities have reached out to me for tips about maintaining the garden. It makes me very happy to help anyone who would like to try a hand at gardening," she humbly mentions.
On a parting note, she adds that the best time to see her garden in its full glory would be during the Dasara festival when almost all the flowering plants are adorned in every possible hue.
---
You may also like: Growing 50+ Veggies & Fruits at Home, Chennai Woman Makes Her Own Organic Soaps!
---
If you love gardening and happen to pass by Mysuru, do visit Fathima's flowery wonderland for a mesmerising experience.
Don't worry about finding her; she and her garden are well-known across the city, and her doors are always open for lovers of plants and flowers.
(Edited by Gayatri Mishra)