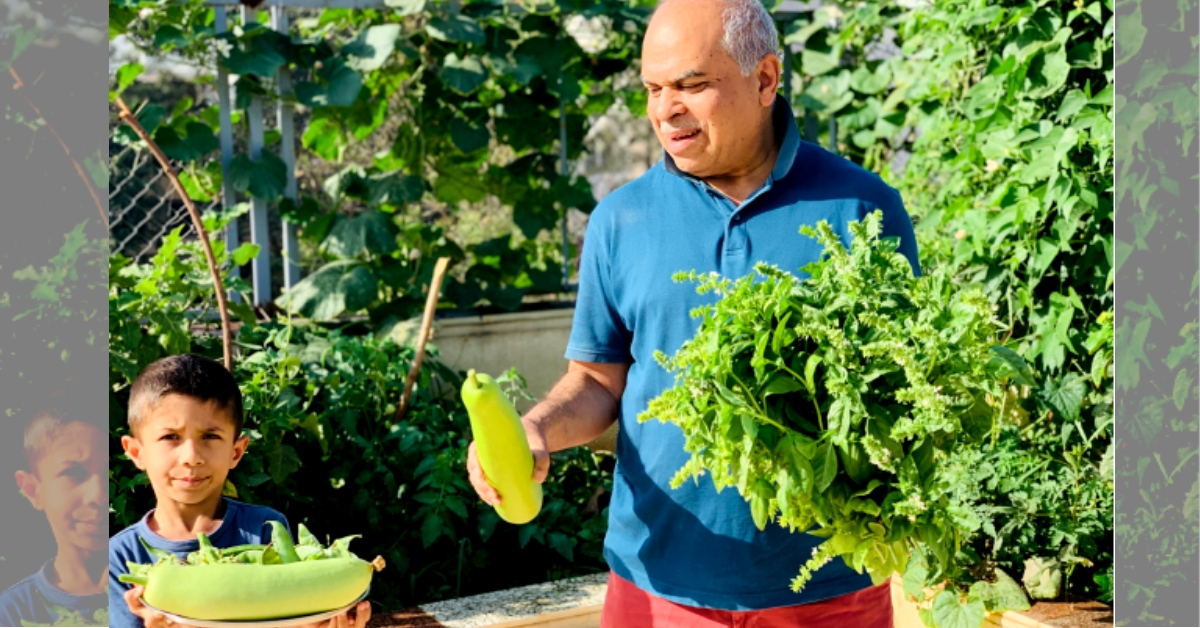 A 1000 sq ft space that was once covered with shrubs, today has eight types of vegetables, a few fruits, and host of flowering plants!
Twenty-five years ago, Dr Ravindra Kulkarni and his wife decided to move to India after spending more than 22 years together in the US. Dr Kulkarni, who is now 71, had moved to the Big Apple to complete his education from Columbia University.
His late mother's dying wish also influenced this decision.
The couple eventually settled down in the Baner suburb of Pune and set up four different manufacturing businesses.
While their children have carried forward the work, Dr Kulkarni, at 71, has found a new hobby, one that was inspired by his grandson, Ayan.
Ayan may look like just any other curious and carefree 6-year-old, but every day, alongside his beloved Ajoba (grandfather) the young boy tends to a garden on their terrace and backyard, which is their labour of love.
A 1000 sq ft space that was once covered with shrubs, today has eight types of vegetables, a few fruits, and host of flowering plants!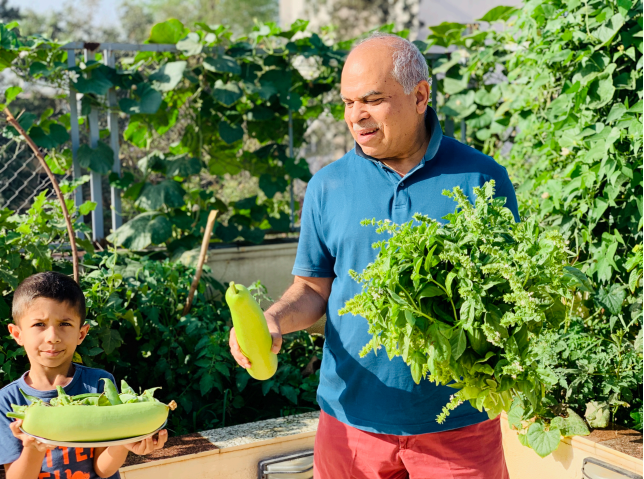 When asked what he loves doing most, Ayan speaks about how much he loves the outdoors, getting his hands dirty in the soil and playing with his Ajoba.
It all started as a learning and teaching experiment.
"When Ayan was as young as two years old, I would spend one hour tending to the plants in the backyard, every morning before going to work. Gardening wasn't in the plan per se. But Ayan has always been an inquisitive child, so he would head the backyard, and me all sorts of questions. 'What plants are these? Why do we water them? Why are leaves green? Why is every leaf on one plant a different size and texture?' And he would go on," remembers Dr Kulkarni, in an interview with The Better India.
Not even once did Dr Kulkarni brush him off. He would take time and explain everything to him, patiently.
"He was fascinated with the fact that a plant grew from a tiny seed buried in the ground, which had to be nurtured and watered every day. So we started taking seeds from our kitchen and planting them. While it began as a game, over time I realised it needed some structure. It was a good opportunity for Ayan to understand where food comes from and how he could grow it."
So, they began with bananas. Now they have five banana plants, vegetables like beans, okra, bitter gourd, bottle gourd, tomatoes, pumpkin, leafy greens etc.
While the vegetable patch takes up 200 sq ft, most of the remaining space is covered by different flowering plants like rose, hibiscus, jasmine, chameli, prajakta (night jasmine) and many more.
Ayan takes the full responsibility of watering the plants. Besides, he also closely observes his Ajoba and domestic help make the organic fertiliser for the plants at home.
The duo combines kitchen waste and enzymes in a bucket and turns the mixture at regular intervals, to prepare the fertiliser.
"Now, he is the first one to come, lead me towards the garden and say, 'Ajoba, let's go to the garden and look at how our plants are growing.'"
"We avoid using any insecticides too. I still remember, once Ayan killed an insect that was damaging a plant and I told him, 'Think about the mummy and daddy of this insect. You cannot kill them.' From then on, he is always extra careful. He knows which bugs, bees or insects are good for the plants and which ones are harmful. But if he sees them feeding on a leaf, he doesn't hurt them, he plucks the leaf out and throws it away. It is fascinating how he confronts them about intruding our garden too," laughs Dr Kulkarni.
The daily exercise has not only taught the young boy about gardening but also helped him absorb other skills.
Ayan started by counting the leaves from 1 to 100. And by the time he was four, he could do basic math, (add, subtract, multiply, divide) faster than most kids his age.
---
Also Read: Oyster to Shiitake: B'luru Woman Grows 3 Kinds of Mushrooms on her 10×10 Terrace!
---
As he goes to school and is taught about important sustainable practices like avoiding water wastage, he and his Ajoba ensure that their garden is maintained in a water-efficient manner.
Dr Kulkarni ends with a message for grandparents.
"Setting aside a dedicated part of the day, to engage in some playtime and fun with our grandkids is the easiest way for us introduce values and life skills to them. Let them take the lead. Your role is to only add value to what they choose. You know that you are doing a good job when the child walks up to you and says, 'Ajoba/Aaji let's go and do this whether it is gardening or any other activity.' Home gardening is also the need of the hour! It is our step towards a more sustainable and organic life. Involving the next generation is the best way to teach them how to take this change forward."
Let us hope this heartwarming story inspires other grandparents and grandkids to not only grow their own food but also bond closer along the way!
(Edited by Gayatri Mishra)
Like this story? Or have something to share?
Write to us: contact@thebetterindia.com
Connect with us on Facebook and Twitter.