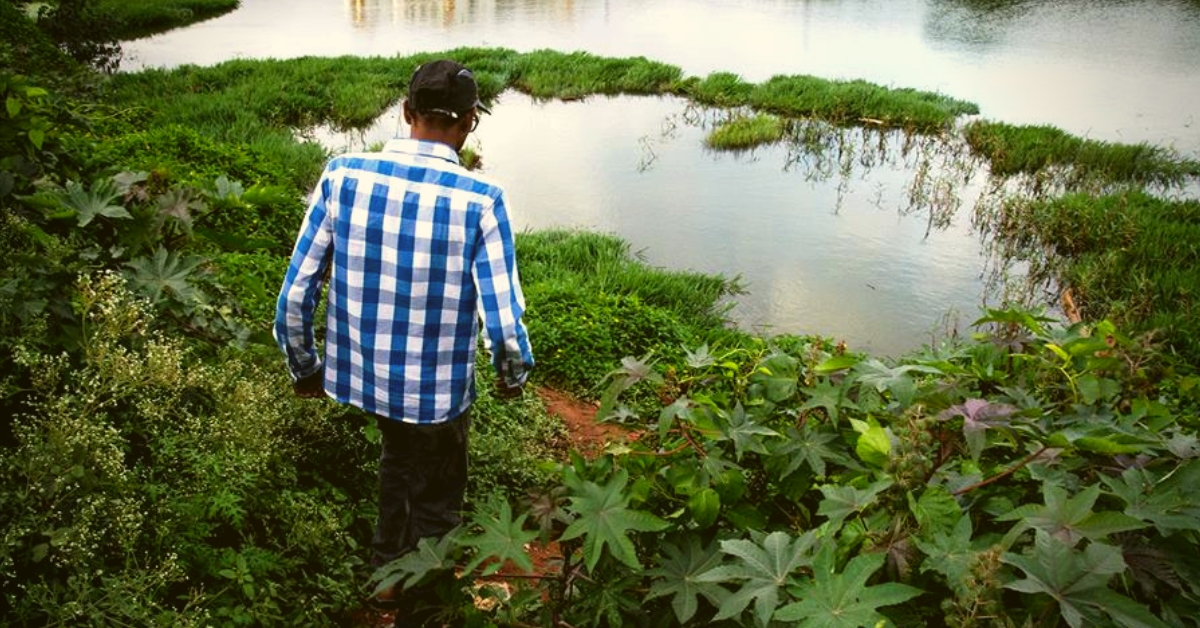 "One evening, I was busy cutting the bushes when a drunk man attacked me. He wanted me to stop. Next day, I visited the police station, filed a complaint and continued my work. Hurdles like this did not bring my spirits down," said the inspiring lake ranger. #Respect #RealLifeHero
At a glance, Venugopal Kumpalli, 39, is a hard-working IT professional in Bengaluru, the Silicon Valley of India.
Like many others, he wakes up every morning and battles with the treacherous traffic of the city, to reach his office in time, with aspirations to make his mark in the corporate world.
Yet, amidst the crowd, something sets him apart from the rest.
He belongs to the rare breed of people, who, when faced with social problems, don't complain or wait for someone else to come with solutions. They step forward to volunteer and bring about a change.
One such problem that irked Venugopal was the degradation of the city's once beautiful lakes, to stinking cesspools.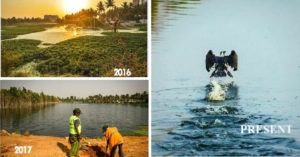 This is the story of how that annoyance, drove him to lead a dual life—an IT professional on weekdays, and a lake warden on weekends, much like the superheroes of pop culture!
Becoming a community hero
A resident of Electronic City, Venugopal would pass the Bellandur lake everyday en-route to his workplace.
Unlike scores of people who took the same route, the sight of the frothing, decaying lake bothered him deeply and made him wonder if the Maragondanahalli lake in his neighbourhood would suffer the same fate.
"I like to run and cycle, and every morning when I would go out, I would encounter the sorry state of the lake. What could have been a natural treasure and a common hang-out spot for people, would lie hidden under the garbage and wild overgrowth, inhabited by drunkards who would treat it as their open-air bar. Encountering a drunken brawl, there was common. It had become a perilous spot, and many had advised me to change my route. But, I didn't want to do it, so instead of changing my route, I decided to change the state of the lake altogether!" said Venugopal, while speaking to The Better India. Hence, in July 2017, he began his journey of reviving life into the lake.
Once his mind was made up, the first step was to seek proper permissions from the Hulimangala Panchayat.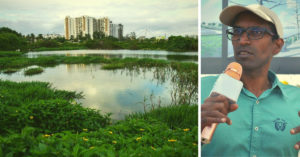 "The usual attitude is such that when people litter or cause harm to a public place like a lake, no one turns to look, but the moment someone steps up to change the scenario for good and clean the space, heaps of questions are asked. So to answer them, I researched a little and got to know that a citizen can apply for the position of a lake warden, who can serve as its watchdog. All you needed was passion and Indian citizenship. So with my documents, I approached the panchayat, who before then were not even aware of such a position," he added.
Once the permissions were sorted, he began to survey the area and found out that the lake was in a far worse condition he had originally anticipated.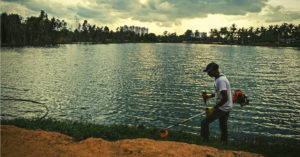 Covered under the bed of dense foliage and garbage, the lake wasn't even visible from the road and so cleaning the space was a big challenge for which Venugopal needed the right equipment.
"I didn't have any experience or knowledge about what to do, so I started researching and stumbled upon a Facebook group of lake enthusiasts where the members guided me virtually."
With their guidance, he hit the Chickpet market and spent approximately Rs 14,000 purchasing equipment like a bush cutting machine, log cutter, hedge trimmer, bush cutting triangular blade and a grass cutter string, among other items.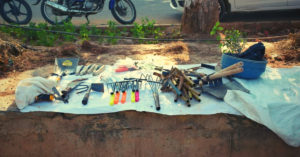 He states that till this point, he was essentially a mind buried in technological systems, and his next challenge was to physically use the machines.
"Understanding the nitty-gritty of the mechanism of the equipment, like setting the gear ratio or even repairing it, in case of break down, was all new to me, but I was ready to learn," he said.
Once the mechanism was understood, this lake warden then spent three months single-handedly cutting down the dense foliage and cleaning a stretch of 400 to 500 meters.
In order to clean the water, he even built a boat out of PVC pipes and went into the lake wearing life jackets, as he was a non-swimmer.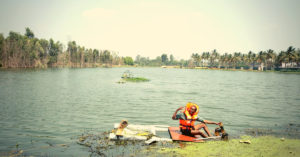 But this wasn't the only challenge, as he had to encounter the drunkards who frequented the spot are weren't happy with the new developments.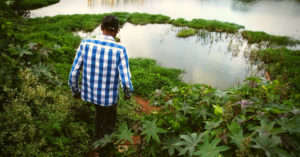 "One evening, I was busy cutting the bushes when a drunk man attacked me. He wanted me to stop. The situation was such that I had to stop the work on that day. Next day, I visited the police station, filed a complaint and continued my work. Hurdles like this did not bring my spirit down," he says.
His persistence and hard work soon began to be noticed, as neighborhood children began to join his struggle.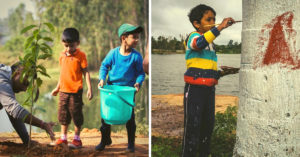 "Once the cleaning was done, people began to notice that under the dump, there existed a beautiful lake waiting to be revived.
But, before the adults, it's the children who lend their hand to help. So, to get them more interested, I gave them colour sprinklers and brushes to paint the tree trunks.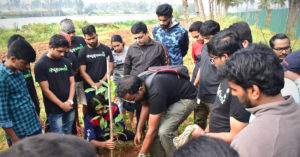 Once they began to have fun, their parents joined in, and with the consolidated effort, we successfully rejuvenated one stretch of the lake!" he remarked happily.
Out of the 17-acre area of the lake, 14-acres have been rejuvenated with more than 200 trees and almost 500 shrubs planted across the space.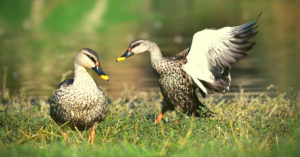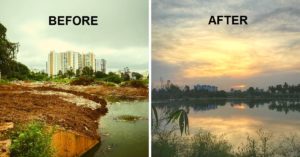 Adorned with flora and natural gift of fauna that often arrives at its shores, the lake is now a sight to behold. Venugopal hopes that with time and proper funding, the rest of it will also find its way back to life.
"There was a time when the Maragondanahalli lake was an invisible dump frequented by drunkards. Today it is idyllic space where families come every morning and evening to enjoy the fresh breath of air. This is my true victory," concludes the unsung hero.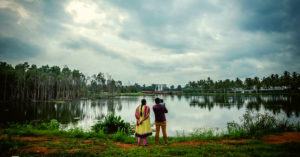 (Edited by Gayatri Mishra)
We bring stories straight from the heart of India, to inspire millions and create a wave of impact. Our positive movement is growing bigger everyday, and we would love for you to join it.
Please contribute whatever you can, every little penny helps our team in bringing you more stories that support dreams and spread hope.
Tell Us More