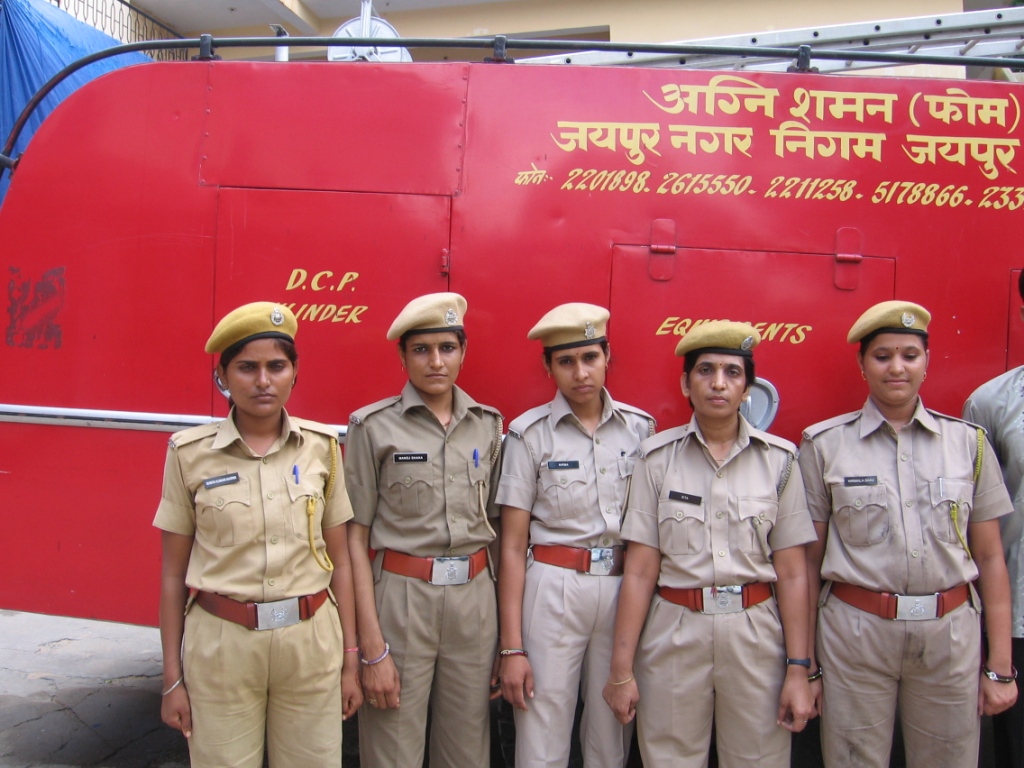 Did you think that fire fighting was something that only men could do? Think again, as you meet these fearless female fire fighters of Rajasthan who are living on the edge. From dousing the most horrific fires to consoling the victims, these women are proving their mettle in a profession largely considered a male bastion.
Did you think that fire fighting was something that only men could do? Think again, as you meet these fearless female fire fighters of Rajasthan who are living on the edge. From dousing the most horrific fires to consoling the victims, these women are proving their mettle in a profession largely considered a male bastion.
"Dousing the hungry flames is certainly not an easy task. It's a test of one's physical strength as well as courage and agility. But if one is determined, one can overcome any risks, however daunting they may look," says Sita Khatik, an officer with the fire department in the desert state of Rajasthan.
While her namesake in the mythological epic 'Ramayana' had given the 'agnipareeksha' once in her lifetime, for Sita, the fire fighter, every day is like a trial by fire.
Stationed in Jaipur, the state capital, she is one of the 155 female fire fighters recruited by the state government in March this year. Six from this first batch are serving in the city at present and they are simple, all smiles and, yes, armed with that tremendously daring spirit that makes them perfect for the job.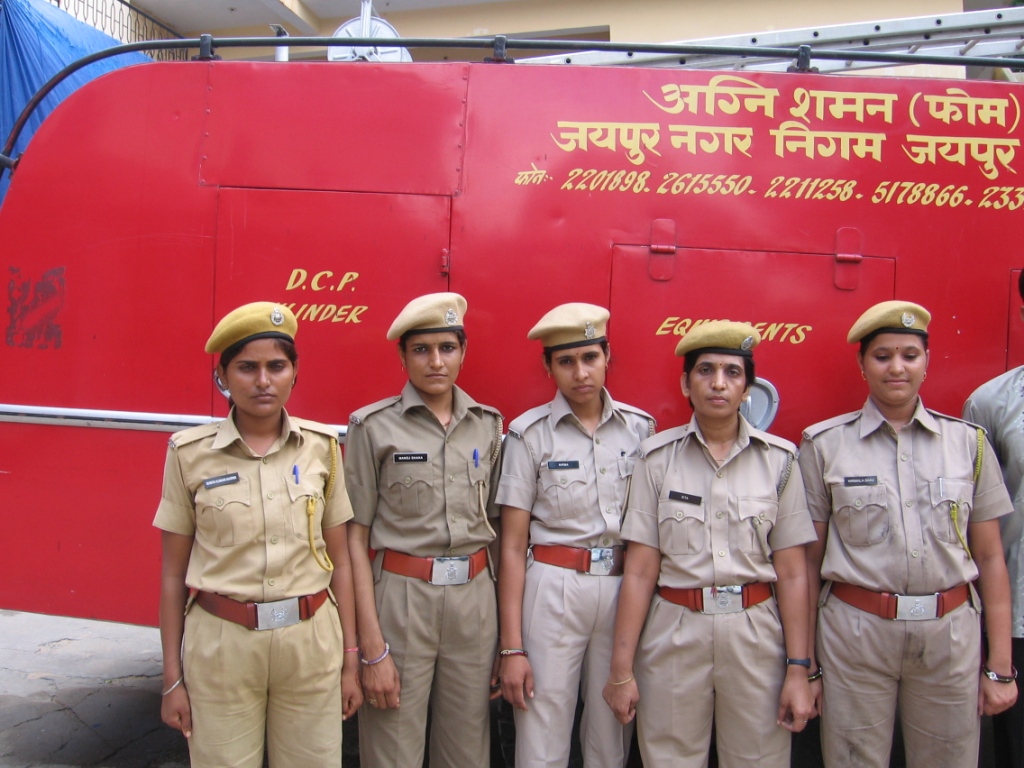 Sita was working with a medical insurance company before she decided to join the fire service. Although it had been a "nice and easy" job that also brought home a tidy salary, it had been her childhood dream to distinguish herself by doing something "brave and courageous". Once she got married, albeit at a rather early age, her passion only increased – at the time her husband was working in home guards and civil defence, and his assignments really fascinated her.
It was purely on impulse that Sita, who has a post graduate degree in political science as well as a professional Bachelor of Education (B.Ed), made up her mind to enrol for a 48-day civil defence day training course when her son was just 20 days old.
While the whole family was upset and shocked with her, it was the unwavering support of her husband that helped her fulfil her ambitions.
"He not only supported me but even took leave from office to take care of the baby. It is said that behind every successful man, there is a woman. But in my case, it is the opposite," she says with pride and great admiration for her husband.
Sita, however, had to wait a few years before she got a shot at securing her favoured career. In 2011, when the Rajasthan government advertised posts for female candidates in the fire tending services, she applied immediately. Once her application was shortlisted, she went on to do the six months long Fireman Elementary Course training programme that she cleared with flying colours.
---
---
During the interview stage, Sita recalls the question that decided her fate, "They asked me why I had opted for a risky job like fire fighting when I could have easily continued with what I was doing. Was I not afraid? I simply told them, if I was afraid, would I have even applied? I have this desire to prove wrong the people who think that women can't be fire fighters."
Most of Sita's female colleagues hail from the small towns and villages of Rajasthan.
For them, it was not easy to opt for a profession that is traditionally seen as a male bastion. Yet, they all had the will not only to convince their parents and, in many cases, their in-laws, and then also successfully get through the tough exams and training.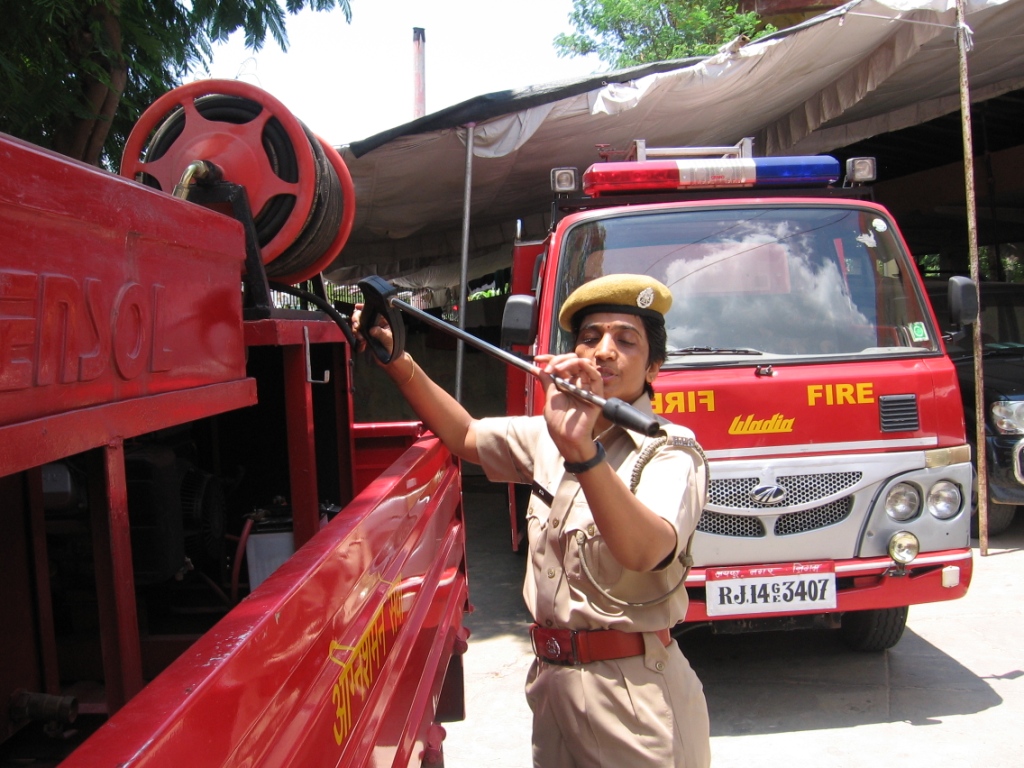 The selection process was certainly no cakewalk. Out of over 1,000 applicants, just 155 finally managed to clear all the rounds. Many contenders couldn't qualify during the initial stages itself because they were either underweight or overweight.
Sunita Devi, who joined the Jaipur fire station along with Sita, says, "Having the right weight is important. Several candidates had found the physical strain too much to bear. But it is important to be in top shape to do what we do. Our job is quite risky. For instance, during the fire that broke out at a chemical factory recently, we all would have been trapped had there been a delay of even a few seconds."
Nirma, who originally hails from a small village in the interiors of Sikar district, adds, "It is absolutely essential to keep oneself fighting fit so daily exercise is a must. We have been intensively trained to use the water hoses, carry the scale ladder and rescue and evacuate people to safety from buildings under fire. In the beginning, most of us found it quite difficult to hold the pressure running nozzle but with practice, we can now handle it on our own."
By successfully completing their training, while they have definitely established beyond doubt that they are the right women for the service, overcoming perceptions has thrown its own set of challenges in their way.
"Our chief initially felt quite hesitant and perhaps kept his fingers crossed as he sent us on the assignments with the team. But credit to him that we got the opportunity to do our duty in some of the worst fire incidents in the city soon after we joined. Now, after a couple of assignments, he is comfortable and confident of our capabilities," they say.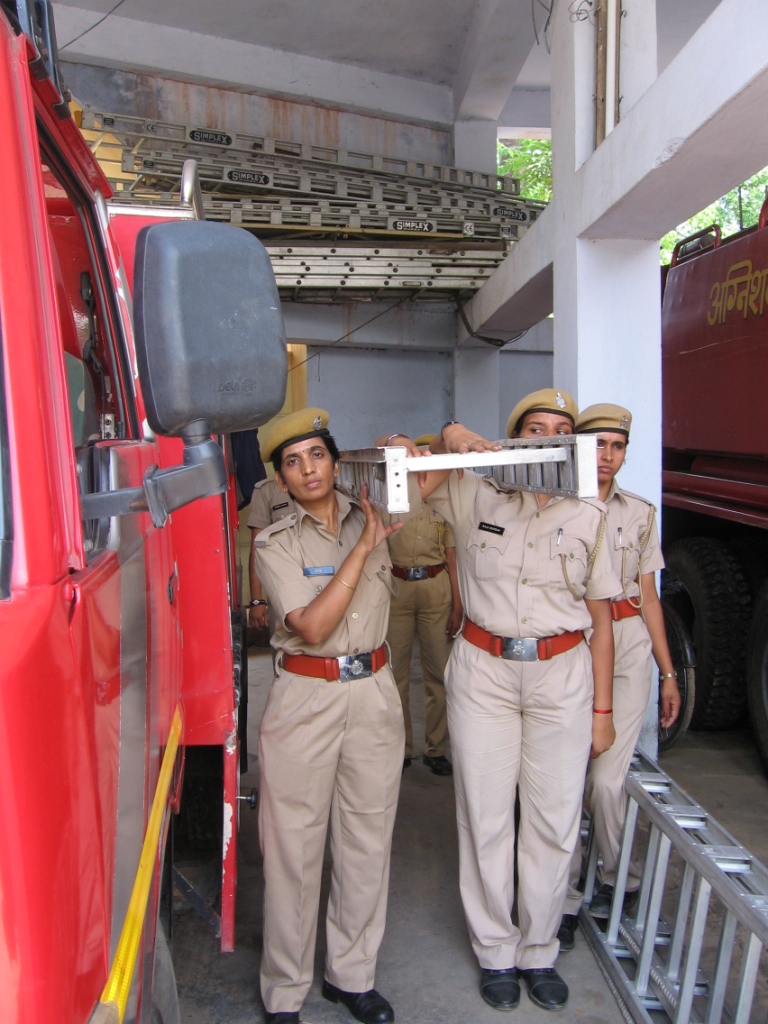 On his part, Chief Ishwar Lal Jat is full of pride and praise for his new recruits, "These female officers are working very well. They have very sincerely and boldly taken active part in dealing with all the fire accidents they have been sent for."
According to Raju Burdak, who belongs to Dataramgarh town in Sikar, till they joined service, the fire department had been the only one in the state where women had not been given a chance to serve, owing to the serious risks involved.
But she and her colleagues are "here to break the stereotypes" and they are more than prepared for it.
Shares Sita, "We have to be well informed of all the equipment and vehicles needed for operation. If it is a chemical fire, we need a different type of dousing material. For small lanes and streets, we have to take smaller vehicles because we won't be able to access the accident spot with the big fire tenders."
It is crucial to know the exact cause of fire and materials present on site to determine the type of fire extinguisher that should be used, whether water, foam or dry powder, because wrong information could actually make things worse.
Okay, so whereas they knew what they were doing and had won the confidence of their seniors, it was another thing going out into the city and doing their duty.
They recall how in the early days when they used to go into localities to put out fires, people used to fear for their safety and demand that their male colleagues keep them away. At present, of course, things are quite different.
In fact, during one of the fires, where the belongings of a household had been completely gutted in the flames, the presence of the female fire fighters was really comforting. Seeing them, the lady of the house hugged one of them and started crying uncontrollably. "We did our duty properly and then also sat with the woman for some time sharing her pain. I realised then that our male officers would never have encountered such a situation," says Sunita.
Whenever there is a fire incident, goods and property worth crores are reduced to ashes in no time. If there is any casualty, the circumstances are even more painful. "It gives us a sense of great satisfaction if we are able to save lives and people's homes and belongings," she goes on.
In a conservative and patriarchal state like Rajasthan, women are definitely breaking the glass ceiling in professions that were earlier considered a male domain. Audacious, gritty and determined, they are setting new trends for others to follow.
Like this story? Or have something to share? Write to us: contact@thebetterindia.com, or connect with us on Facebook and Twitter (@thebetterindia).