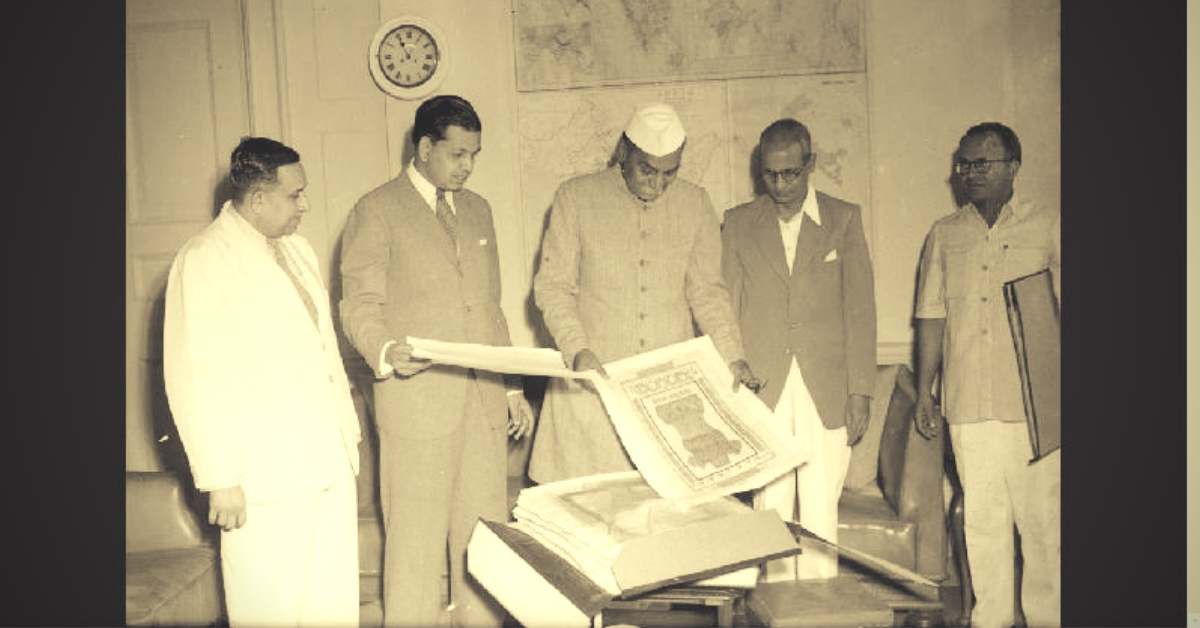 Ban all sign of religion? Can religion even be decided by Parliament? What do you mean 'reasonable restrictions'? Here are the fascinating debates that created modern India – 72 years ago! Join The Better India in this five-part series 'Constituent', as we explore a simple question – What did 1950 feel 2019 would be?
72 years ago, this week, 284 elected members of independent India ceremonially signed a magisterial hand-written tome. They were putting the final touches – literally – on a document they hoped would define India's destiny.
Today, we can barely imagine the sense of infinite possibilities that fueled the five years it took to frame that document.
No matter how radical, liberal, conservative or outright unbelievable an idea was, if the majority of an Assembly of just 299 voted for it – It could happen! So to a large part, who we are today is who they wanted us to be.
Join The Better India in this four-part series 'Constituent', as we explore a simple question – What did 1950 feel 2019 would be?
Part one of the series takes a look at one concept – Secularism.
While political debates on secularism (especially the ones conducted through TRP-driven shouting matches on primetime television) may seem like a recent phenomenon, it's a subject that deeply vexed even our founding fathers.
It saw some of the most heated debates in the Constituent Assembly since its inception in 1946, all the way to the ultimate adoption of the Constitution of India in 1950.
For example, the 17 October 1949 Constituent Assembly debate on the Preamble kicked off with an interesting amendment.
Hari Vishnu Kamath, a representative of the Subhash Chandra Bose-founded Forward Bloc party, wanted the Preamble to begin with the phrase, "In the name of God."
Some supported his amendment, "since it was clear that not only a particular religion's god was being sanctified".
However, Constituent Assembly members like HN Kunzru vociferously contested this claim arguing that by invoking "the name of God, we are showing a narrow, sectarian spirit."
Other argued that religion was an individual choice and private affair and required no imposition of the collective will.
However, Kamath stuck to his guns. Religion out is embedded in the "voice of our ancient civilisation", he argued. Taking God's name reflected the will of the people, he added.
A decisive vote (68-41) eventually defeated Kamath's amendment.
Members like Bihar's KT Shah (Indian National Congress) believed that under no circumstances must the state involve itself in any religious activity. A person's religion was her private affair.
Member Tajamul Husain, also elected from Bihar, even wanted a clause to say: "No person shall have any visible sign, mark or name and no person shall wear any dress whereby his religion may be recognised."
That was an extreme position. With Partition barely a year or so old, there was a need to assuage the feelings of religious minorities, particularly the Muslims.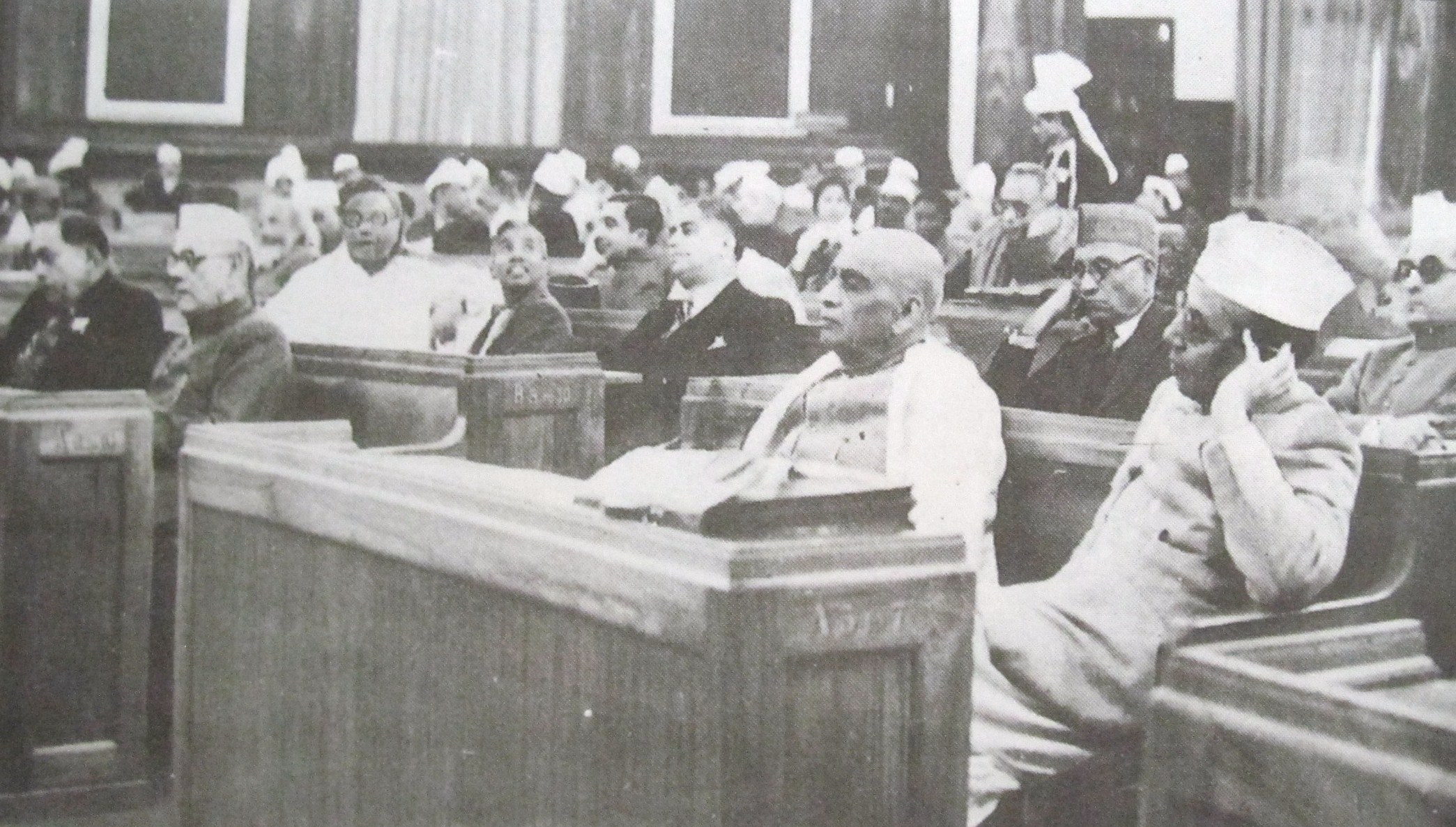 "So far, the minorities have been incited and have been influenced in a manner which has hampered the growth of cohesion and unity. But now it is necessary that a new chapter should start and we should all realise our responsibility. Unless the minorities are fully satisfied, we cannot make progress; we cannot even make peace in an undisturbed manner," said GB Pant in one such discussion.
There were the likes of PS Deshmukh, who said, "the demon of the interests of minorities and their protection was a creation of British policy".
But Ambedkar's position was in clear opposition to this strain of Indian nationalism, which saw the "divine right of the majority to rule the minorities according to the wishes of the majority."
He disregarded the belief held by many that "any claim for the sharing of power by the minority is called communalism while the monopolising of the whole power by the majority is called nationalism."
He believed it was absolutely necessary that political safeguards for minorities, particularly the Scheduled Caste, Scheduled Tribe and other religious minorities must be enshrined in our Constitution.
"It (secularism) is an ideal to be aimed at, and every one of us – whether we are Hindus or Muslims, Sikhs or Christians, whatever we are, none of us can say in his heart of hearts that he has no prejudice and no taint of communalism in his mind or heart," was what Prime Minister Jawaharlal Nehru had to say about it.
What he meant, in essence, was that an India without religion was not probable.
Through debates like this and hundreds of others, the Constituent Assembly did generate a conception of secularism that was markedly different from its standard Western version.
While the likes of Dr S Radhakrishnan asserted on December 13, 1946, that "nationalism, not religion, is the basis of modern life" during a speech on the Objectives of Resolution, Dr BR Ambedkar and Prime Minister Jawaharlal Nehru eventually built consensus for another interpretation of secularism, one that kept the actual reality of the land firmly in mind.
Even though Nehru once referred to the adoption of secularism as "something which every country does, except for a few misguided and backward countries," both he and the other founding fathers were deeply aware of how embedded religion was in the public life of ordinary Indians. Religion was no private affair, behind closed doors.
"Do we really believe that religion can be divorced from life, or is it our belief that in the midst of many religions we cannot decide which one to accept? If religion is beyond the ken of our State, let us clearly say so and delete all reference to rights relating to religion," he said on 6 December 1948.
Obviously, the deletion didn't happen. But interestingly, many others did support the 'beyond the ken of our state' part at least, though for a very different reason.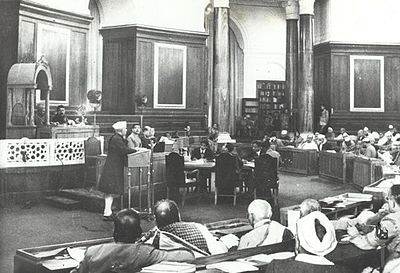 "Mr President, I would beg of you to see that the matter of God is not made the subject of discussion between a majority and a minority. It is most embarrassing," argued Purnima Banerji, a freedom fighter and younger sister to the legendary Aruna Asaf Ali, during a debate on October 17, 1949.
Like her, many members – with belief systems ranging from atheists to deeply orthodox – felt that Parliament's 'Aye or Nay' voting system was not the right forum to affirm or strike down religious identities, customs or rituals.
The defining position, which was eventually adopted by the Indian Constitution, was best articulated by KM Munshi, a progressive who played a crucial role in inserting many of the Fundamental Rights in our Constitution.
"We are a people with deeply religious moorings. At the same time, we have a living tradition of religious tolerance—the result of the broad outlook of Hinduism that all religions lead to the same god…In view of this situation, our state could not possibly have a state religion, nor could a rigid line be drawn between the state and the church as in the US," he said.
Also Read: Alladi Krishnaswami: An Architect of the Constitution Who Was 'Better' Than Ambedkar
So while Ambedkar sought to incorporate provisions like "No person shall refuse the performance of a civil obligation or duties on the ground that his religion so requires," there were others who rightly contested that religion isn't merely limited to the narrow confines of just occasionally worshipping in a holy place.
Sikhs, for example, wore kirpans while Hindus advocated the practice of Sanyasa—giving up all attachment to the material world.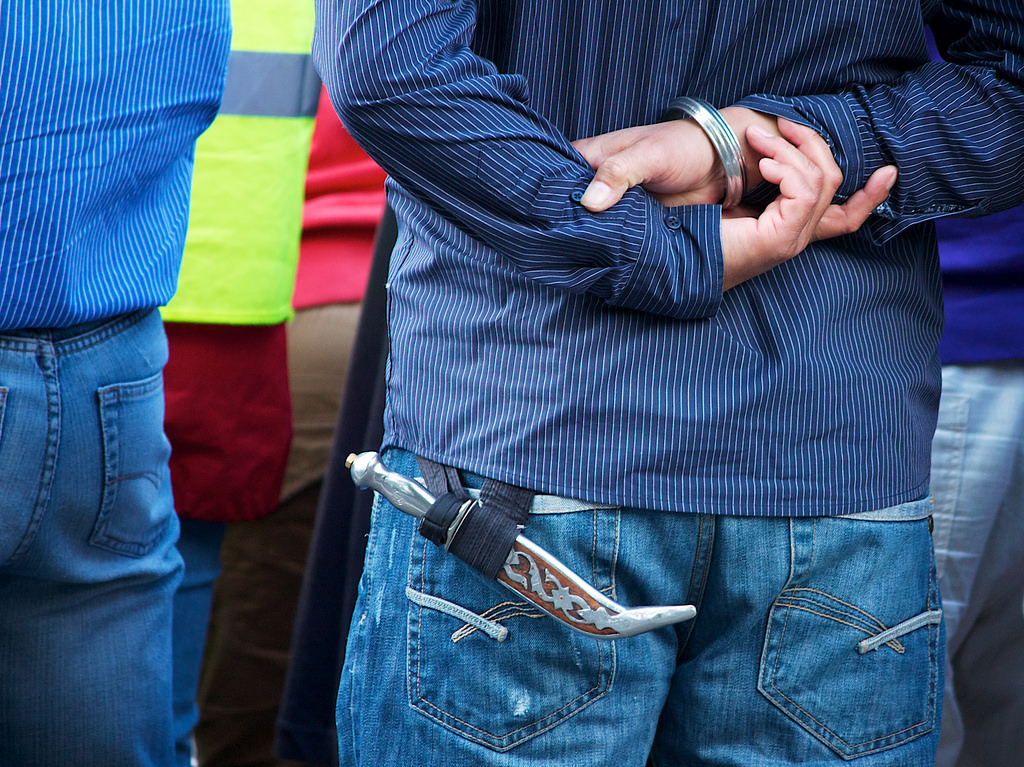 In other words, what's the point of granting freedom of religion without all its essential ingredients. But that didn't mean pernicious facets of religious practice like the caste system or child marriage could be allowed to go on.
This was a difficult balancing act mired in severe disagreements. Instead of completely disregarding religion—a fundamental facet of an ordinary Indian's identity—the Constituent Assembly acknowledged that democracy for the people of India could not be founded "on a kind of secularism contemptuous of religion".
The Assembly eventually agreed that a state respecting all faiths equally could impart the spirit of greater tolerance on its citizens instead of its narrow Western conception.
And thus, a uniquely Indian conception of secularism was created – which resulted in expanding the Fundamental Rights associated with religion, as articulated in Article 25, from the "more narrow right to religious worship" to a "right to freely practice religion" within the bounds of "reasonable restrictions".
The "reasonable restrictions" clause was put in place to give the state a lot of wiggle room to intervene.
The Constituent Assembly's JB Kriplani, another legendary freedom fighter, further expounded on this notion of secularism, with his simple words – "We have to respect each other's faith. We have to respect it as having an element of truth," he said.
However, the Assembly as a whole was not blind to the fact that religion in the public sphere became a problem when it served political interests.
Many members argued strongly on this point. For example, the famous JP Narayan advocated the incorporation of articles "prohibiting the use of religious institutions for political purposes or the setting up of political organisations on a religious basis".
Clearly, that advice was not taken up.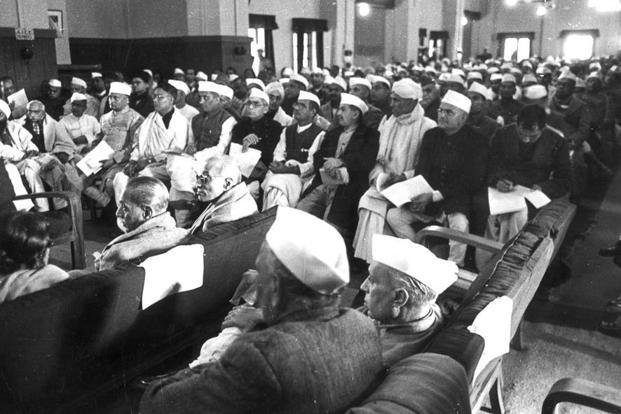 JP Narayan had many debates that we would find both fascinating and strangely relevant today.
He believed, for example, that cultural and educational rights must only be confined to linguistic minorities. The "secularisation of general education" was "necessary for the growth of national outlook and unity", he said.
The bone of contention here arose from a critical question – should a secular state allow religious minorities to run their schools, thereby indirectly helping religion in a broad sense?
Members were open to all sides of this debate. But, the final draft defined minority rights in terms of both language and religion.
One can see the results in the formulation of Article 30, which reads, "All minorities, whether based on religion or language, shall have the right to establish and administer educational institutions of their choice."
So, why did our founding fathers not adopt the word 'secularism' into the preamble of the Constitution, even though its spirit drove a lot of the laws they would go onto formulate?
According to historian Ian Copland, our founding fathers understood that "since 'Enlightenment Secularism', with its core principle of separation founded on the Protestant conception of religion as essentially a private concern with which states had no legitimate business, was never going to work in a country where rulers and religious publics had been interacting from time immemorial. It was better not to use the term at all than to use it fraudulently."
This had broader repercussions than we realise first glance.
Take the Uniform Civil Code. The likes of Ambedkar and Munshi did advocate in March 1947 that "No civil or criminal court shall in adjudicating any matter or executing any order recognise any custom or usage imposing any civil disability on any person on the ground of his caste, status religion, race or language."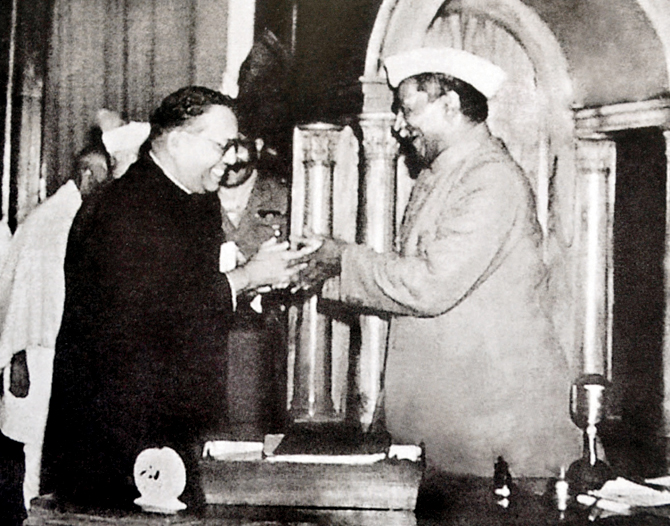 This kind of talk was aimed at things like the Hindu personal law, which were discriminatory against women and in contravention to the right to equality.
Opposition to this proposal, however, came from both members of religious minorities and tribal communities.
"People seem to think that under a secular state, there must be a common law observed by its citizens in all matters including matters of their daily life, their language, their culture, their personal laws. This is not the correct way to look at the secular state. In a secular state, citizens belonging to different communities must have the freedom to practise their own religion, observe their own lives and their personal laws should be applied to them," said Mahboob Ali Baig Bahadur, a Muslim representative from Madras province.
By March 30, 1947, the Fundamental Rights Sub-Committee acceded to this position and left the uniform civil code proposal under the Directive Principle of State Policy. And the debate on that continues to this day, in apparent contravention of 'true' secularism.
Of course, things have changed significantly in the Indian body politic since these debates and discussions first took place.
Resolution to many of the concerns raised during discussions on secularism then remains unresolved.
However, what the Constitutional Assembly debates do tell us, amidst all the contradictions and concessions, is how they created their own version of secularism in their quest to build a nation.
While one can disagree on many things the founders said, what can't be denied is the spirit which drove discussion on one of the most critical aspects of Indian democracy.
We are secular, in our very special way.
(Edited by Vinayak Hegde)
Like this story? Or have something to share? Write to us: contact@thebetterindia.com, or connect with us on Facebook and Twitter.
We bring stories straight from the heart of India, to inspire millions and create a wave of impact. Our positive movement is growing bigger everyday, and we would love for you to join it.
Please contribute whatever you can, every little penny helps our team in bringing you more stories that support dreams and spread hope.