More than 436 million Indian women above the age of 15 are at a risk of developing cervical cancer. Successfully tested at AIIMS, this device could be a critical game-changer for them! #Health #Innovation #India
The statistics for cervical cancer in India do not look good. According to 2016 National Health Portal statistics, the country has more than 436.76 million women above the age of 15 who are at risk of developing the disease.
Nearly 74,000 Indian women lose their lives every year to cervical cancer, which, according to medical experts, is easily preventable if detected and treated early. It is one of the leading causes of cancer mortality, accounting for 17% of all cancer deaths among women aged 30-69 years.
So, what is cervical cancer?
"Cancer cervix is the leading form of cancer in Indian women and the second most common form of the disease worldwide. The precancerous changes start early, usually in the twenties, once women become sexually active. If undetected and untreated, it may turn into full-blown cancer by the time the woman is in her 50s," says an article published in The Better India earlier this year. It has a known cause–HPV (Human Papilloma Virus).
Also Read: This Preventable Cancer Kills 1 in 52 Indian Women. Act Now Before It's Too Late!
Fortunately, Dr Nimmi Ramanujam, a Professor of Global Health and Director of Global Women's Health Technologies at Duke University, an Ivy League institution, has developed a low-cost diagnostic device called the 'Pocket Colposcope' to detect cervical cancer.
AIIMS New Delhi has successfully completed trials for the device. It can reportedly be connected to a laptop or mobile phone, and it may be possible for women to self-screen as well.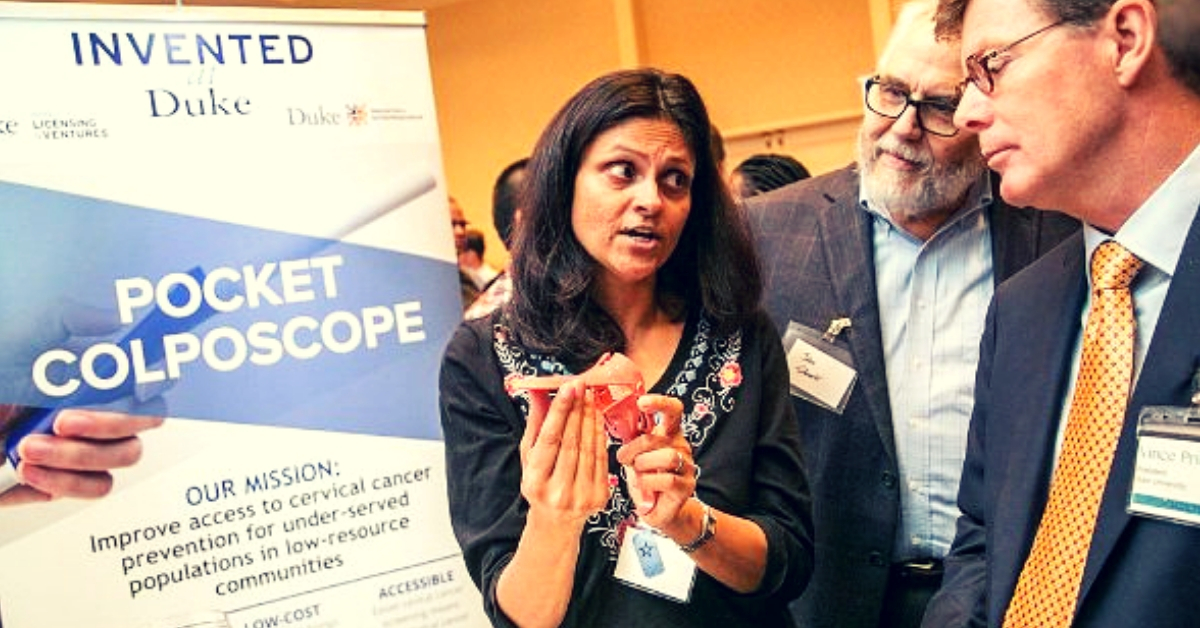 The device costs $500 as against the current machine in use which costs $15,000, and unlike the latter, using the low-cost pocket Colposcope does not cause a great deal of pain.
Dr Nimmi is currently holding discussions with the Tamil Nadu government to introduce this FDA-approved device for primary healthcare centres across the state. There is an excellent chance of cure if the cancer is found and treated in the early stages with a hysterectomy or radiation therapy.
"The Pocket Colposcope is a significant advance in cervical cancer screening. It is a small and simple device, easy to use, store and transport. Yet, the pictures are as good or better than [the] standard colposcope. Health workers can be trained to use the device and record images that can be transmitted to experts elsewhere, who can evaluate them and advise appropriate therapeutic options," says Dr Neerja Bhatla, the Professor of Gynaecology at AIIMS, speaking to The Indian Express.
The device itself reportedly looks like "an extra-long tampon with a light at the end, can look at the cervix with better clarity than the standard colposcope," says a report from the same publication.
(Edited by Gayatri Mishra)
Like this story? Or have something to share? Write to us: contact@thebetterindia.com, or connect with us on Facebook and Twitter.