The Sunderbans in West Bengal are set to get electricity generated from cow dung. This Ganesh Chaturthi, many families across India brought home idols made from cow dung. Punjab went a step further and used it to deliver piped biogas to various houses in a village.
These instances are an apt example of how cow dung was utilised as a resource, rather than a waste product. Taking a cue from the states mentioned above, a handmade paper institute in Rajasthan also decided to join the bandwagon.
The Kumarappa National Handmade Paper Institute (KNHPI) mixed cow dung with rag paper and made handmade paper. Not only does this utilise waste into making something beneficial, but the process also generates income for farmers and gives employment opportunity to several workers.
Otaram Devasi, the minister of Gopalan department in Rajasthan, told the Times of India,
"One gaushala has started making paper in Jalore. Our department always encourages gaushalas to contribute to the state economy through various cow produce."
And now, using the technology that KNHPI has developed, you too can make paper and earn lakhs!
Speaking to Gaon Connection, AK Garg, the director of KNHPI, said, "We are registering this with the Prime Minister's Employment Generation Programme (PMEGP). Once we are associated with them, anyone can apply for loan or subsidy to buy the plant. The plant will go from the lab to your home within 15 to 20 days… [The income] depends on the quantity of paper you produce. The price range of the plant is between Rs 5 to 25 lakh."
Once installed, the plant can provide employment opportunity to about 10-15 people, depending on the level of manufacturing.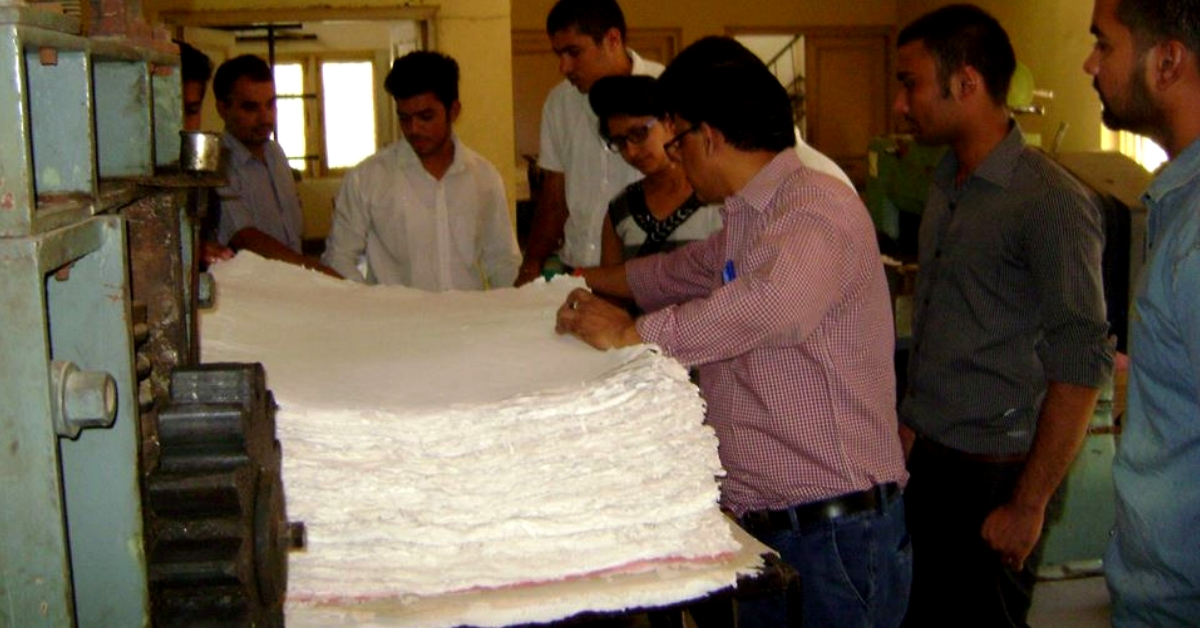 Cow dung can be bought at around Rs 4-5 per kg while the ready paper can be sold, especially in urban areas at a reasonable sum.
The paper, as is already tested, is of good quality and can also be used to make long-lasting shopping bags. The use of plastic has been banned in several states as people are becoming increasingly aware of the menace that plastic poses. While that is a crucial point in environment protection, many also argue that switching to paper instead of plastic poses a threat to our bamboos and trees. In such a situation paper made from cow-dung seems like the perfect solution. And since the quality is nowhere compromised, this paper appears to be even more promising.
You can visit the KNHPI website here to know more.
(Edited by Gayatri Mishra)
Like this story? Or have something to share?
Write to us: contact@thebetterindia.com
Connect with us on Facebook and Twitter.