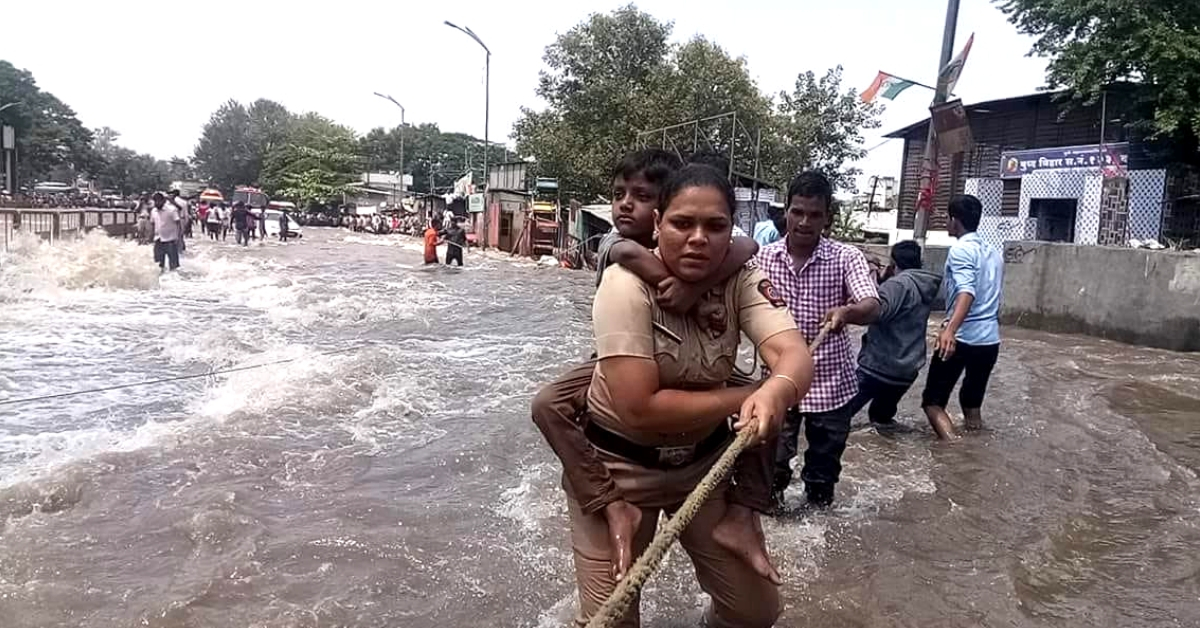 "The water was up to my stomach. I led the women out holding their hands and the children I took piggyback as the water had gone above their heads,"
A wall of the Mutha river canal in Pune collapsed on Thursday, September 27, and resulted in flooding near the Dandekar bridge area.
The wall collapsed around 11 am and within minutes, the river water, flowing as fast as 1277 cusecs, gushed on the roads and in many huts in nearby slums.
Everything happened so quickly that people didn't have time to get themselves to safety.
At the same time, police constable Neelam Gaikwad had reported for duty at the Dattawadi police station, unaware of the situation 2 km away from her.
Just as she began her regular work of writing complaints, she received a call from a senior officer, asking her to reach the place of flooding at the earliest.
Gaikwad is known to be a brave, outspoken cop who can be counted upon to deal with emergency situations.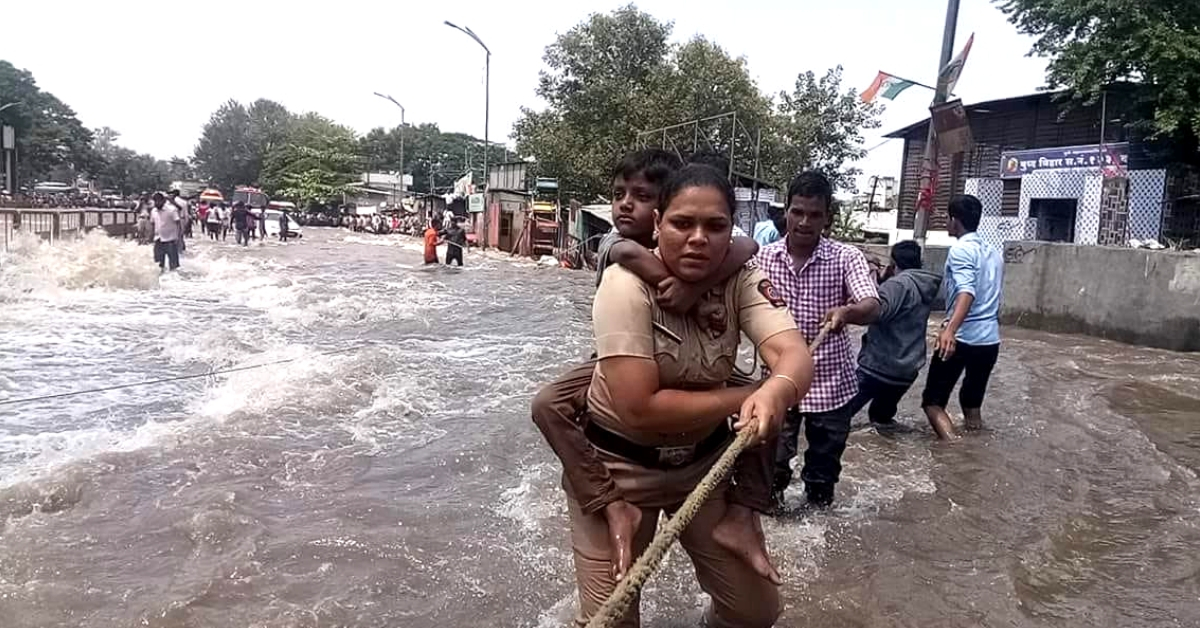 Devidas Ghevare, a police inspector told Pune Mirror, "She is always on the forefront in situations like this. She is one of the bravest and most dutiful officers that Pune police have. During Ganpati Visarjan earlier this week, she played a major role in controlling traffic and also handling drunkards. But she can be equally aggressive when tackling law violators and criminals."
And yesterday, when water entered roads and homes, Gaikwad sprung into action yet again.
"When I reached, I found people flailing in the water that was swelling fast. There was nobody to rescue them. I handed my purse and mobile phone to a stranger and got ready to wade in. Even as I was removing my shoes in a shop, I spotted its owner desperately trying to keep himself from drowning. Noticing a garage nearby, I grabbed a tyre from there, strung it to a rope and threw it to him, so he could stay afloat," the 28-year-old told the publication.
And that was just the beginning.
She soon realised the gravity of the situation when the water was reaching way above knee level.
NO #FLOODS OR #RAINS BUT #protection wall of #Mula water canal on #Sinhagad road in #Pune washed away leading to flooding in the area near #DandekarBridge #water logged on streets in #Pune #punetraffic pic.twitter.com/U3mTig30pU

— sudhakar (@naidusudhakar) September 27, 2018

In this situation, there was an urgent need to save little children, who were not tall enough to be safely above water. "The women and children were scattered and in their panic, family members could not find each other. The water was up to my stomach. I led the women out holding their hands and the children I took piggyback as the water had gone above their heads," she added.
For the people caught in the flood, Gaikwad was a true hero. She had rescued 15 children and a number of adults within two hours.
---
You may also like: Pune IPS Officer Refuses Bouquets, Asks for Books. The Reason Will Warm Your Hearts!
---
She wasted no time in identifying people who could not walk to safe places–like Chhaya Waghmare, who was stranded in her flooded home–and rescued them.
Ambulances, fire brigades and traffic police were deployed to smoothen the situation in the city as soon as the news of the flood hit.
The flooded area is quite busy, traffic-prone and close to slums, but brave cops like Gaikwad and common citizens alike sprung to action immediately, rescuing children and diverting traffic, so that the losses could be minimal.
So far, no casualty has been reported and the credit goes to these heroes!
(Edited by Shruti Singhal)
Like this story? Or have something to share?
Write to us: contact@thebetterindia.com
Connect with us on Facebook and Twitter.