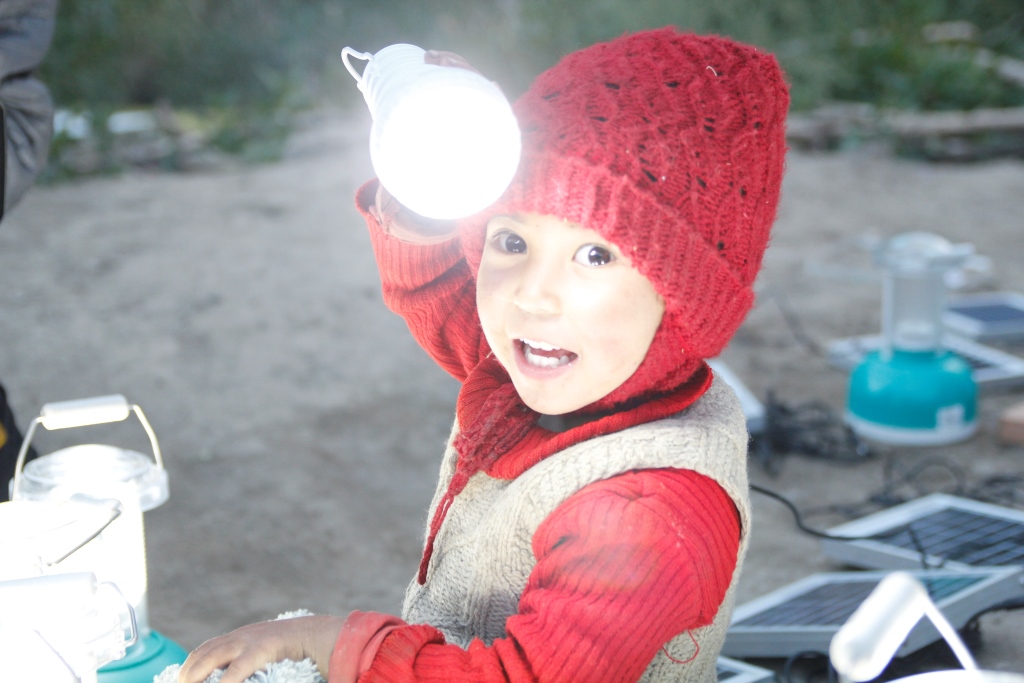 People in some of the remotest villages in Ladakh have never experienced electricity in their lives. This team of changemakers is giving a whole new meaning to tourism. They have constructed an advanced, technology-friendly E-base and have also set up three Solar DC Microgrids. Read more about the sustainable impact these "tourists" have created.
People in some of the remotest villages in Ladakh have never experienced electricity in their lives. This team of changemakers is giving a whole new meaning to tourism. They have constructed an advanced, technology-friendly E-base and have also set up three Solar DC Microgrids. Read more about the sustainable impact these "tourists" have created.
"I  never believed that I will see my house lit up in the darkness of night. Since independence, there has not been even a single bulb in my house," said one of the oldest man in Sumda Chenmo village, Ladakh, with tears in his eyes.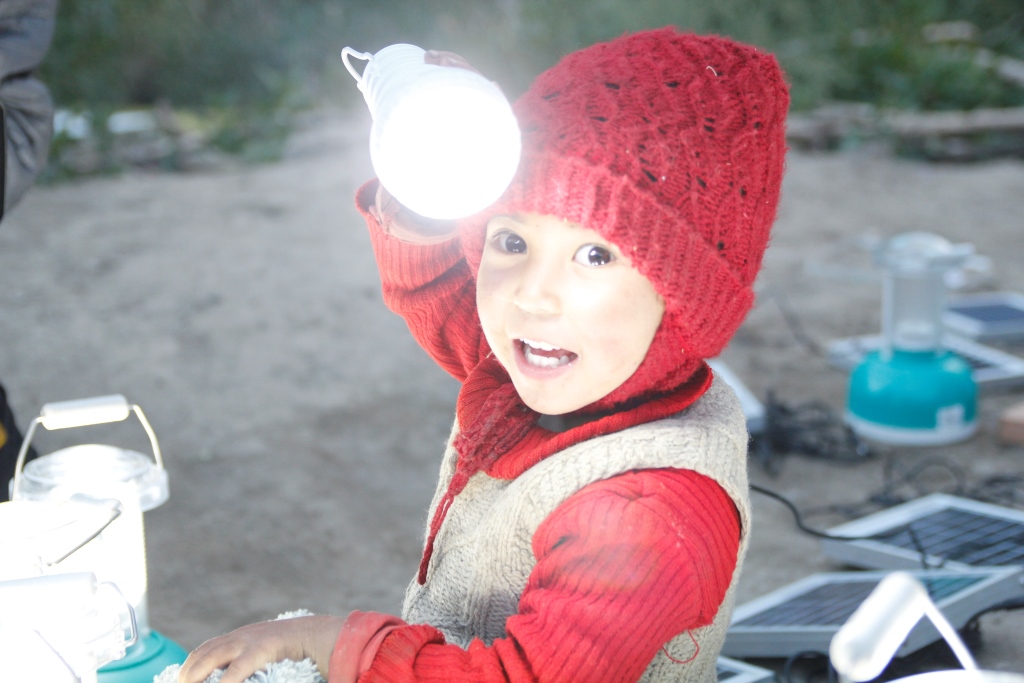 The village houses had electricity after years, the kids started using Skype and other technology in E-Base to connect to people across the globe, and the entire village was transformed. And all of this was made possible by the "tourists". Surprised? Most of us consider tourism as an activity that would take us to beautiful places, give us an opportunity to click some great pictures, and after some days of rejuvenation, would bring us back to our regular lives.
But these impact tourism evangelists are changing the definition of tourism. Global Himalayan Expedition aims at giving tourists a holistic Himalayan experience, stretching across pure adventure and cultural connect with the local communities. They also encourage the travelers in setting up sustainable energy and education based infrastructure in the remote Himalayan regions.
"Our main objective is to use tourism to impact the lives of remote and underprivileged communities across the Himalayan region. Tourism should be much more than just visiting a place; it should impact both the community's life and your life," says Paras Loomba, founder, GHE.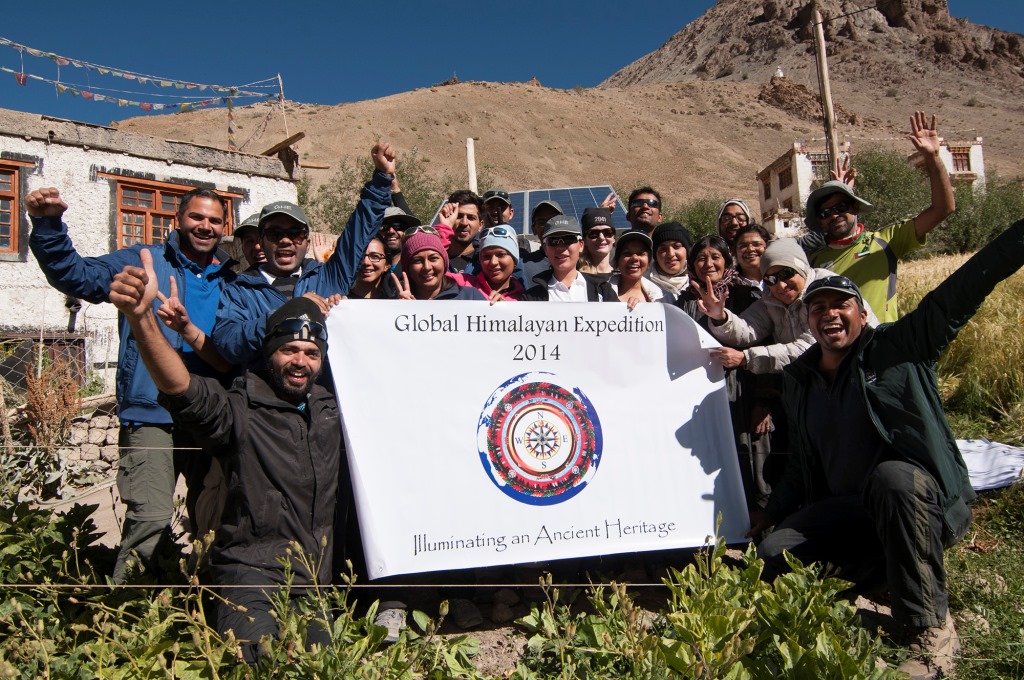 The start
Son of an army officer, Loomba travelled extensively across India, stayed in 12 cities, changed around 15 schools and experienced some of the coldest places of India. While he initially thought of joining the army, Loomba's desire to do something different kept him restless and he looked for ways he could explore different areas of work.
One day, he saw a TV report on Robert Swan, the first person to walk to both the North and South Poles. Loomba was really inspired by Swam's feat and he joined an international expedition to Antarctica with Swan.
"That trip changed my life. I saw the effect climate can have on people's lives and the troubles it can create so I thought of using technology to enable sustainable change in the remote regions of India," Loomba says. After coming back from Antartica, Loomba gathered a bunch of his friends and planned to set up a school in Ladakh with the latest technologies and facilities.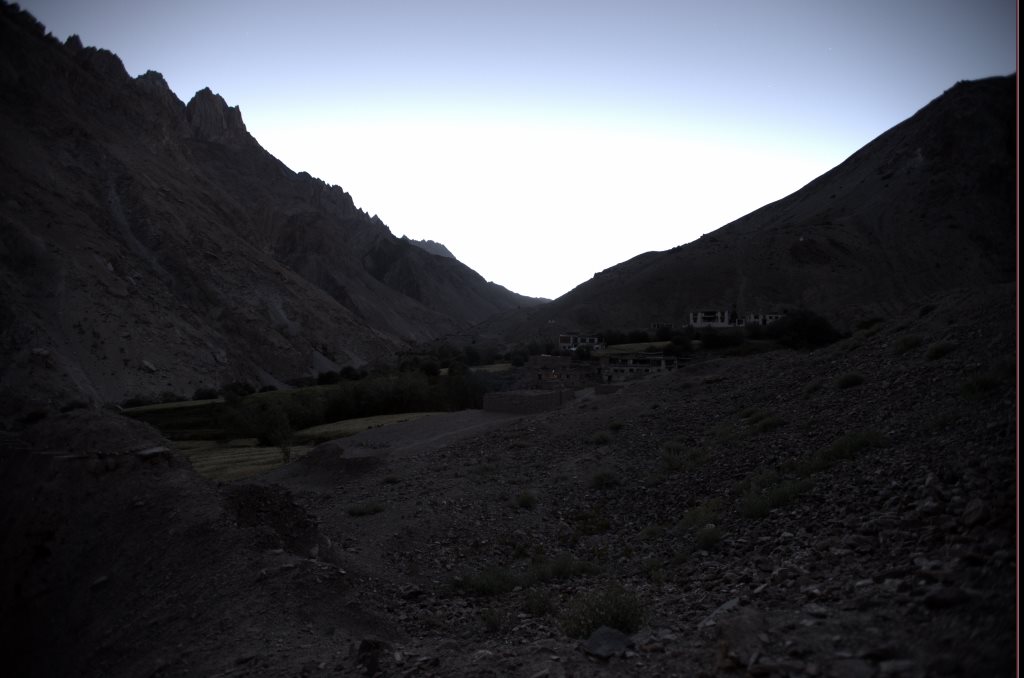 "We planned to set up something very creative and amazing. Like the school of Phunsuk Wangdu of 3 idiots movie," he exclaims. Hence the idea to start GHE took shape.
From spending a few years of their lives in the Himalayas to visiting the region for Adventure treks to being born and raised at the foothill of the great mountain range – the team members have a very emotional connection with the Himalayas and Ladakh.
"The Himalayas have always been a force inspiring and guiding our humanity. Right from the early Hindu Gods to the many great Buddhist saints, all have drawn inspiration from these mountains," the GHE team says.
The GHE expedition team is selected through a set process. Applications are invited across the globe and only pasionate people are selected. A maximum of 25 people go for the expedition at one time and they come from different countries. They currently conduct one expedition each year for a duration of about 12 days, but they hope to make double that frequency soon.
"Since we want to make it a global platform, the expedition team consists of people from several countries. 40 percent of the people are from India and the rest from other countries," says Loomba.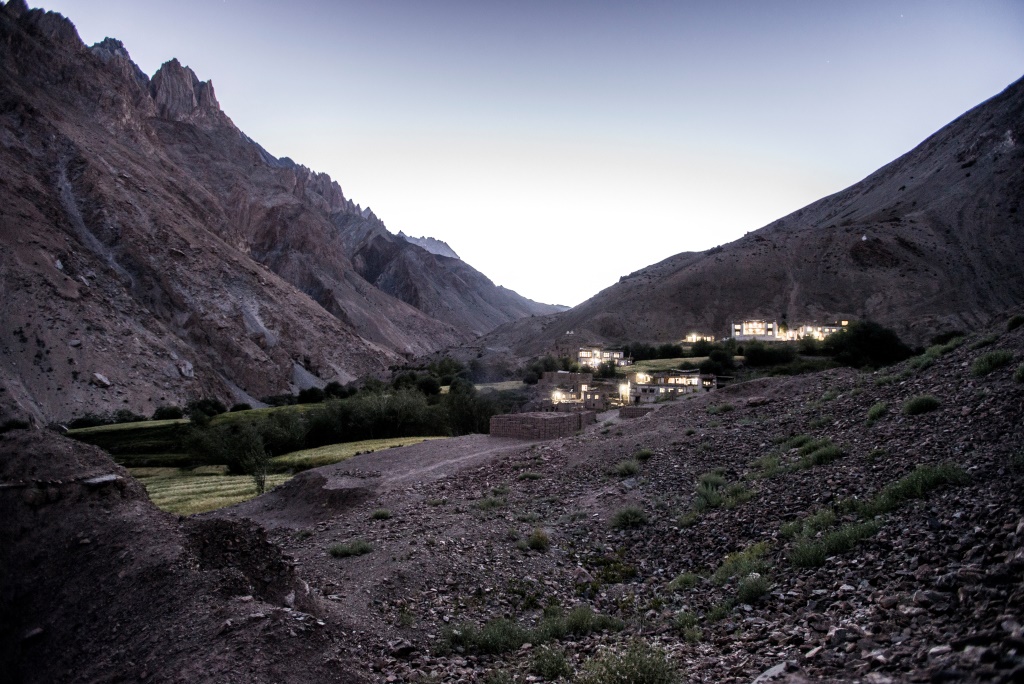 The technology friendly E-base
Loomba and his team went to Ladakh to construct a one-of-its-kind E-Base (Education Base) near Mahabodi school. The school hosts around 500 students from several nearby villages. He didn't have any experience in this field. But it was his passion that drove him to the highest peak to bring a change. And it was his passion and his team's hard work that helped him construct a Third Pole E-base, 3,500 meters above the sea level.
The structure of the school was not like any other building. It was a double wall construction that kept the indoors warm even if it was freezing outside. "The solar-powered E-base was constructed using materials like rammed earth made of sand, earth, paper and husk," explains Loomba.
Not only this, the E-base also offered several tablets and laptops to the students with a good internet connection that helps them to connect with people across the globe. They also have a television and over 10 telescopes and several books according to the students' interests.
And all of this at a location where there is almost no connectivity with the outer world. "When we first introduced the idea, we received over 300 applications within a month. This gave us the confidence that this can work. People from nine countries joined me and we started our work to construct this unique E-base in a land which was affected by cloud burst," Loomba says.
The E-Base is the third base in the world to run completely on solar. It also has Ladakh's first sustainability curriculum and a Robotics Lab.
Digital tools, documentaries and interactive sessions are used to engage kids, which makes it an unusual and interesting experience for the kids.
Bringing the light
Ladakh receives 300 days of bright sunlight every year, with the world's maximum insulation level of upto 1200w/m2 energy. The E-Base team decided to tap into this advantage and utilize the sunlight for a better purpose. Apart from a very successful E-Base, the GHE team also set up 3 Solar DC Microgrids in Sumda Chenmo village which hosts around 100 houses and is 2 treks away from any nearby town.
"We figured that electricity was the biggest necessity in these areas. Livelihood and education will eventually follow if people are able to utilize the time which is wasted due to lack of power," says Loomba.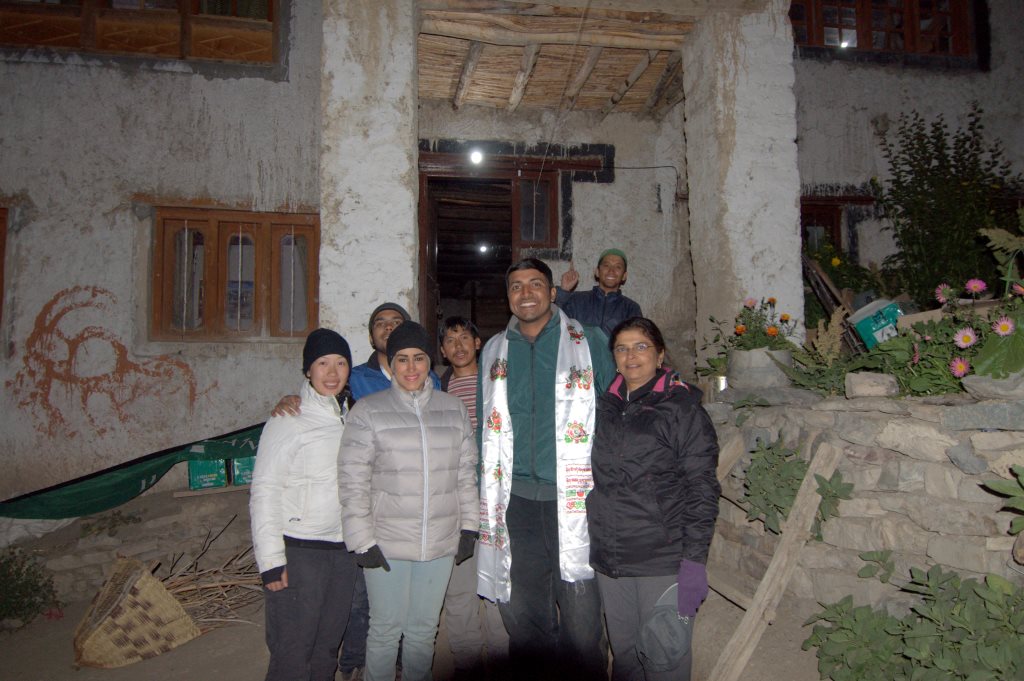 With support of Ladakh Renewable Energy Development Agency (LREDA) and Mrida, a social enterprise in Rural Electrification, GHE connected with the village heads of different blocks and identified the remotest village in the area for launching their development initiatives.
"We used DC current so that even if, due to some reason, a person gets any shock, it won't be that harmful. We had to consider all these factors as there was no proper healthcare facilities nearby," says Loomba. With help from fellow tourists, 130 bulbs were connected in the houses and all of that was achieved within just 10 hours.
The villagers will be paying Rs.100 for any repair, maintenance and installation of new solar grids in the future. Being an enthusiastic team, they found solutions to all the problems that harsh climate created. They used Yak skin to cover the battery and keep it warm in extreme cold conditions.
"Solar Lanterns typically last a year or two with a maximum supply of 3-4 hours of light, while a Solar DC Microgrid can light up houses with up to 10 hours of electricity backup per day and can run uninterrupted for 5 years," says the team.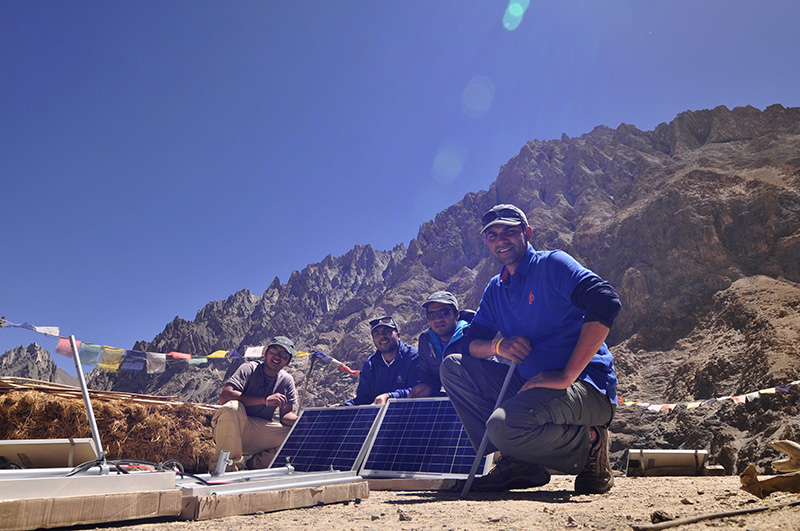 The impact
The small team of five has created a tangible impact in the lives of people in Ladakh. The installation of micro grid and use of solar energy completely eliminated the use of around 1,600 litres of Kerosene by the villagers.
The solar lights have helped the villagers to increase their working hours by four hours per day which is very crucial for them as their main occupation is making handicraft products from brass and copper.
GHE's initiatives have also increased livelihood options and income opportunities as every year several tourists come here, and they not only spend time with the community but also find possible solutions to their problems.
Students have started playing an active role in sustainable living practices.
"Apart from this, attendance in schools has increased. The idea is to empower kids to study and enable them to go to their villages and install solar grids themselves. We want to provide sustainable solutions," says Loomba.
The future
Till date, around 400 students use the 100 percent solar powered E-Base. GHE wants to take this initiative to the next level by electrifying 20 more villages in Ladakh by next year and 50 villages in the next three years.
"We want to scale up and reach out to more people and villages. We will be definitely organizing more expeditions, more campaigns and more visits in the future," Loomba says. The GHE team also wants to expand to other areas like Uttarakhand and Arunchal Pradesh.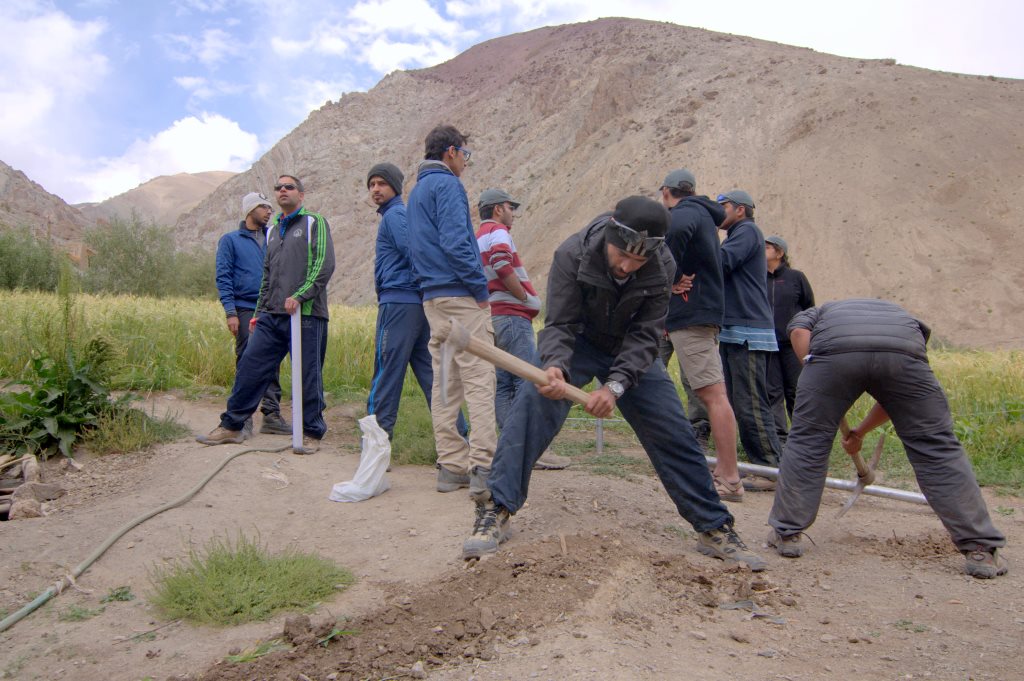 Supported by many well-wishers and corporate sponsors, GHE is doing some amazing work in some of the most unexplored regions of India.
"I would like to tell people to travel responsibly. Avoid the use of plastic and connect with the community," advices Loomba. Want to know more about GHE's work? Check out their website.
Like this story? Or have something to share? Write to us: contact@thebetterindia.com, or connect with us on Facebook and Twitter (@thebetterindia)
We bring stories straight from the heart of India, to inspire millions and create a wave of impact. Our positive movement is growing bigger everyday, and we would love for you to join it.
Please contribute whatever you can, every little penny helps our team in bringing you more stories that support dreams and spread hope.