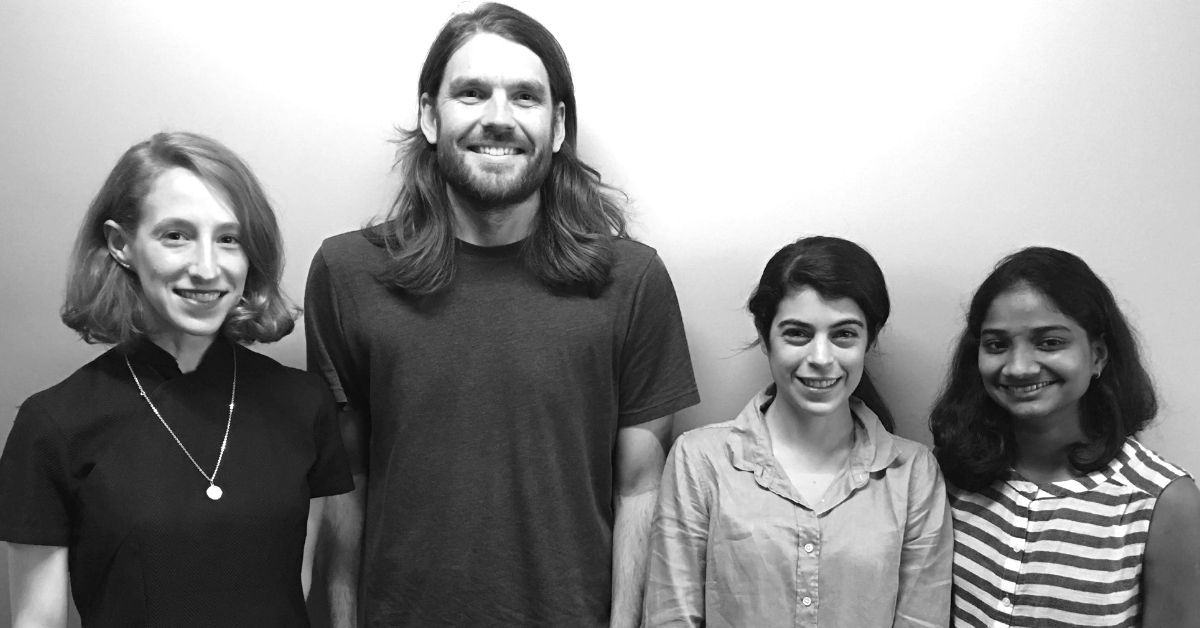 This awesome idea could solve the capital's air quality woes while helping the poor battle the summer heat. Find out how!
Delhi's 16.3 million residents experience devastatingly dangerous levels of air pollution in their city, irrespective of what some apologists would like to suggest. The numbers don't lie.
Despite early signs of improvement in February this year, matters took a turn for the worse in June when dust storms kicked up in nearby Rajasthan state created a blanket of smog.
In parts of the city, air quality index (AQI) readings had hit 999—the equivalent of smoking 45 cigarettes a day. According to the World Health Organization, Delhi has the worst air quality in the world alongside other Indian cities like Gwalior, Allahabad, and Ludhiana. According to one study, approximately 15,000 people died prematurely in Delhi due to particulate matter in 2016.
For the residents of Delhi, things only get worse once the month of October begins with slower winds and cooler temperatures doing the job of trapping pollutants closer to the ground.
Experts working with the government and outside have cited multiple reasons for Delhi's dipping air quality levels. They all mention a combination of factors, although the difference comes when they try and figure out the primary source. Vehicular pollution, road dust, construction debris and poorly regulated thermal power plants all play their part.
According to a recent Harvard University study, however, half of Delhi's air pollution, particularly in the winter months (October-November), is a result of what's popularly known as crop burning in Punjab and Haryana.
Traditionally most of the crop residue left behind by the paddy harvest is burnt in the months of October-November, quickly preparing the ground for sowing the next winter crop.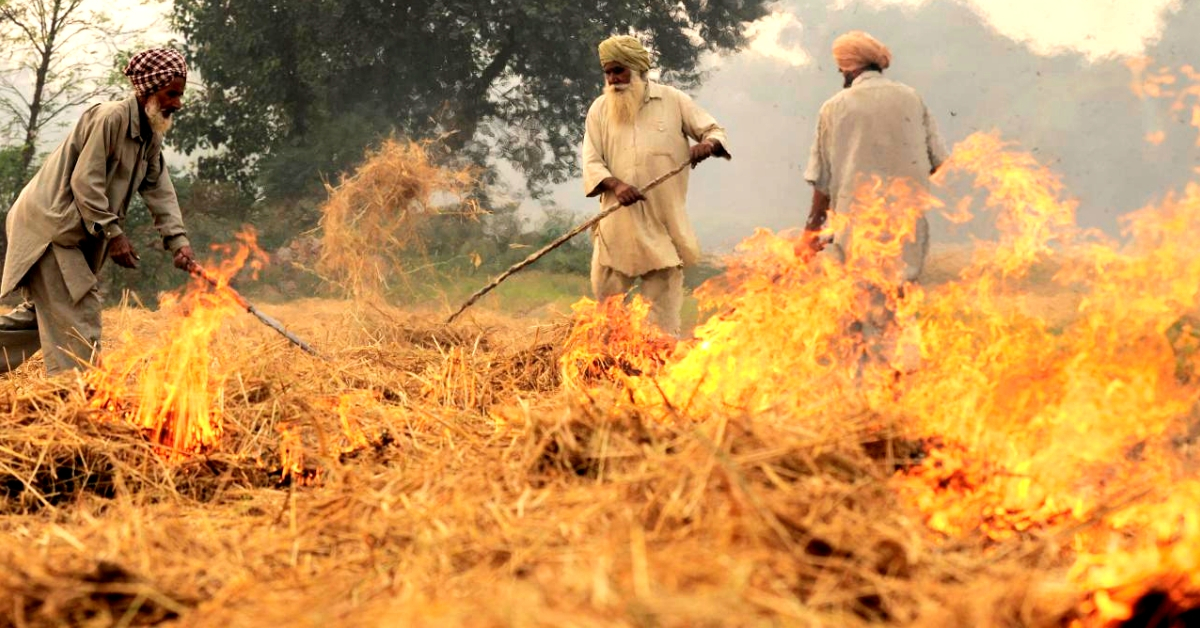 "Multiple cropping and shortened intervals between crops give a very short window of about 10–15 days during which the field needs to be prepared for the next crop," says the Centre for Science and Environment, a Delhi-based think-tank. "This does not give enough time for farmers to allow the straw to be incorporated in the soil or use other traditional methods of disposal."
Published in March 2018, the Harvard study rejects the claims made by a former Union environment minister who said that crop burning only makes up 20% of air pollution in Delhi, although a scientist employed by the Union earth sciences ministry pegs that figure at 70%.
Speaking to The Better India, Dr Daniel Cusworth, a 30-year-old atmospheric chemist who co-authored the Harvard study, breaks down the reasons why he thinks crop burning or 'agricultural fires' are such a critical factor in Delhi's air pollution makeup.
"We came to this conclusion through two analyses. In the first analysis, we aggregated all particulate matter (PM2.5) observations available from 2012-2016, which included the Central Pollution Control Board, United States Embassy, and the IndiaSpend (a data-driven journalistic endeavour) network.
Then we analysed the PM2.5 concentrations in Delhi before and after fires to get a background estimate of the general state of pollution in Delhi. This background was about half the PM2.5 observed during fire events. In the second analysis, we used satellite images of fire hotspots to derive PM2.5 emission estimates of the regions upwind of Delhi. We combined these emissions with a fluid dynamics model to simulate the flow of this pollution towards the urban centre.
The concentrations of this 'modelled' PM2.5 agreed with the observed PM2.5 during most peak burning events. Again, we found about half of the pollution during these events was attributable to fires," says Dr Cusworth.
What are the potential solutions to this problem?
Late last year, the Ministry of Environment announced a Rs 100 crore project to tackle crop burning in these northern states. Funding for this project will come from the National Adaption Fund for Climate Change (NAFCC).
It is now mandatory for farmers in Punjab to attach the Super Straw Management System to their self-propelled combine harvester machines for harvesting the paddy crop.
Unlike a standard combine harvester, which leaves behind a 10 to 12-inch-long stubble, the use of this Super Straw Management System with the combine harvester machine cuts the paddy straw into pieces of 4-5 inches, spreading them out uniformly. One can plough the straw left behind or kept as it is for the sowing of wheat using a zero-till 'Happy Seeder,' reports The Indian Express.
Following the Harvard-backed research into air pollution in Delhi, Cusworth alongside Alex Robinson and Ramya Pinnamaneni, Global Health Practitioners from the Harvard TH Chan School of Public Health, and Gina Ciancone, an urban planner at the Harvard Graduate School of Design, co-founded a start-up called Green Screen, which has come up with a possible solution to the problem of crop burning—by converting crop stubble into affordable cooling panels that the poor in Delhi can install in their homes to battle the blistering summers.
Also Read: Centre Has a Rs 100 Crore Project to Tackle Crop Burning, But We Need More Than Money
Measuring a shade under one square meter, it costs approximately Rs 350 per piece. "Green Screen is a nonelectrical air-cooling panel made from moulded bio-pulp, which cools air using two proven methods: compressing air through geometrically optimised perforations and evaporative cooling through watering attached panel vegetation. One tonne of agricultural waste produces approximately 100 screens," says Daniel, speaking to The Better India.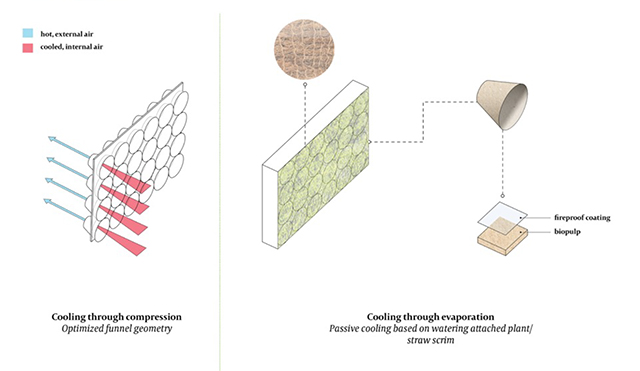 "If the panel isn't watered, it will cool via the flow of air through the conical geometry. Using bio-pulp allows for watering which would further cool through evaporation," he told IndiaSpend.
At this juncture, the start-up is at the stage of refining the design of these cooling panels and prototyping the product. Working alongside Delhi-based non-profit Chintan and UK-based WIEGO, the start-up plans on piloting the product the product across a few communities next year and subsequently go into production soon after.
Working with these non-profits, the start-up is looking to locate, install and test the effects of these screens at the household level within specific slums in New Delhi.
"While all this is going on, we plan to enlist a domestic team to better coordinate all the prototyping and piloting efforts. Our goal is to manufacture and produce the screens in as close proximity to Delhi as possible to minimise outsourcing," Cusworth told IndiaSpend.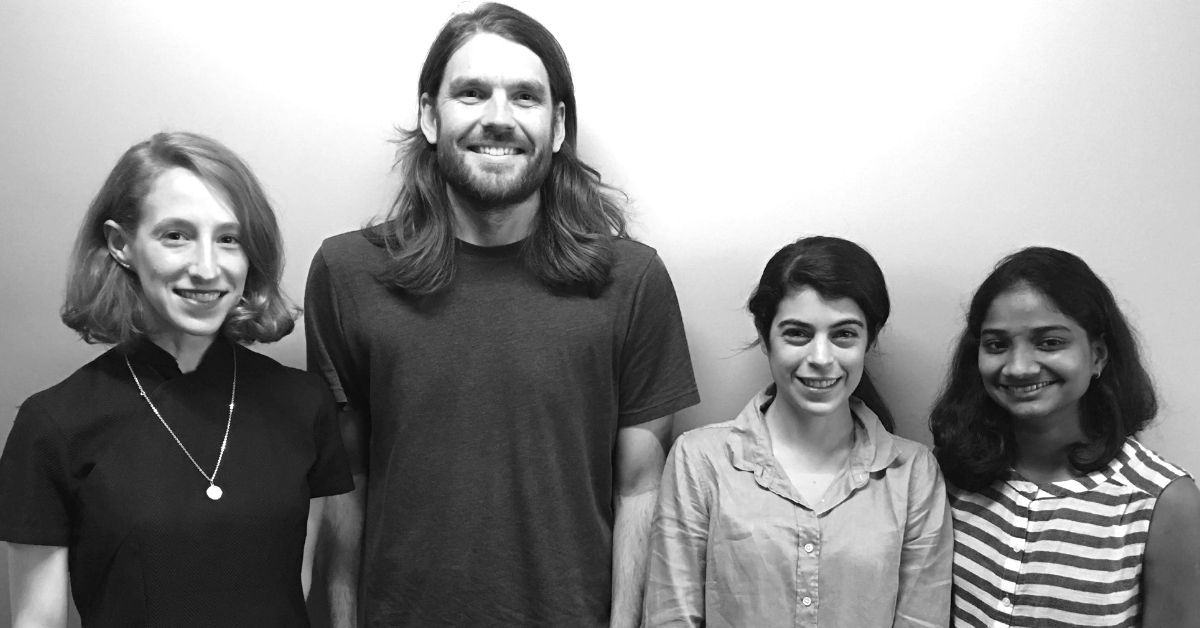 How is the start-up planning to source all that agriculture waste?
"Through atmospheric transport computer simulations, we have identified regions upwind of Delhi where burning has a large effect on surface air pollution (see figure below—darker colours mean farm burning in those regions are more influential in contributing to Delhi air pollution). We are using this information to make connections with farmers in sensitive regions. Our partners are key to our outreach efforts with farmers," says Cusworth.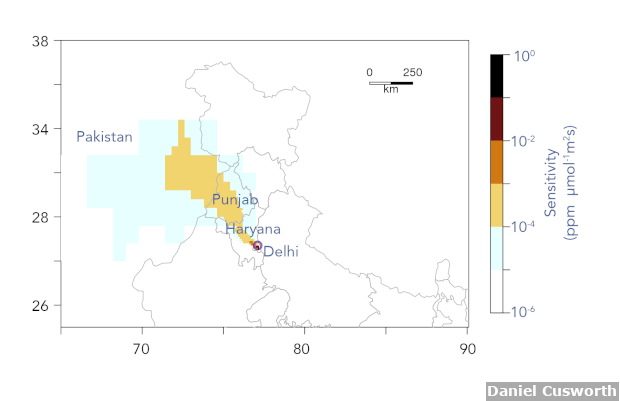 Having said that, the challenges before him and his team at Green Screen are clear.
"Since Green Screen creates a new choice for how to address linked, intractable problems that face heat-prone areas and bottom of the pyramid consumers, there are anticipated challenges that our team will address with the help of our advisors and partners. As with any new technology that disrupts current practices, our eagerly predicts building relationships with multiple sectors in the fields of technology, agriculture, and NGOs," he says.
We hope for the sake of Delhi's residents, especially those living in its slums, that Green Screen is successful in addressing this problem and delivering a product that could save lives.
(Edited by Gayatri Mishra)
Like this story? Or have something to share? Write to us: contact@thebetterindia.com, or connect with us on Facebook and Twitter.