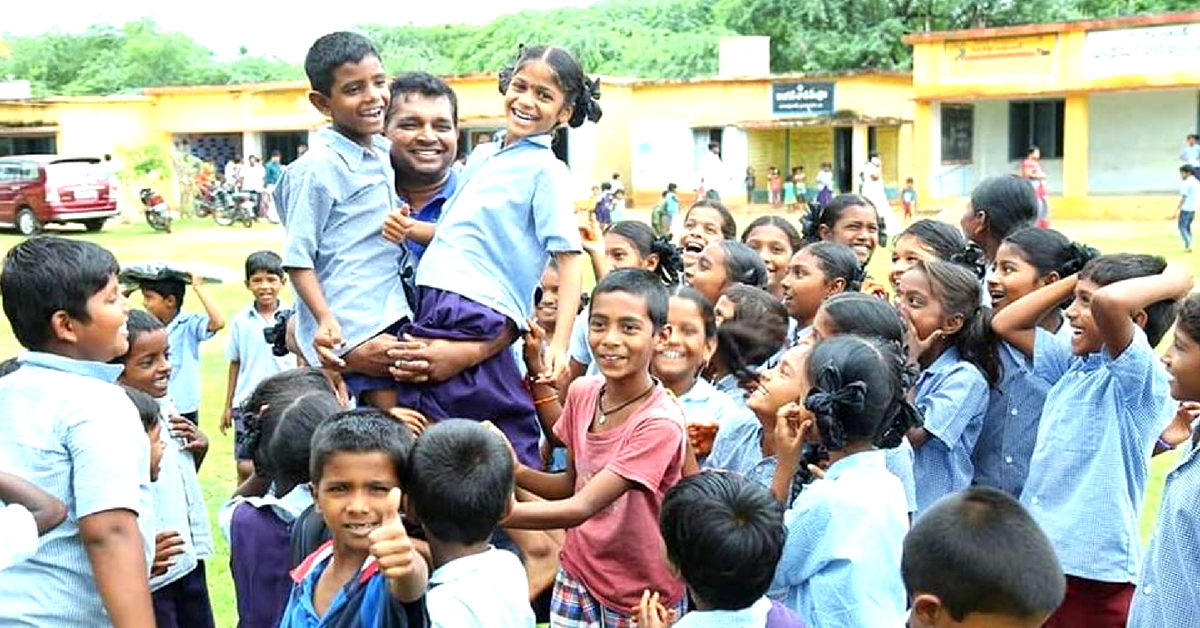 This incredibly noble legacy was handed down to Sridhar Reddy by his father who was gunned down by Maoists in 1998.
Criticising the government's inability to provide basic public services like health, education and social security is one of India's favourite pastimes.
These are legitimate complaints – since we pay our tax money through direct or indirect means to deliver necessary public goods in a robust and timely manner.
Nonetheless, there are thousands of ordinary Indians who are doing their part to ensure those left behind by the state are not deprived of these essential amenities.
Meet 41-year-old Mannem Sridhar Reddy, your average government employee currently working with the Telangana government as a senior accountant in their Finance Department.
However, he spends nearly 40% of his salary to adopt schools, educate poor children, raise environmental awareness and fight the use of plastic, among other things.
While his salary doesn't cover this gamut of social services, what he also does so effectively is assist people in dire need of monetary or material assistance through his local network of contacts and Facebook page called 'Mana Miryalaguda', bringing many citizens onto one common platform.
Miryalaguda is a small town in the once-Naxal affected Nalagonda district and Sridhar's hometown. After starting the Facebook page in 2009, Sridhar added many folks from his town with the objective of improving the state of government schools in his town, raise awareness among school children about health and the environment, while protecting them from the excesses of modernity.
Many from his town had left India for the West and other parts of the world in search of a better life. Sridhar even reached out to them and spoke to them about his work.
Today, the group boasts of nearly 23,000 members, and they discuss social issues of the day, achievements of little-known initiatives and plan activities for Miryalaguda and other neighbouring towns and villages in the state of Telangana.
Sridhar's life turned upside down when his father, a contractor, was on his way to the local police station in Yadagirigutta, a town in the Yadadri Bhuvanagiri district of Telangana, to meet a friend.
Maoists gunned him down.
As if the murder itself wasn't horrific enough, it was a case of mistaken identity. They thought he was a local sub-inspector.
"On October 17, 1998, my father Mannem Shankar Reddy was in Yadagirigutta, a place of pilgrimage for many in my town, when he went to meet his friend, a sub-inspector, in the local police station. Unfortunately, Maoists had attacked the police station. Thinking that my father was the sub-inspector, they killed him," he recalls, speaking to The Better India.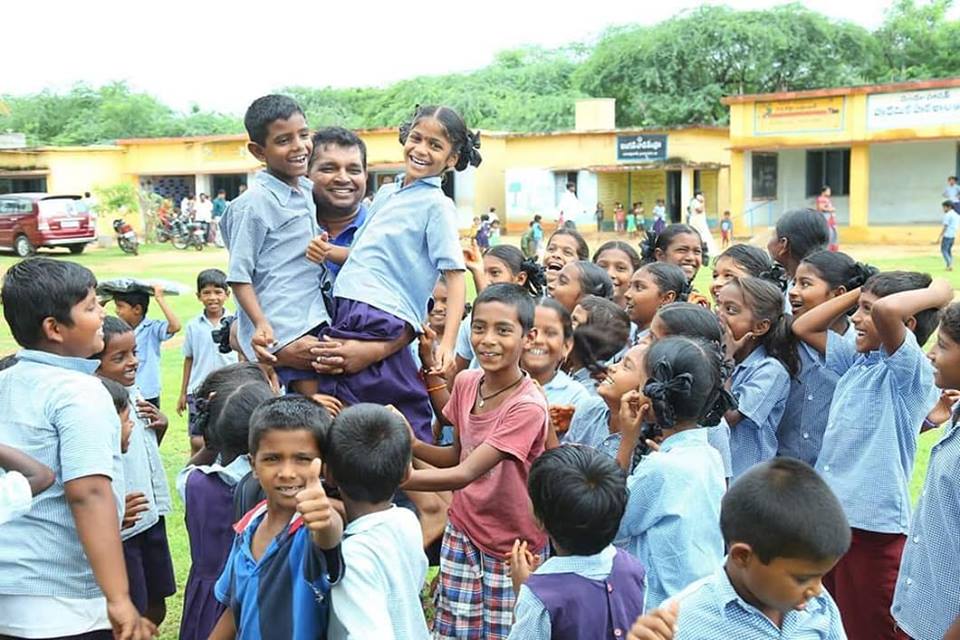 As compensation, the then administration of a unified Andhra Pradesh offered Sridhar a job as a junior assistant at the State finance department in Hyderabad.
"I was in my final year of BSc in Computer Science when my father was gunned down. I had plans to study further in Australia after obtaining my BSc. But after my father died my family suffered financially. Thus, I took up the job of junior assistant in the finance department on June 24, 1999 and shifted to Hyderabad," he says.
"It was a very difficult time in my life. But all that changed when in August of 1999 a government school teacher, who knew my father, came to my house and asked me to visit a government school in my father's native village of Edulagudem," he said.
During his visit to the school, Sridhar found out about how his father used to help the school conduct various activities every August 15 and January 26, besides sponsoring the education of a few underprivileged children there. It's something Sridhar knew nothing about, leaving him pleasantly surprised and deeply emotional at the same time.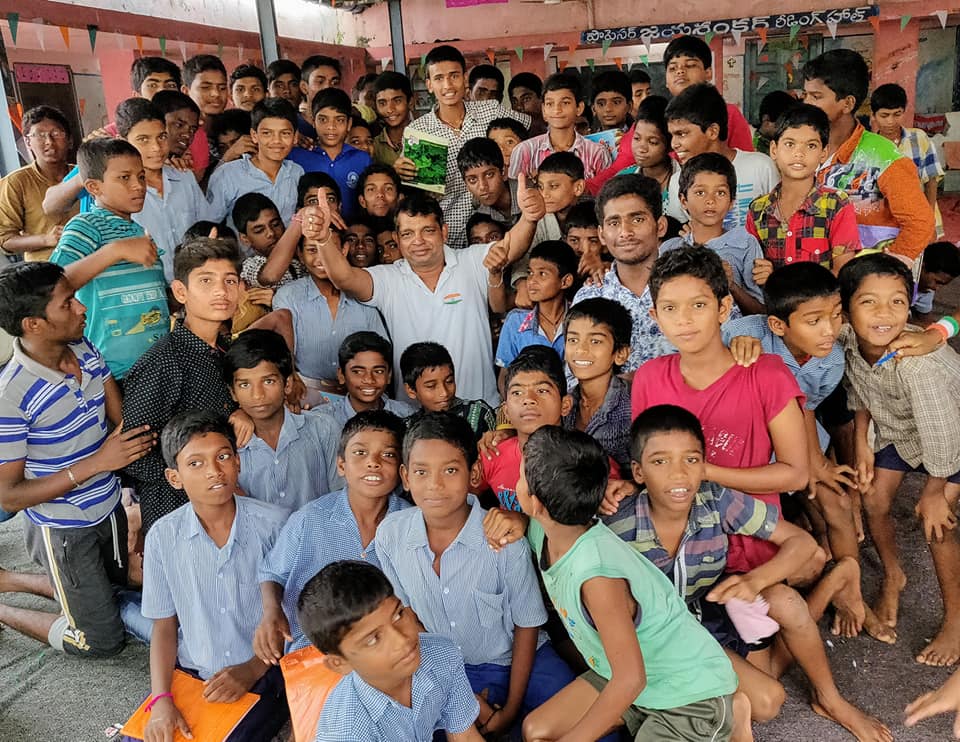 "That's when I decided to carry on my father's legacy," says Sridhar. On August 15, 1999, he initially donated some books and painting material for school kids at a government school in Edulagudem village in Nalagonda district, Telangana, which his father had adopted.
On learning that the school had no benches or study desks, he withdrew Rs 90,000 from his savings account and paid for these items besides some sports equipment.
Next was the nearby government school in Mukundapuram village (20 km from Miryalaguda), where he repainted the school and ensured it had all the basic amenities it needed.
"Every year on Independence Day, I organise sports events or other cultural-event related contests for the school kids," he says.
Since then he adopted 34 schools. "I assist with everything from arranging school bags, books, food provisions, projectors, study material, painting kits, benches, ceiling fans, construction of toilets, sports equipment and other aspects of infrastructure.
For example, at the Mukundapuram school, we also taught children how to grow vegetables using organic farming methods after clearing out all the bushes in their backyard. On occasion, the students consume their lunch from the produce grown at the school," he tells The Better India.
A decade of social work, however, began to take its toll and Sridhar knew he couldn't do it all alone.
That's when he first came up with the idea of reaching out to other Miryalguda residents and those who had settled abroad. In 2009, he started a Facebook group called 'Mana Miryalaguda' gathering all his friends, relatives and those who had settled abroad leaving his hometown.
Also Read: Learning Out-Of-The-Box: Check out 10 of India's Most Unique Schools!
"Today, we have nearly 23,000 members in our group from our town," he says with pride.
Thanks to the Facebook group and his outreach efforts, a lot of positive developments have taken place in not just Miryalaguda, but also neighbouring towns and villages in Telangana.
"For example, at the Mukundapuram government school, my friends and I delivered sports shoes and sports dress for all children, a projector to enable digital classes, and removed all bushes in school campus for the provision of a neat playground. The children there play volleyball, and some of them have been selected for Under-14 state and national level competitions. In fact, with the help of Telangana Cultural Association of Portland, we helped two volleyball players from the school Uma and Shilpa get sponsorship for their intermediate education," he said.
In another school in his hometown, Sridhar received assistance from the Nalagonda District NRI Association, a local legislator and a friend to fix its electrical wiring, provide fans, a projector, laptop, drawing kits, sports equipment, textbooks and school bags, among other amenities.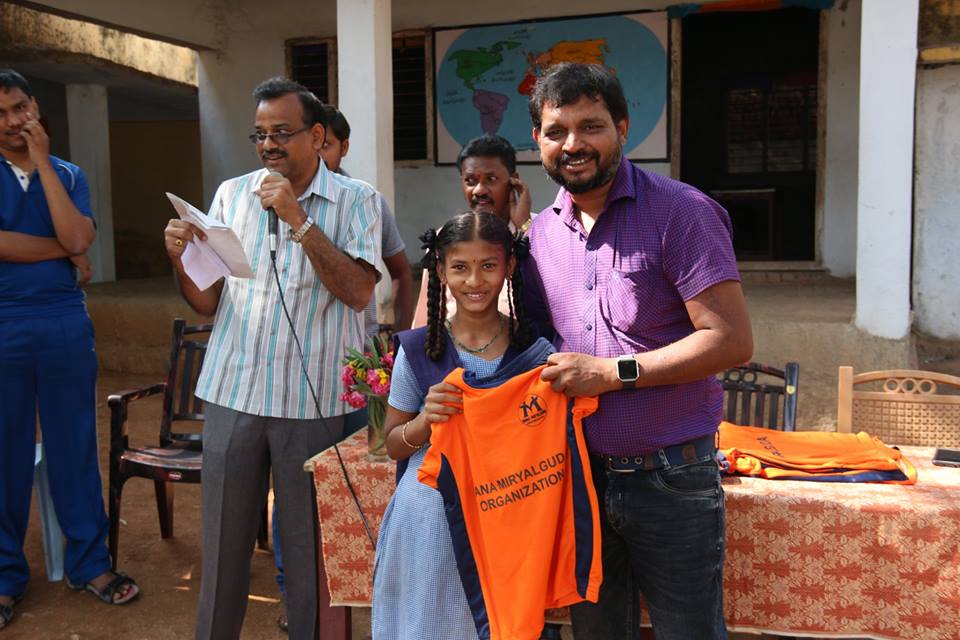 "One day the Nalagonda District NRI Association called me to conduct a cancer health checkup in the town. More than 750 people had attended the event. Unfortunately, 24 were identified with first stage cancer. I personally met all 24 people and facilitated their treatment at the Basavatarakam Indo-American Cancer Hospital in Hyderabad. A few of them are out of danger now," he says.
Another area of focus for Sridhar is the environment, especially preventing the proliferation of plastic.
"We are fighting to ban the distribution of plastic carry bags, and thanks to the efforts of my townspeople, we have distributed nearly 60,000 jute bags. Moreover, we came up with a unique solution to prevent the use of plastic carry bags. Outside every meat shop, we have put up banners asking residents to carry them in tiffin boxes instead of plastic. Those who comply would send a picture to me of the same on WhatsApp, and in return, they would receive Rs 100," he said.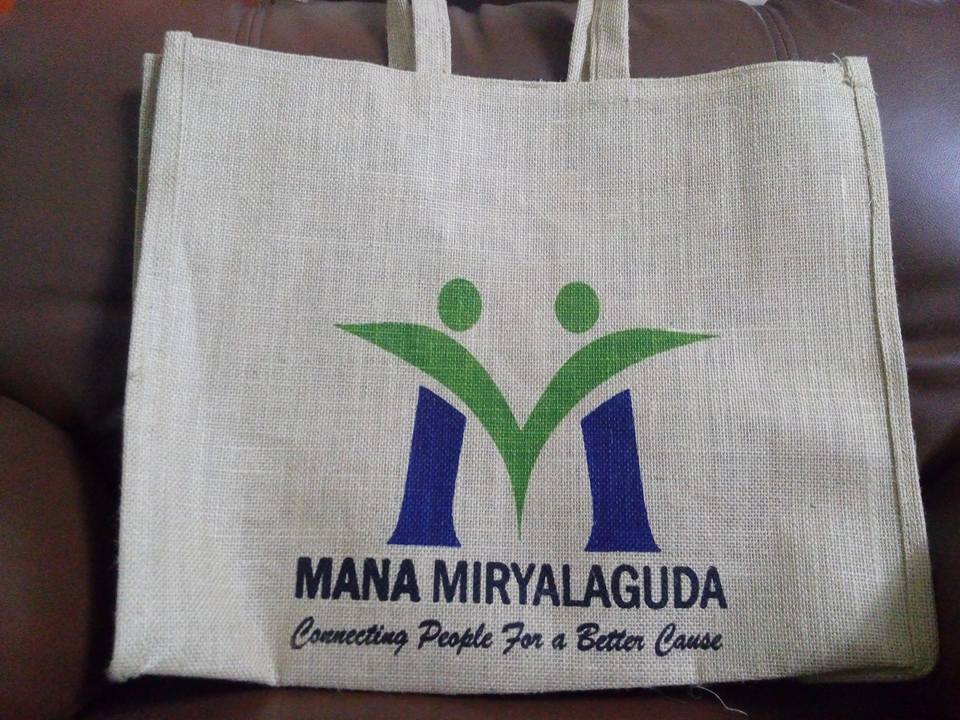 Despite having two children of his own, Sridhar is sponsoring the education of two students from underprivileged backgrounds—Kaushik and Shankar. Both are sons of daily wage workers, but thanks to the efforts of Sridhar and his friends, they are now studying in a local engineering college.
Shankar's story is particularly poignant. His father had suffered a terrible accident at the rice mill he was working in, and as a result Shankar had to give up his education. Hearing about this case from Shankar's school teacher, Sridhar paid fees for his final year in school.
How does Sridhar manage to all his philanthropy work despite being a husband and father to two children? Fortunately, his wife works as a software engineer in Hitech City, Hyderabad. He also cycles to work every day, saving more than Rs 5000 per month that he would have spent on petrol.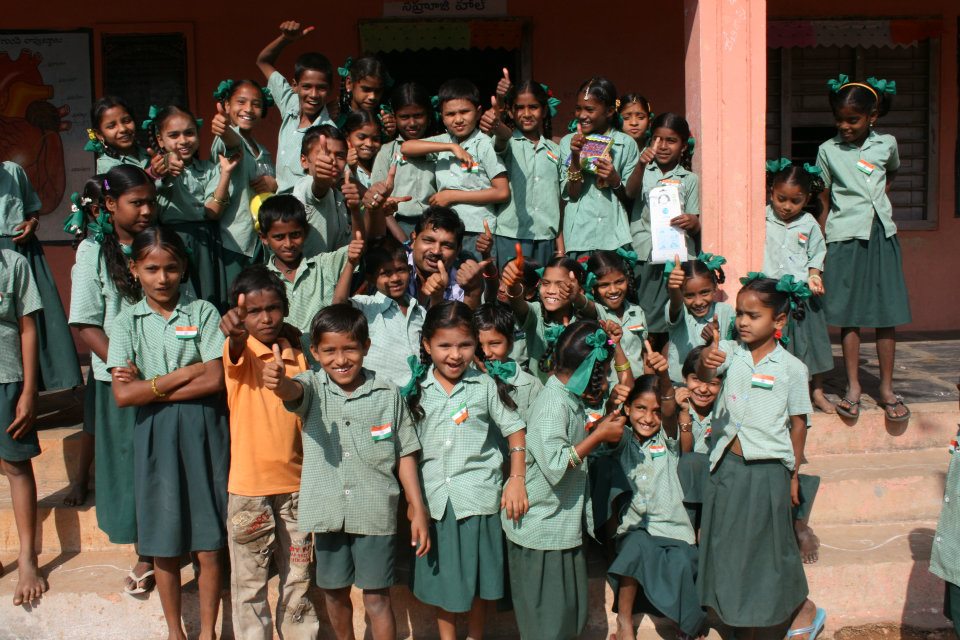 Moreover, Sridhar has managed to maintain a steady career as an accountant. He was recently promoted to Superintendent, resulting in a transfer to Medak district, Telangana. "Now, I hope to adopt a few schools in Medak district as well," he says with a chuckle.
What does the future hold for the Telangana man? "I wish to adapt more schools, provide them with infrastructure, assist more financially deprived students, keep my hometown plastic-free and conduct regular health checkup camps for elderly citizens there and other nearby towns and villages," he says.
Moving to Medak district could hinder his efforts, and he's aware of the challenges. Nonetheless, he remains up for it.
(Edited By Vinayak Hegde)
Like this story? Or have something to share? Write to us: contact@thebetterindia.com, or connect with us on Facebook and Twitter.
We bring stories straight from the heart of India, to inspire millions and create a wave of impact. Our positive movement is growing bigger everyday, and we would love for you to join it.
Please contribute whatever you can, every little penny helps our team in bringing you more stories that support dreams and spread hope.