Spiti, a tranquil valley in Himachal Pradesh at an average altitude of 3600 meters is home to around 10,000 Buddhists. Spiti Ecosphere is a social enterprise formed by the collaborative effort of the local community and professionals from diverse backgrounds with the aim of creating sustainable livelihoods linked to nature and culture conservation.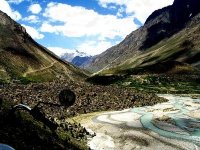 Spiti Ecosphere is focussing on the economic empowerment, development and conservation of the region through their range of products and services. These include the following:
Eco Travel which takes us close and personal with the mighty Himalayas and the nature & culture of Spiti. It is an initiative to promote eco-tourism in the region. Eco Travel offers various options to the discerning traveler ranging from a Spiritual Sojourn of the monasteries to the Pugmarks where one gets to track the elusive snow leopard and the Himalayan wolf in the midst of this treasure trove of biological diversity.
Organics – Spiti's unique ecosystem is richly endowed with various indigenous species. Ecosphere has streamlined the process for extracting and sourcing these rare Himalayan herbs including SeaBuckthorn popularly known as the "Wonder Berry"
Conservation – Mountain ecosystem and economics share a symbiotic relationship, and maintaining the balance with the environment is critical to the sustainability of livelihoods. Muse, Spiti SeaBuckthorn Society and Spiti Trans-Himalyan Action Group have been working in the region on the issues of climate change, promoting renewable energy, waste management and the Dhangkar initiative. Dhangkar, originally called Dhakkar meaning 'citadel on a cliff', was the erstwhile capital of Spiti . The Dhangkar Monastery is one of the five major monastic centres in Spiti and belongs to the Gelug–pa sect of Vajrayana Buddhism. It is a heritage conservation site in a state of despair listed in the 'World's Hundred Most Endangered Sites' by the World Monuments Watch Program. Check out www.dhangkar.com to know more about Dhangkar
In the near future, Ecosphere plans to come up with some very innovative projects. One of them includes "Environment education in schools", the belief being that awareness about the environment should start early by educating children in schools. They are also planning to come up with a short documentary showcasing the Spiti way of living and at the same time sensitising travelers and communities on how to ensure that it remains preserved.
To know more about Spiti Ecosphere and the wonderful work they are carrying out in this beautiful valley of the Himalayas, visit their website at http://www.spitiecosphere.com/
You can also connect with them on Facebook: http://www.facebook.com/group.php?gid=55566667952
For volunteering and other opportunities, mail them at info[at]spitiecosphere[dot]com