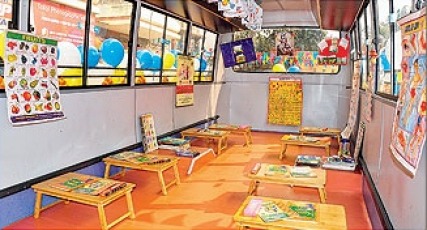 Education is every child's right. But sadly, many street children do not have access to that. Mukti Gupta started an NGO 'Help Us Help Them' which reaches out to street children through a school on wheels. The children are given vocational training, and not only this, the students are also provided nutritious food to keep them healthy! Learn more about this unique effort.
Education is every child's right. But sadly, many street children do not have access to that. Mukti Gupta started an NGO 'Help Us Help Them' which reaches out to street children through a school on wheels. The children are given vocational training, and not only this, the students are also provided nutritious food to keep them healthy! Learn more about this unique effort.
The wheels of this bus don't just go round and round but also go up and up. Confused? Yes, this is the specialty of Mukti Gupta's innovative social venture – a mobile school initiative in the city of joy, Kolkata. The school, launched in January 2013, is literally reaching out to street children to ensure that they are able to stand on their own feet in the future and rise both socially and economically.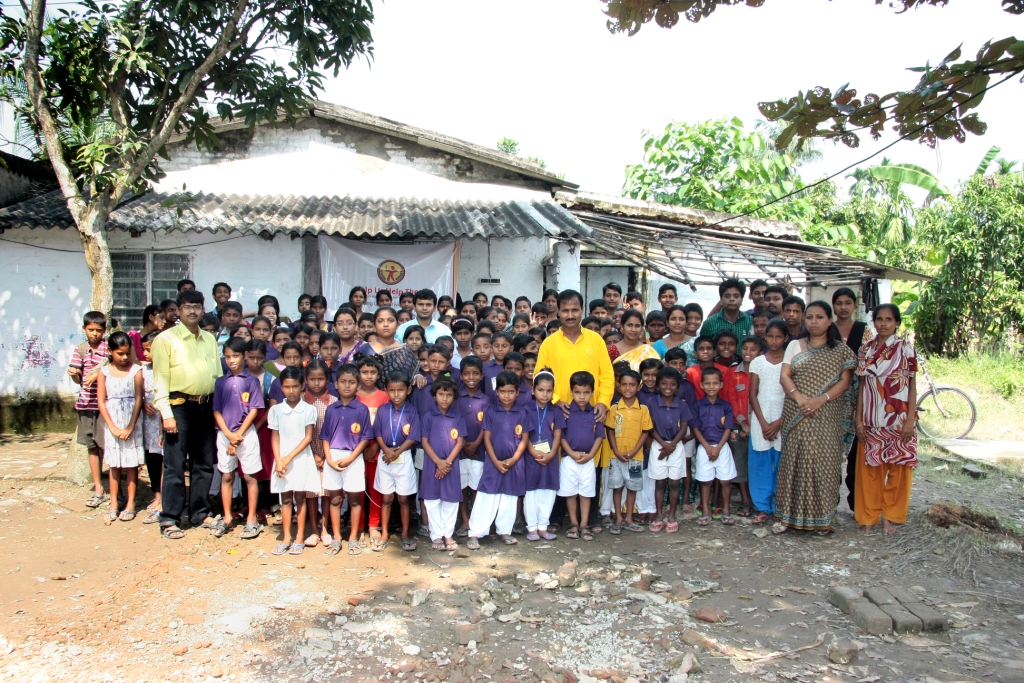 The driving force behind this school on wheels, Mukti, hails from an affluent family business with business interests in aviation, real estate, telecommunication and software development. Mukti's company itself is a grandiose one owning the Hotel Park Plaza of international repute and the extremely popular and swanky entertainment hub, Muktiworld.
So what led her from dealing with the creamy layer of the society to reaching out to the underprivileged and neglected zones, where even the common man would not take a second look? The miserable conditions of the poor came knocking on the car window of this corporate honcho, with a street urchin asking for alms. It was then that she decided to do something that would help them.
Signing off cheques to NGOs working for underprivileged children could have been an easier option, but that was not the solution for Mukti. And this time, she was more keen to go for a lasting solution rather than a temporary option. She says, "It has always been my wish to help the underprivileged children in the field of education; I believe that education is the only way to give them a better future." She gathered some like-minded and enthusiastic friends to form an NGO Help Us Help Them, and launched a school in Mullickpur.
Her family, though initially skeptical, gave a thumbs up to her dream project that was all set to realize the dreams of the children. She says: "My family has always been supportive about my decisions and my ideas. They have been the pillar of strength for me, and it is because of them that I have come so far."
However, the dream that had been sketched out only in her mind and on paper, had to be realized, after negating several adversities. And that she did with her positive determination and sharp business acumen, probably inherited for an active cause.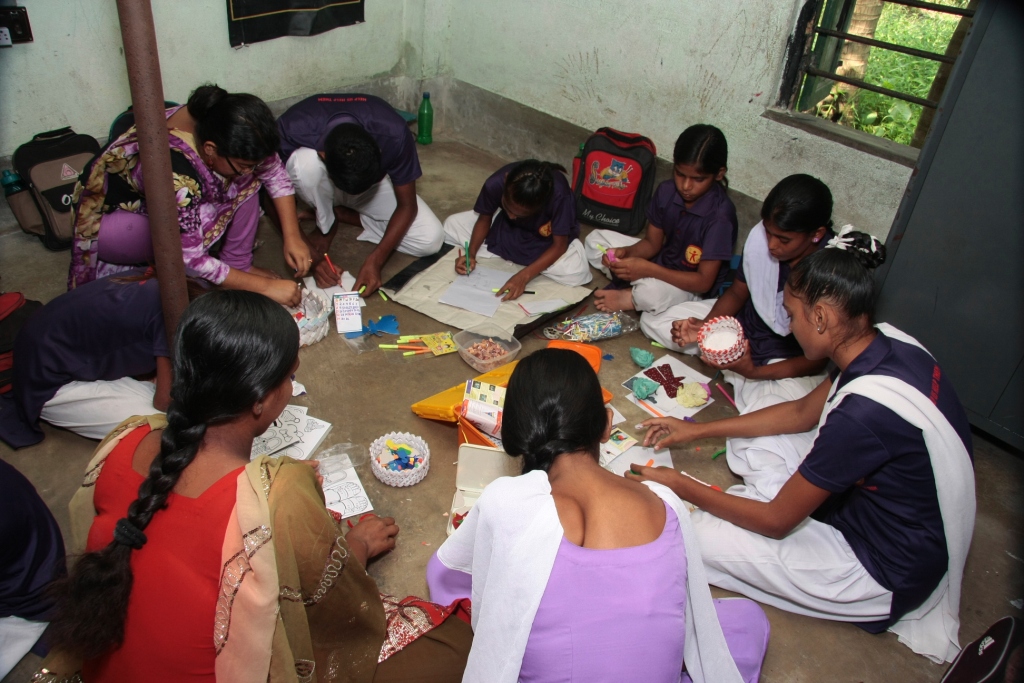 Her journey of launching her school on wheels project could have made for a motivational Hindi film script where the hero fights off all the impossible-seeming obstacles in the most ingenious and smooth manner. The film might have had a happy conclusion. But the situation was comparatively more tense, as when the engines started sounding, there was an anti-climactic turnout of only 2 children at her school in Mullickpur.
So was this highly ambitious Help Us Help Them project about to prove the detractors correct? Gupta worked tenaciously on promoting the school, and with time and sweat, successfully recorded more than 200 admissions. To make her school stand out, she had her teachers trained in Advanced Mental Arithmetic gratis from the Malaysia-based UCMAS.
She set up a six-machine computer lab in association with NIIT. Understanding the importance of extra-curricular activities and sports, she even started a swimming facility in the nearby pond with swimming classes conducted under the supervision of a national swimming coach, Bishwajit Choudhury. In fact, talented children identified in the sport could either qualify for district level championship or make it to good schools with sports quota.
After setting up such unique institutions of education, Mukti went forth with her mobile School on Wheels project, wherein the educational institution actually rode down to cater to the poverty-stricken children.
The fuel of patience and persistence was added to keep the gears of the project moving. She wrote to several corporate organizations for the take off of her mobile educational school bus.
"To start with, I wrote a letter to the person managing the Tata Motors CSR practice in Mumbai and then from one person to the other till they termed my idea as "crazy". The result was the cheque which I received from them as their 50 percent contribution. Oriental Bank of Commerce also contributed towards 40 percent of the costs. The remaining was contributed by family and friends. So this is how we started off," Mukti recalls.
Today, the bus that has been contributed by Tata Motors and converted completely into a school on the inside, stands proudly at its resting point at Sealdah station, outside Park Circus Maidan. Throughout the day, it is busy visiting various colonies and collecting street children for their 'school time'.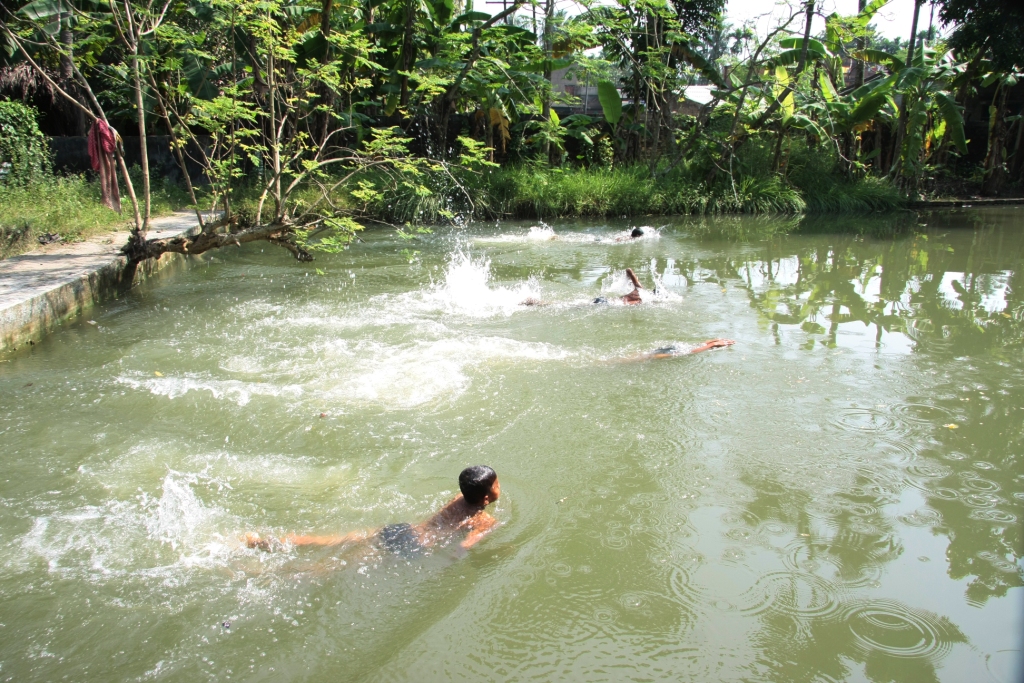 Mukti cites, "Our objective is to bridge the gap between, the mainstream education and street children. Our target segment is basically the slum / street children from various age groups."
The features of this mobile school bus that make it so striking, are many. To make way for a spacious classroom environment inside the bus, the seats have been removed. You would thus be greeted by a 175 sq ft classroom, looking bright with chowkis for the children to work and study and informative posters all around. An impressive plasma TV hangs on the wall to enable audio-visual learning.
"We have given the bus a classroom look with no seats and with proper carpet flooring. We have installed an LCD set to utilize A/V teaching tools. To make the classroom more  child-friendly and attractive, there are a lot of soft toys and games & puzzles. The bus exterior is very creatively and colorfully done. We follow the West Bengal board's syllabus and also teach them with the help of audio-visuals to make learning a fun experience for them," Mukti explains.
Apart from academics, vocational training is imparted, partly as an incentive for the children to join, and partly to make them ready to stand on their own feet financially sooner and to be able to live a life of dignity. The children are also provided nutritious food to keep them going physically and make them more regular in attending school.
Mukti elaborates, "We provide them with health drinks and food which they are otherwise deprived of. This makes them regular to the school. We make our classroom interesting by showing them cartoons, kid's movies, rhymes & stories. We also take them for excursions ."  Ayahs (helpers) have been appointed to ensure to scrub clean the children daily and put on their school uniforms before starting with their classes.
There are approximately 30-35 students per batch and around 100 students are taught in a day. Students have been divided into various batches and every batch has 1 teacher to assist them. There are 3 teachers, 2 nannies (ayahs) and 1 driver per location. Students are taught according to their age and their class education standard. The nannies help students maintain hygiene and cleanliness.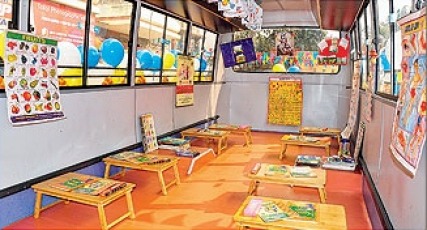 The parents of the street children attending this unique school, were initially skeptical about sending their children here, but have now become active supporters and motivators of this cause. Says Mukti about convincing parents, "We visit the parents regularly to curb dropouts and to explain the improvement in the children's education." While talking about the main target audience of this mega project, i.e the street children, Mukti says,
"For them it is like a dream because their usual life is very different from what they experience inside the bus and their school. They wait for their school to come to them…  Further, we also provide them with vocational training like clay painting, music, drawing etc which can help them earn a living."
The unusual education drive is already en-route to success as two students have been admitted in a boarding school and a few students have been selected for government schools. Another good news is that the Oriental Bank of Commerce has already announced a year-long support for the mobile school. Mukti hopes to expand the reach and facilities with the monetary support. "We are planning to launch 2 more buses so that we can reach out to larger numbers and more locations, and educate more children," says Mukti.
The school operates from Monday to Saturday  at 3 locations – Raja Bazaar from 9 am- 11.30 am , Park Circus from 12.30pm – 3.30 pm  and Southern Avenue from 4 pm – 6.30pm. Today, the bus brakes only to either pick up the children from the designated school stops or to take a breather at the end of a busy day at Sealdah station. Clearly, Mukti's mobile school bus is going full steam ahead!
You too can support Mukti in this brilliant initiative by getting in touch with her at muktigup@gmail.com.
Like this story? Or have something to share? Write to us: contact@thebetterindia.com, or connect with us on Facebook and Twitter (@thebetterindia).
Ipsita Sarkar is a freelance writer.
Tell Us More
We bring stories straight from the heart of India, to inspire millions and create a wave of impact. Our positive movement is growing bigger everyday, and we would love for you to join it.
Please contribute whatever you can, every little penny helps our team in bringing you more stories that support dreams and spread hope.