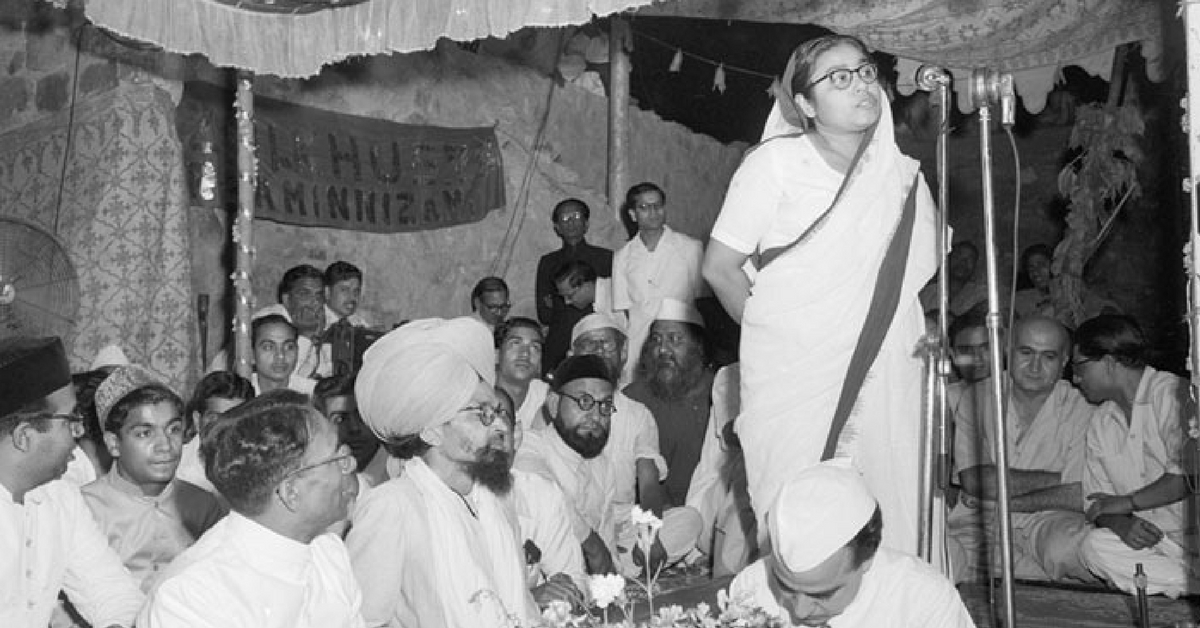 She was also among the 15 women chosen to draft the Indian Constitution as part of the legendary Constituent Assembly.
Afreedom fighter, a drafter of the Constitution, a chief minister and a path-breaker for women everywhere. She inspired students to join the freedom movement. She was jailed by the British. She even worked closely with Mahatma Gandhi. On August 14, 1947 – she sang the national anthem before PM Nehru made his famous 'Tryst with destiny' speech.
She and her husband contested elections from separate parties, even as they remained together under one roof!
One does not have such a legacy by accident – and it is one that deserves to be highlighted again and again. And so, today, let us have a look at the towering legacy of Sucheta Kriplani – a woman who smashed many a glass ceiling even as a nation was just born.
The Indian polity has an interesting relationship with its women. While many have attained positions of administrative power, women are grossly underrepresented in Parliament and state assemblies. According to this 2017 report, women only make up 11.8% (64 MPs) of the 542-member Lok Sabha and 11% (27) of the 245-member Rajya Sabha.
Having said that, India was one of the first functional democracies to elect a woman, Indira Gandhi, as Prime Minister in 1966.
Very few, however, are aware of the fact that three years earlier than that, the state of Uttar Pradesh had elected India's first woman chief minister, Sucheta Kriplani.
Long before her stint as chief minister, Sucheta Kriplani was an integral member of the freedom struggle standing side-by-side with Mahatma Gandhi and a passionate advocate for greater participation of women in politics. More importantly, she was also among the 15 women chosen to draft the Indian Constitution as part of the legendary Constituent Assembly—a major building block on which this Republic was built.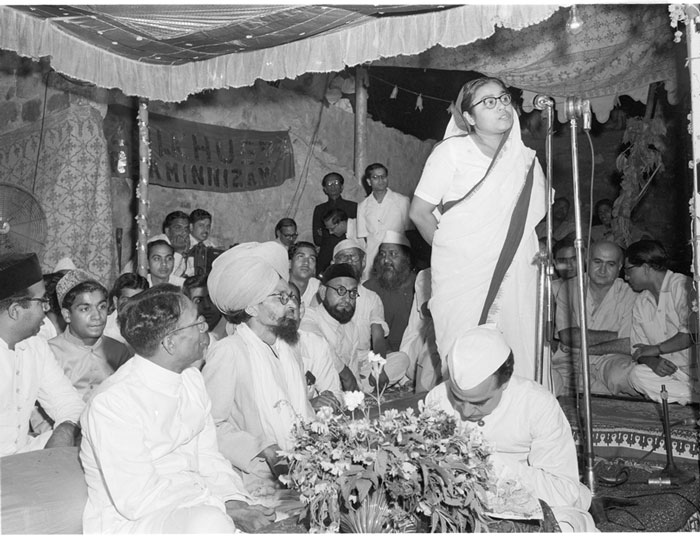 She was born on June 25, 1908, in Ambala, Haryana. Witnessing the freedom struggle unfold from such close quarters at a time when there was a perceptible change in its tone and tenor, Sucheta was destined for a life in politics. Her book, "An Unfinished Biography", presents a fascinating insight into the life and mind of a trailblazer in Indian politics.
"I could understand enough to feel great anger against the British [after hearing about the Jallianwala Bagh massacre]. We [Sucheta and her sister Sulekha] vented out anger on some of the Anglo-Indian children who played with us, calling them all kinds of names," she writes.
Both Sucheta and her sister Sulekha were desperate to join India's burgeoning Independence movement. There is one particularly fascinating incident which Sucheta narrates in her book. After the Jallianwala Bagh massacre, the Prince of Wales had visited Delhi. Girls from her school were taken to stand near the Kudsia Garden to honour the Prince of Wales. Despite wanting to refuse, both the sisters couldn't, and that left them bitterly outraged at their apparent cowardice.
"This did not absolve our conscience from feeling shame. We both felt very small of our cowardice," she writes. Turning 21 and fresh out college (Indraprastha College for Women) Sucheta wanted to join the freedom struggle. Unfortunately, her plans were put on hold for a few years after both her father and sister passed away in 1929, leaving her with the burden of taking care of a large family.
Instead, she became a professor at the Banaras Hindu University.
However, that did not stop her from spreading the gospel of the freedom struggle. Instead of taking classes, historical accounts indicate that she was talking to her students about the importance of the freedom struggle. It was at the University where she met her future husband, another exalted leader of the freedom movement Jivatram Bhagwandas (Acharya) Kripalani.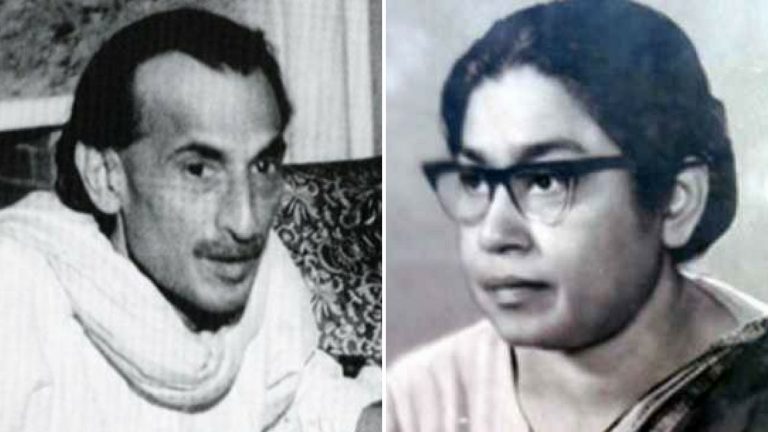 Aside from being institutions of learning, these universities were also the breeding ground for the foot soldiers of the Independence movement. Acharya Kriplani would visit BHU often looking for volunteers to participate in India's freedom movement.
Both Acharya Kriplani and Sucheta grew closer in the aftermath of the devastating Bihar earthquake of 1934, where they were involved in conducting relief operations for the victims. During this period, she was also invited by Jamnalal Bajaj to join his Mahila Ashram in Wardha, an institute that sought to enrol women into the freedom struggle.
"Vinoba Bhave was, I think, the Chairman of the Board and had to approve of me. When I was taken to see him, he was fasting to expiate for the sin of two young people living in the ashram complex who had fallen in love with each other! These two were going about the ashram with hurt faces. The whole thing appeared to me rather atrocious. Vinoba's rigid attitude and extreme self-mortification somehow put me off from joining the Mahila Ashram," she writes.
Also Read: Let's Pay a Tribute to the 10 Forgotten Women Warriors of India!
Even when she decided to tie the knot with Acharya Kriplani in 1938, there was much opposition from both sides of the family and even Mahatma Gandhi. Despite her respect and regard for Gandhi, Sucheta was single-minded in her determination to marry Acharya, 20 years her senior.
Gandhi feared that the marriage would rob him of Acharya's services to the freedom struggle—his "right arm JB Kriplani".
When Gandhi suggested that she marry someone else, Sucheta replied that to do so would be both "immoral and dishonest". Moreover, with the marriage, Gandhi would gain two workers for the freedom struggle. Eventually, the two tied the knot.
With Acharya Kriplani by her side, Sucheta began her journey into full-time politics. In 1940, she founded the Indian National Congress women's wing, the All India Mahila Congress. She actively participated in the Quit India Movement of 1942, serving a one-year prison sentence for her anti-British political activities. She also closely assisted Gandhi during his Satyagraha as well.
"I was keen to start political work. I used to feel small before the veteran jail-goers, as I had not graduated from jail life. Kripalani wanted me to do any work of my choice, not necessarily politics. Early in life, his advice to me was 'Apna daman saf rakhna,'" she writes.
When Independence finally came in August 1947, both Sucheta and Acharya were deputed by Gandhi to led relief efforts in the aftermath of the bloody partition. She visited a camp in Noakhali, the site of some of the bloodiest Hindu-Muslim riots during partition to arrange and distribute relief material. It was at this site where Sucheta also learnt an important lesson in politics from Gandhi.
"Don't take away their (refugees) self-respect, don't make them into beggars," Gandhi had reportedly told her. In other words, let refugees work for the help they receive. "While working with Gandhiji in other spheres I learned that it is not just enough to help people by giving them things from above. What we should try to do is generate strength in the people to help themselves," she says in the book titled, "Understanding Gandhi: Gandhians in conversation with Fred J Blum".
However, her proudest moment, one would presume, came when she was invited to sing renditions of Vande Mataram, Saare Jahan Se Acha and Jana Gana Mana just before India's first Prime Minister Jawaharlal Nehru delivered his famous "Tryst with Destiny" speech.
Also Read: Long Before #MeToo, This 19th Century Feminist Challenged Caste and Patriarchy!
Post-Independence, she ventured into a fascinating life in Indian politics. When her husband broke away from Nehru over personal and political difference and formed his own party, the Kisan Mazdoor Praja Party (KMPP) in 1950, she left in tow.
On a KMPP ticket, she won the New Delhi Parliamentary constituency in 1952 but left her husband's party soon after over political differences and returned to the Congress. In 1957, she won the same seat but this time on a Congress ticket.
"Both husband and wife had different political loyalties and never questioned each other, exemplifying democracy of a different kind," says this Indian Express profile.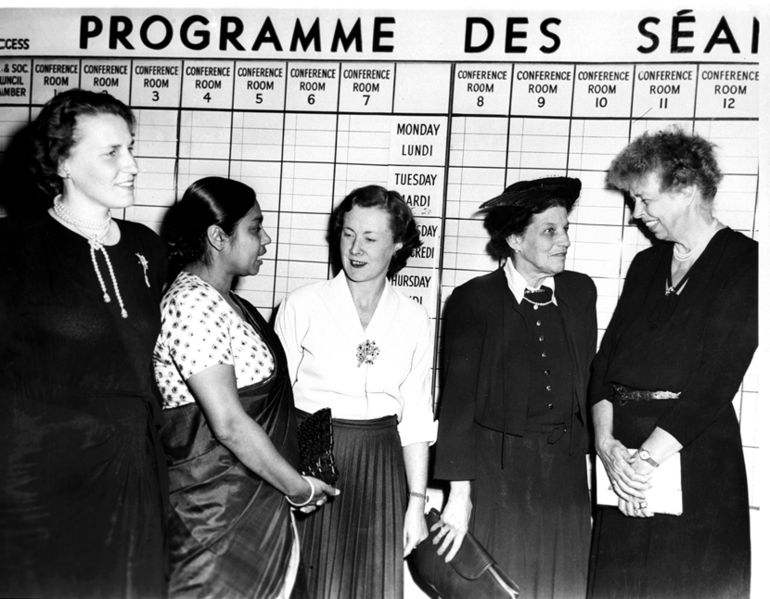 She was elected the chief minister of India's biggest state from 1963 to 1967. Her tenure was marked by her ability arrest the downward economic slide of one of India's biggest states, besides ensuring transparency on the administrative side of things.
Following another stint as Lok Sabha MP from Gonda in Uttar Pradesh, she retired from active politics in 1971. Three years later, she breathed her last, far away from the public eye.
Aside from her influential role in the latter half of the freedom movement in association with Acharya Kriplani and Mahatma Gandhi, Sucheta was a fiercely independent woman who wasn't afraid to make her own choices, and yet remain committed to the larger cause of Independence.
In collective movements, free-thinking individuals are often left constricted. Sucheta Kriplani, however, showed that it was possible to remain independent and remain an integral part of a collective movement. She remains an influential figure in modern Indian political history.
(Edited By Vinayak Hegde)
Like this story? Or have something to share? Write to us: contact@thebetterindia.com, or connect with us on Facebook and Twitter.
NEW: Click here to get positive news on WhatsApp!