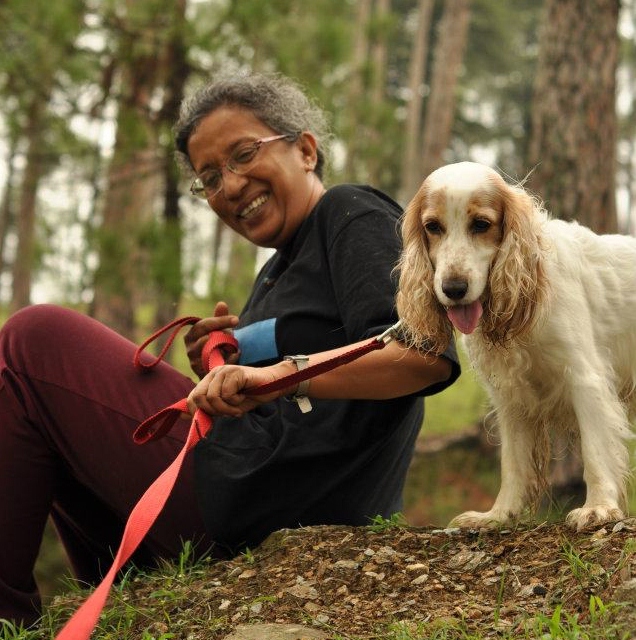 From the Armed Forces to the desert, from a high paying job and hectic social life to settling down in the hills - Dr. Mala has done it all. When Dr. Mala met with an accident, she decided to dedicate her life to a better cause. Read more to know how she built a knitting group and changed the lives of many!
From the Armed Forces to the desert, from a high paying job and hectic social life to settling down in the hills – Dr. Mala has done it all. When Dr. Mala met with an accident, she decided to dedicate her life to a better cause. Read more to know how she built a knitting group and changed the lives of many!
It is said 'success is a journey, not a destination. The doing is often more important than the outcome'. Dr. Mala Srikanth is one such wonderful person on earth who has proved that success is actually the benchmark of doing something better.
Be it her medical acumen and that too in a desert village, her motherly instincts for her two bright daughters, or her knitting skills in the hills … she can do it all.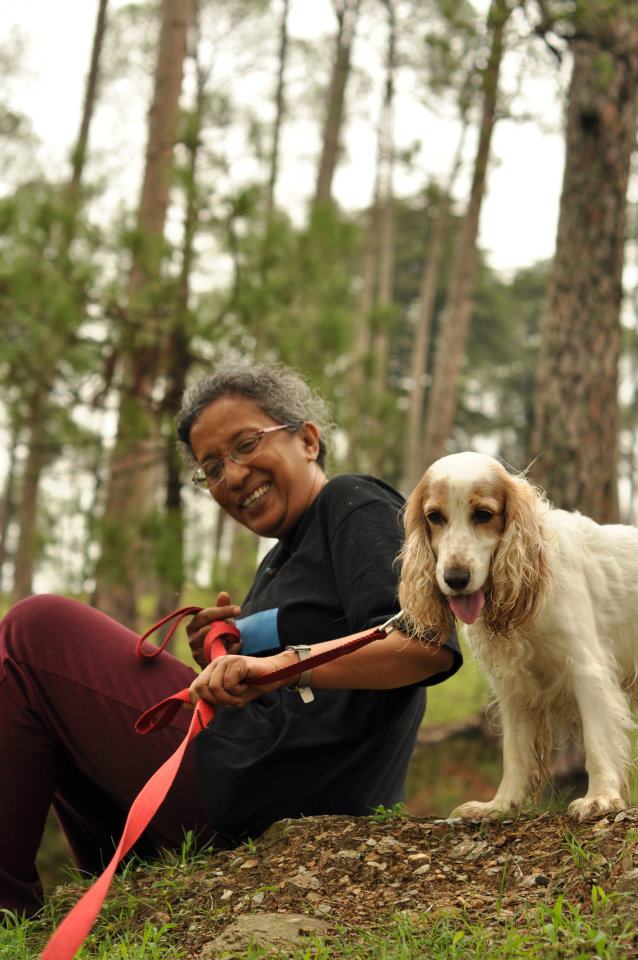 The doctor has proved that all you need is the love for it. Meandering through twists and turns, lessons and challenges, Dr. Mala has a magic mantra to life — learning to go with the flow and to keep that rock of gratitude close to her heart.
Born to an army doctor and his accomplished beautiful and strong wife, Dr. Mala was educated in different schools with similar convent education ethos and she learnt to move on from friends, schools, homes, favourite trees and fun-times at regular intervals.
"I entered medical school, joined the Armed Forces and became an officer and a lady in the North East, fell in love, got married, became a mother, gave up my commission, gave up my identity to become a trophy wife and mother of two darling daughters, gave up my dying mother's bedside, gave up India and moved to Oman," reminisces the happy-go-lucky doctor.
Having set up her practice in a desert village in Oman she lived there for 12 years amidst all odds. From social barriers like not knowing the local language and culture to personal crisis of going through a divorce, Mala resolved every problem that came her way.
She not only learnt Arabic but also mastered it, and in no time she became the 'dearest doctor' of the local residents who were confident of one thing — 'Dr. Mala has a magic wand to all their ailments'. While she basked in their admiration, love and overwhelming support, she took an important decision.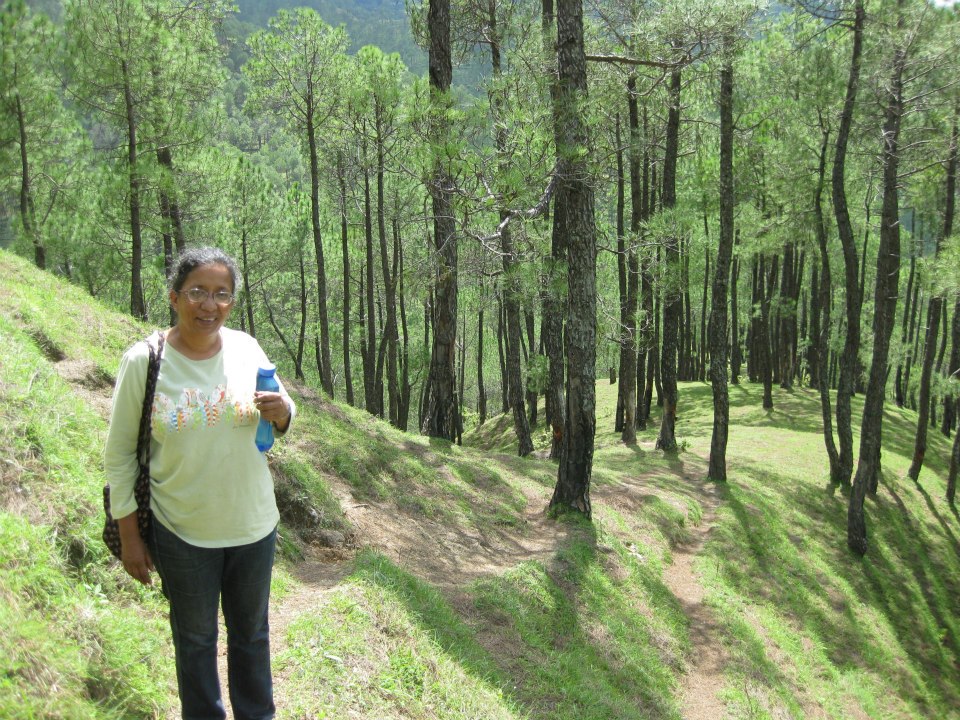 She returned to India for a more meaningful life and joined the World Health Organisation (WHO) and later served as project director of Catholic Bishops Conference of India in Delhi. It was during this period she met with a serious accident that changed the course of her life completely.
"I survived a life-changing accident which took away my memory and a lot of physical good looks. It was then when I decided to follow my heart and live this second life with more purpose and passion," she says.
While her daughters went ahead with their careers, Dr. Mala decided to move out of the city, leave her well-paying respectable job, her circle of friends and family and chose a quiet life in Ranikhet, a hill station in Uttarakhand.
"It was not an impulsive decision. It was more of choosing to honour the decision to live life in a fulfilling way, instead of just trying to fulfill the socially acceptable norms of high income, high-end holidays, big cars and big parties," remembers Dr. Mala.
What made her abandon such a vibrant life of the capital city? What made her choose the life in the hills? Here's what the doctor has to say to it:
"There is a thread of miraculous good fortune which strings these bullet beads into the chain of my life.
• An environment in which I could knit 24/7, through the seasons and the years. A place which was cool enough for yarn in my hands, quiet enough for patterns to emerge, supportive enough to find a knitting group…it could only be the hills.
• A place which had more quiet patches than busy malls, simplicity instead of social events, friendly solitude and loving people instead of frenzied party-givers and goers…it could only be the hills.
• A way of life which gave me space to be ME, yet have friendly neighbours who live their own lives. I enjoy people, but parties and small talk for "networking" was not an option for happiness. A balance of solitude and soul-satisfying friends…it could only be the hills.
• With the girls setting out on their lives, I wanted to be close enough for support, yet far enough to be non-interfering. Home had to be in a place which they could visit whenever they wanted to."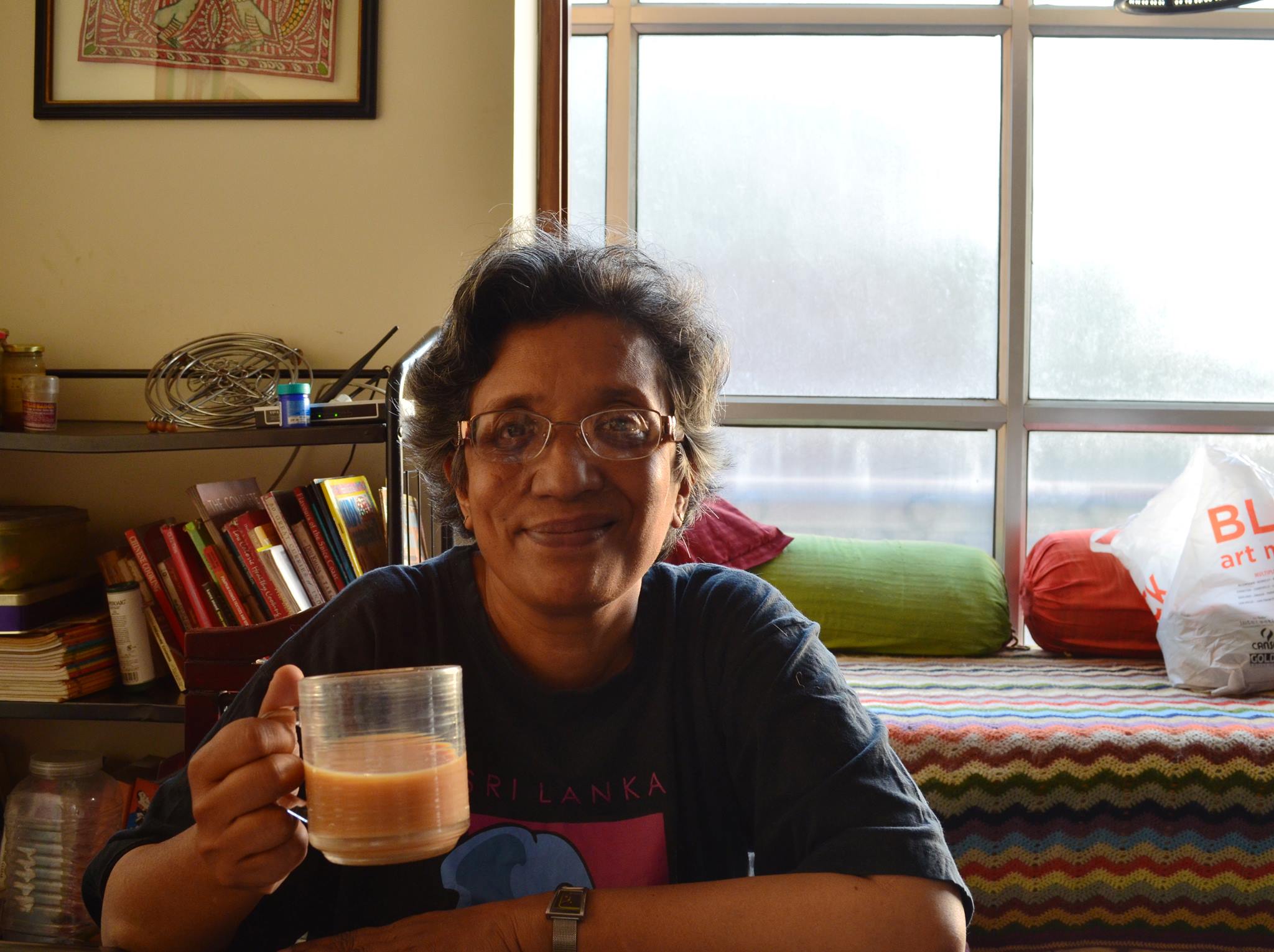 So with the support and encouragement of her daughters, Dr. Mala began her new life in Ranikhet where she found her lost love — knitting. Long before she had shifted to Ranikhet she had associated herself with a local initiative, "Umang" that has more than 1,000 knitters in the hills who produce hand-knits for sale.
Their products are stocked in FabIndia and Himjoli, sold at Delhi Haat and other handicraft bazaars, as well as in their own shop at Ranikhet.
"On my visits to the hills, I would spend some time with the knitters, teaching new techniques, helping them with colours and correct fits and encouraging them to try new patterns. Three years ago, when I shifted base to Ranikhet, I planned to work full time with Umang. A readymade group of more than 1,000 trained knitters—what more could one ask for?" tells Dr. Mala.
But six months later she knew what she was asking for…quality! "Quality had to triumph over the need to provide livelihood, quality had to be more important than quantity since quality equaled sustainability in the long run. Quality demanded ripping out and discarding imperfect work. It required focus, priority and dedication. After learning some tough lessons in quality control, training and supporting women, I withdrew from Umang and spent my first winter in solitude and deep reflection," recalls the doctor.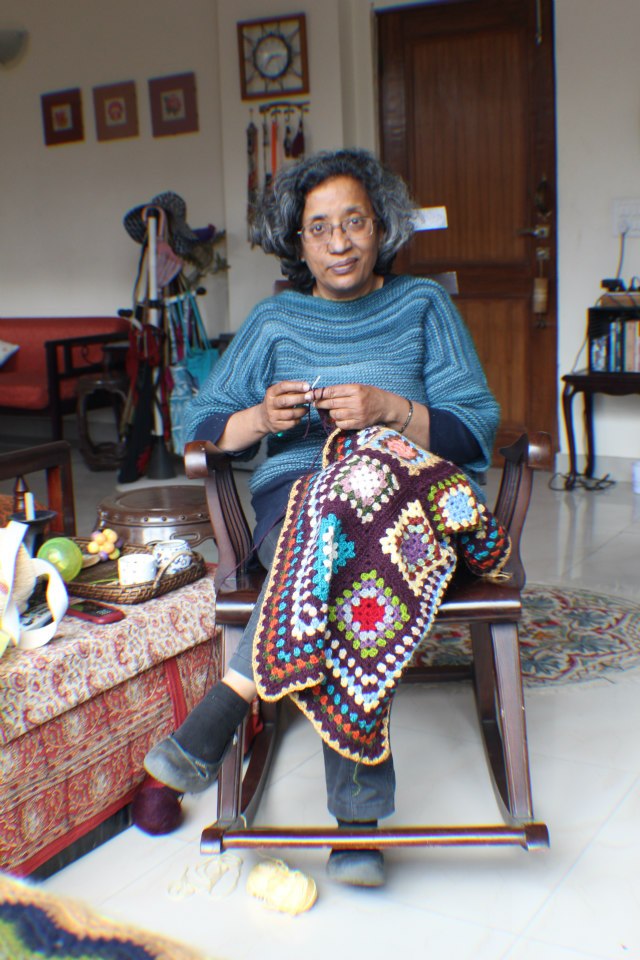 It was during this time a friend who is a successful craft entrepreneur walked into her life and in 2013, they set up a pilot project for producing exquisite woolen and cotton shawls and stoles.
"In the past year, our gang of girls has learnt how to knit intricate lace patterns, develop a zero-tolerance attitude to mistakes, learn the science and art of good knitting practices and become a fine circle of friends and fellow crafters," she adds with a smile.
How is the project helping the women of the hills? On being asked she has a heartwarming answer to give, "A better question would have been "how they have helped me?!" The paradigm shift of realising that the hills are helping me far more than I am helping the women, has given me direction and purpose in life. It has kept me grounded, and grandiose delusions of changing lives or bringing in prosperity have not entered my mind yet," says Dr Mala.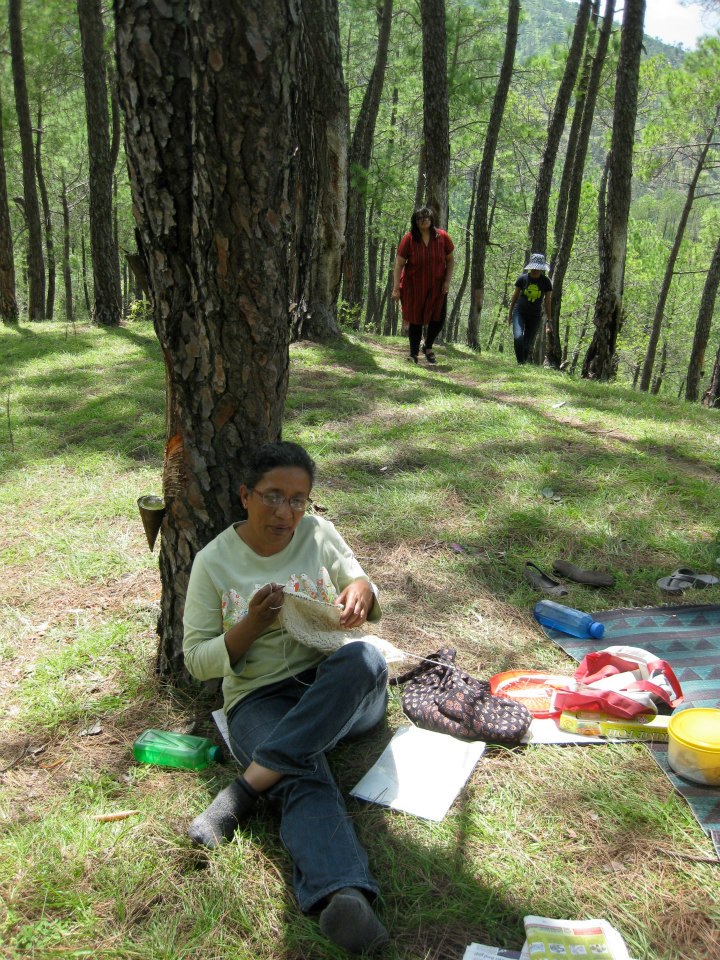 Her presence in the lives of these women affects them in different ways. The financial aspect is minimal, compared to the other benefits. The group has learnt to be proud of their knitting skills and their products and instead of regarding it as a good hobby, they now give priority to their work. In this process, they have learnt to give their lives a new meaning.
"When they knit, they are producing quality items for appreciation and sale. When we meet at the studio, conversations about family, health, social taboos and so much more happen. By watching me being comfortable with my single status, being proud of my un-wed daughters and by wearing similar outfits for work, weddings and everything else in-between, the women seem to be realising the insidious damage wreaked by the blind acceptance of social norms. Taking responsibility for their health, limiting births, giving their work more priority than social functions, setting up a self-help group and supporting each other—these are some of the positive side-effects of working for this fledgling project," she adds.
While she calls her project a tiny sapling she knows in her heart that it has immense potential too.
"Keeping quality as the main benchmark, my focus will be on expanding this circle of skilled and committed knitters, and ensuring that their products find their way to a niche market. I plan to identify and nurture a clientele which wants our exquisite and exclusive products. Expansion will be a happy consequence of our work, not the main area of thrust. I will continue to focus on creating a constantly changing line of timeless knits. Throws, lace shawls and our long mufflers will take precedence over socks and caps. I dream of a day when our products will evoke recognition and admiration similar to Blueberry scarves," she dreams.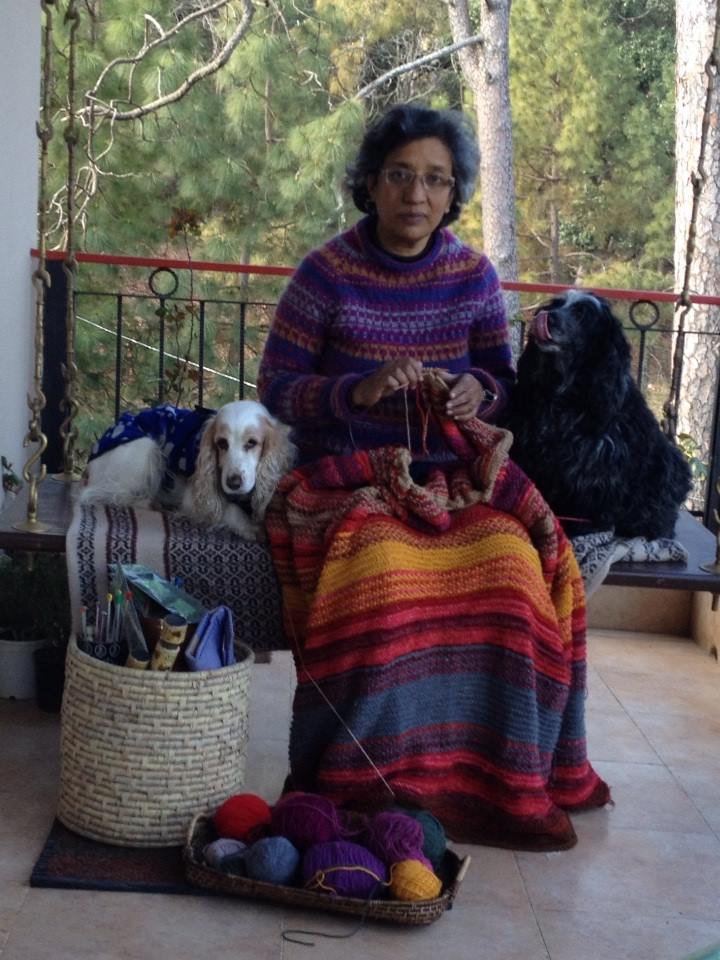 From the Armed Forces to the desert, the capital city and then the hills, Dr. Mala's journey has been driven by many factors of which giving back to the society has always been the main one.
"Giving back, like charity, needs to be done for one's own growth and evolution. People live and die, flourish or perish and the world moves on very well with or without our inputs. This is the mantra which drives my efforts. A constant check on the ego, while working hard, is absolutely essential for being effective. Giving back to society to gain name, fame, gratitude and success has innumerable selfish connotations. I see so many incidents of people beginning a project with the aim to change the economy of the hills," she says.
"They bring in their own ideas of prosperity and growth and they work tirelessly with the people here. They work hard and they focus on financial outcomes, fame and recognition, future growth and expansion. All is well, until people begin to think, ask questions and express differing views. And that is when the truth comes out. Those who believe that they are God's gift to the world find it hard to accept differing viewpoints, and they function in an atmosphere of fear and domination. The successful ones are those who keep humility around them and who keep open channels of respectful communication with people. They bring joy and organic growth into the area. I am striving to be a part of this group!"she tells at length.
And as always, Dr Mala Srikanth will fulfill all her dreams and desires. After all, all you need is the sheer love to do it.
To get in touch with Dr. Mala, write to her at – drmala01@gmail.com
(The writer is a journalist based in Oman)
Like this story? Or have something to share? Write to us: contact@thebetterindia.com, or connect with us on Facebook and Twitter (@thebetterindia).
We bring stories straight from the heart of India, to inspire millions and create a wave of impact. Our positive movement is growing bigger everyday, and we would love for you to join it.
Please contribute whatever you can, every little penny helps our team in bringing you more stories that support dreams and spread hope.