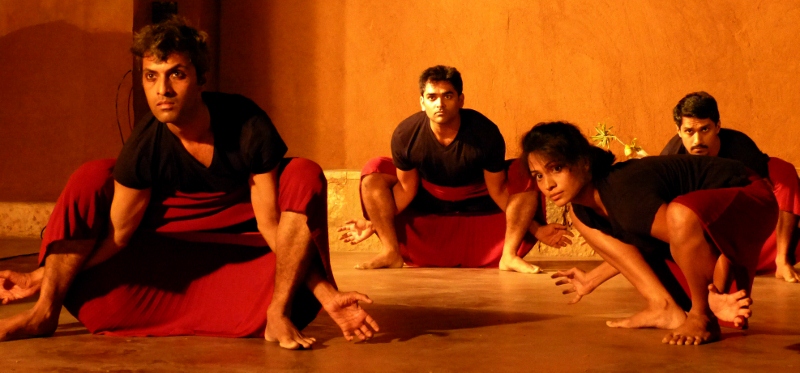 How often have we felt the need of creative spaces in our cities, where various art forms could be given a chance to grow and flourish? Nayantara also felt the same need when she moved back to Secunderabad after spending a few years in the US, but she didn't stop at that. She went ahead and created one. We asked her how she did it..
Started in January 2013, 'Our Sacred Space' is a place which celebrates art. It was built keeping the environment in mind. Our Sacred Space hosts regular classes and workshops for Indian classical dance forms like Kathak, Bharatnatyam, Odissi, etc. and also for Yoga, Meditation, Ikebana, Carnatic music among others, for all age groups.
A civil and environment engineer, Nayantara Nanda Kumar returned to Hyderabad after living for 14 years in the United States. An Odissi dancer herself, Nayantara felt that there was a great need for creative spaces in Secunderabad. Thus the idea for Our Sacred Space was seeded in her mind.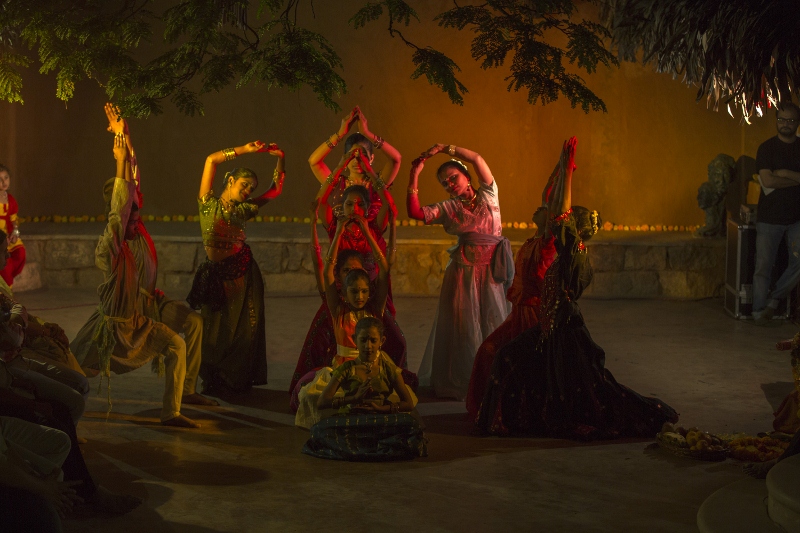 We caught up with her asked her a few questions to know more about Our Sacred Space.
Q: When did you first think of Our Sacred Space?
The house I lived in, in Berkeley, had a studio. My Odissi dance teacher Smt. Jyoti Rout used to teach in that studio and a counselor who worked on conflict resolution held regular sessions there. These activities were going on when I moved into that house.
It was beautiful. As we danced, we looked onto a Japanese maple, a lemon tree with fragrant flowers, an apple tree with white and pale pink blossoms (and, later in the season, crunchy fruits), nasturtiums, lilies, yellow dandelions, a light pink rose creeper that covered the front and the roof of the studio and bloomed profusely. The landlady Eliza Cain, an artist and psychologist, had turned the large garage into a studio. A few times we had friends who would come and conduct workshops on Garba, hippy noodle dance, tribal belly dance, barefoot bhangra. It seemed a good use of space. We had birthday parties, bridal showers, baby showers, etc.
Then I moved back to Secunderabad. After my son turned one, I was planning to start working again. My dance teacher asked me to start a dance school, and I decided to include other activities that have touched me in my life, helped me and made me feel joyful.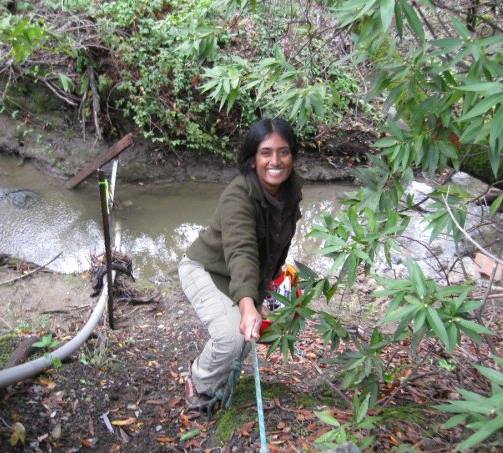 Q: What are the changes you saw in yourself since the time you started building on your idea to the time it got executed?
I wrote out my vision for a creative space, in a Utopian situation, not limiting it with practical constraints. When I started I wasn't sure if a dream could be turned into reality. I was going out on a limb, taking a chance and taking loans to enable me. I spoke to well wishers – chartered accountants, business people, and people running similar spaces to give me a realistic picture. Of course, the construction and execution was very strenuous, for a year and a half we worked every single day.
Many people came by like angels and helped in their own ways, many doors opened unexpectedly. When problems came up, I found we had more strength than I knew we possessed. Over and over again, I've been shocked by how, what was only a dream and seemed impossible, took shape and form in reality. Now I feel less fearful and more optimistic when I plan. I feel intention is everything and we should keep re-examining our intentions.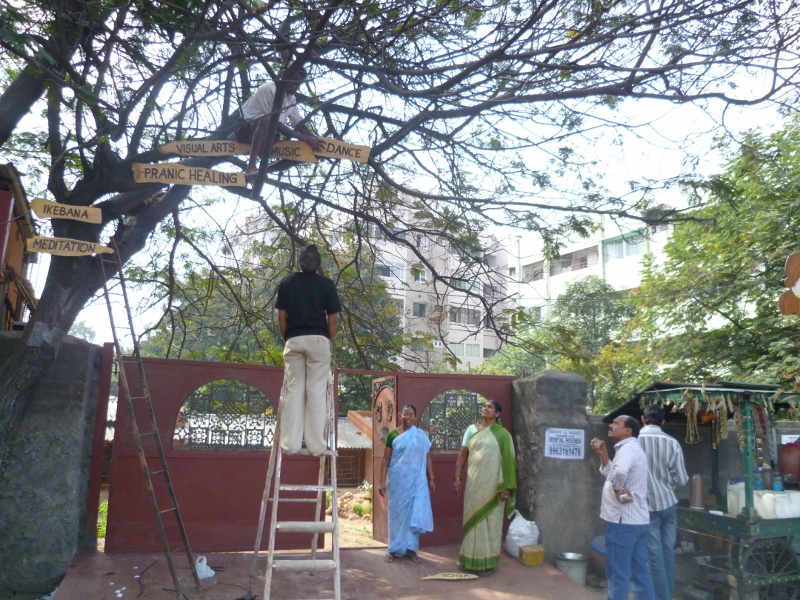 Q: What/Who has been your biggest inspiration in thinking of OSS?
My mom.
Q: What's the best part of your day at OSS? And, how do you manage your family life and life at OSS?
I love seeing people engrossed in what they are doing. Sometimes, there are 20 people of different ages in a class and there is complete silence, stillness. But they're working, "following their bliss". I also enjoy it in the mornings, during yoga, when the air feels fresh and there is barely any daylight. Late in the morning, when my son plays in the sand, I sit quietly. I enjoy my dance class. It's very fulfilling, I have beautiful students.
Managing family life and life at OSS – I am still trying to find a balance, so I can give Our Sacred Space, my family and friends and myself sufficient time and energy.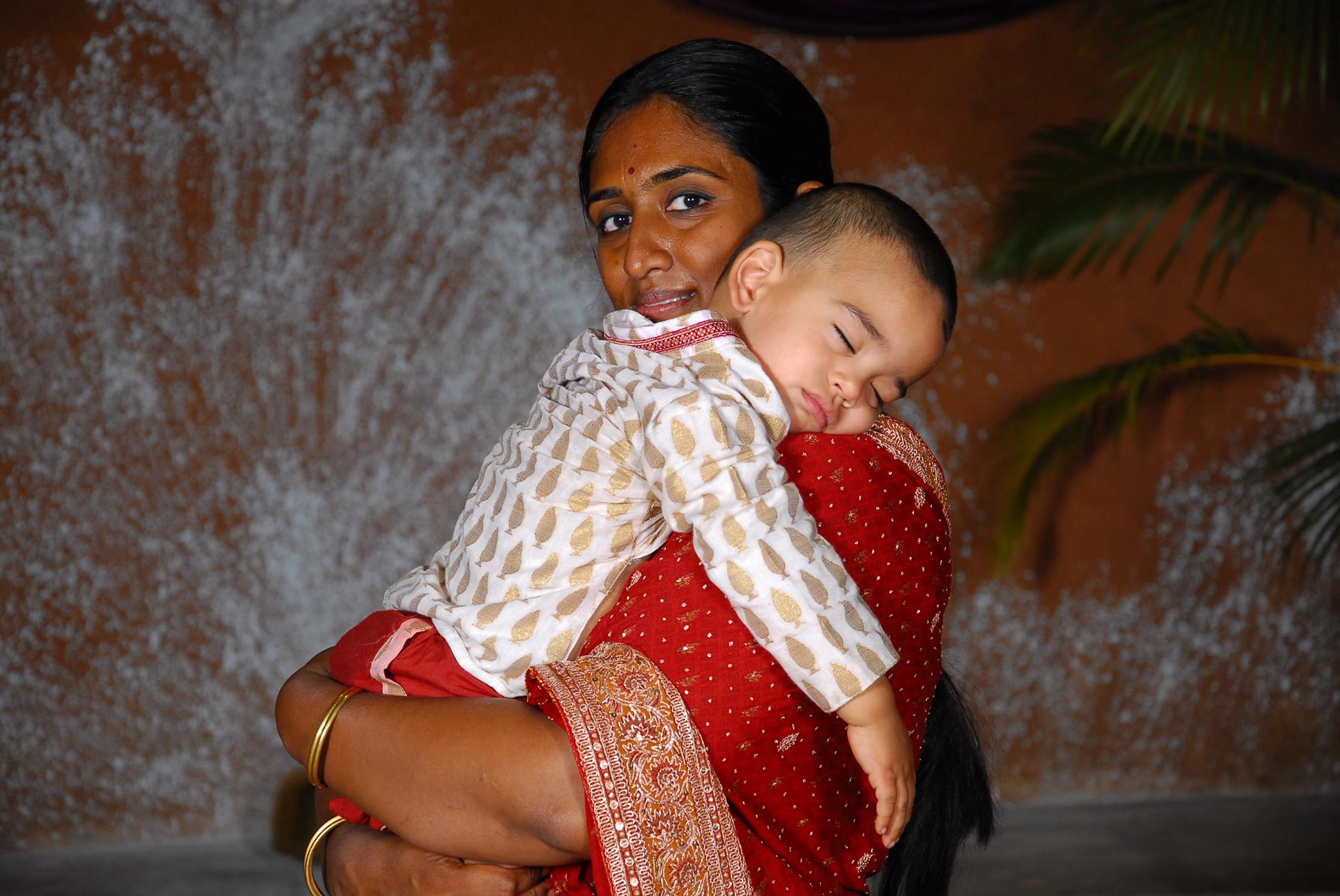 Q: You accommodate almost all forms of art in the space, from dance to music to painting to theater. How do you manage organizing events on a weekly basis?
When I come across things that interest and inspire, I ask the practitioners if they would like to share their knowledge at Our Sacred Space. These days a lot of people have been coming by, which is great. I put out the intention consciously. I don't always try to populate the calendar. If there are gaps, it's ok.
Q: And, do you find time for your own self after this?
For many years I had time for myself and long periods of introspection. Since last one and a half year, it has been the opposite. There has been a lot of work and interaction with people. I felt it was necessary to get Our Sacred Space started. Now, I'm trying to find a healthy balance.
Q: How receptive are people about classical forms of arts?
Most people who come in don't seem to feel a connection to classical arts and seem to feel it's old-fashioned and stuffy. I didn't realize this earlier. When I taught or performed Odissi in the US, people were very touched by it, enjoyed and responded to it from their hearts. Even people who knew little about India, knew little about dance or classical music, would respond spontaneously. I feel Odissi has that quality. I've enjoyed Odissi more than words can say. So I expected that a lot of people would enjoy classical dance and music which have origin in this country. But that was not really the case.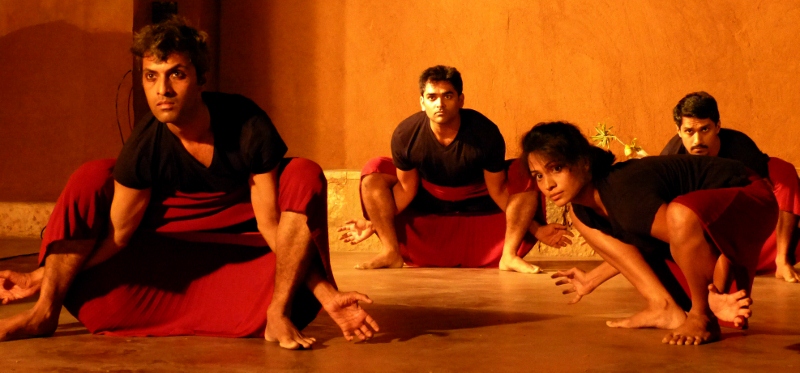 Q: What is the initial reaction when people first visit OSS?
I think it's people who resonate with OSS who usually walk in. They are curious and surprised and excited to see the space.
Q: Why did you think of Secunderabad to start OSS and not its twin city – Hyderabad?
I'm from Secunderabad. Over the years, I've had the opportunity to be a part of spaces that were inspiring, supportive of creativity, where you could be yourself and explore your potential without needing to prove anything, where you didn't need to compete to succeed, just flow and enjoy, explore, grow, enable, discover. I feel there is too much competition here these days and I feel it is a waste of energy and a drain on life force. I feel that there is a need for the kids and the adults in the area to have access to affordable creative spaces which offer healthier alternatives.
Q: Some things that you learnt from the energy flowing around you amidst so many creative people you interact with daily?
Creative energy is limitless. I feel that there are far more creative people than you usually estimate. Many people are working quietly and passionately. I feel the intention behind any art or behind any activity is conveyed to its viewers.
Q: Your philosophy of engaging people and let them be without the spirit of competitiveness is very relaxing and soothing. But today, when everyone wants to prove or win something, how do you facilitate this philosophy especially in the urban competitive mindset? Putting it in simpler terms, how do you encourage people to engage their senses by being at peace and not engaging them in any contests, etc.?
I think given a choice, by human nature a lot of people will choose to be free from competition because it feels better and it releases so much more energy for creativity. You enjoy each other's creativity so much more, the journey becomes more enjoyable.
Q: Last question, if you had a chance to recreate OSS in any other part of the city or state where would it be and why?
I think it can be recreated anywhere. You just need to pour in your time, efforts and love.
Thank you Nayantara!
To learn more about Our Sacred Space, check their page: https://www.facebook.com/OurSacredSpace | Web site: http://oursacredspace.in/
Author:
Nivedita (also known as Divenita Er) works in the Publishing Industry at Hyderabad. She is also a part-time journalist and a published poet. She blogs at
nnivedita.com
.
We bring stories straight from the heart of India, to inspire millions and create a wave of impact. Our positive movement is growing bigger everyday, and we would love for you to join it.
Please contribute whatever you can, every little penny helps our team in bringing you more stories that support dreams and spread hope.