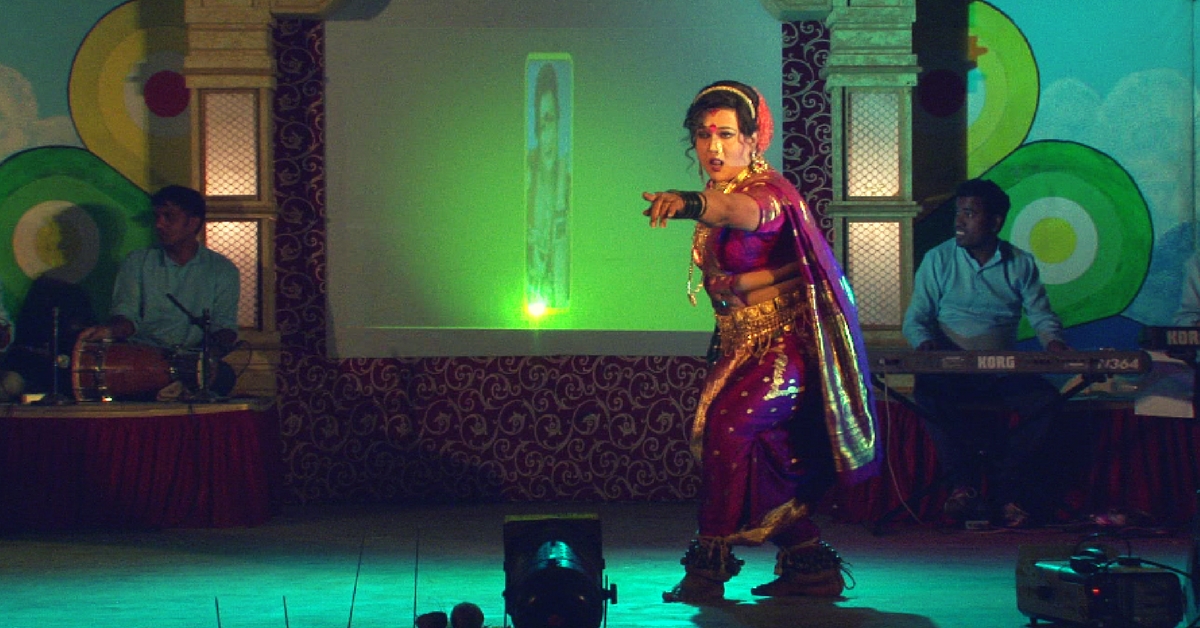 'Lavani' as a dance form dates back to the seventeenth century, but came to prominence only during the Peshwa rule. A genre of folk dance, it deals with subjects like society, religion, and politics, while most songs are erotic and satirical.
The dancer wears a nauvari sari, a kamarpatta (waist-belt), and ornate jewellery that included a necklace, hanging earrings, bangles, and ghungroos tied around her slender feet.
As the curtains in Parel's Damodar hall rise, the movements of the dancing diva on stage create perfect jugalbandhi with the rapid beats of the dholak.
The crowd watches completely enticed as the dancer's lips break into songs of sensual desire. Once the high-energy packed performance ends, the crowd breaks into a thunderous applause. The curtains fall.
Back in the green room, the dancer undrapes the saree, face devoid of makeup, untying the juda (hair bun), the wig comes off. Staring back from the mirror is the reflection of a man.
Sitting across Anil Hankare in one of the busiest Veer Kotwal Udyan in Dadar, it is hard to imagine what he, wearing a simple pant and shirt, does for a living.
50-year-old Anil Baburao Hankare is a prominent male lavani dancer.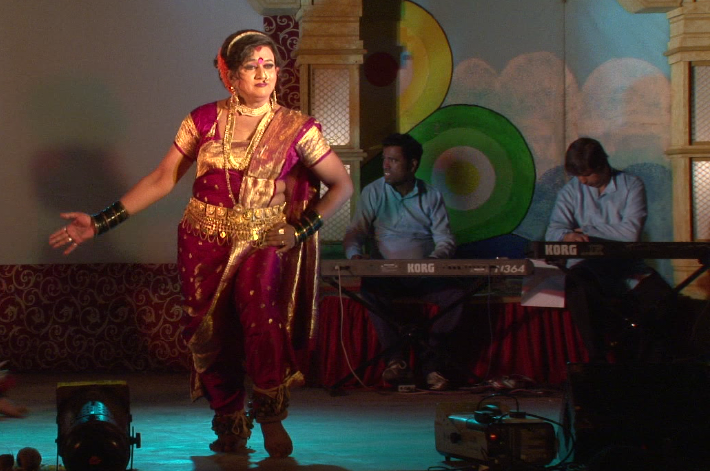 L for Lavani
'Lavani' as a dance form dates back to the seventeenth century, but came to prominence only during the Peshwa rule. A genre of folk dance, it deals with subjects like society, religion, and politics, while most songs are erotic and satirical. The audience predominantly consists of working-class men.
The beginning
When Anil was 14, a newspaper advertisement by the Usankar Ballet Unit piqued his curiosity, and he decided to audition for it.
"At the audition, I was asked what dance forms I knew. I replied saying I didn't know the first thing about dancing. If given a chance to learn, I would put my best foot forward," says Anil.
A trained kathak performer gave him a demo that he struggled to replicate. When the final names were announced, Anil's name beat 150 others to top the list.
But on one condition: he had to learn three dance forms a year. On the days his body wouldn't cooperate, he would sob and place a heated brick on his sore feet. He shocked everyone by learning five dance styles in a month.
His guru would hit him every time his feet weren't pointy enough or if his hand movements faltered.
Apart from training him, the unit also gave him a salary of Rs 750 per month. Each dancer had to sign a 3-year bond, which restricted them from dancing under any other banner.
---
Read more: A Journey to Document the Life and Dance of Telangana's Gonds
---
Dancing as a woman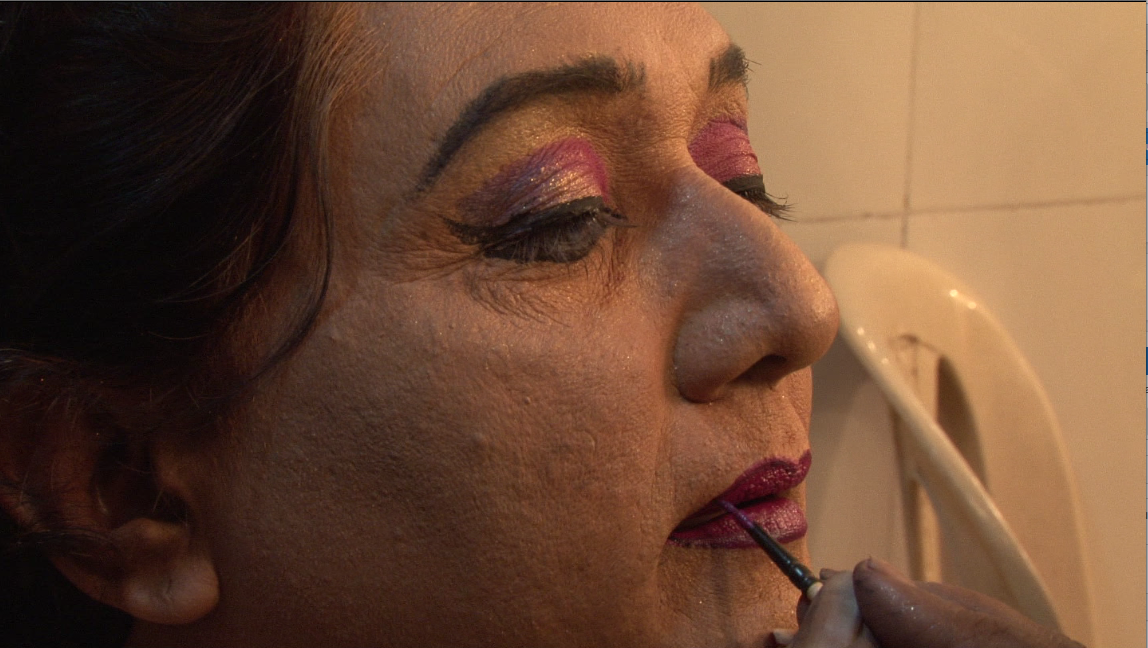 When Anil looks into the mirror before a performance, his hands move in a practiced fashion. The blemishes hide behind the concealer, his eyebrows are on point and the highlighter accentuates his cheekbones just right. Recollecting his struggling days, he says, "I loved makeup. My eyeshadow and kohl were always more dramatic compared to the other boys."
It was at the time, a friend asked him, 'You look so beautiful wearing makeup.Why don't you try dance forms where men crossdress and perform?'
Anil contemplated and agreed shortly since the money was good. One friend taught him the basics, while another lent him a chaniya choli costume.
"Where I was getting Rs 750 a month, one performance dressed as a woman earned me Rs 300. It was a major boost. I was almost earning Rs 4000 a month. So, I continued with Gujarati and Rajasthani folk shows."
The Adventures of Madhu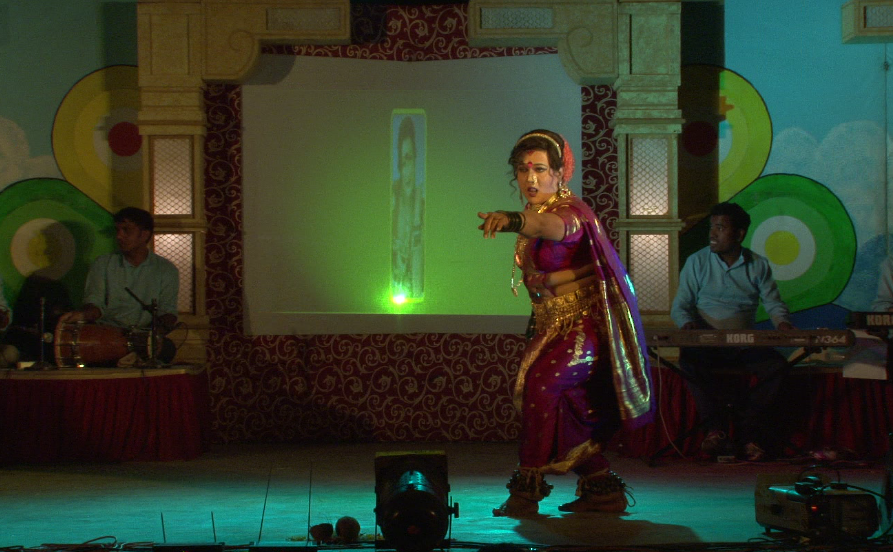 For the longest time, nobody knew Anil was dancing as a woman. Everybody who attended was enthralled by the dancing diva Madhu, his onstage persona. Madhu had innumerable admirers lining up outside the venue, or trying to get her number from the organisers.
Anil recalls one of the incidents where a businessman, a regular at his shows, walked up to his wife and demanded a divorce because he was in love with Madhu!
His wife turned up at Anil's show. "She cried, accusing me of setting fire to her home. I kept reassuring she had nothing to worry because I was a boy! She refused to believe me. I opened my blouse for her to see. She was puzzled at first and broke down. She gave me some money and smiled saying, 'My husband is in the audience. Make him spend the last penny in the pocket.'"
Another admirer turned up to Anil's home. Anticipating what was about to ensue, Anil introduced himself as Madhu's brother. "He asked my mother for Madhu's hand in marriage with a 8 gm gold ring, silk sarees and a box full of sweets. He was a divorcee who lived with his kids. The moment he left, my mother got hold of a stick at home and hit me till I turned black and blue."
She yelled at him for having a different stage name. She heard of the incident where a spectator walked up to an organiser and threatened to throw acid at the male lavani dancer's face because he refused the man's advances.
His mother gave him two options: To either dance under his own name or not dance at all.
Bin Baikancha Tamasha
He met Anil Vasudevan in 1995, who wanted to arrange an experimental show. This led to the famous Bin Baikancha Tamasha (Lavani without women). It took him over 4 months to gather male lavani artists who could make the cut.
He was 25 and married at the time. "At first, my wife knew I danced, but not that I danced as a woman. During one of our chats, I showed her a photograph of me dressed as Madhu. She was enthralled by the beauty," and once she knew it was Anil, she has been supportive of him ever since.
They performed Bin Baikancha Tamasha for the first time at Damodar Hall in Parel in 1996.
"After my show at Vishnu Bhave Natyagruha, my father-in-law called and said, 'Anil, you dance beautifully. But why do you look so stressed? Dance a little freely, no?' I was astounded. He was in the audience. When I asked him, why he didn't meet me, he meekly answered, 'I knew it would stress you out. So I decided not to.'"
It only took a few more shows for the entire family to cheer from the front rows.
While most attended Bin Baikancha Tamasha, thinking they would find something to mock, but the beauty and grace of these male artists left them awestruck. While most artists danced a lavani in a single saree, artists at Bin Baikancha Tamasha would change everything from their saris, to their ornaments & bindis, for each song.
Bin Baikancha Tamasha helped Anil create a new audience that filled auditoriums with ''working class women,'' he says.
While Anil would introduce himself at first with his stage name, Anjali Mazgaonkar, the host would reveal his true identity later, sending women flying from their seats cheering. Of the 100 spectators in Damodar hall, over 50 women would hoot using plastic whistles and even fling cash on stage.
---
You may also like: Moon Walking in Rural UP! How One Dance Academy Is Letting Kids Follow Their Passion
---
Challenges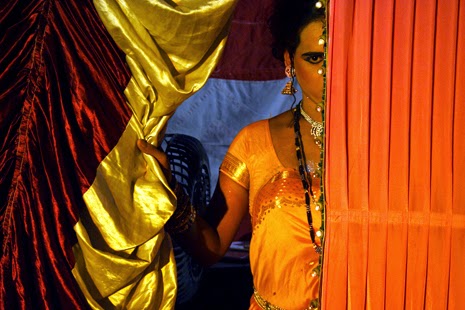 A few relatives spoke ill of him, but claimed to be proud when he appeared on reality shows, won awards or featured in news publications. "Those that mattered knew and supported me, so I wasn't scared of anything," he says.
There were times fellow women dancers would call male lavani dancers names. "It was merely because a majority of the audience was enthralled by us more than they were with them.
The women would ask us, 'What are you trying to prove by wearing a sari?' Some went as far as questioning our gender identity and even accused us of sleeping with other men," says Anil, cringing.
The women lacked the lavani adhaakari (expressions) that male artists brought to stage, believes Anil. Years of practice, helped them master exactly how the male gaze travelled. "When you look into the eyes of the spectators, your piercing gaze should make the man feel like you have eyes only for him. How else would he skip rows to pay more to get to the front seat?" jokes Anil.
There were times when he performed close to 300 Bin Baikancha Tamasha shows for free. "Higher ups and government official would make us perform and refuse payment," he says.
Finances were tight and Bin Baikancha Tamasha came to a halt, people moved on to other jobs, and bookings stopped.
"In the Peshwa era, women were not allowed to dance with ghungroos around their feet. So men danced donning saris. We aren't doing anything new, we are just rekindling an old tradition. In traditional art forms like Dashavtar, Chauu & Bharud, men continue to dance dressed as women. When these dance forms and artists are given due respect, why is lavani looked down upon?" questions Anil.
New Chapter
Lavani is his only source of income. It breaks my heart to express that this beautiful diva will no longer enthrall audiences onstage in a few months.
"My kids were extremely supportive at the start. But they don't like it anymore. They ask me, 'How should we tell our friends that our father is a lavani dancer?' People look at most male lavani as either effeminate or homosexual. There's nothing wrong with being gay. But why force a sexuality on someone based on their line of work?"
There were times when he would hide his sari and makeup in his kathakali mask and escape. Of the ten attempts, he got caught twice. Now, he seems to have made up his mind to stop.
From a time when there were simply 10 men performing there are more than 2000 male lavani artists today in Mumbai.
In a final message Anil says, "Lavani cannot stop and shouldn't stop. The least people can do is change their perspective about the dance form and learn to respect its artists, especially men."
Even though his onstage journey may have come to an abrupt end, Anil will continue to create more lavani artists. "Lavani is the only form I teach free of cost, if you want to learn other folk dance forms, you must know I charge," he laughs lightheartedly.
Like this story? Or have something to share?
Write to us: contact@thebetterindia.com
Connect with us on Facebook and Twitter.
NEW: Click here to get positive news on WhatsApp!
Tell Us More
We bring stories straight from the heart of India, to inspire millions and create a wave of impact. Our positive movement is growing bigger everyday, and we would love for you to join it.
Please contribute whatever you can, every little penny helps our team in bringing you more stories that support dreams and spread hope.