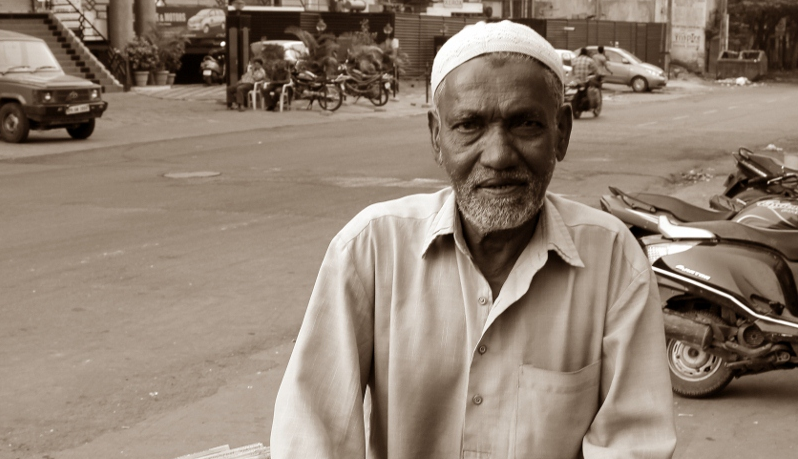 Welcome to our new series – TBI Invisible Heroes of Everyday, where we invite you to join us in chatting with the people who make our lives easier every single
Welcome to our new series – TBI Invisible Heroes of Everyday, where we invite you to join us in chatting with the people who make our lives easier every single day of the year, but whose presence we barely acknowledge. Feel free to share with us your thoughts and feelings as you meet them one by one, then go ahead and invite the invisible heroes of your own neighbourhood over chai (or coffee, if that's what your morning cup is filled with) and share with us your own experiences of meeting them. This is our chance to show our appreciation for what they do and tell them a heartfelt THANK YOU!
Imagine not getting your daily dose of news at your doorstep every morning. Imagine the sheer number of people who read newspapers every day. For the record, the Times of India daily readership in 2013 was about 75lacs. This is just one of the major 25 newspapers in the country. But, we have been ignorant, or have conveniently forgotten to acknowledge the scale, network and pure human labour that goes into the final delivery of news: the unknown paperboy.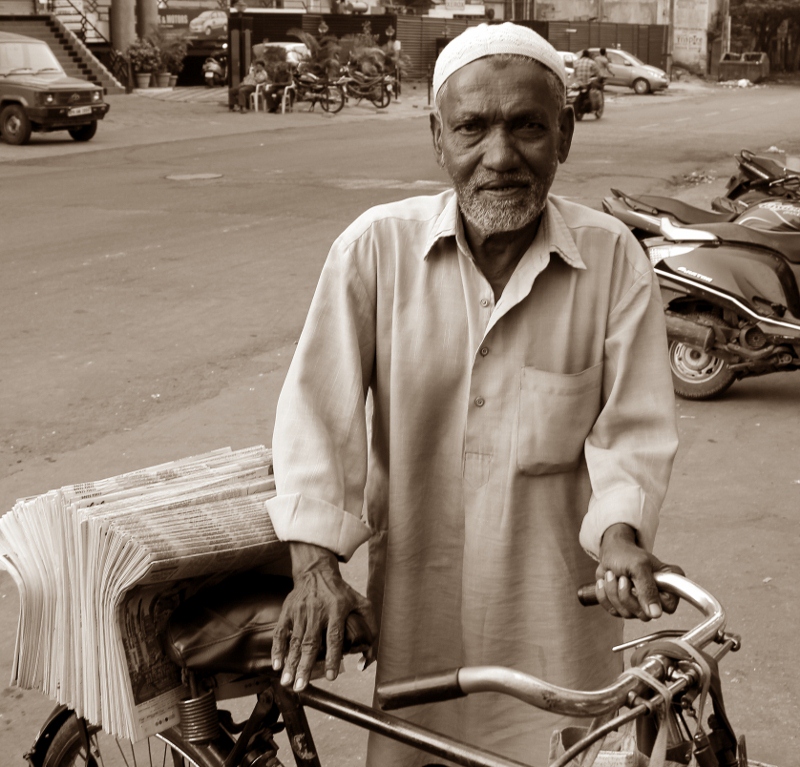 I have had the opportunity to meet and chat over a cup of chai, with my very own paper "boy", 60-yr old Kareem bhai from Abids, Hyderabad. The stories and the hard facts he shared with me stunned me. Kareem is a retired daily-wage labourer. He took up this job as it helped him feed his family of 8 and because it would be part-time and not-out-in the-sun job like the ones he's done all his life. This job though is unimaginably hard, as you have to report for work at 4am, sort and stack papers you get from a footpath-based distributor and cycle your way through the neighbourhood, all along having your clients' choice of papers in mind. For some it's the English daily, while for some it's the regionals, while some order a mix of both, and mind you this 60-yr old man has to remember all the households and their choices, and deliver – rain or sunshine.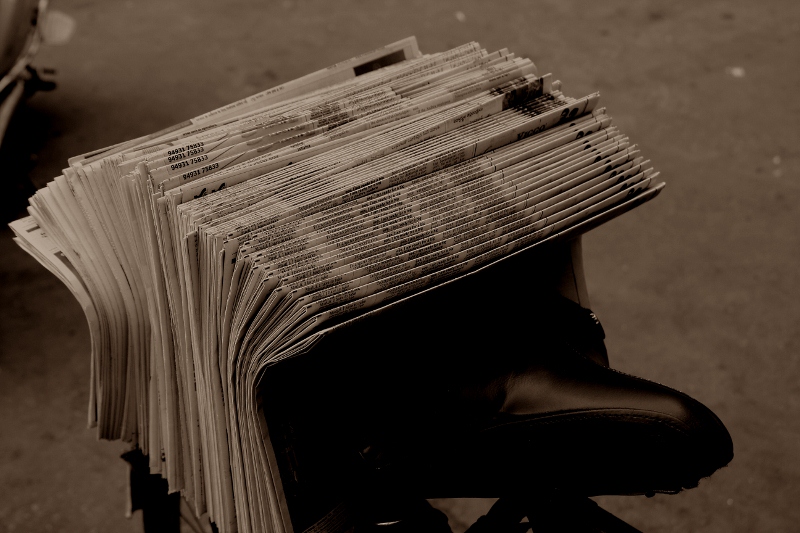 As Kareem bhai finishes his chai sitting in the street café filled with old men and schoolboys who are all into the paperboy business, chatting non-stop without even letting me open my mouth, I finally ask him the question I was waiting to ask – where are the young guys? This was his answer:
Youth have stopped working hard! They drink, smoke, go to college and movies. My own son has never come to work here. Though our work times are very non-obtrusive, and you have the whole day for yourself, the youth have stopped coming to work. It's a few old men like me, and surprisingly, school-going boys who want to earn that extra rupee, be it for their pocket money or needs, who are delivering papers.
He says every paperboy, from the 10-yr old boy to the old man with the 1950 BSA, reads the paper without fail. Kareem himself has pushed the young boys to start reading as he says:
Education and intelligence are very different things, and to be intelligent you need to be aware, so I know I cannot make them go to college or maybe they cannot afford it, but with their school knowledge and reading habit, they'll be aware of the workings of this world.
I was confused, sad and hopeful at the same time after talking to Kareem bhai. It struck me, that the paperboy we've all heard of, is actually a very old man or a very young boy. There are no real paper "boys" that we had a notion of – the college-going teens to be precise, who are doing this service anymore. It is a sad thing as it shows the trend of how the youth in its prime has moved away from jobs that aren't well paying yet jobs you could do anyways, because of its inherent nature of 4-6am slotting. You can wake up, you can earn that little bit extra, and it is not about the money itself but about the idea of pushing yourself when you can as Kareem bhai said.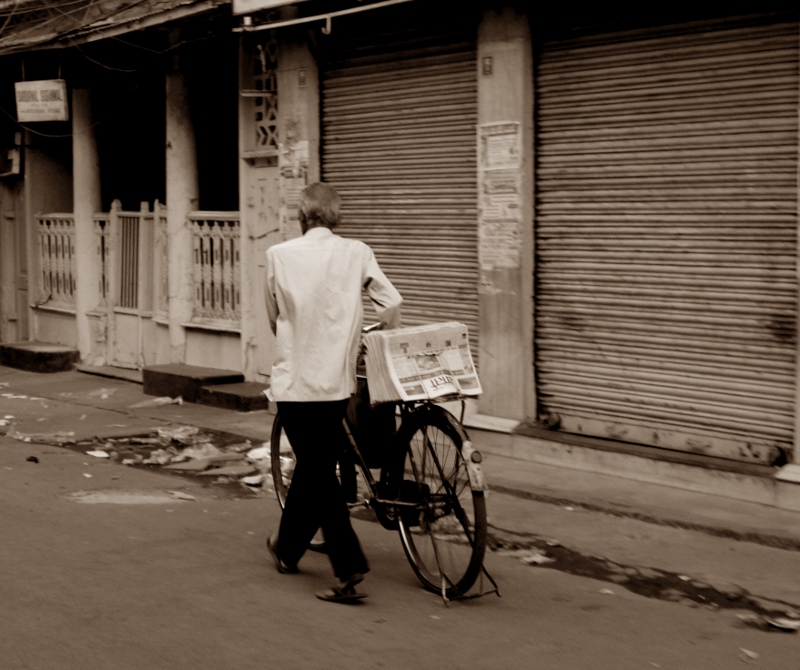 Yet there is a silver lining – the presence of worldly-wise old men who are judiciously guiding the young boys, the little ones who deliver papers and then go to school. But what is amazing is the scale, the determination and the sheer physical and mental hard work that goes into the simple everyday activity of delivering a paper at your doorstep. Next time, if you ever wake up early, say hello to your paperboy or may be call him in for chai! They deserve a lot more recognition and respect than what they are being given.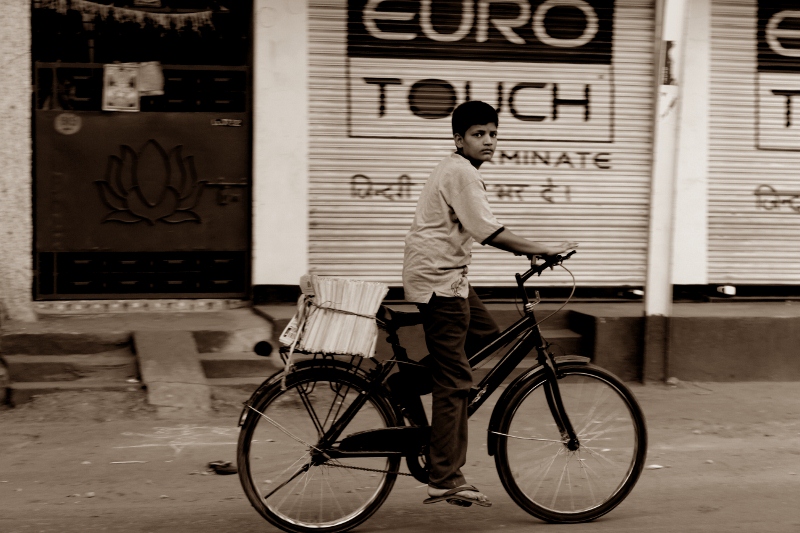 Author & Photographer: Tejaswi Bhagavatula is a Hyderabad-based writer, poet, painter, biker, photographer, corporate profile-writer, on-the-way-CA, part-time tax consultant – all to fund his passion for travelling! He wishes to work for change through bringing out stories and his dream is to ride to Ladakh on his dear old Bullet, while learning and writing about people he meets all along the way and someday, maybe make it a storybook.
We bring stories straight from the heart of India, to inspire millions and create a wave of impact. Our positive movement is growing bigger everyday, and we would love for you to join it.
Please contribute whatever you can, every little penny helps our team in bringing you more stories that support dreams and spread hope.