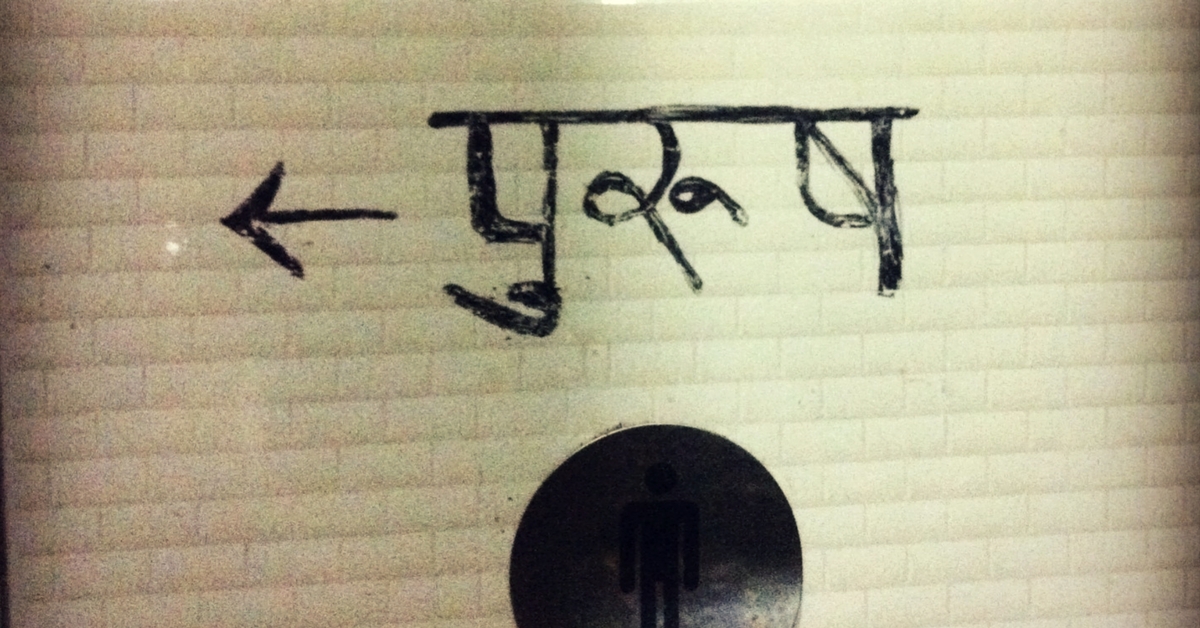 A social marketing campaign urging parents of brides to demand toilets at marriage negotiations has led to a dramatic increase of 21% in private sanitation coverage in Haryana, particularly in rural areas. Sharada Balasubramanian takes a closer look.
In Haryana villages, walls carry a painted message: "I won't allow my daughter to marry into a home without toilets." It has been one of the impacts of a novel campaign started by the Haryana state government in 2005. The "No Toilet, No Bride" initiative linked social norms around the marriage market and access to sanitation. Although the campaign was initiated by the central government, the states, bearing a portion of cost, had the flexibility of designing and implementing the program locally.
This success carries a special meaning in Haryana, which has one of the most skewed sex ratios in the country. From 861 females for every 1,000 men in 2001, the female-to-male ratio went up only to 879 per 1,000 in 2011, according to Census of India data.
The importance of building toilets was spread through billboards, posters and radio advertisements using phrases such as "No Toilet, No Bride" and "No Loo, No I do." This social marketing campaign encouraged families with marriageable girls to demand construction of a toilet in the prospective groom's family as a precondition to marriage.
The primary objective of the campaign was to ensure that toilets were built in rural areas. The campaign was a public investment in sanitation, and was initiated to stop open defecation and fecal pollution.
Research findings
Private sanitation coverage in Haryana increased by 21%, specifically among households where men were active in the marriage market, according to a recent research paper titled No Toilet No Bride? Intrahousehold Bargaining in Male-Skewed Marriage Markets, which was published in the Journal of Developmental Economics.
This July 2017 paper makes an important contribution to the limited evidence that exists on the effectiveness of large-scale sanitation campaigns. As there is limited literature on how marriage markets affect premarital behavior, this paper helps understand sanitation policy on a larger scale.
"The most important question raised in this research was: women in Haryana face huge discrimination; the sex ratio is skewed," Yaniv Stopnitzky, Assistant Professor of Economics, University of San Francisco, and author of the paper, told VillageSquare.in. "So why would this campaign work here?"
Stopnitzky's study was designed to evaluate the success of this innovative campaign. It looked at a large district's public data to analyze the impact of the campaign on toilet building — the District-Level Household and Facility Survey (DLHS), household data set, and the Demographic and Health Survey. The district level data was a massive source of detailed information from about 370,000 households on women's knowledge of sanitation, fertility, frequency of health checks at clinics, etc.
Stopnitzky analyzed various correlation factors such as comparison between households with and without marriageable boys in Haryana, household wealth, education of the oldest member in the family, and number of years of schooling of the wife.
The research findings suggest that the campaign has significantly increased toilet ownership by linking marriage to what women wanted and valued — and that included toilets. Biased sex ratios in the state increased the relative bargaining power of women or families negotiating on their behalf in the marriage market. The study also found no impact in households where men were above the marriageable age, making the link to the marriage market obvious.
Campaign's impact
The administrative data from the Haryana health department suggests a large increase in toilet ownership in recent years. According to state officials, 1.42 million toilets were built between 2005 and 2009. Among this total, 950,000 latrines were built by families above the poverty line and 470,000 by households below the poverty line.
Further, this proves that either marriageable women or their families in Haryana have successfully pushed men into sanitation investments, or men have anticipated this pressure and responded by increasing their premarital investment in building toilets. There is an additional possibility that suggests that new couples invest in toilets as a health investment in children.
Women's bargaining power
The findings show that skewed sex ratios impact women's ability to get toilets in the marriage market. When women are scarce, they or their families are able to negotiate successfully, but when they are abundant, men have lower incentives to invest in toilets.
An oft-repeated anecdote of a young man is: "I will have to work hard to afford a toilet. If we don't have one now, we won't get a bride. I won't be offended if the woman I wish to marry asks for a toilet." A young woman explained how the toilet campaign felt like liberation when she was a teenager. She would feel so conscious and ashamed setting off towards the fields in the mornings. But just before her brother got married, they built a toilet in the house.
Spectacular increase
It is interesting to note that while the percentage increase of toilets in Haryana was a mere 1.7 % from DLHS 2 to DLHS 3 pertaining to 2002-04 and 2007-08 respectively, which were conducted prior to the campaign, the same increased by 33% in the next DLHS of 2012-13.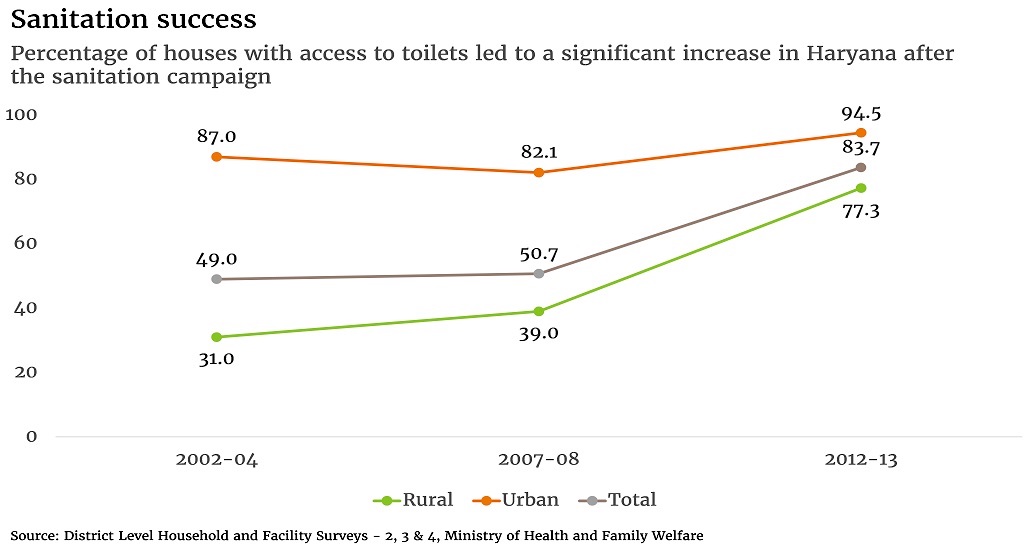 Anita Bai Narre of Madhya Pradesh earned monetary reward in 2012 from the then President of India Pratibha Patil after refusing to stay at her marital home due to lack of a toilet. She returned to her husband's household after he built a toilet. Narre's story, and an advertisement based on it featuring the Bollywood actress Vidya Balan, have both been credited with increasing women demanding and obtaining toilets in Madhya Pradesh. These stories support the idea that an element of coordination has been important, if not critical, to a campaign's success.
Total Sanitation Campaign (TSC) spent 3.75 times more on subsidies for physical construction of private latrines than on information and education, including social marketing campaign such as the "No Toilet No Bride" one. As much as Rs 420 million was spent on toilet construction as against the Rs 111 million spent on the campaign.
As per the DLHS data available for states with lower sex ratio, Haryana shows an increase of 33% in access to toilets, whereas Punjab and Sikkim show an increase of 10.8% and 9.3% respectively. This also indicates that the campaign could be a highly cost-effective means of increasing toilet coverage with similar social conditions, like northern India.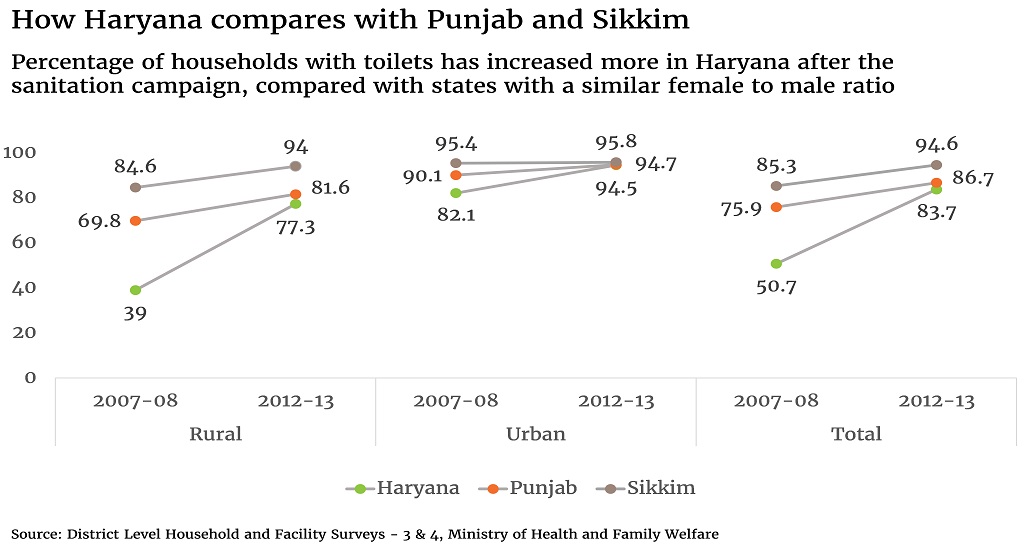 Talking about toilets is no longer a taboo in Haryana. Stopnitzky told VillageSquare.in, "There are two possibilities that emerged out of this campaign. One, women were more comfortable asking for toilets from men. Two, men felt that they would not get brides if they did not have toilets. I personally believe both these factors could have been important".
"Men feel the need to compete for women. They cannot change their education status overnight, so what can they do? Build a toilet," he added. "In the short run, this can make men more desirable in the marriage market."
Toilet ownership
The program changed toilet ownership among households with boys of marriageable age. However, this was not the case when there were marriageable girls, and no boys in the similar age group. The impact is concentrated in marriage markets with a relative scarcity of women, indicating that the marriage market competition plays a key role.
"The key reason why this campaign worked was due to shortage of women in Haryana," says Stopnitzky. As the program expands to other states in India, it will be interesting to see how this campaign works elsewhere."
Sharada Balasubramanian is a Coimbatore-based journalist.
Adapted from an article originally published on VillageSquare.in. Subscribe to VillageSquare's weekly update on the website for more stories from rural India.
Like this story? Or have something to share?
Write to us: contact@thebetterindia.com
Connect with us on Facebook and Twitter.
NEW: Click here to get positive news on WhatsApp!
We bring stories straight from the heart of India, to inspire millions and create a wave of impact. Our positive movement is growing bigger everyday, and we would love for you to join it.
Please contribute whatever you can, every little penny helps our team in bringing you more stories that support dreams and spread hope.