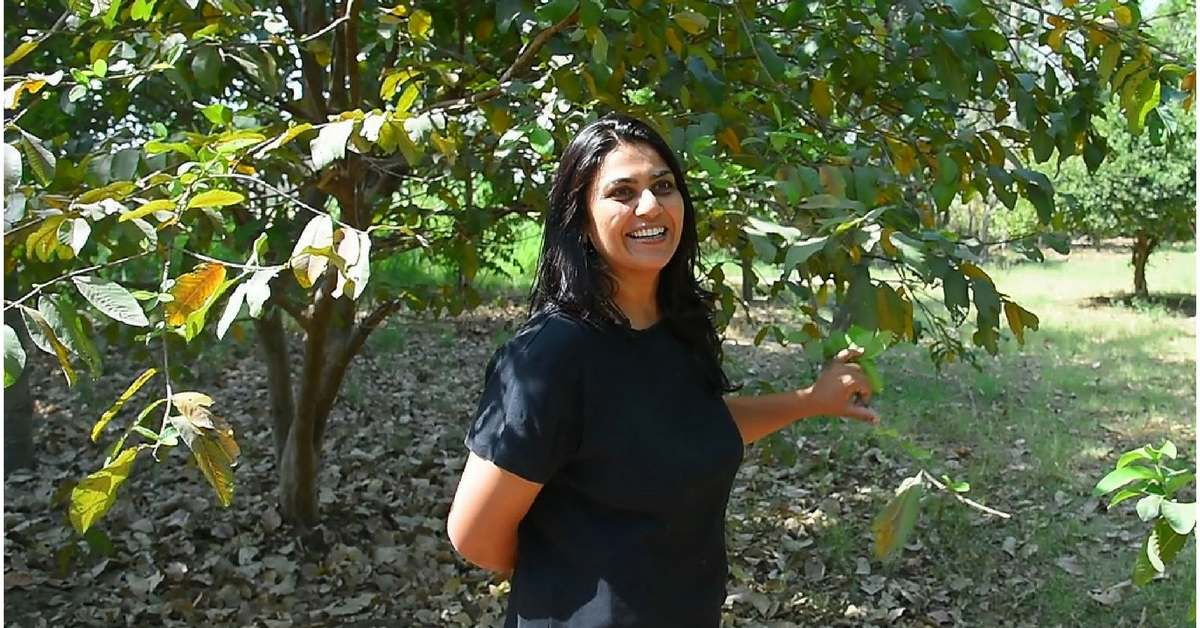 She created a self-sustaining model in her own farm, where all basic requirements of life were met by products from the farm.
It was one weekend that changed her life and Purvi Vyas, a Masters in Environmental Management from Australia's Western Sydney University, turned into a full-time organic farmer. She is now preparing the next generation of farmers and youngsters to adopt a sustainable lifestyle.
After finishing her masters in 1999, Purvi came back to India and started working for several NGOs for sustainability and development. It was in 2002 when she joined the famous Environmentalist Bina Agrawal to work on one of her research projects that Purvi happened to get her first brush with the farming community. The research took her to a small tribal area of Netrang and Dediyapada in south Gujarat.
"We were supposed to talk to the women in the village and know what they would want to plant as part of the joint forestry scheme. However, they wouldn't talk to strangers so easily so I decided to stay back longer and get to know them more," says Purvi.
Purvi would wear jewellery like that of the tribal women and would accompany them to the jungle to work with them.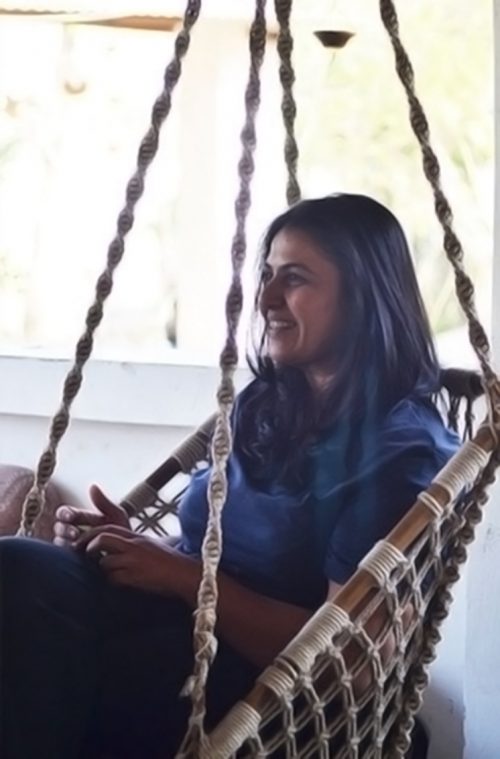 She was surprised to know that these illiterate women had all the knowledge of the plants and the trees available in the jungle. They knew what plants has medicinal values and what should be consumed for a particular disease or illness.
"Even the kids knew about these plants so well! It was an eye opener for me that I was an educated ignorant and so are most of us in the cities. These people were living a much healthier life than us and on the other hand, I observed a huge gap between what people were saying about the environment and how they were actually living their lives in the cities, including me. This paradox made me unhappy and I was constantly looking for a way to implement what I was saying," she says.
Purvi had no clue that just a weekend a couple of weeks later would give answers to all her questions. Her mother and grandmother were always enthusiastic kitchen gardeners. They would always plant herbs and greens for the family's consumption. Taking the legacy forward, Purvi's mother had planted several vegetables and fruits in the 5 acres of land acquired by them in Matar village, 45 km from Ahmedabad. She would visit the farm every weekend and look after it.
"It was one such weekend when I was back from my work and was so darn tired. My mother insisted I drop her to Matar but I was not at all in a mood to travel. However, after she persisted a couple of times, I agreed to accompany her," says Purvi.
This one weekend proved to be a life changing event for her. Purvi could sense the fresh air and the healthy life that Matar was offering her, which she was not going to get in Ahmedabad. She realized that this was what she had been missing back in the city. Thus, she decided to quit her career and become a full-time farmer.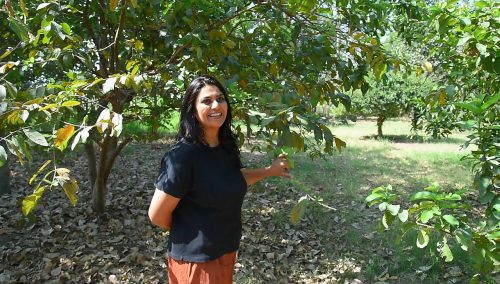 The initial days were tough though. Purvi had absolutely no knowledge of farming. She wanted to be a hands-on farmer and had started working actively on the field. However, even kids would laugh at her when she would struggle to learn the smallest things in farming like which weed has to be pulled off and which has to be protected. Moreover, her urbanness was also a matter of gossip among the villagers who believed that she won't sustain here for long. On the other hand, her family members too were very sure that Purvi would be back home by the first summer, once she experienced the harsh reality of the village where there was no air-conditioner or even continuous supply of electricity. However, Purvi stuck on.
---
You may also like – This Grocery Store Owner Has Been Teaching over 300 Underprivileged Kids under a Bridge for a Decade
---
On asking if she ever felt like coming back or was afraid of falling behind in her career, she says that she sometimes did but again narrates an incident that changed her perspective completely.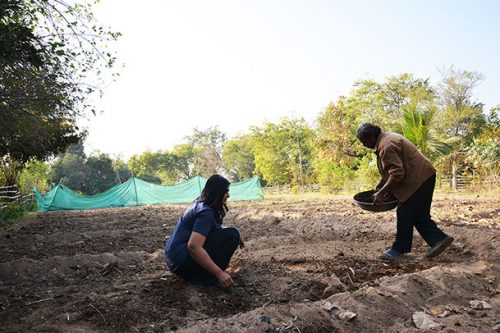 "Ours is a flood-prone area and it was the first flood I was experiencing. I had also set up a vermi-compost unit and had already sown the paddy saplings on my farm. When the flood came, it was the farmers who helped me in my farm and were fighting against nature to save the earthworms from flushing away. That was the moment I felt the sense of responsibility towards these farmers and towards my farm. That day I realized that I belong here. I was not completely depending on the income from my farm, but I was still devastated. I couldn't even think what these farmers might be going through year after year. I thought what if this was all I had, what if I had no degree, no money and was just a farmer like them, I would have continued to struggle, right? And so I did…"
With time, Purvi learnt more and more about farming. She also came across the ill effects of using fertilizers and pesticides and started researching more on organic farming methods, which was pretty new back in 2002. After trying on her own farm she was sure that organic farming was the answer to the entire environmental imbalance that we were facing today. She also concluded that this was going to help both farmers and consumers as the input cost was almost negligible and the output was much healthier. She created a self-sustaining model in her own farm, where all basic requirements of life were met by products from the farm. Purvi started setting up a dairy farm, which is a must for organic farming. At one point she had 15 buffaloes, sixcows, sixgoats, five dogs and eighthens, and her animals were the largest milk suppliers in the village.
She produces each and everything that the land and geography permits at her farm right from grains, cereals, fruits, ayurvedic medicinal plants, legumes, flowers and vegetables.
The model is such that a farmer can get a cash flow continuously. One can get everyday cash by selling milk, flowers can be sold weekly, vegetable fortnightly, fruits monthly, and grains can be sold yearly for a bulk income. For the rest of the things, Purvi has reintroduced the barter system in the village wherein people exchange their produce for things and not money.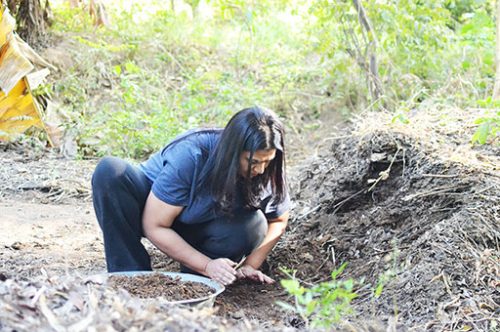 "As of now we are nearly 75-80% self sufficient as far as our food requirements are concerned. The next step is to become self sustained for our energy requirement. The aim is to go completely off the grid," she explains.
The next challenge was to encourage farmers towards organic farming as according to Purvi, the traditional farmers do not look up to the organic farmers as they believe that only financially secure farmers can go organic. Moreover the time period to gain actual profit margins from organic farming takes at least three years of time and a small farmer cannot sustain till then with his limited income. Thus, Purvi decided to go reverse. Instead of convincing the farmers to adopt organic farming, she started spreading awareness among the consumers to buy organic produce.
With the help of family and friends she was able to convince 50-60 such families to buy directly from organic producers and also agreed to support them till they could enter the profit zone after three years. Once the farmers knew that they will get a guaranteed income, they were also ready to experiment. Thus, Purvi connected these consumers directly to the farmers, which guaranteed a secure and healthy produce for them and a guaranteed price for the farmers while making farming environment friendly.
---
You may also like – How an IIT Alumnus Helped Thousands of Farmers Increase Productivity and Found a Fan in Dr. Kalam!
---
While working on these grounds, Purvi would always think about how she can help the urban youngsters take up a sustainable and healthy lifestyle. This is when she designed a module on food geography for them. A batch of liberal arts students from Pandit Deendayal Petroleum University came for a day-long program to her farm. The students recommended that this class and farm visit should be conducted on a regular basis as a part of their curriculum. Teaching the students of PDPU was the beginningof her foray into teaching. Since then, Purvi became a visiting faculty in several colleges in Gandhinagar and Ahmedabad.
She teaches everything about food – the Food system, the politics behind our food choices defined by the market and impact of these choices on the earth.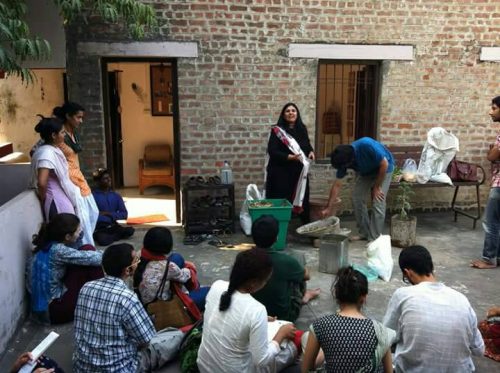 "It is overwhelming to see these children/ my students actually thinking about their food choices now. Many of them have stopped eating at fast food joints; they have stopped consuming Coca Cola.  They even understand the need to question where their food comes from and have gone to McDonalds and questioned the freshness of their food and have asked for their nutritional chart.  A lot of the students' families have also turned organic, which is really a big achievement for me," she says.
Purvi raises questions on the fast food industry in her talks as she believes that not only do these kinds of food have an adverse effect on an individual's health but also on the biodiversity of the earth.
Today, Purvi is working towards transforming more than five to six villages with over 2,000 farmers on sustainable farming models. These farmers are connected to the consumers directly through food melas and networks setup by NGOs like Cohesion.
"One of my friends who works with an NGO got the slum (Patangiyu) kids to my farm. She wrote to me the other day to tell me – she was at the Gandhi Ashram with the kids and was asking the kids if they wanted to share anything. One of the girls, Hina, said that all the greenery, fresh air and peacefulness made her think of me. One of the boys had earlier told her that the life I lived was a good life and it would be a good idea to be farmer!!  I can't tell you what it meant to me. I felt like Yes!! Now I can die in peace," she laughs..
You can contact her at poorvivyas@gmail.com
Story Source – Humans of Amdavad
---
Like this story? Or have something to share? Write to us: contact@thebetterindia.com, or connect with us on Facebook and Twitter.
NEW: Click here to get positive news on WhatsApp!
We bring stories straight from the heart of India, to inspire millions and create a wave of impact. Our positive movement is growing bigger everyday, and we would love for you to join it.
Please contribute whatever you can, every little penny helps our team in bringing you more stories that support dreams and spread hope.