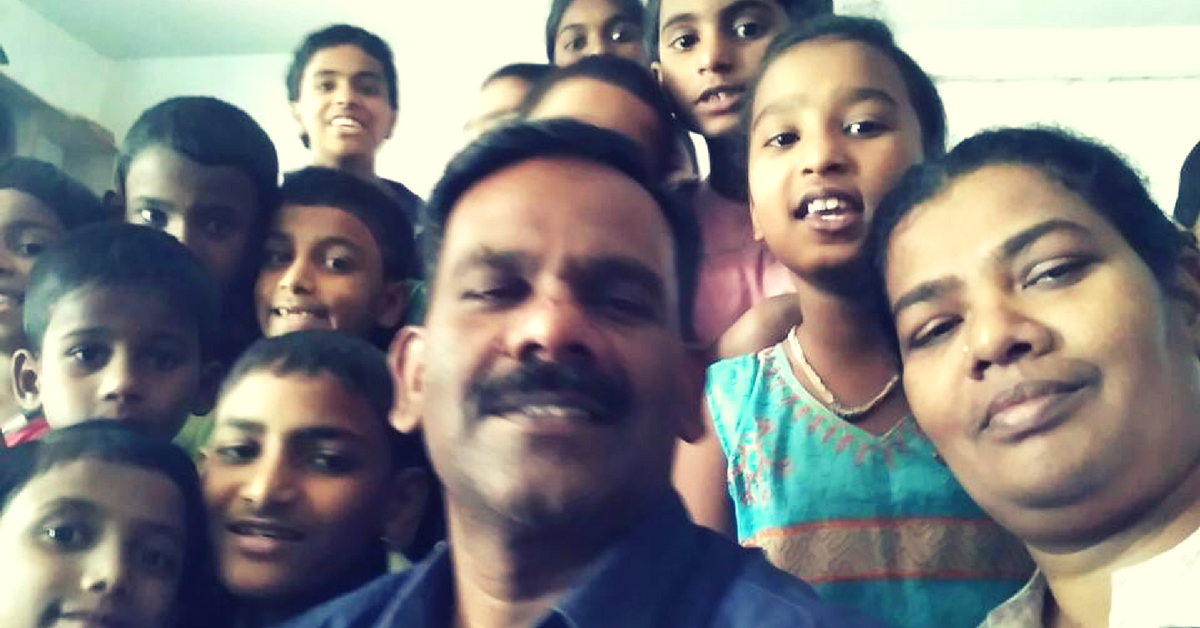 Prema and Shivaji converted their three-room rented house into a children's home.
---
UPDATE: Miracle Manna Children's Home is currently facing an eviction notice that will require them to vacate the land within the next three months. If you wish to lend any kind of support—be it monetary or that of a shelter—you can reach out at these numbers: 9071140201 (Shivaji) and 9742163731 (Prema).
---
Right behind the Bruhat Bengaluru Mahanagara Palike office at Jakkur in Bengaluru, near Old Karunya Public School, is a small three-room house. The house looks like any other middle class one, and it's what Shivaji Lazarus, his wife Prema, and their 23 children call home.
Twenty-five years ago, Shivaji and Prema moved to Bengaluru from Tamil Nadu in search of a better livelihood. Shivaji was recruited as a driver while Prema soon got a job in a BPO. After two years, their daughter Gracy was born and life became even more beautiful.
However, in 1997, Shivaji's cousin abandoned his wife and three children, who were just three, five and seven years old.With no place to go, these children were spending their days on the road with their mother. When Shivaji came to know about this, he brought the children home and the couple decided to take care of them as their own children.
"My daughter was in class 2 when we got her cousins home. Today, all three of them are settled in life," says Prema.
Prema would often think of other children who were forced to live on the streets of Bengaluru. She would think of how they might have ended up here. Maybe they too had a good childhood and family before but destiny had brought them here. She would often tell Shivaji about how she felt like doing something for these kids too. And Shivaji agreed.However, they were reluctant to take that first step due to their limited income. Ten years passed by and their four kids were all grown up. That's when they felt that if they could do it for four, they could do it for many more.
In 2010, the Miracle Manna Children's Home was born.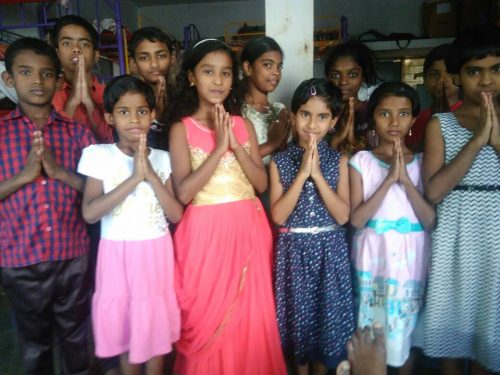 Prema and Shivaji converted their three-room rented house into a children's home and posted an advertisement on Justdial about it. Just a few days later, a brother-sister duo was at their door step. Thirteen-year-old Marina and 9-year-old Daniel had lost their father and their ailing mother could not work to feed them. Both kids have been a part of the Miracle Manna family since,and Marina is now pursuing her BBA at Bengaluru's Sheshadripuram College while Daniel is studying in class 9.
"Once I finish my studies and get a job, I will support our home in helping more children just like Mom and Dad," says Marina,who considers Shivaji and Prema her parents in every sense of the word.
---
You may also like – He Had to Drop of School and Beg. Now, This Kolkata Taxi Driver Runs 2 Schools and an Orphanage
---
After Marina and Daniel, the numbers slowly increased, and soon Shivaji and Prema become Mom and Dad to 10 kids.
Prema decided to quit her BPO job to spend time with them, even though they knew running things on just Shivaji's earnings would be very difficult.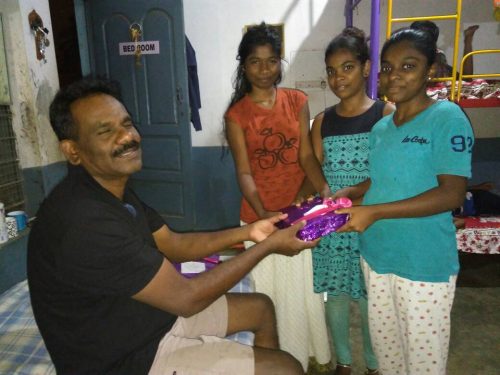 But then their friends and friends of friends started pitching in.Things got even more complicated after a few years when Shivaji lost his job as his recruiters shifted abroad. But, according to Prema, there hasn't been a single day that the children have gone hungry.
"Once there was absolutely nothing for the next day, not even some rice. The next day, there was a donor at our doorstep early in the morning who donated rice, dal and many more things immediately required for the children," smiles Prema.
Today Prema and Shivaji are Mom and Dad to 23 children. They still stay in the same rented house with three rooms.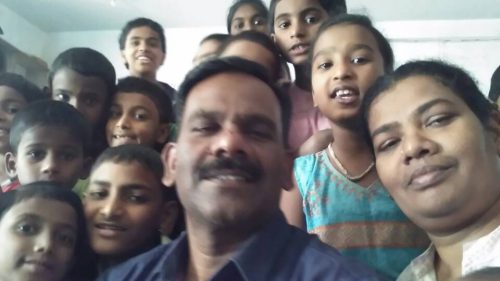 One of the rooms is used as the kitchen and dining room, one as the prayer, study and activity room, and all 23 kids sleep in one of the rooms where the couple has smartly utilized the space by putting up bunk beds.
The youngest kid in the home is 4-year-old Narayana, who came here two years ago. Being a daily wage labourer, Narayana's father was unable to bear his expenses and left him at Miracle Manna when he was just two.
"Very small kids come here and become a part of the family easily as they get everything here, especially love and care, which they were deprived of otherwise," says Shivaji.
---
You may also like – Dogs, Cows, Horses, Pigs & Even Elephants – This Pune Centre Rescues over 500 Animals Each Month
---
When asked about the challenges of being a mother of 23 kids, Prema says, "Every family has to face some problems, even a family with just one kid. But you have to sacrifice many things for your family and you do it happily, so do I."
If you wish to help them in this noble cause you can contact them here.
Like this story? Or have something to share? Write to us: contact@thebetterindia.com, or connect with us on Facebook and Twitter.
NEW: Click here to get positive news on WhatsApp!