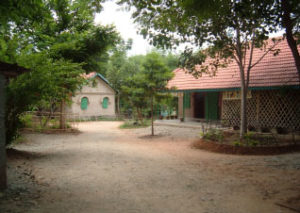 Sittilingi is a remote village in Dharmapuri district, 125 km away from Salem town in Tamil Nadu, which used to be a god forsaken land caught under the spell of quacks and black magic. Noisy drums and fake injections were all they had to cure illnesses. This is when Dr. Regi and Dr. Lalitha took the plunge. This doctor couple went ahead to provide medical services to the tribals of Sittilingi, leaving their promising careers in the cities.
The couple found their calling in service to the underprivileged and wanted to use their knowledge where it was needed the most. Their hunt for the right place to offer their service ended at Sittilingi, a totally neglected and ignored tribal village. They ventured into the village, faced tough resistances and now they have emerged successful in establishing a full-fledged medical center for the tribals. A service beyond praises! 
Regi and Lalitha called their service the Tribal Health Initiative (THI). Their perseverance and continued service has brought about dramatic change in the living conditions of the natives. Infant mortality rate in Sittilingi has reduced to 20/1000 and there are no mothers dying in childbirth for the past 5 years. The nutrition levels of children and the general well being of the people have improved to a great extent.
Another striking fact about the Sittilingi initiative is that the girls who serve as nurses at the medical center are personally trained by Regi and Lalitha. When Regi and Lalitha saw that it was extremely difficult to get nurses to work at this tribal village, they decided to go choose smart and trainable girls from the village. This became such a wonderful uplift to the self esteem of the girls that they are extremely proud to be part of this initiative and to serve their community.
THI's approach to medical care went one step ahead in educating the people and 'helping the tribals help themselves'. They wanted to create a general understanding about health and health issues and make the natives acquainted with basic first aid. Today, over 21 neighbouring villages are benefiting from the Tribal Health Initiative that sprung at Sittilingi.  
And, the couple didn't stop with medical facilities. They organize educational programmes, cultural activities and community development initiatives. There is a library facility that is available for children who also get to listen to motivating stories from a community worker every month.  Truly commendable, right?
It is very heartening to know about the selfless and committed service of Regi and Lalitha and many others who are supporting them. You can visit them at Sittilingi and get to know their service better. We also encourage you to support the initiative by contributing to the cause. Visit http://www.tribalhealth.org/