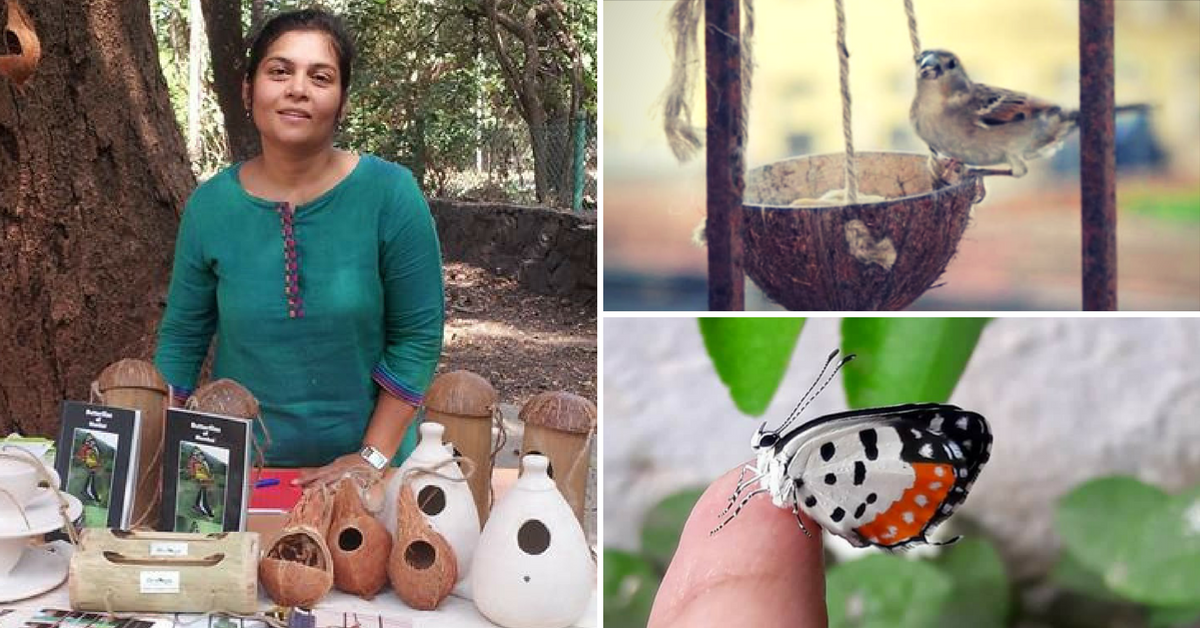 Arundhati Mhatre was gifted a bird shelter box by her friend in 2008. And it has been a life-changing gift for her.
It all started with a gift! A software professional in an IT company in Powai, Mumbai, Arundhati Mhatre was gifted a bird shelter box by her friend in 2008. And it has been a life-changing gift for her.
Today, Arundhati has promoted over hundreds of bird shelters in and around Mumbai and has reared approximately 350 butterflies over the span of four years in her apartment balcony.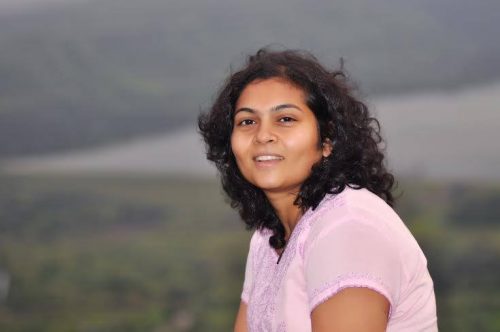 She is not only providing food and water but also providing secure nesting places to the sparrows, parakeets, robins and different species of butterflies.
Even as a child, Arundhati always craved to be amidst Nature. Her favourite activities included going to her hometown, Alibag, and spending time chasing dragonflies, butterflies and crabs.
After completing her schooling in Dombivli, Arundhati wanted to take up veterinary science, but ended up with a Bachelor's degree in computer engineering from Mumbai University.
As time passed, Arundhati had almost forgotten about her passion for nature, but one gift from her friend changed the course of her life. Her friend gifted a bird shelter box, which was placed in her balcony. Soon a sparrow couple started nesting in the shelter.
"I know you won't believe this but I think I was the luckiest one at that moment. It takes years sometimes for a bird to visit such a shelter but my shelter was visited by a sparrow couple within five minutes of placing it in the balcony," Arundhati exclaims while talking about her journey to TBI.
Arundhati started keeping the shelter filled with grains and the sparrows would come every morning and evening to feed on them. The feeling was so amazing that Arundhati started reading about birds and butterflies. Through her research she came to know about the plants, which attracted the butterflies and birds, and she planted them.
---
You may also like – Learn About Birds, Bees & Trees From Kusum Tai's 2,000 Varieties of Medicinal Plants & Herb Saplings
---
Once a caterpillar would appear on the leaves, she would help them grow by keeping them in bottles and feeding them leaves.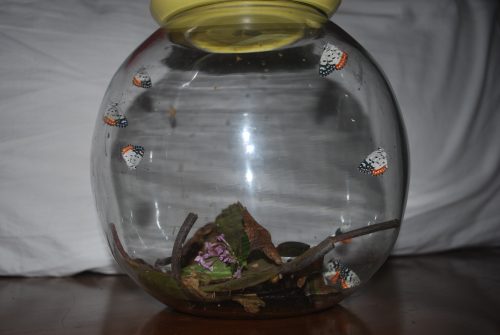 "Once there were almost 20-25 caterpillars on the plants. I placed them carefully in an empty fish bowl and fed them leaves until the pupa had formed and one fine day around 15 butterflies emerged from the pot and flew all over. It was almost magical," says Arundhati, her voice full of enthusiasm.
Meanwhile, Arundhati was also working with an NGO that sold bird shelters, however those were made only of wood and weren't affordable for common man while few others were made in china and non-degradable. Thus, the idea of experimenting with different eco-friendly materials for bird shelters came to her mind.
In 2013, few of her friends came together and founded 'Arenya', which sells biodegradable, recyclable and most importantly affordable bird feeders and shelters.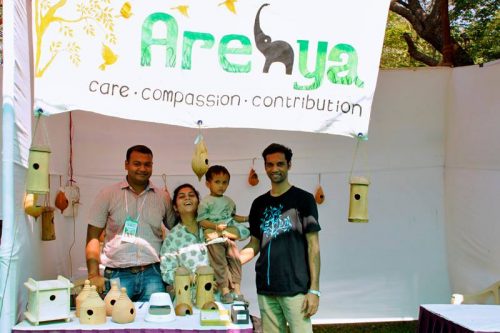 These feeders and shelters were made from coconut shells, clay and bamboo and could be used in both urban and semi-urban set-ups.
"The idea is of course not to make money but to make people aware that they have to give it back to nature," she says.
Arundhati also conducts workshops in schools to teach young minds to be a part of nature.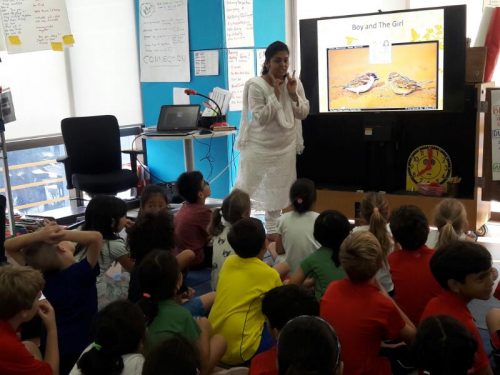 Through the website of Arenya, the team also guides on how to attract birds and butterflies by planting specific plants.
---
You may also like – Artificial Nests Help Birds Survive in Cities & This Environmentalist Teaches Kids How to Make Them
---
With time, Arundhati became so passionate about rearing birds and butterflies that she did a one-year PG course on Sustainable Management of Natural Resources & Nature Conservation from the Ecological Society, Pune by travelling every weekend from Mumbai to Pune while taking care of her toddler and managing her full time job. She also did a course in Field Botany from Fern, Thane,Mumbai.
With all her experience of rearing birds, bees and butterflies for almost nine years now, she tells us about how one can invite the three B's –Butterflies, Birds and honey Bees to help our environment .
Honey Bees –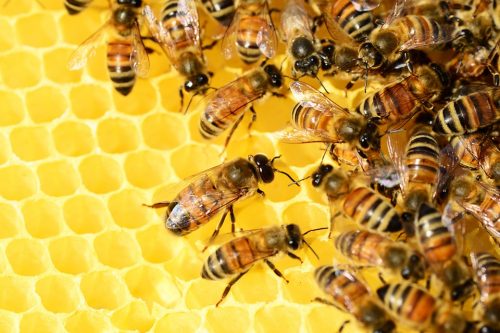 While explaining the importance of honey bees, Arundhati quotes Albert Einstein –
"If the bee disappeared off the surface of the globe then man would only have four years of life left. No more bees, no more pollination, no more plants, no more animals, no more man."
She urges everyone to stop destroying the bee hives just out of fear. But how would one stay with the bees then?
Many people don't know that there are special teams that can carefully relocate the entire bee hive and the colony of bees. You just need to call them if you don't wish to have a hive in your balcony.
There are two types of bees: Ones that sting and those that are harmless. The harmless bees prefer to breed in a boxed environment. So one can rear these bees in their balcony and within three months they would get natural and pure honey, which has great medicinal values for their own consumption.
Watch the Designing of Beehives & Harvesting Honey
You can contact the following organisations if you would like to get a box of harmless honey bees
Address – Binu P.T, Perumpallikunnel, Alakode P.O, Kannur, Kerala
Contact number – +919496391220
Website – http://madhusreehoney.com/
Address – 804, D-4, B-Wing, Rahul Park,Warje, Pune- 411058
Contact Number – +91 99206 98778
Email address – info@beebasket.in
Website – www.beebasket.in
Butterflies –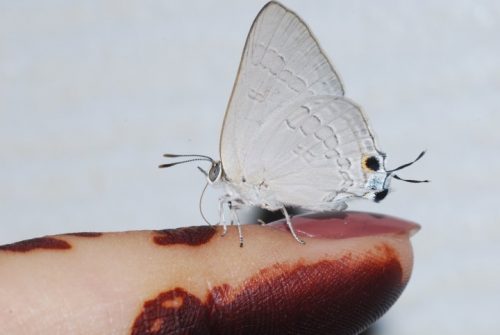 "How can you argue with the wisdom of a 5-year-old who simply declares that butterflies are important because it makes them happy? I like the logic of 5-year-olds. It is simple and to the point and honest…sometimes brutally so," says Arundhati while talking about the importance of butterflies.
But other than being beautiful, butterflies are the third-biggest pollinators behind bees and flies, which makes them really important for our eco system. Butterflies are also indicator species, which helps us to determine how healthy our surroundings are as they are extremely sensitive to climate change, harmful chemicals and pollution in the air or water. However, these beautiful creatures are getting near to the verge of extinction with every passing day, creating a pollinator crisis. But the pollinator crisis is something that everyone can help with no matter where you are.
Arundhati tells us some ways we can invite these lovely life savers to our balcony –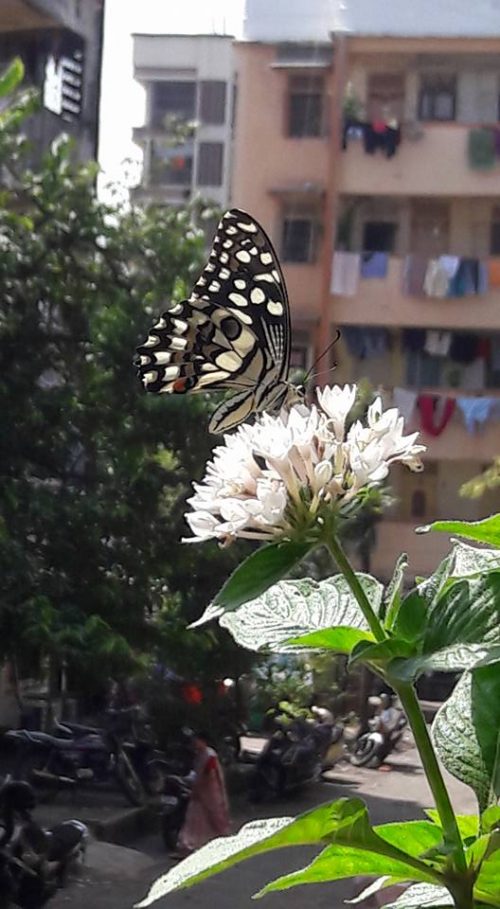 1) Plant some nectaring plants like Ixora, Shoe Flowers and Sadaphuli.
2) Stop using harmful chemicals like detergents, soaps, they harm our soil and water. Instead use dantmanjan, ritha.
3) Educate yourself, your children, and everyone else you come in contact with. Awareness is the missing link!
4) Think twice before smashing that disgusting "worm" or spraying that bee. That's our Food Security!
5) Get the kids involved.
Some more plants that attract various species of butterflies to lay their eggs are listed here.
Birds –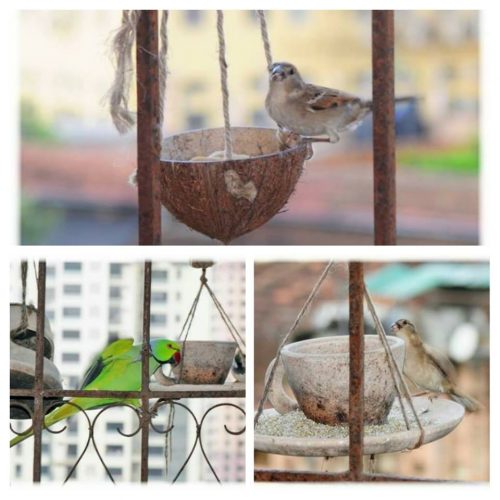 Arundhati tells little stories of the world of birds that she witnesses every day through Arenya.
One such beautiful story says, "It was the festival of Dussera , we had a flower garland hung at our main door , the sparrow  couple were busy getting nesting material , they too got a dry flower garland which being long and unmanageable by these tiny birds was left hanging outside , which gave a feeling that they had got one for their door too."
In another little narrative she says, "Today the father was feeding the young ones , Oh so much like my husband who shares the family responsibilities."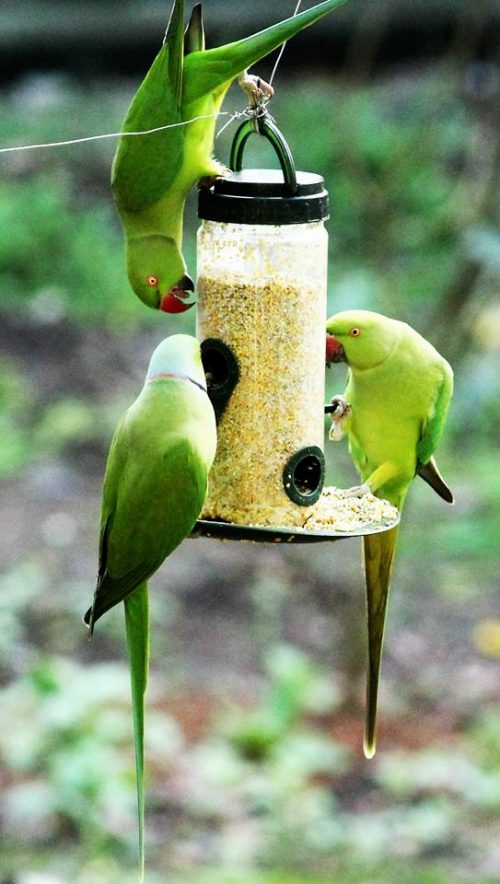 If you wish to witness such amazing life experiences of these birds, you can buy a bird feeder/shelter or even make one on your own with a coconut shell or bamboo and hang it on your window or balcony.
Read more about how to take care of a bird feeder/shelter here
"There is so much magic around us; just that our eyes are not trained to see it. Allow your children to be with the nature and learn while protecting it and see the difference," Arundhati concludes.
To know more about Arundhati's experiences or to buy a bird feeder/shelter log on to www.arenya.in or visit their Facebook page.
Like this story? Or have something to share? Write to us: contact@thebetterindia.com, or connect with us on Facebook and Twitter.
NEW: Click here to get positive news on WhatsApp!
We bring stories straight from the heart of India, to inspire millions and create a wave of impact. Our positive movement is growing bigger everyday, and we would love for you to join it.
Please contribute whatever you can, every little penny helps our team in bringing you more stories that support dreams and spread hope.