A polio survivor who lives life on his own terms, Ghatam Suresh Vaidyanathan has created a career and legacy for himself that far surpasses many others in his field. This Carnatic music virtuoso has been called the 'Pele of Percussion' in honour of his prodigal skills.
A polio survivor who lives life on his own terms, Ghatam Suresh Vaidyanathan has created a career and legacy for himself that far surpasses many others in his field. This Carnatic music virtuoso has been called the 'Pele of Percussion' in honour of his prodigal skills.
Born into a family of musicians, Ghatam Suresh Vaidyanathan is now a legend in his own right. Known for his flawless technique and unique style, today, his talents are in demand all over the world. Whether it's playing for Carnatic music lovers in India, or collaborating with an orchestra in Australia, he has made a name for himself as a true musician.
Keeping It In The Family
Though all the children in the family were exposed to music, Suresh says that he and his elder brother, Rajasekar, were the only ones who wanted to take it up seriously. Rajasekar would escort him to the music school, and eventually he got trained himself. He reminisces, "I used to keep hitting whatever was nearby with my hands, like small boxes and small utensils."
His grandfather, a musician at heart though not by profession, saw the potential in his grandsons, and took them to a nearby music school to continue their education. His teacher, T.R. Harihara Sharma, the father of renowned musician Vikku Vinayakram, helped shape his path.
Vikku Vinayakram, on noticing his deep love for ghatam, gave Suresh his first taste of being a performer by inviting him to play the ghatam during his performances.
He reminisces, "Vikku Vinayakram took me on as his special student and taught me all the intricate nuances of ghatam with passion. I have shared the stage with him only on a couple of occasions in the recent past, where he openly appreciated my achievements."
Bolstered by his support, Suresh became more determined to take music seriously. The turning point was when an uncle who had watched him play told his father to take him to see TV Gopalakrishnan. It paid off, and at the age of 13, he began learning from the great innovator. The Government of India granted him a scholarship to pursue his musical education further. But it was under TV Gopalakrishnan's tutelage that he would meet and rub shoulders with the top musicians of that time.
His teacher also taught him the ins and outs of the music world.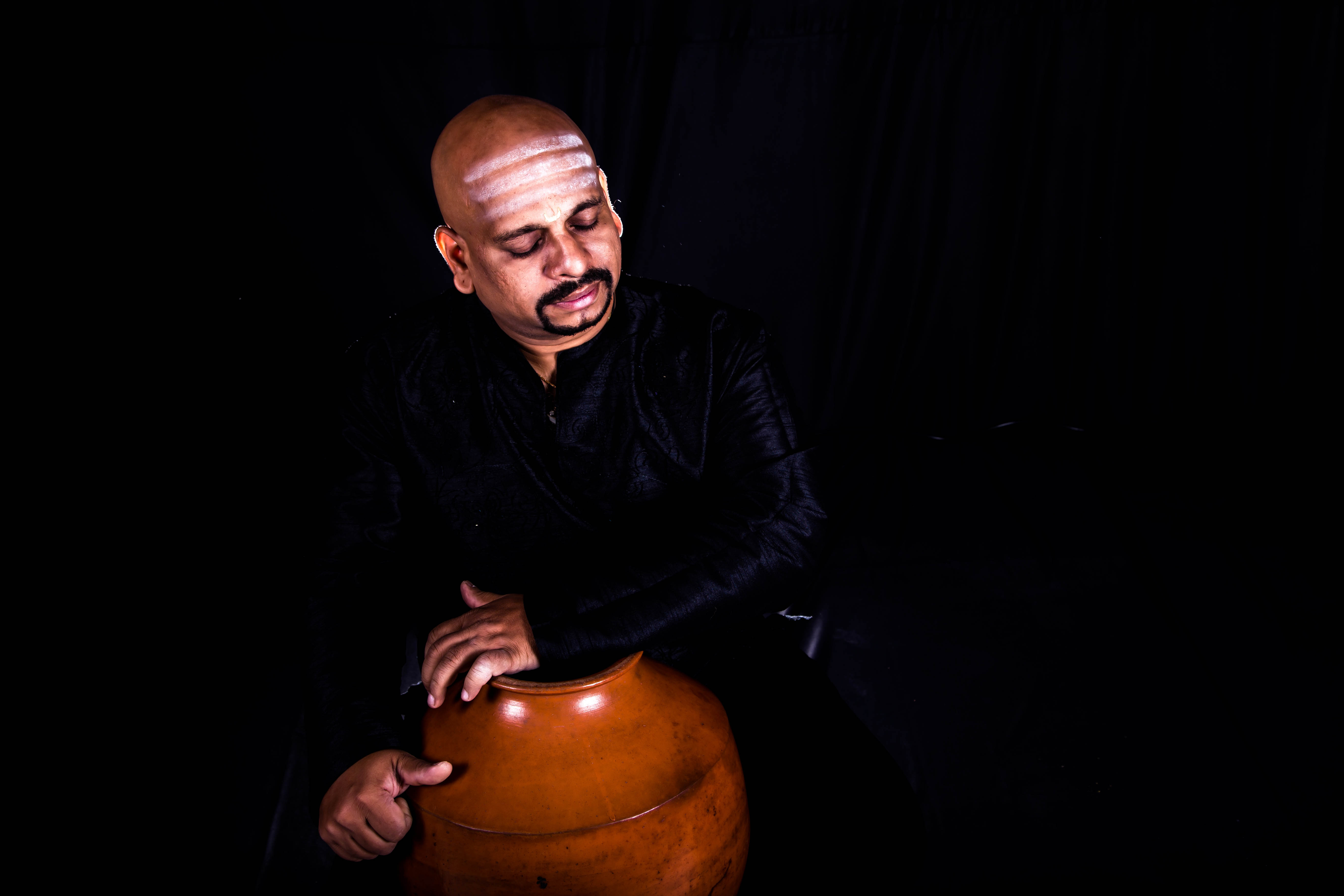 Suresh says, "Mr. TV Gopalakrishnan used to take me with him all around India to play, and that gave me a platform and the boost I needed to become a more vibrant ghatam player. That was the beginning of my career."
Overcoming Polio And Finding Happiness
Though his family was filled with musicians, no one had considered that Suresh could go professional. A Polio survivor, one of his legs was shorter than the other, which was a source of concern for his parents.
He explains, "My father was more concerned about my studies and my health, and getting surgeries done for my Polio." A pragmatic man, Suresh's father was unsure about encouraging his son to take up music full-time.
Suresh says, "My parents were never for me being a professional musician for two reasons. First, because the music profession is not easy or permanent, and there is no regular income. The second is that they thought that I would always need someone to support me, take me around, and help me move my instruments, because of my disability."
He admits that he can't blame them, "When I used to play concerts when I was a teen, and even in my 20s, they would come with me wherever I went. My father would carry my instruments, and sometimes even me."
When he was diagnosed with Polio as a child, his mother was his biggest motivator. "Right from the day I was struck with Polio, she was the person who motivated me. She told me, 'You can sit, you can stand up. You can walk. Don't worry if you're limping, there are so many people who don't have legs of the same size.' She didn't have a medical or psychiatric background, but she was doing it as my mother, and helped me overcome whatever depression I felt," Suresh confides.
Ghatam Suresh Vaidyanathan with his favoured instrument.
The Path To Professional Music
Suresh's father encouraged him to find a desk job, and he was soon on his way to Delhi to begin his career. However, the lure of concerts was stronger. Suresh quit his job in the capital and returned to Chennai because of the expansive music scene.
After working for some time in LIC, and finding love along the way, Suresh found himself longing to pursue music as a profession. After talking to his wife, Suresh gave up his 9-to-5 job and dedicated himself to the ghatam. He says, "She told me to follow my passion, and that whatever comes, we'd face it."
His musical career was already in full swing, and he was in demand as a concert player, both in India and abroad. Suresh believes that musicians have a responsibility to themselves as well as to their audiences.
He says, "I had covered almost the whole country, but that was not enough. To be a percussionist, you have to be a learner and an optimum performer. It's not enough if your calendar is filled and you become more and more busy and perform in different places. At one point, I thought, 'I should be looked upon as a musician of accomplishment.'"
Suresh said he began considering factors he had not explored before like, "Which stage would give me the most exposure? Where could I play my best? Which artists would give me the motivation and room to play?"
Looking Back: Putting Things In Perspective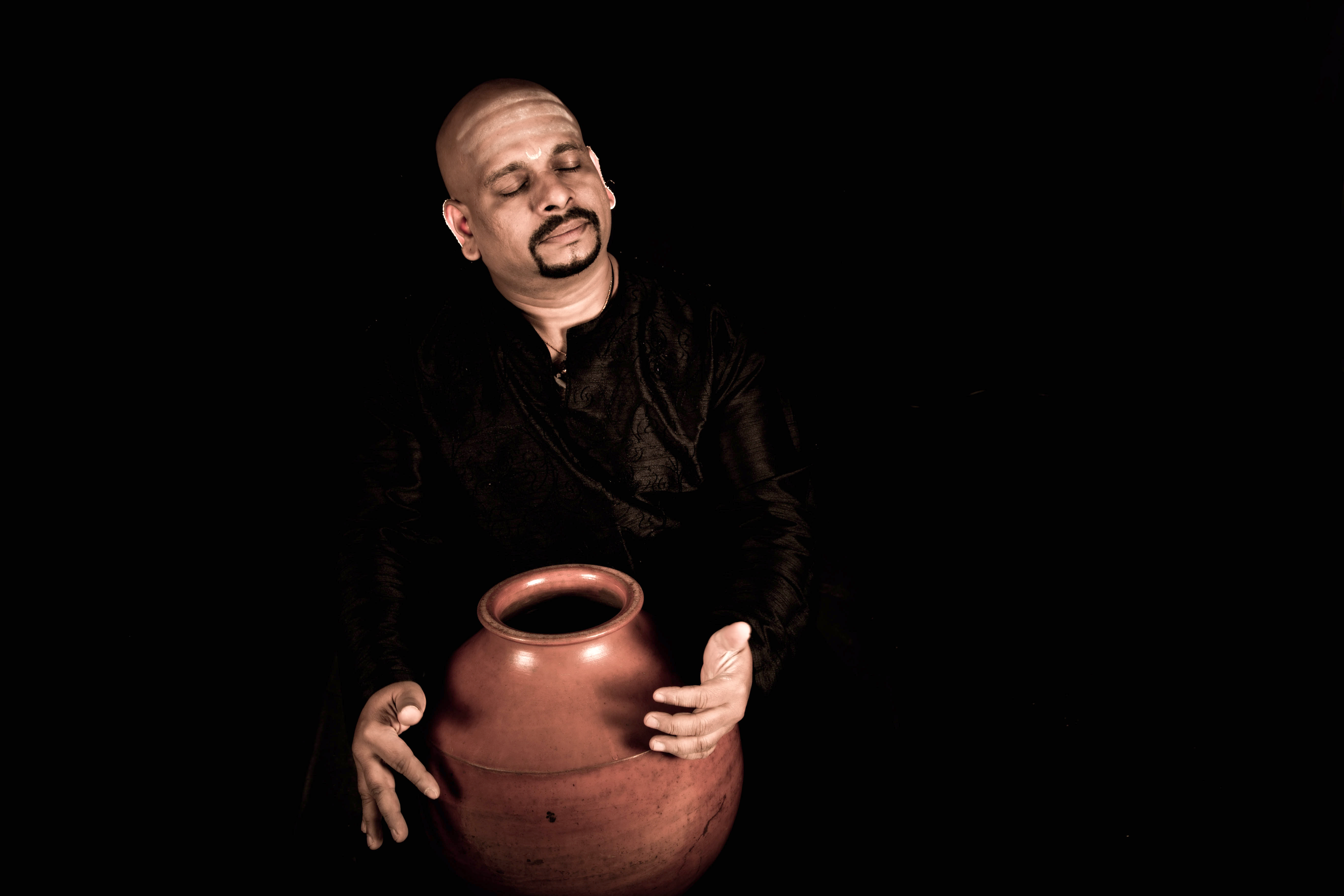 Almost two decades later, Suresh believes he made the right choice. He says, "The younger generation look to me as someone who can guide them with just one performance." At a recent performance, he was thrilled to see a band of young musicians who admired his work and waited to meet him after the show.
He says, "All this is possible only because I was able to work more on the technical side, and now I'm being celebrated as someone who has revolutionized ghatam techniques." He credits his success to Vinayakram and his other guru, Narayanaswamy Iyer. Both his teachers had distinct styles which influenced his playing, and have helped to mould his skills.
Today, Suresh has his own students who are influenced by his unmistakable style. He says, proudly, "Now, when people hear them playing, they can say, 'They're following Ghatam Suresh.' This is what I would call my humble achievement."
Changing Attitudes Toward Disabilities
Though his career has been a successful one, Suresh did face challenges. He remembers, "If someone says, 'This guy is not good, he doesn't play well, his attitude is bad', that's acceptable. But if someone says, 'This guy has a disability, don't depend on him. He'll be troublesome to take on a tour', that's totally unethical."
He found that many people used his disability as an excuse to ignore his talent, and it made him all the more determined to overcome the challenge.
"I decided that people should look at me and see only my performance, not my appearance. I've never asked a co-musician to help me carry my instrument, or even climb the stairs. I can do my job independently," Suresh says with quiet confidence.
These days, Suresh plays with a lot of Western musicians, and he says that their attitudes are very different. He says, "The first time they meet me, it's a little bit of a shock for them. But then there are no more thoughts or questions about it, which I think is a big success for a person who has an issue which was never his choice."
Suresh feels, "The attitude change in India is more visible, because Westerners don't care about how a person dresses or what he looks like. I've always told my co-musicians that I require no special treatment, but should receive respect for my achievements."
Ghatam Suresh is one of India's foremost musical talents today. He has come a long way from playing his first Carnatic-Jazz concert with his guru alongside then-new-arrival AR Rahman. With collaborations with musical giants under his belt, Ghatam Suresh Vaidyanathan is a force to reckon with, and he did it all his own way.
Originally published on KnowYourStar. Visit our website for more such articles, or hop by our Facebook page for daily inspiration.
Like this story? Or have something to share? Write to us: contact@thebetterindia.com, or connect with us on Facebook and Twitter.
NEW: Click here to get positive news on WhatsApp!