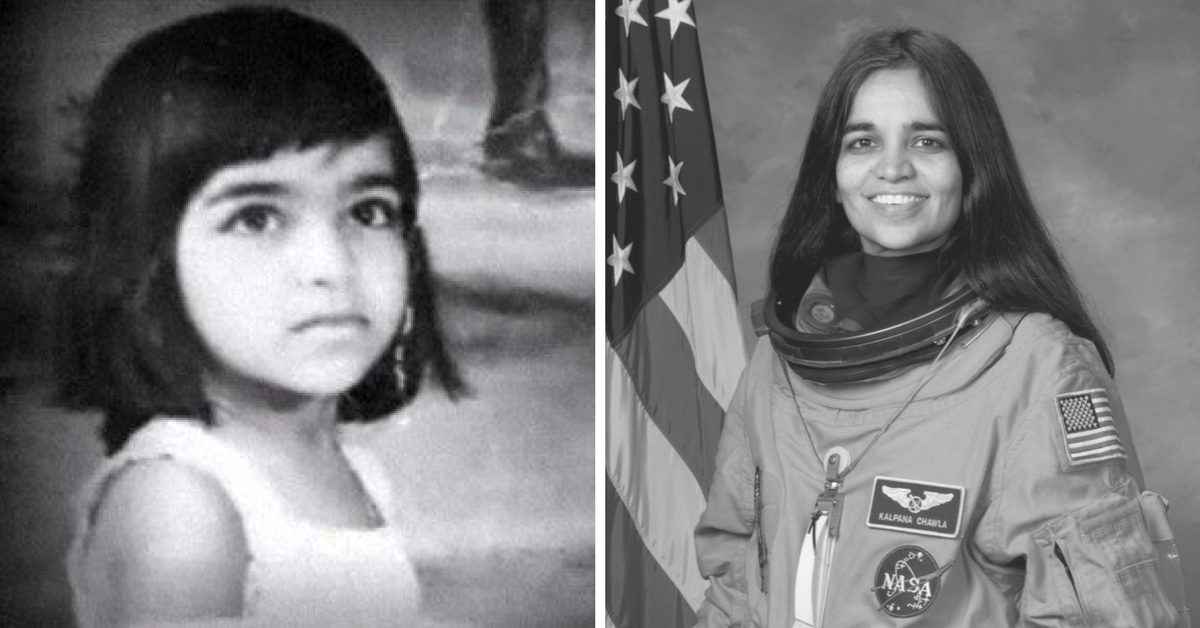 A role model for countless Indian women, Kalpana was an ordinary girl from Karnal whose lofty dreams and indomitable courage took her to space. Here's the little known story of her childhood in India.
On February 1, 2003, seven NASA astronauts perished over Texas as Space Shuttle Columbia STS-107 disintegrated while re-entering the Earth's atmosphere. One of those killed in the disaster was Kalpana Chawla, the first Indian-origin woman in space.
A role model for countless Indian women, Kalpana was an ordinary girl from Karnal whose lofty dreams and indomitable courage took her to space. Here's the little known story of her childhood in India.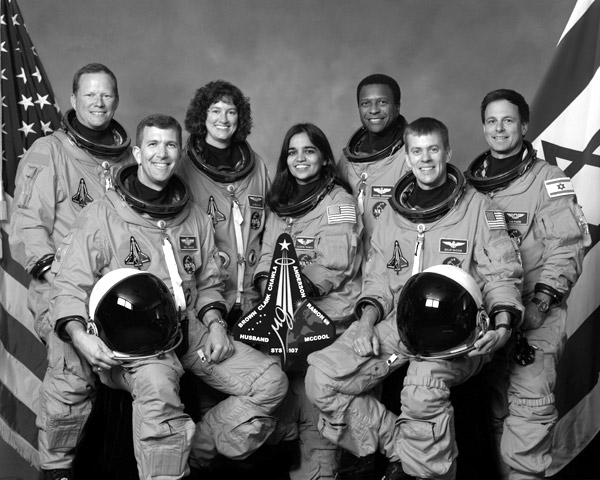 Originally from Multan district of West Punjab (now Pakistan), Kalpana's parents came to Karnal in Haryana during partition. Her father Banarasi Lal Chawla took up several petty jobs (working as a street hawker, a cloth seller and even a metal fabricator) to provide for his family. He eventually set up a tyre manufacturing business while his wife Sanyogita managed the household.
Born on March 17, 1962, Kalpana grew up in an environment where hard work was encouraged. The youngest of four siblings, Kalpana was a precocious child. Her natural curiosity, independent nature and delight in discovering how things worked were encouraged by her mother, a supportive and liberal woman who ensured that all her daughters went to school at a time when education was considered an unnecessary luxury for girls.
A confident, outgoing girl, Kalpana even selected her own name. It so happened that Kalpana had not been formally named at a proper ceremony and was called by her nickname "Monto" at home. During her admission in a nearby school, Tagore Bal Niketan, the principal asked the student's name.
Kalpana's aunt replied that they had three names in mind – Kalpana, Jyotsna and Sunaina – but they hadn't decided yet. So the principal asked the little girl which name she liked best. And she replied firmly, "Kalpana. Because it means imagination."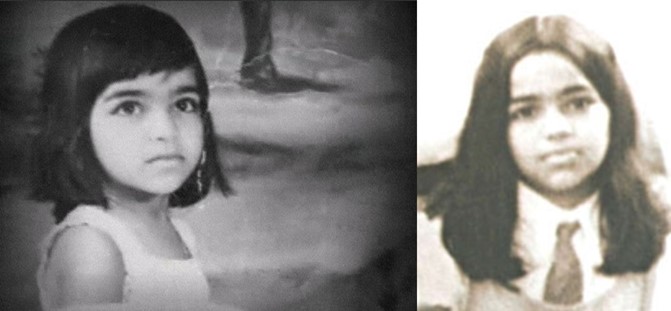 Just like the name she chose, Kalpana was a highly creative and imaginative child. On sultry summer days, while her family slept on the roof of their small house, the little girl would stay awake for hours to watch the twinkling stars in the night sky. Such was her fascination with stars that once when her classmates built a geographical map of India on the floor of their classroom, she covered the ceiling completely with stars – little sparkling dots on black chartpapers!
Another thing that caught young Kalpana's fancy were aeroplanes. Back then, Karnal was one of the few Indian towns with a flying club called Karnal Aviation Club. As her house was just a few kilometres away from the club, she would often clamber up to the roof and watch them go roaring over her head, waving her hand at the pilot if the plane flew low over the house.
In an interview she gave before the Columbia mission, Kalpana recalled how she and her brother would be on their bicycles, trying to see where the aeroplanes were headed. She said: "We'd ask my dad if we could get a ride in one of those planes. And he did get us a ride on the Pushpak and a glider. I think that's really my closest link to aerospace engineering. Also, growing up, we knew of J.R.D. Tata, who flew some of the first mail flights in India, one of which now hangs in an aerodrome out there. Seeing this aeroplane and just knowing what this person has done during those years definitely captivated my imagination."
In school, while her friends drew mountains, forests and rivers on being asked to draw scenery, Kalpana would draw colourful aeroplanes flying amidst clouds. She also loved making aeroplane models in her craft classes. One of Kalpana's school teachers remembers the question the inquisitive and sensitive girl had once asked her: "How can people be divided into classes, sects and religions, when they all look alike from the sky?"
Hard-working and focused, Kalpana was a good student who enjoyed subjects like English, Hindi and Geography. However, her favourite subject was science. Other than dancing, she also enjoyed cycling, running and playing badminton. A complete tomboy, she kept her hair short, never put on any make-up and rarely paid attention to fashion. During her elder sister's marriage, she insisted on wearing the same dress for three days, saying that it was wasteful and unnecessary to do otherwise!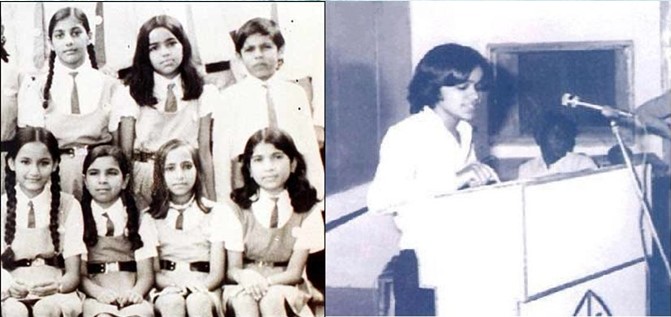 After her class 10 board examinations, she got admission in DAV college for her higher studies. It was here that an interesting (almost prescient) incident took place.
During a mathematics class, Kalpana's teacher was explaining the concept of null set (empty set in algebra). To give an example, she said that a set of Indian women astronauts was a classic example of null set as till date no Indian woman had become an astronaut. To everybody's surprise, Kalpana quipped, "Who knows, Ma'am, one day this set may not be empty!" At that time, no one in the classroom could imagine, let alone know, that the girl who had spoken these lines would herself go on to fill the set!
After completing her class 12 board exams with flying colours, Kalpana decided to pursue her dream of an engineering career. Her father was not in favour of Kalpana doing engineering as he believed that it was not a suitable career option for girls. He advised her to become a doctor or a school teacher but Kalpana was determined to become a flight engineer and for that, an engineering degree was essential.
Kalpana had her mother's unconditional support and her father finally gave in when he realised that her mind was made up. So Kalpana left for Chandigarh where she took admission in Punjab Engineering College. During counseling for the selection of various engineering courses, she chose aeronautical engineering, the only girl to do so.
The surprised counselors tried their best to dissuade her from joining aeronautical engineering as it had limited job opportunities in the country but Kalpana refused to budge. When they asked her what was her second option, she replied that she had none.
She was determined to become a flight engineer, and nothing on earth could convince her to choose another stream.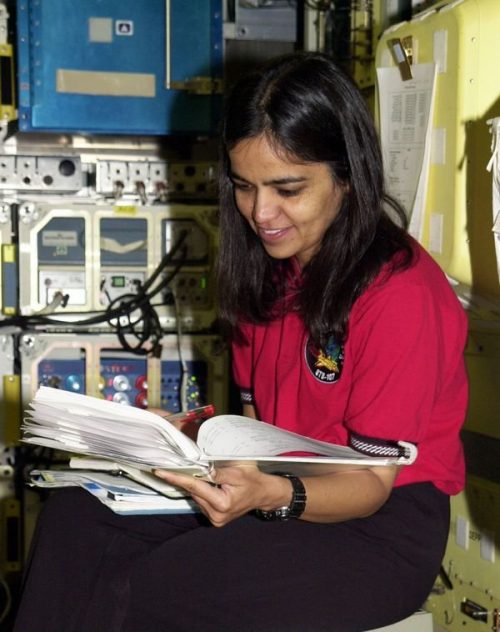 In college, Kalpana put her heart and soul into her studies. As there was no girl's hostel, she lived alone in a tiny room over a garage, cycling to college everyday. In her free time, she devoted herself to learning karate (she became a black belt) and reading books by her favourite authors (Alexander Solzhenitsyn, Ayn Rand, Oriana Fallaci and Richard Bach).
She enjoyed listening to classic rock, especially of the 1970s British band Deep Purple, and sufi music (Columbia's debris included CDs of Abida Parveen, Nusrat Fateh Ali Khan, Ravi Shankar and Hariprasad Chaurasia). Kalpana also loved collecting magazines and books on aviation and would read them from cover to cover. She became a student editor at her college magazine and the joint secretary of the college's Aero Club and Astro Society.
Always enthusiastic about working on new projects, she surprised her professors and seniors by presenting a paper on 'Time-Lapse in Space' (a topic that dealt with Albert Einstein's theories of relativity) at the college's annual conference in her first year itself!
In 1982, Kalpana secured the third rank in her batch to become the first woman aeronautical engineer to pass out from her college. This was, however, just a stepping stone to much greater heights that she would achieve in the years ahead.
A good academic record and active involvement in the PEC's Aero and Astro Society assured Kalpana easy admission into the Master's course in Aerospace Engineering at the University of Texas in USA. She had a tough time persuading her family to allow her to go abroad for higher studies and as a result, she joined the session several months late.
It was during this time that Kalpana met and fell in love with Jean Pierre Harrison, a flying instructor and an aviation author. She married him in 1983 and it was from him that she learned how to fly a plane – Kalpana was licensed to fly single and multi-engine land aeroplanes, single-engine seaplanes and was also a certified flight instructor.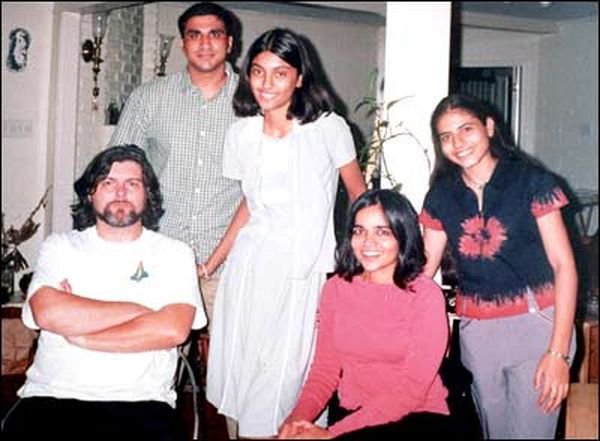 In 1988, Kalpana completed her doctorate in aerospace engineering from the University of Colorado at Boulder. The same year she began working at NASA's Ames Research Center, working on power-lift computational fluid dynamics in the same year.
Despite her busy schedule, she kept in touch with her school and college in India. Thanks to her efforts, every year two students from Tagore Bal Niketan were given the opportunity to visit NASA. The students would stay with their 'Kalpana didi' who would make Indian meals especially for them.
In December 1994, Kalpana Chawla reported to the Johnson Space Center in March 1995 as an astronaut candidate in the 15th Group of Astronauts. The rest, as they say, is history. In November 1996, she was assigned as mission specialist and prime robotic arm operator on space shuttle STS-87 (November 19 to December 5, 1997).
As part of her first mission, Kalpana traveled 6.5 million miles in 252 orbits of the Earth and logged 376 hours and 34 minutes in space, becoming the first Indian-origin woman to got to space. Less than five years later, she was cleared by NASA to fly aboard Columbia for a second time.
In her last email to the students of Punjab Engineering College, Kalpana wrote: "The path from dreams to success does exist. May you have the vision to find it, the courage to get onto it, and the perseverance to follow it."
---
Also Read: This Couple's Stunning Documentaries Are Taking Space Dreams to Rural Kids in India
---
Like this story? Or have something to share? Write to us: contact@thebetterindia.com, or connect with us on Facebook and Twitter.
NEW: Click here to get positive news on WhatsApp!
We bring stories straight from the heart of India, to inspire millions and create a wave of impact. Our positive movement is growing bigger everyday, and we would love for you to join it.
Please contribute whatever you can, every little penny helps our team in bringing you more stories that support dreams and spread hope.
Tell Us More