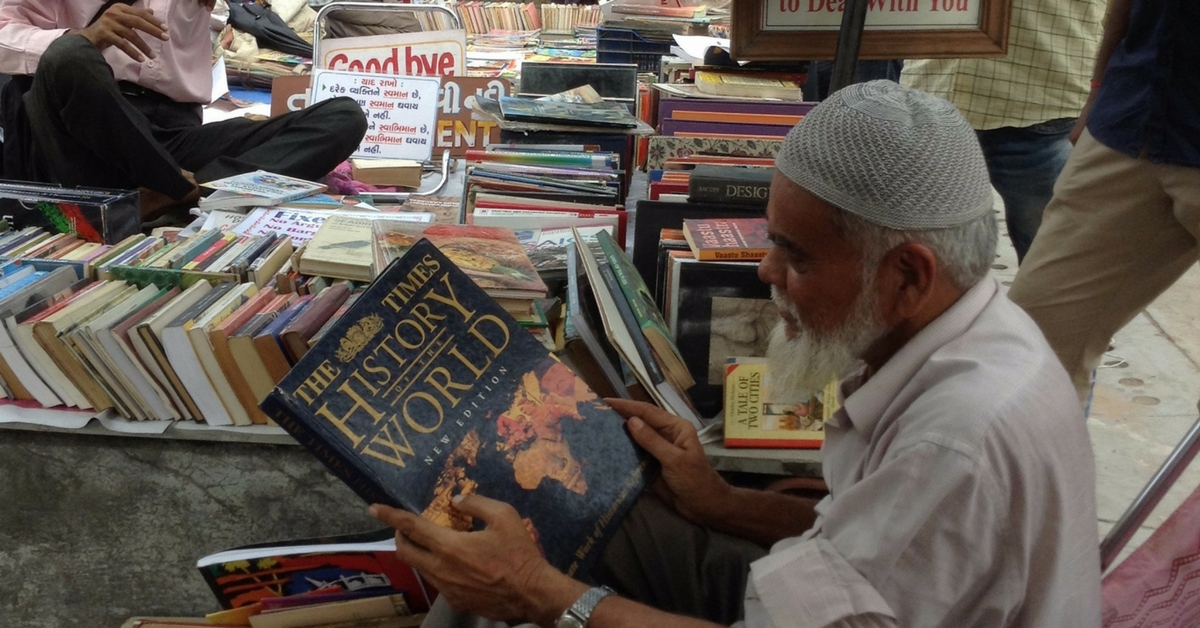 Ahmedabad, the largest city in Gujarat, is a thriving hotbed of commerce and trade. But nestled on the banks of its Sabarmati river, a unique weekly market reveals enticing new aspects to the city and its people.
Ahmedabad, the largest city in Gujarat, is a thriving hotbed of commerce and trade. But nestled on the banks of its Sabarmati river, a unique weekly market reveals enticing new aspects to the city and its people.
The residue of a city and its many processes, its living heritage and repaired items, often find themselves washed up on the shore of its flea markets. These remnants of lives led in the city, of used furniture and unused toys, well-worn books and fresh crockery, are put on display in these markets.
One such bustling bazaar thrives on the east bank of the Sabarmati River in Ahmedabad. This is the Ravivari. The name Ravivari means "that which happens on a Sunday", since this 'Gujari bazaar', or second-hand market, is open to trade on Sundays alone.
There is the most unlikely collection of wares on sale. From agricultural implements, household utensils, cycle rickshaws, electronic goods, domestic animals, and spare parts, to more exciting things like antique items, books, raw foods, and lanterns. Rummaging through rare and used books is a personal favourite. Here, by the shores of the Sabarmati, one can find a scholarly fisherman with a catch of time-worn books.
The Ravivari is organised chaos. The area of booksellers comes after a series of stalls selling antiques, paints, and domestic goods. After weaving through narrow passages shaded by parasols, littered with the smell of nimbu-paani, daal-haleem, and sometimes assorted animal dung, one arrives at the booksellers. Instant vellichor!
While there are about 7-8 different bookstalls, each with an assorted collection of irresistible finds, Mohammadbhai's bookstall has always been unique. Perhaps this is because of the various bold yet beautiful signs and posters that annotate the space.
Maybe, it is the unabashed devotion of the bibliophile-turned-bookseller to the written word.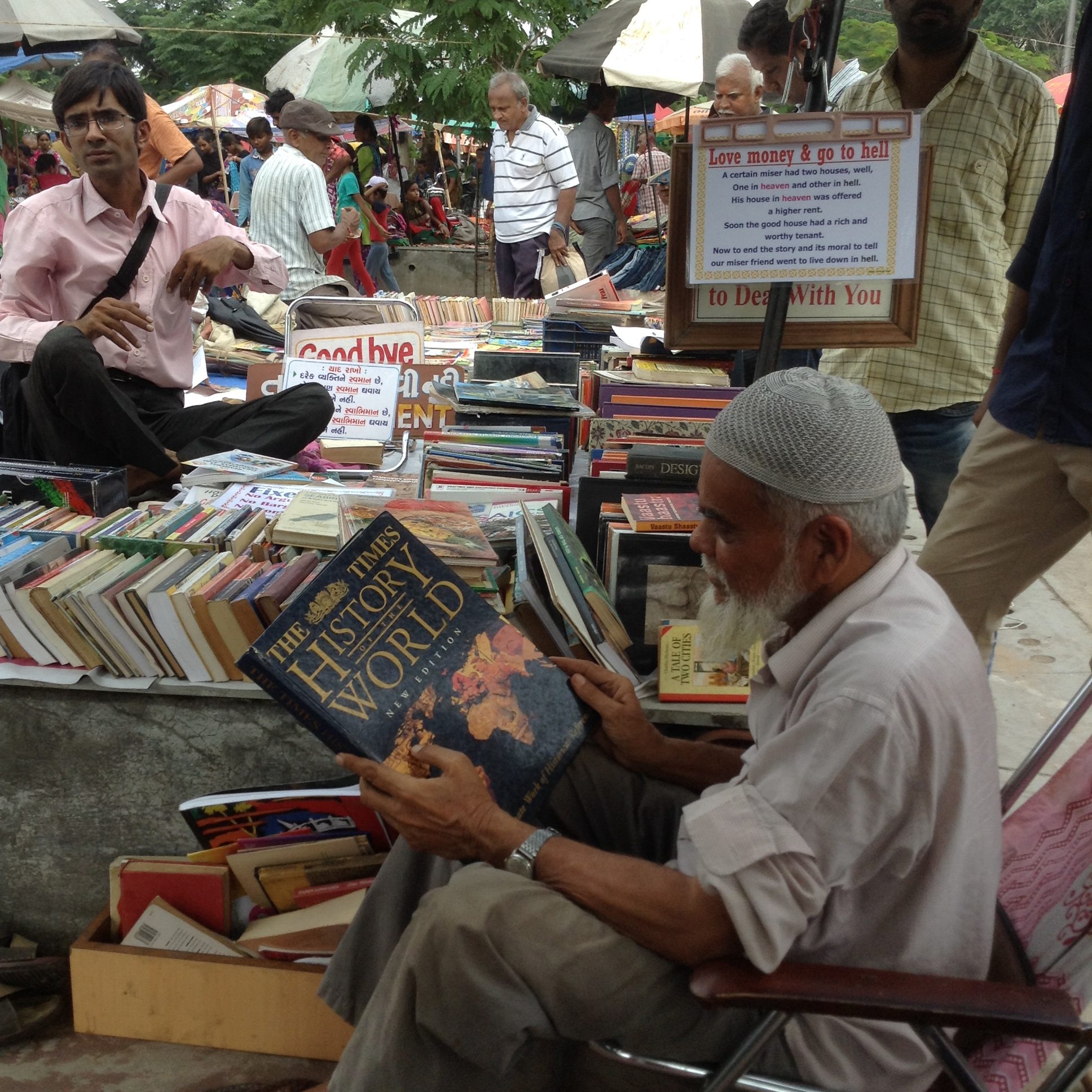 Mohammad Hussainbhai, the bookseller, fell in love with reading when he was a young boy, and the romance still continues. "My parents were illiterate. My Ammi would give me 4 annas as pocket-money, and I'd save it to buy books. A passion for literature led me to pursue BA, MA, and BEd degrees, and I became the principal of a school here in Ahmedabad. My parents weren't educated, yet I taught 10,000 children as a school headmaster. That's the power of reading! Yehi woh lagan, woh passion hai! (This is that love, that passion!)" he says.
The entire riverfront market seems to thrive on the principle of "one man's trash is another man's treasure." Quite literally, for our beloved bibliophile bookseller, who buys most of his stock from pastiwallahs (scrap-dealers). The books are bought by the kilo, sometimes from local dealers on carts, or from the chor-bazaar in Mumbai, where Mohammedbhai travels often.
Commenting on our reading habits as a society, he says, "A husband buys books, and the wife gives it away to the scrap dealer! Samjhe? (Understand?) So, some very good, priceless books come my way because of people who don't understand the value of those books!"
Even in the midst of conversation, he keeps recommending several interesting items to various customers. "Take this Collected Histories of Poets, it has illustrations. Here, this is the book on dance I kept aside for you, behenji. No, there are no gossip magazines here!"
Mohammedbhai has been a part of Ravivari since 2001. Over the years, he has understood the attitude of customers, and has learnt to brush away those who "don't take reading seriously". Thus, a wide range of signs and quotes have been collected over the years, as a response to haggling customers. He believes that one must buy books with love and openness, otherwise not.
Bargaining and half-hearted buying of books shall satisfy no one.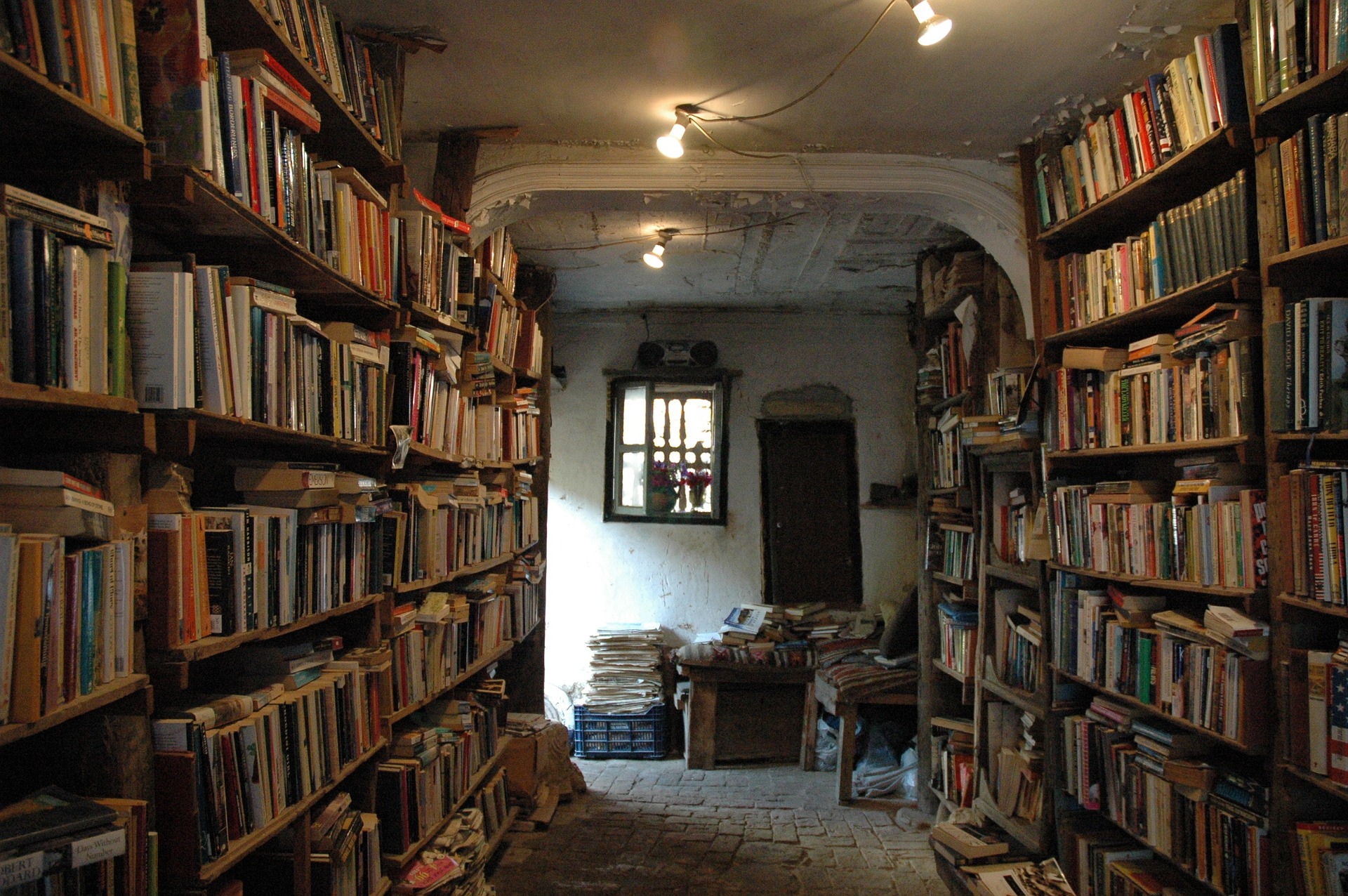 The variety of signs include, "Greedy eyes shall never have satisfied stomachs," and "No comments. No photos. No bargaining." However, almost every visitor to the stall asks for some concession or other, and soon the "Go Away Bargainer" board is displayed by Mohammadbhai. It seems that the guileless Amdavadi shopper is impervious to strong and rude signals to stop bargaining! To one design student who approaches him, bargaining over a book on architecture, Mohammedbhai reads out the following sign:
Love money and go to Hell.
A certain miser has two houses well,
One in Heaven, the other in Hell.
His house in Heaven was offered a higher rent.
Soon the good house had a rich and worthy tenant.
Now to end the story and it's moral to tell,
Our miser friend went down to live in Hell.
For a first-time visitor, the aggressive ban on bargaining, and Mohammadbhai's supposed irritability, might be a bit uncomfortable. However, spending time with this scholarly man reveals an extremely kind, humble, and incredibly patient side to him. He switches effortlessly from English to Hindi, Urdu, and Gujarati, reading out proverbs on "beauty" in one language, and reprimanding a haggler in another.
In between reading the Gitanjali and discussing the nature of secularism in India, Mohammadbhai expands on his thoughts on the Ravivari. "This market is a museum." There are so many interesting pieces of history here. One needs only to take a stroll around to understand the essence of this city.
The unique aspect of this market is that it has something to offer for all sections of society. For the common masses, the items sold here are basic domestic essentials, sometimes luxuries. For travellers and tourists, the experience of the space can be more powerful and attractive than the items on display.
While the elitists may argue about the quality and authenticity of products sold and the overall crowded experience, such markets have long been the source of interesting articles for artists and designers.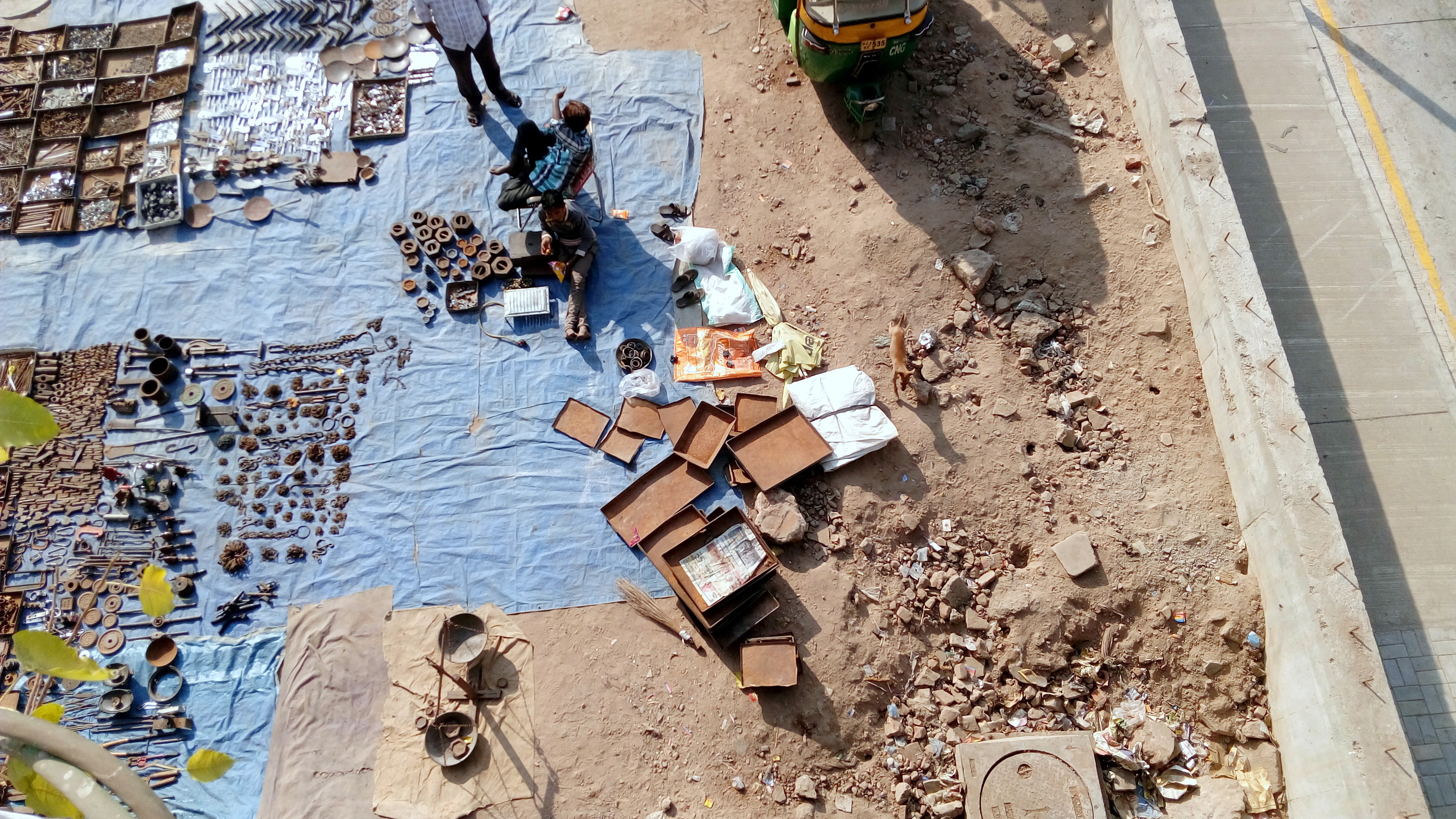 With the jugaad mindset picking up, both in art and design, many designers nowadays source their raw material from the Ravivari in Ahmedabad, and the similar Shukravari in Baroda. Recently, the organisation of the market has undergone a change or "redevelopment".
Over the years, and after countless visits to the market, a dramatic shift is easily recognisable, in the form and structure of the place, and also in the mix of visitors. About this, Mohammadbhai says that many young people and students who visit the market out of curiosity engage in buying mostly educational or study-related books. Yet, perhaps genuine book-lovers are becoming a rare species, and even more so are readers of vernacular languages.
The avid reader that he is, one wonders whether it is difficult for him to part with certain special books. He smiles, and confesses to his personal collection of books that he keeps aside. One can only wonder about the nature of this personal library—its contents, location, and size.
On weekdays, you can find him at a stall near MJ Library, selling the same lot of books, but indulging visitors with different stories. "Come there. We can talk at leisure," he says. It is refreshing and reassuring to find such passion for literature in this city of thriving commerce and industry. Ahmedabad is deeper than it seems, and its many layers unravel at this riverside market, on a sunny Sunday morning.
Do you know stories of people that will help map your city better? Find out how you can contribute to The People Place Project here.
Like this story? Or have something to share? Write to us: contact@thebetterindia.com, or connect with us on Facebook and Twitter.
NEW: Click here to get positive news on WhatsApp!