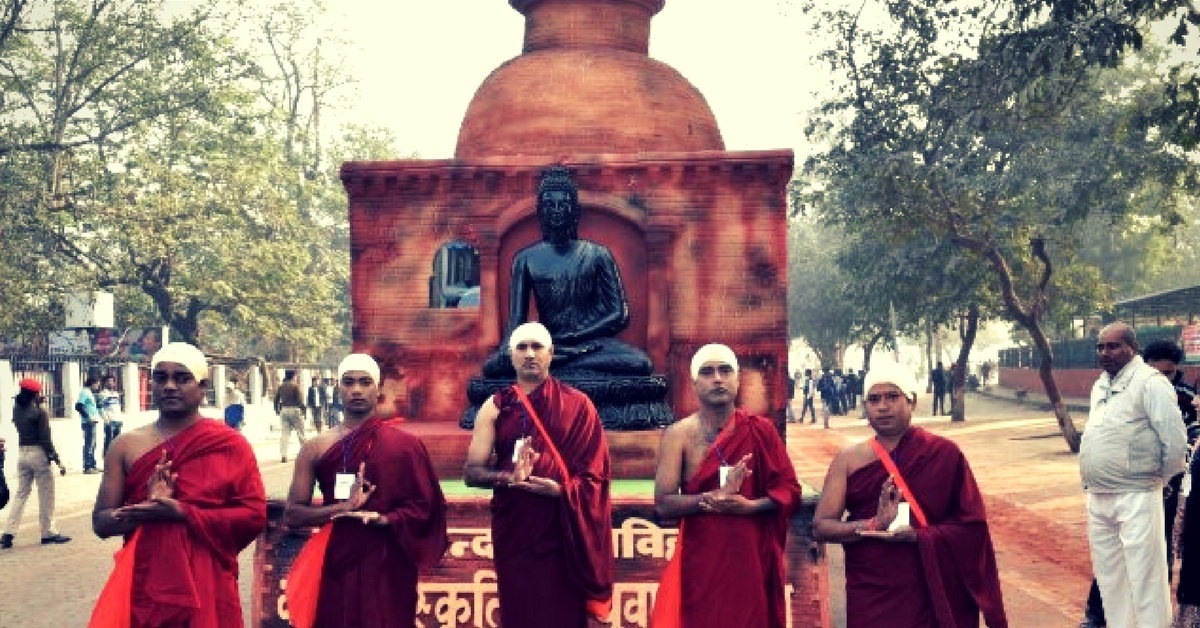 The team behind an award-winning tableau from Republic Day spill all the behind-the-scenes secrets.
Suspense. Intrigue. Friendship. And a fear of sabotage. No, this is not a plot from some thriller one might find in a bookstore, but rather a glimpse into the high-stakes world of the creation and the production of a Republic Day Parade tableau that one sees across the country on January 26.
Confused?
Tanya Anand, the founder of Kalpvriksh, an event management companythat won the contract to create the tableau for the Art & Culture Department in the government of Bihar. They ended up winning. And now she spills the secrets of what happens behind the scenes while also giving a national perspective. You will walk away surprised at just what goes into making a piece of art that you only glimpse for a few fleeting seconds on your television set.
Step 1: You fight for the contract and you also have to be a bit sneaky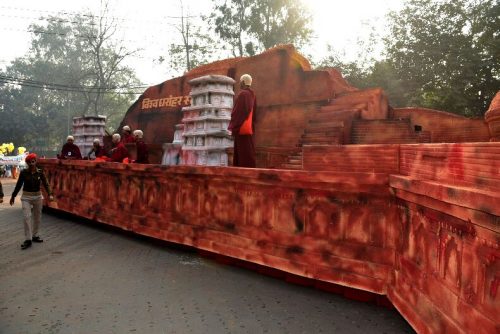 Tanya says that it always helps to know someone within the state department because you will get a tip-off on when the tenders will go out in advance. This helps event management companies (the ones that generally apply for the contracts) some time to prepare for the pitch.
"When I walked in, there were five people already in the room. We pitched for the Art & Culture department and gave them our design, our concept and our quotation. They reviewed everyone's pitch right then and there and awarded the contracts to us." Tanya along with her artist Umesh Sharma had come up with the concept of representing Nalanda University. Umesh, had hand-drawn the idea in both in paint and in black and white. The pitch took place just days before Republic Day and the team had to get to work. The quotes for state-level parades for each tableau generally range between 3 lakh and 5 lakh.
When it comes to the national parade tableaus, it happens on a far more elaborate scale. According to Tanya, quotes go well over Rs 1 crore and teams get close to two months to prepare and put everything together.
Step 2: Do your research and assemble the best team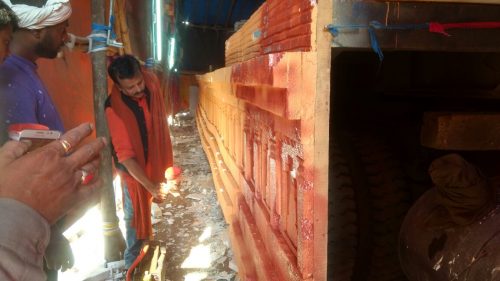 Research is paramount when it comes to putting together a tableau. In order to put together a representation of Nalanda, Tanya decided to showcase its most famous structure – the gigantic three step tower.
Once she had decided on what the tableau would be, she had to put together a team really fast. "So, we had an artist Umesh who designed everything. He also coordinated with the carpenters and the painters with specific instructions on how he wanted everything to be. I had two helpers and under us there were 15 people working on this project. We also have to hire artists who will perform as historic characters to go along with the tableau. The task is daunting. You have get IDs done for everyone and make sure everything is fine."
Step 3: The devil lies in the detail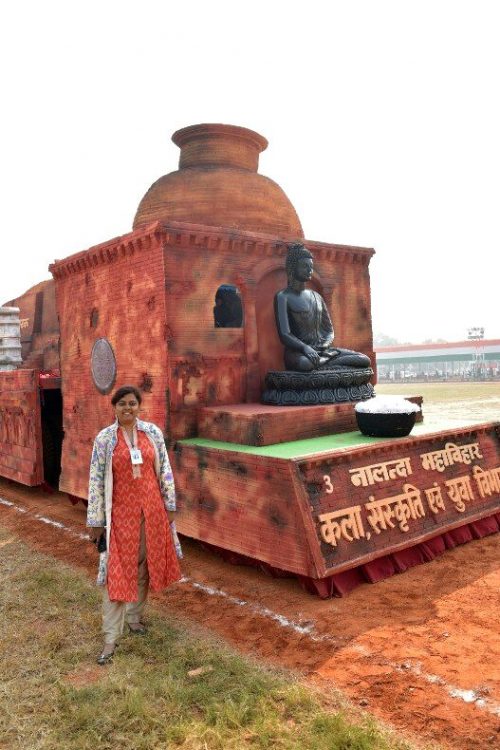 The Nalanda stupa is a massive structure that is broken in many places and it burnt and blackened in many places. Given that the university was heavily influenced by Buddhism, there are Buddha statues everywhere but many are also broken. The team decided they would not leave any stone unturned literally when it comes to replicating this.
"The measurement of the bricks at Nalanda are six by two, so we decided to recreate bricks with thermocol that were also six by two. The carvings also made with the same measurements. We made the bricks out of thermocol and then pasted them on plywood to make it authentic."
---
You may also like: [BLOG] This Republic Day I Pledge to Uphold My Fundamental Duties. Do You?
---
The team also recreated the tower and Buddha statues. But once everything was completed, came the hard part – they had to destroy it.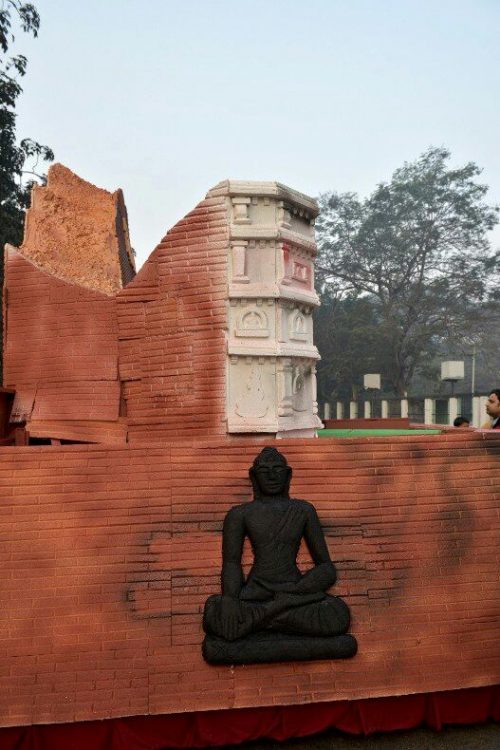 "Nalanda is in ruins! It broke our heart but once we were done, we took a bamboo stick and hit the thermocol repeatedly to break it all. Painful yes but it has to look like the real monument!"
Step 4: The day before the event you assemble everything at the venue, keep an eye out for sabotage
"Having a tableau is actually a very big deal. The government gives you a 16-wheeler truck to take everything to the grounds where the Republic Day is conducted. Generally you end up doing an over-nighter to make sure everything is set-up and perfect. But the competition is fierce. I have heard of people sabotaging the frontrunners. I actually had my husband do a couple of rounds around the tableau after the midnight to ensure everything was fine," laughs Tanya.
---
You may also like: The Most Famous Chief Guests At India's Republic Day Celebrations Over The Years
---
Step 5: It gets over all too soon, so savour the moment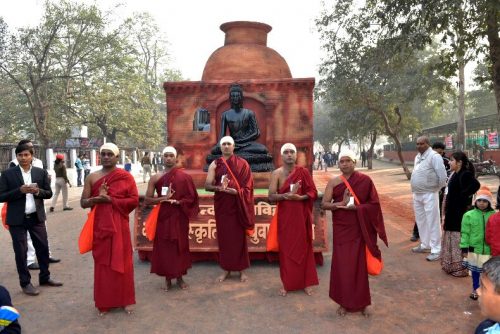 Tanya notes that she along with her team reached the venue hours before the parade was even slated to begin. And then all too soon, the winners got announced. "The parade started at 9.30am and we did one round around the grounds and by 10am they had already announced that we won. I don't think even now it has sunk it that we pulled it off!"
Like this story? Or have something to share? Write to us: contact@thebetterindia.com, or connect with us on Facebook and Twitter.
NEW: Click here to get positive news on WhatsApp!