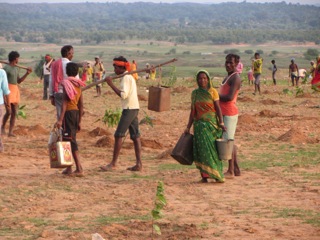 Some stories, some people, some initiatives, make the passersby pause and take note. These are stories of courage, of passion, of change and of unparalleled determination. Kumar Ankit, an alumnus of XLRI Jamshedpur, is an epitome of all that a social entrepreneur needs to be. He is all of 25, but the milestones which he has achieved are not just remarkable but awe-inspiring too. Read on
Some stories, some people, some initiatives, make the passersby pause and take note. These are stories of courage, of passion, of change and of unparalleled determination. Kumar Ankit, an alumnus of XLRI Jamshedpur, is an epitome of all that a social entrepreneur needs to be. He is all of 25, but the milestones which he has achieved are not just remarkable but awe-inspiring too.
Ankit, a native of Bihar, had grown up seeing rampant poverty around him. He used to feel troubled by the helplessness of the innumerable people in his state and hence started nurturing a dream – a dream to be able to make a difference to the society. He started early and as a young engineering student, the aspirations he had were very different from that of a regular college-goer. While his peer group was busy ridiculing the government, Ankit was minutely reading the five year plans, reports of ministries and development policies. He was of the view, and rightly so, that the government has the largest resources and hence, the impact that one can have while working in tandem with the system can be far greater.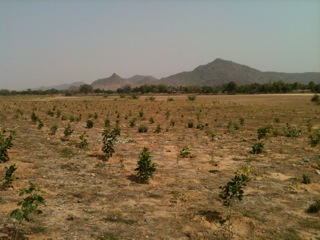 It was in the year 2008 that an idea struck him while he was reading through the National Bio-fuel Policy. It was a simple and obvious observation that the Government was putting concerted efforts in the procurement of alternate fuels. Ankit realized that "Pongamia pinnata" (bio-diesel producing plant) can be installed on wastelands, and the fact that Bihar has vast areas of wastelands which were rendered useless for farmers, may actually be utilized in the plantation of "Pongamia". This idea he thought would solve a multitude of problems such as migration and unemployment, and would also empower the farmers to lead a life of dignity and financial independence.
Ankit knew that he had to invest in this idea; he knew that this is the venture which he had dreamed about; but he was young, raw and without any experience of running a business. He thought that an MBA degree would do him good and may even help him in furthering his interest in entrepreneurship. He chose the very renowned XLRI, Jamshedpur to pursue his MBA and with single-minded perseverance crystallized his dream into reality. Within no time, Green Leaf Energy Private Limited came into existence; it was under the aegis of XLRI Entrepreneurship Development Center and was mentored by Prof Prabal Sen and Prof Madhukar Shukla. Ankit, under the guidance of his professor,s started with a nursery in Kothwara near Gaya – the thought was to take the first step, replicate and then scale further.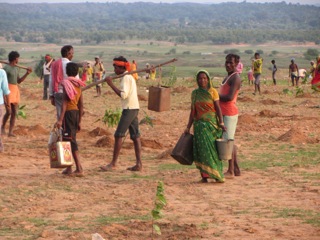 While the initiative was still at a nascent stage, an amendment in NREGA came through under which it could be implemented on an individual farmer's land. This in effect meant that Green Leaf could get support from the Government under the NREGA to cover material and labor costs for plantation activities. Ankit's perseverance and encouragement from Professor Sen eventually led to the Government approving funds disbursement to the tune of Rs 26,700 per acre. This didn't come on a platter – there were presentations to be made, bureaucracy to be dealt with, Government to be convinced, but it did happen. Ankit's relentless pursuit paid off and the Bihar Government was on board to support the venture in its endeavor.
The model's modus operandi was simple yet effective. Four families were given the responsibility of taking care of 200 samplings of Pongamia. Since MGNREGS guarantees 100 days of work but Pongamia blooms only in five years, the farmers kept earning throughout the period. To keep everyone interested, the payment is linked to survival of plants, 90% survival at 100% wages, 75% survival at 50% wages and below that nothing is paid. Ankit believes that post-gestation, a farmer can get up to Rs 20,000-25,000 per acre annually by selling the seeds to Green Leaf, which would then crush the seeds to extract bio-diesel, and, in turn, sell that to oil companies such as Bharat Petroleum. The company has already got joint venture offers from Indian Oil and BPCL to set up biodiesel value chain in Bihar.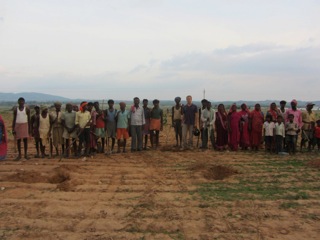 In the first year of operations, though Ankit employed only 15 people in a full time capacity, he had led to employment of more than 2,000 farmers to work for his plantations. His project generated 15,000 man-days of labour under NREGS and more than Rs 18 lakh was disbursed as wages to the farmers.
Ankit was not alone in the arduous and ambitious goal of his. The expansion was fuelled both in spirit and size from the beginning. Three of his other batch mates from XLRI Jamshedpur – Diwakar Kaushik, Kshitij Datta Rishi and Kunal Gangwani left their cushy corporate jobs and joined him to grow the venture further.
Apart from biofuel, 2011 saw Green leaf promoting horticulture plantations such as mango, grapes, pomegranate and other fruits. This push for diversification came from both within the company and from the government officials of Bihar who wanted Ankit to work on the arable lands as well. With the Government's support and a new and renewed enthusiasm to work with different species and people, the organization successfully planted 7 million saplings in 2012-13 leading to employment opportunities for 140,000 families across Bihar.
The idea for horticulture plants led the team to think about the completion of value chain as in the case of biofuel. This would provide a market to the various farmers working in the fields for horticulture plantations and remove any middlemen and directly transfer the profits to the communities working for maintaining the plants. For this, extensive research was carried out for identifying food processing opportunities in India. So as a forward linkage, the company is opening fresh fruit juice kiosks in and around NCR under the brand name of 'Fruit Press' due to start operations soon.
The overwhelming success in Bihar has led to the thought of replicating the model pan-India. When Ankit mentioned about the expansion pan-India, his booming voice had a sense of pride, achievement, fulfillment, all combined together.
The journey from a nursery to a successful alternate fuel generator and fruit processing organization has come with its own set of roadblocks but Ankit says "Let it Go, was never an option. You need to be consistent with your goal". As much as he had to keep himself going, he had to comfort his parents that he would be successful in his venture. He had a year to prove himself and he did, in more ways than one.
Neha Dua is a graduate from St Stephen's College, Delhi and completed her MBA degree from MDI, Gurgaon. She is currently working with a large Indian MNC bank. She is an avid reader, dance enthusiast and likes to write. Her personal blog can be accessed at:
www.allexpressions.blogspot.com
. In her pursuit to write beyond her personal experiences, she has volunteered to be a writer of happy and inspiring stories of The Better India.
We bring stories straight from the heart of India, to inspire millions and create a wave of impact. Our positive movement is growing bigger everyday, and we would love for you to join it.
Please contribute whatever you can, every little penny helps our team in bringing you more stories that support dreams and spread hope.
Tell Us More