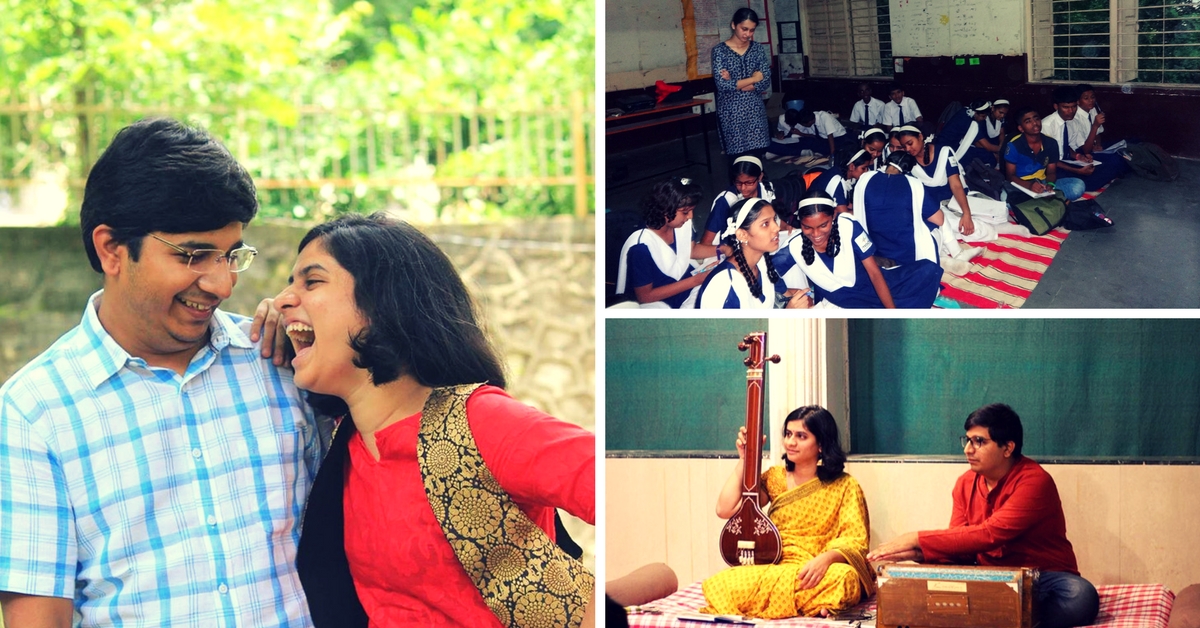 To most people, the mere mention of traditional music conjures images of a group of people sitting on stage performing in a boring, slow fashion. One Pune-based couple is working to break this stereotype through a charitable music trust, the Baithak Foundation.
Do the names Pt. Bhimsen Joshi, Pt. Kumar Gandharva, and Ustad Amjad Ali Khan mean anything to you? While their contributions to Indian classical music hold a special nostalgic place for aficionados, to most people the mere mention of traditional music conjures images of a group of people sitting on stage performing in a boring, slow fashion. One Pune-based couple is working to break this stereotype through a charitable music trust, the Baithak Foundation.
Both Mandar Karanjkar and Dakshayani Athalye were brought up on a steady diet of Indian classical music. Mandar was just six when he began accompanying his mother to harmonium classes. Inspired and intrigued, he soon began to show an interest in Hindustani vocals, learning music from several different gurus owing to his father's transferable job as a District Judge. He took singing lessons until he was 16, only giving them up to focus on his studies. It was in his second year of engineering that he realized he still carried a passion for classical music and became a self-taught flautist.
His wife, Dakshayani, has a similar story. Back in her Maharashtra hometown, Ratnagiri, she accompanied her mother to learn to sing kirtans. By the time she was 10, she was performing in villages across the state.
Despite having graduated with college degrees in engineering and law respectively, the duo found their calling in making Indian classical music accessible to the masses.
They have a unique approach. "Children, today, have no clue of what Hindustani classical music is as they hear Bollywood music more than anything," says Dakshayani. "We are losing this traditional art in the process. The idea was to create an interest in classical music among children. Once children are interested, it is easier for them to understand the music form."
In order to achieve this, the couple founded the Baithak Foundation in June 2016, a non-profit organization that approaches Indian classical music in a novel way. Sessions at Baithak try to make classical music interesting and understandable for students. They explore how certain frequencies are musical and how others aren't. About 30-45 minutes of class time is spent listening to music.
Dakshayani believes that Indian classical music is not accessible to everyone, which is why she seeks to popularize and educate people about the art form.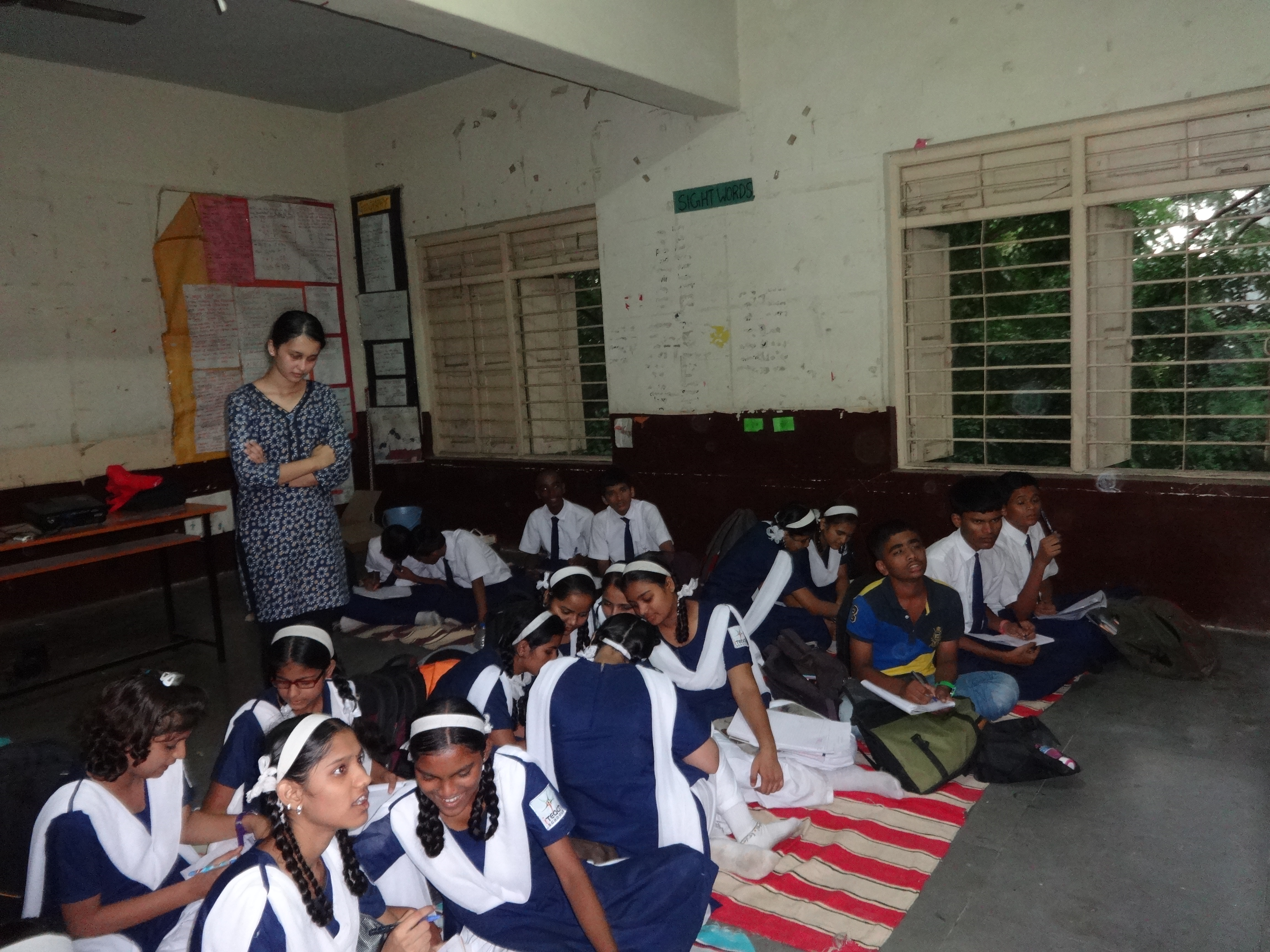 Prior to setting up the Baithak Foundation, the couple conducted a pilot study for one year to test the waters. They visited a community centre for children in Pune to talk to students about Indian classical music. That's where they discovered that children didn't know who Bharat Ratna awardee Pt. Bhimsen Joshi was, nor were they aware of the Sawai Gandharva Bhimsen Mahotsav, an international music festival regularly held in Pune with thousands in attendance. "These kids living close by had no idea. Nobody knew what Mandar and I were talking about. They didn't even know what 'classical' meant as a word. That's when we decided that something had to be done," recalls Dakshayani.
They chose to go to a community centre where school kids met after school to study and play in the evenings. The very purpose of visiting the centre was to learn something new and self-driven, so it became the perfect place to bring music to children.
First, Mandar and Dakshayani conducted an introductory session for an hour, singing to the children and asking basic questions such as 'what do you think makes music?' and 'how is a tune made?'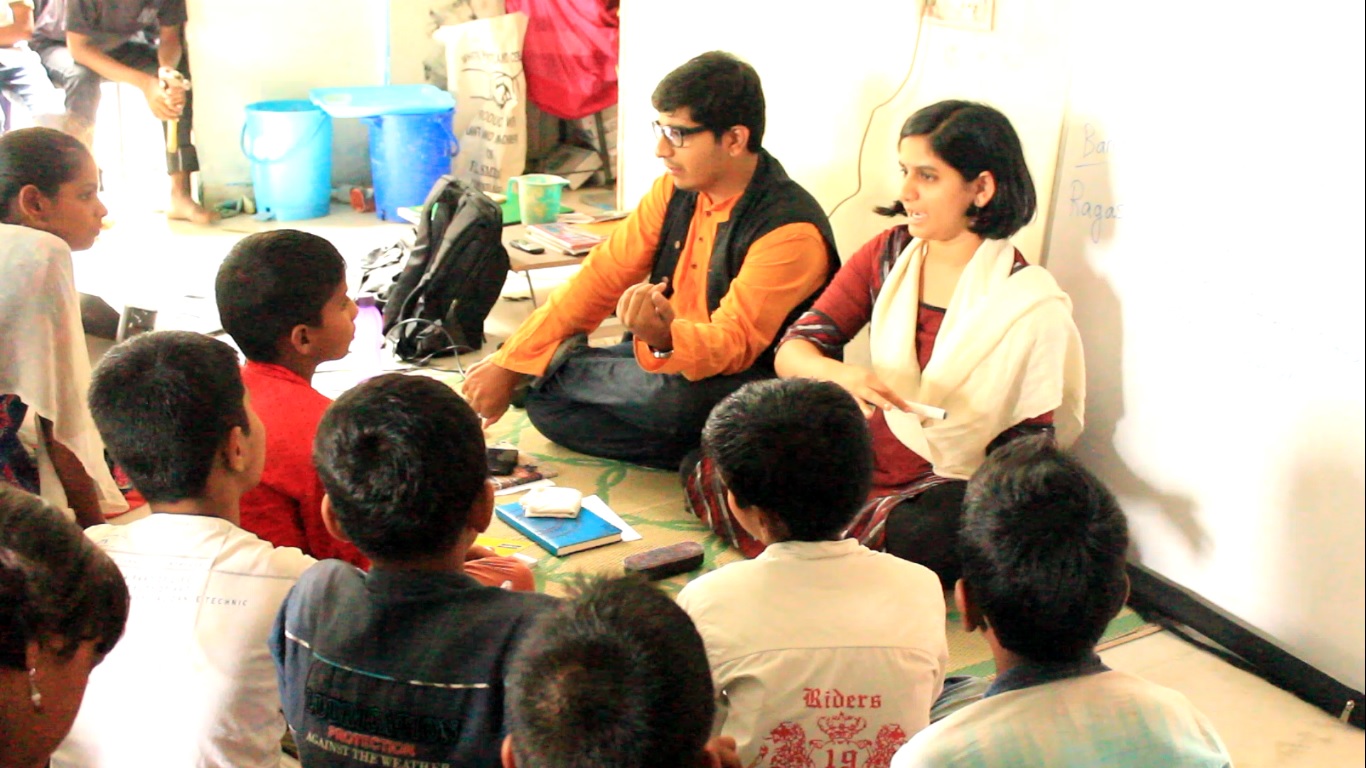 "To make the session more interesting, we also sang a lot of film music in the sargam form to make students understand how these notes are the backbone of any music we create. It excited them and made them curious about classical music," shares Dakshayani. Following the session, they asked the kids to sign up for a weekend class on Saturday where they showed them different documentaries on the lives of famous Indian classical musicians such as Shivkumar Sharma and Bhimsen Joshi. They then practiced vocals by listening to the tanpura and matching their swara, or pitch, to it. The couple conducted between 15 to 18 sessions in all.
While they found most children arrived with preconceived, often negative notions about classical music, they were still interested and curious to know more. They enjoyed listening to performances and looked forward to new records that were played. Dakshayani recalls how their questions were the most interesting aspect of the experience. "The things that are most obvious to musicians aren't so to new listeners," she explains. "For example, there is always a tanpura behind a singer. The kids didn't know what it was or why it was there. They thought everything that looked like a sitar was a sitar. They didn't know the difference between a rudraveena, a sarod and a tanpura. They also asked questions on how musicians improvised in classical music."
It piqued the children's interest to learn how a tabla player and singer from different parts of the country improvised on stage, yet appeared rehearsed.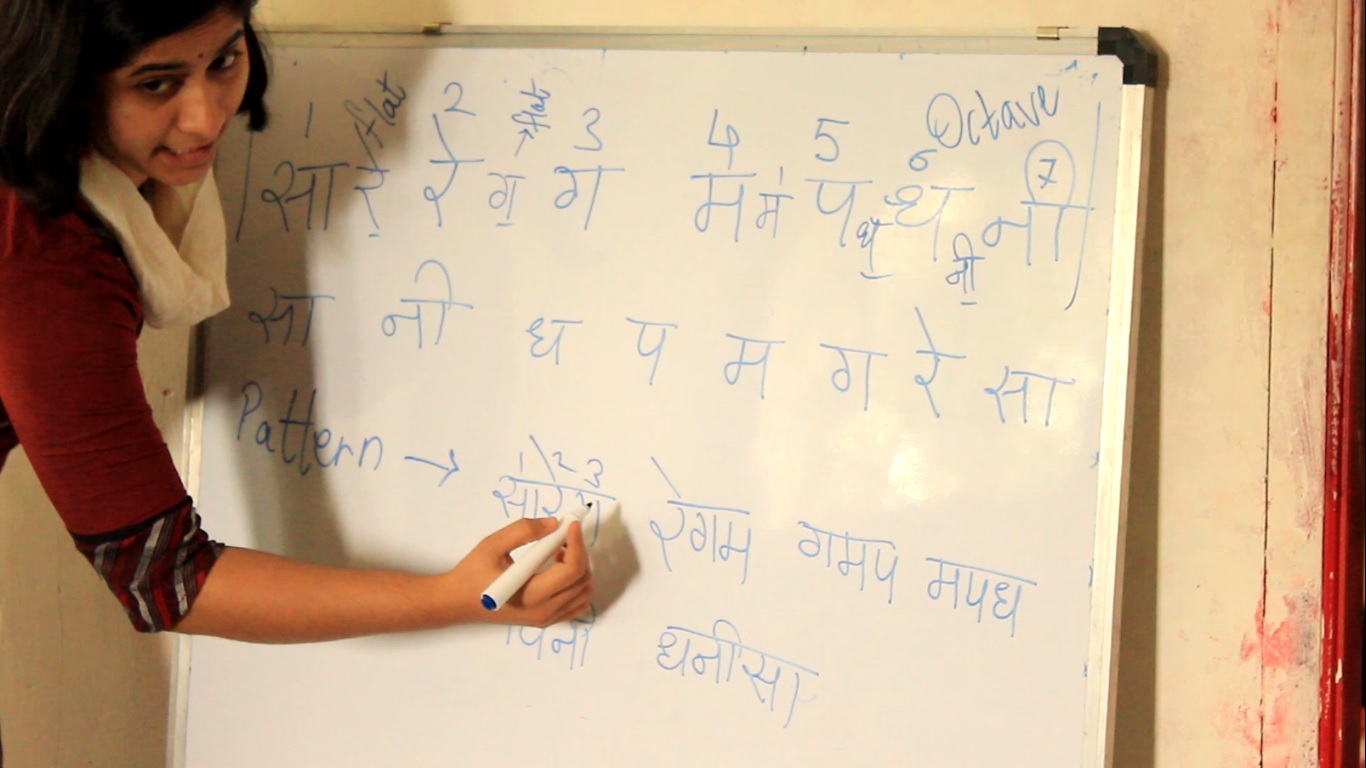 Since their pilot study was accompanied by positive feedback, Mandar and Dakshayani decided to introduce a music appreciation course in three schools, including Pune Blind Girls School in Kothrud. At present, they reach out to 350 children in schools where they have designed an in-house curriculum for the teaching of Indian classical music and have appointed three music tutors to take students through the syllabus. While the two municipal schools operate a straightforward music appreciation course, a senior tutor has been appointed to conduct sessions for the visually impaired in order to provide them with advanced, vocational music training. The class of 20 schoolgirls here are taught to focus on the technique of how each tune or note is sung and how breath is controlled. Dakshayani believes that a lot of her visually-impaired students have the potential to become music teachers. "The best part about reaching out to the blind girls is that they are already interested in music."
"They make their disability work in their favour as they are very receptive to sound and can easily understand what the tutor is trying to explain to them in terms of music."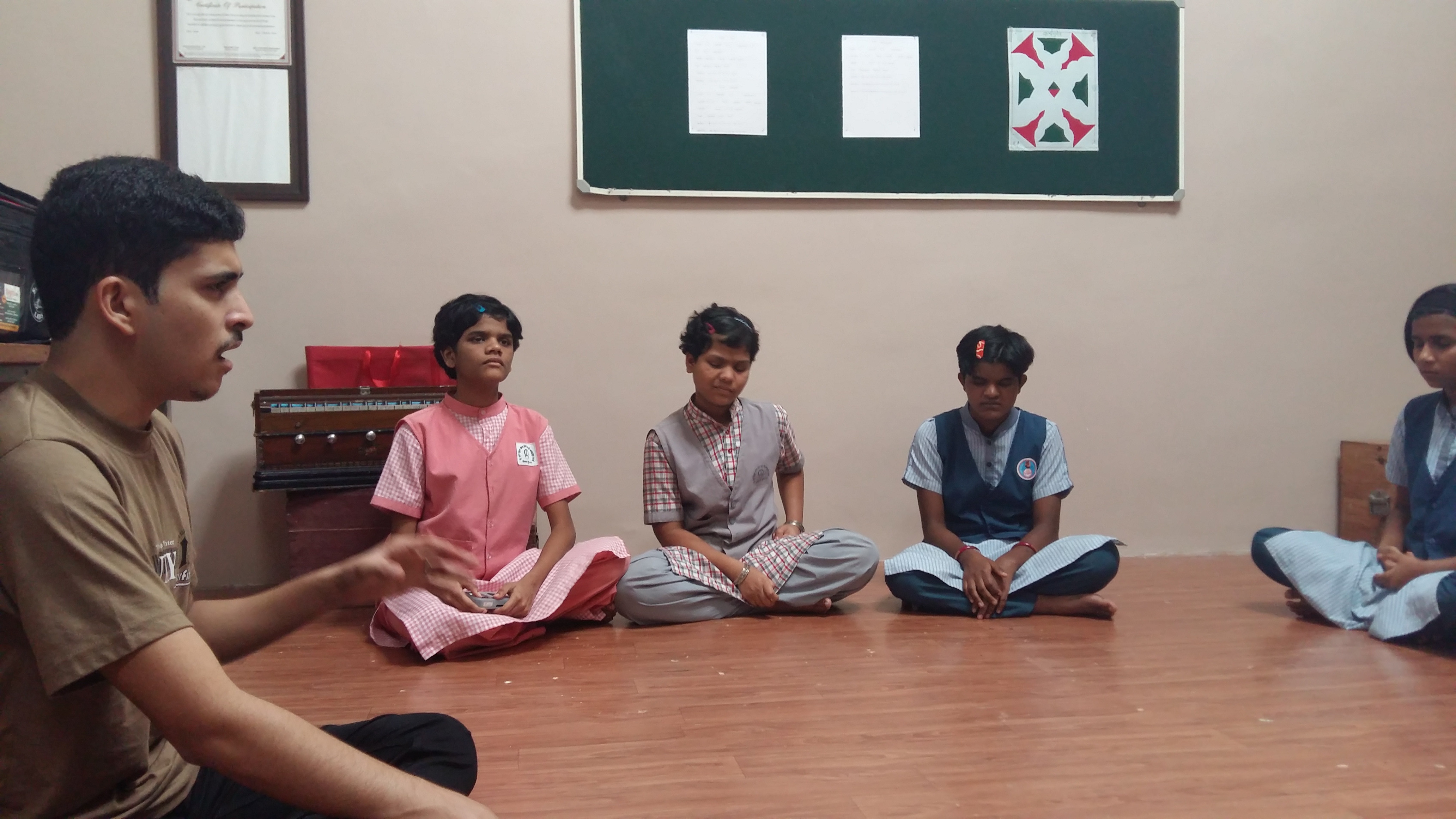 Their greatest challenge has been to make Indian classical music relevant to the present generation. This involves devising new teaching methods rather than sticking to the traditional guru-shishya teaching style. "It is difficult to work with music teachers as they have a rigid perspective on music," Dakshayani confesses. "They have been taught to look at and think about music in a certain way by their gurus traditionally. Due to this, they don't understand how kids want to be taught, and they don't know how to connect with them."
The couples' version of a secondary school music course is completely different. "You want children to ask more questions and not just follow blindly. Unfortunately, teachers in the field are exactly like that. They don't understand that children may not know a lot of the things they are talking about," Dakshayani continues. "One of Baithak's teachers was going to talk about different forms of classical singing – khayala, chota khayaal, bada khayaal, bandish etc. The lesson plan looked immaculate on paper. But in his class, he used all the above said terms but didn't sing any of them to explain it to the students until one of the students asked for it."
To address these issues, Mandar and Dakshayani are looking to strengthen their teacher-training to change their traditional teaching style and make Indian classical music more fun to learn. They are also considering associating it with subjects like science and history by talking to students about sounds, frequency and the history of the musical form. The couple teaches personally as well.
Today, the purpose behind classical music seems to have shifted from its original aspirations, which were to soothe the soul and mind.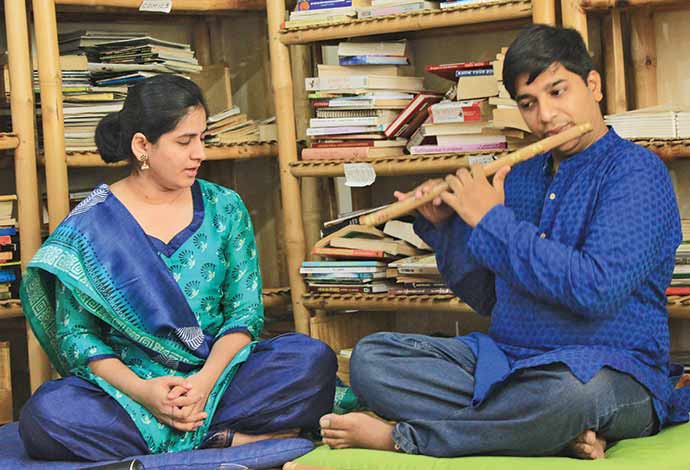 "Artists today are playing to the gallery. Classical music has become more commercial and just another commodity in the market. It's not looked at art for art's sake," says Dakshayani.
The couple aims to challenge blind notions about Indian classical music by making it mainstream. Their future plans include arranging for school concerts by local artists every month. After a 45-50 minute performance in the school hall, the children will be permitted to ask questions. The intention is to generate an interest through experience.
The Baithak Foundation is also devising a series of illustrated books for young children on Indian classical musicians and music. The first title in a seven-book series is on the life of famed Hindustani classical singer Kumar Gandharva.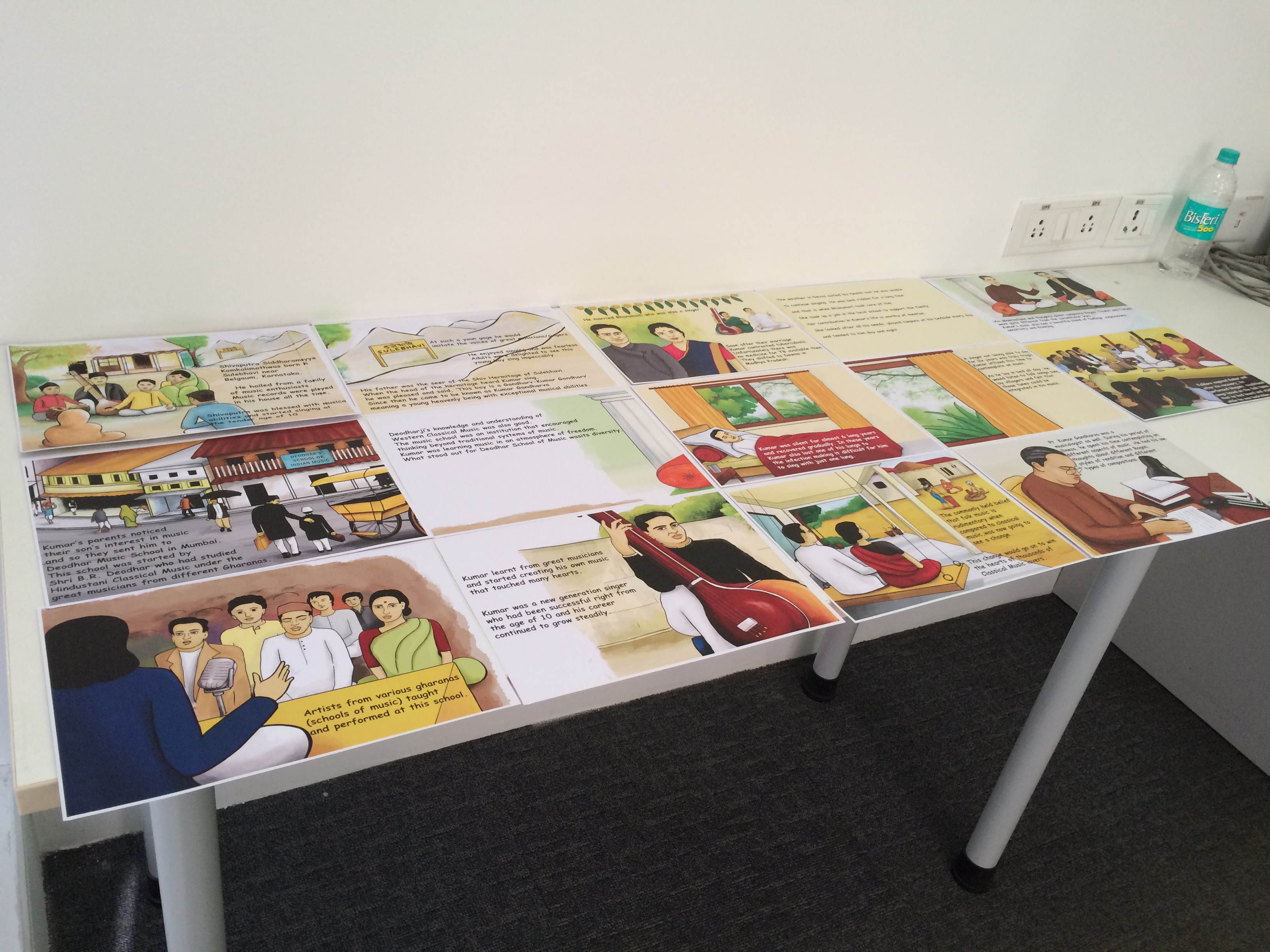 "A musician once told us that classical music is for the classes, not masses," Dakshayani  smiles. "What they don't realize is that the best classical musicians come from the humblest of backgrounds," she concludes.
You can check Baithak Foundation's website or their Facebook page for more details.
Like this story? Or have something to share? Write to us: contact@thebetterindia.com, or connect with us on Facebook and Twitter (@thebetterindia).
We bring stories straight from the heart of India, to inspire millions and create a wave of impact. Our positive movement is growing bigger everyday, and we would love for you to join it.
Please contribute whatever you can, every little penny helps our team in bringing you more stories that support dreams and spread hope.