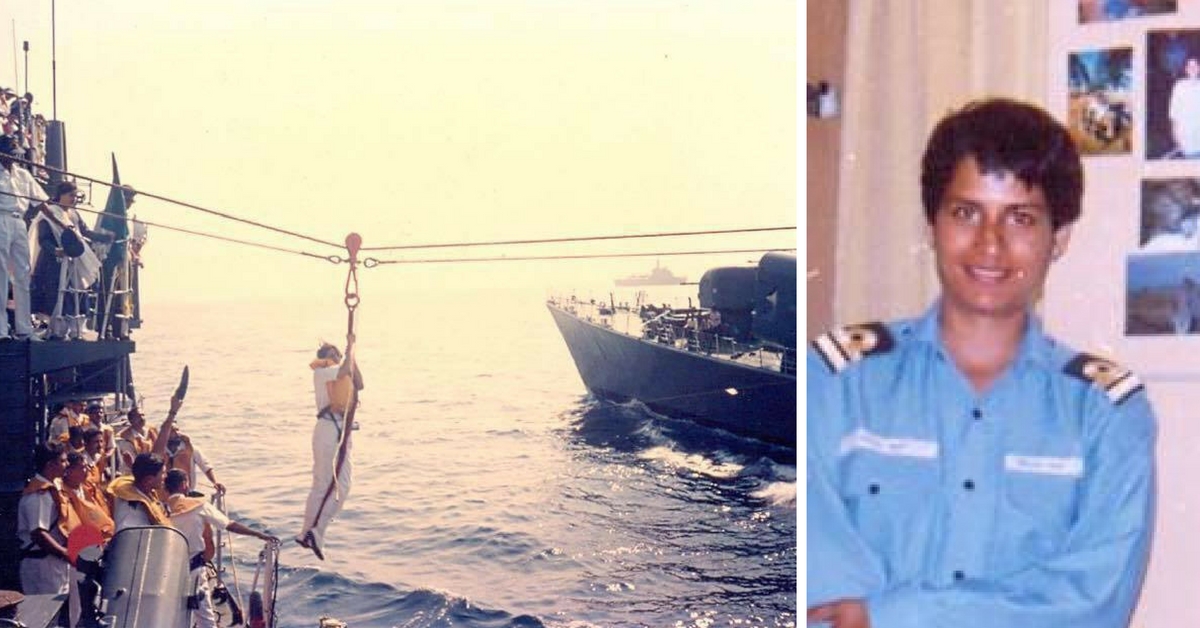 TBI speaks to retired Naval Officer Sandhya Suri, who is among the few women posted to serve on board an Indian Naval Warship.
In August of 1994, a 22-year-old girl received a call to report to the Naval Academy. The excited young girl who was back then studying Masters in English and preparing for IPS exams, dropped everything at hand to be one among the 14 women candidates of the third Naval Academy batch.
TBI speaks to retired Naval officer Sandhya Suri who is among the few women posted to serve on board an Indian Naval Warship. The Indian Navy no longer assigns women officers on warships.
Q: What inspired you to join the Navy?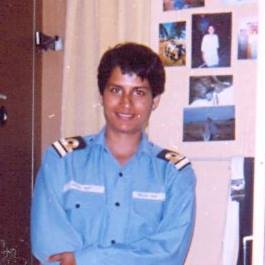 A: Cliched as it might sound, I've wanted to be in the Armed Forces even before the induction of women came into play. It's a uniform thing I suppose. I wanted to be doing something worthy. My Dad has been my constant motivator through my growing years especially. I was preparing for my IPS exams then. I was in college studying my Masters in English, playing a lot of basketball for the state and also teaching English at the Army School in Kaluchak, Jammu. When the call for the Navy came, I dropped the IPS road and very happily so. I had initially applied to the Army, then Navy and Air Force. The call came from the Navy and the Air Force. I was attending my Air Force SSB when the call to report to the Naval Academy came.
Q: How did you feel back then, on being selected?
A: A huge sense of pride and relief that the IPS Exams could be dropped, to be honest. I was super excited. I recall my Air Force SSB Board President asking me to stay on and join the Air Force. I am glad I joined the Navy though. I haven't ever regretted it. My Dad was ecstatic and my Mom petrified. I am the only girl in my family who has served in the Armed Forces.
Q: How was your first day at work?
A: I was commissioned on 18 August 1994 and have served for seven years. We have to undergo training before our first posting. I trained at the Naval Academy in Goa first, followed by CLABS in Kochi, Hamla School of Management and Logistics in Mumbai, NBCD Basic Training at Lonavala and then a Ship's attachment on now de-commissioned aircraft carrier INS Vikrant.  All of this lasted eleven months before I got posted to the Eastern Command.
Q: What were the challenges you faced at the time?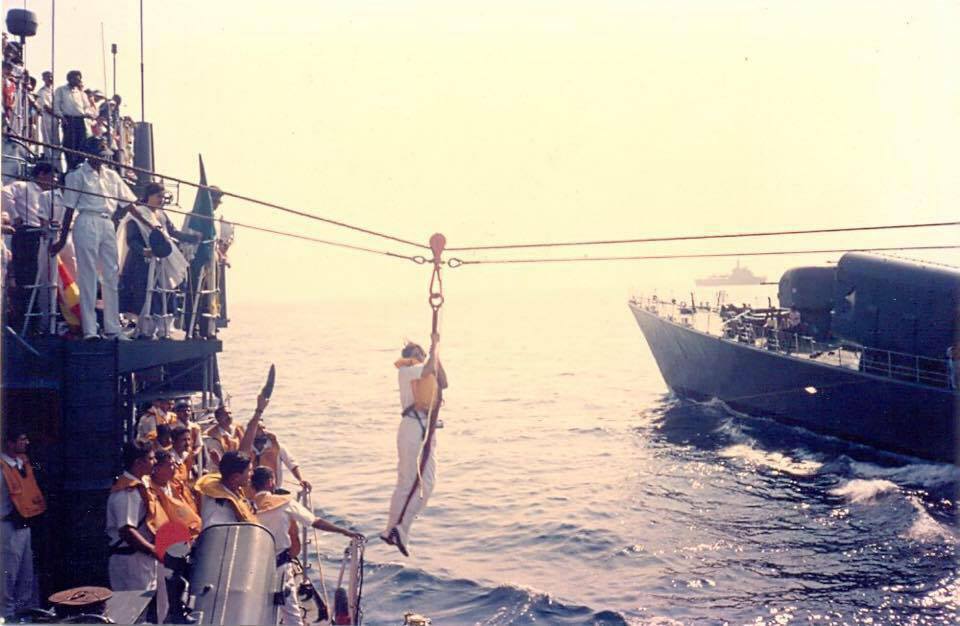 A: Fitness is such a mandatory thing. Mental Resilience too. I was already playing basketball for Jammu and Kashmir State then, hence I was working out almost 4-5 hours every day. That helped a lot. I didn't have much of trouble over that.
The biggest challenge for me was to insist I was an "Officer" and not a "Lady Officer" as we were referred to. The challenges most women probably face is about letting go of the fact that you are a woman. Getting the men to think likewise is also a challenge. Being in the Armed Forces is all about balance and fortitude and a lot of courage. You are as strong as your weakest link. My greatest challenge in the Navy was to fight to be considered a uniformed military personnel and not a woman. I think this is every woman's challenge in the services.
Q: You are among the lucky women who have had the opportunity to serve on a warship. What was the experience like?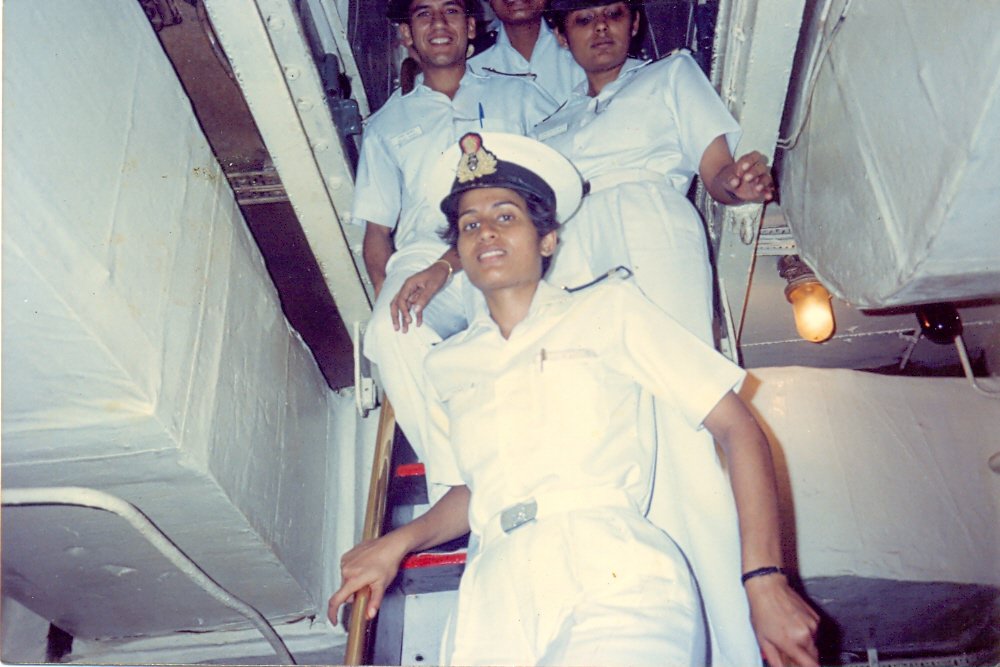 A: I am among the fortunate few who had the privilege of serving on board a warship. I was posted on a Logistics Warship that lends out support to the Fleet in terms of logistics replenishment at sea. That particular posting was my best one in the Navy. It was challenging. I knew my responsibilities and was accountable. It is not easy for the Navy to post a woman on board a warship. It has been a male domain for too long. I am not sure, even when I was posted, that the men were ready. It was a challenge in terms of proving myself over and over again professionally. It was as simple as objecting to being addressed in a forum as "Officers and Ladies". You know, I am in uniform. That is all. I may be a man or a woman. I have the same responsibility. I think it is also more challenging for the men to have a woman serve on a ship.
Almost all the men felt that women had privileges, like a private toilet space, cabin doors had to be locked, etc. I didn't ask for it. The rules and the provisions were made by gentlemen officers.  I know what I signed up for. I did not ask for privileges. I just did what I had to do. You have to understand one thing – women on the ship means precious space being sacrificed for them; at least in India. In the foreign Navies, there are no such accommodations made. You joined, you serve and you don't crib. I think the Navy is still deliberating on this one. Women are not posted on warships right now, leave alone in active combat divisions. They of course are now sailing around the world and doing a lot of adventure activities like mountaineering. I am glad about that and really proud of them. There has to be more though.  I get their concerns. I also don't believe that women should be kept out of ships. Just play fair and don't draw out privileges.
For a gentleman officer, he has to serve sea time at least for a year to get promoted. I think that is where they could start. I suppose the laws are needed to be objective not subjectively gender focused. If women join the Forces and crib for privileges, they shouldn't have joined in the first place. This is about serving the Tiranga which represents the nation. I wouldn't think there needs to be a bargaining space here for anything. Perhaps I am old-fashioned in my thought process but heck, it is not a job or even just a career. It is a matter of privilege already and that privilege is to serve the nation. I am fortunate and it has been an honour. If the country demands it even when I am sixty, I'd sign up.
(Of course, I am not as fit as I used to be, but you get the point)
Q: Did you ever have moments of doubt, being a woman?
A: Not a single moment. Not now, not ever.
Q: Share with us one of your fond memories being a Navy officer.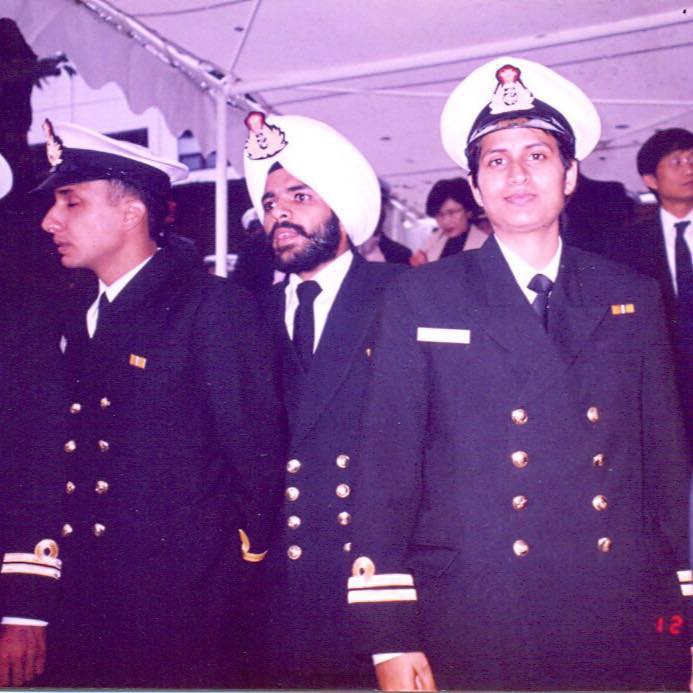 A: Like I said earlier, the posting on the warship was my best. I used every little thing I had learned and been trained for. That is as operational as one can get in peace time. I have done that. I have painted the ship, I have cooked for the crew, I have been through crisis with the crew and we have all seen a great journey together. I did none of this for a reward or award. I did it because I was a part of the team that was at sea. I probably kept my head more balanced in emergencies than a lot of others did.
Another absolutely great stint was at Mumbai with my last posting where my Unit was assigned the task of managing the entire seating, security and catering plan for the International Fleet Review in February 2001. My daughter was seven months old then. Somehow, I was blessed with a great support structure at my residence. We worked tirelessly and it was absolutely satisfying to see it through.
Q: Was the decision to quit the Navy a tough one? What were the thoughts that went through your mind while deciding to quit?
A: Honestly, I was stagnating. I had requested for long course specialisation. That was shot down. I aspired to be an Instructor, a certified Diver, requested for a transfer to SSB Board or Naval Intel. At that point, when I was asked if I wanted to extend, when these requests were shot down, I didn't see a point in staying. I did not want to push files all the time. I wanted to do more than just that. At that point, the decision to not continue with posting women on board also happened. There was no Permanent Commission at sight either. There has got to be something. Even today, the women Officers are still struggling for a Permanent Commission. Their prime years have gone in service to the nation and we, as a service, are yet to execute a decision on it. Having said that, I think it is a tough one for the Navy even when it is not 2001.
It was a decision to be taken and was taken. I won't talk about how that affected me personally. It is irrelevant because my decision had everything to do with the road ahead. I miss the uniform. I miss that a lot but I am grateful for the opportunity. It was tough to decide to leave. I don't regret things though. There is no time for regret here. You have one life. You live it to the hilt and make the time worth it.
Q: Did you feel let down by the lack of opportunities for women in the Navy at that point in time?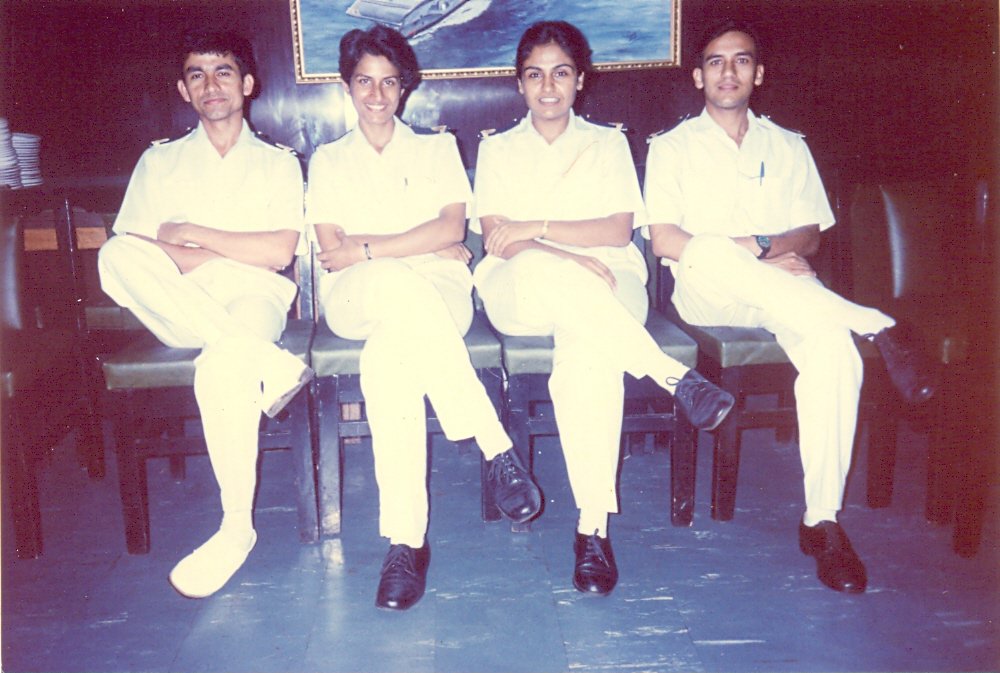 A: I suppose yes but not to a great degree. One has to see this rationally and also see ourselves as a nation in terms of gender. Much as I would like to ignore it, reality cannot be ignored and sometimes, it is women who are a hindrance to themselves. You must understand, the Navy was then still in its infancy as far as women intake is concerned. I think, as a woman, I also understand the reservations that the then Navy Chief or even the Government had. There will be reservations for quite a while I reckon. The day the Indian Navy takes in women sailors is the day I reckon the opportunities will have peaked.
I am looking forward to that day is all I can say. Until then, ever since the induction of women in the Navy, we are still work in progress.
Q: What is your view on women Navy officers not being allowed to go on ship?
A: I would definitely want those doors open. That is operational Navy. There should be an equal opportunity. Don't lower assessment standards for women and if someone makes the grade, the same as any gentleman officer, then be fair and let it happen.
Q: How special is Navy Day for you, today?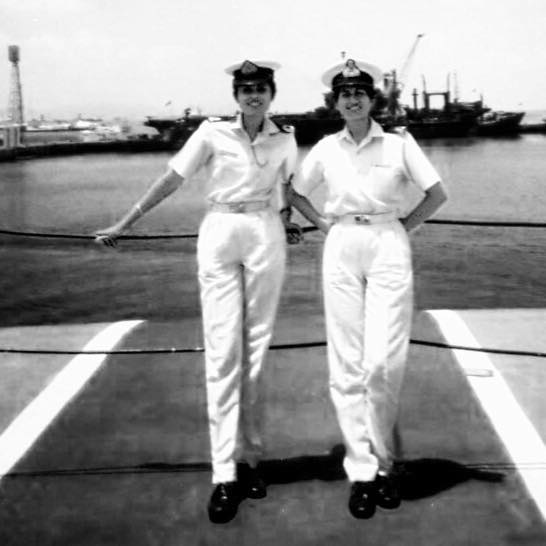 A: Navy Day is very special to me even today. It is not going to lose its significance in my life as years go by. It has been fifteen years since I hung my uniform to not wear it again. It hasn't become less relevant. Once a fauji, always a fauji. It is your skin. It flows in your blood. Nope, this is not going anywhere. You'll wonder why I didn't stay on then. I have already said why.
Q: How do you feel about the present opportunities available to women wanting to join the Navy?
A: I think it's about time we stopped looking to as opportunities available to women. It is time we just invite eligible young citizens to join the Services. Gender should not be mentioned. That would be "the opportunity" in the right sense of the word.
Q: What is your advice to women wanting to join the Indian Navy?
A: If you are looking at it as a career and a job, please don't join and undermine our initial efforts of utter pride in serving the nation. Join because the pride of having the privilege swells your heart. Join if you can live by the oath you take. Join if there is more to you than just the thought of glamour in uniform. Join only if you can put your country before yourself, your Ship (read Unit) before yourself, your team before yourself and lead by example. Else, please don't tarnish it is pristine colours. Shaano Varun is a lifetime thing. If you believe that, by all means go and shine.
You can contact Sandhya by writing to her at sandhyasuri@gmail.com
Like this story? Or have something to share? Write to us: contact@thebetterindia.com, or connect with us on Facebook and Twitter.
NEW: Click here to get positive news on WhatsApp!
We bring stories straight from the heart of India, to inspire millions and create a wave of impact. Our positive movement is growing bigger everyday, and we would love for you to join it.
Please contribute whatever you can, every little penny helps our team in bringing you more stories that support dreams and spread hope.
Tell Us More