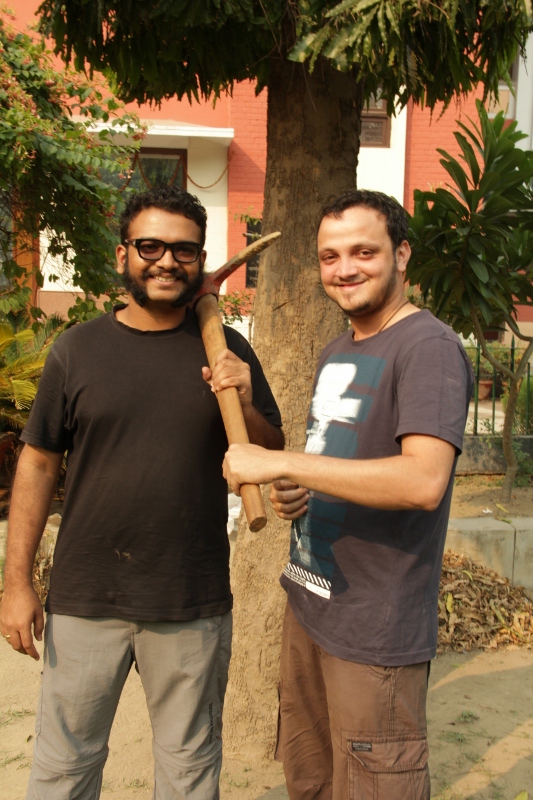 26-year old Hari Chakyar, from Ambarnath, is doing exceptionally well at his job in an advertising agency; but that's not why he's being written about. There's more to him and
26-year old Hari Chakyar, from Ambarnath, is doing exceptionally well at his job in an advertising agency; but that's not why he's being written about. There's more to him and Ambarnath. Quite disturbed with the rapid speed at which trees at his native were disappearing, Hari decided to do something.
In 2009 March, Hari started planting trees in Ambarnath. Hari wanted to do something concrete and this was it! And it was not just a dozen of trees that he planted; it was a dozen multiplied by ten. "I could eventually plan about 120 and most of them are taller than me today!" smiles Hari. He, in association with The Rotaract Club of Ambarnath, went on to do a street play outside Ambarnath railway station called "Nature baba ko gussa kyon aata hai," which gathered about 400 people to stop and watch.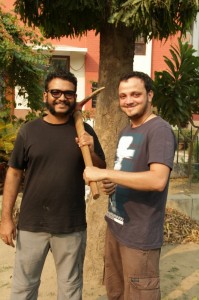 Hari soon moved to Mumbai but his ambition did not wane. Besides increasing the number of trees, he also wanted everyone to know the importance of having more trees around and what better way than educating students about it! This is when Hari thought of taking this up as a personal project. "I was discussing the objectives with my friends and that's how the name Project 35 Trees came up. We have twenty eight states and seven union territories in India which sums up to thirty five and hence Project 35 Trees. The objective is to reach each state and union territory and spread the word. Moreover, the number 35 does not click with everybody which serves a purpose of the name being intriguing!" narrates Hari.
Hari's friend Ryan suggested that he document whatever he did, and put him in touch with Anthony Karbhari (24), who is a freelance film-maker. So it was in October 2011 when the weekend trips began. Gujarat, Daman and Hyderabad were the first locations that Hari and Anthony tapped in the months to come. While Hari planted saplings, Anthony filmed all of this. Their plan was to go live with a family, eat with them and plant with them. They could have planted at any place, but they wanted someone to look after the saplings and therefore the plan of staying with families.
When Project 35 Trees took off, the plan of action included talking to students and educating them about the need for preserving forests and planting more trees. "It was Anthony and Anish who encouraged me to make this large. After almost a year, it was now time to do justice to number 35!" laughs Hari.
"Our plan was to go to every state, interact with students, stay with families and plant with them. I thought I would have to put down my papers at work, but then surprisingly, they allowed me to go on a four month leave. I couldn't have asked for more!" says Hari.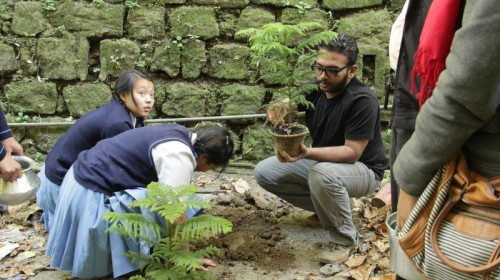 There was a lot of ground work to be done. Anthony and Hari reached out to friends and friends of friends through mails and social media. They wrote to numerous institutions seeking permission to talk to students and plant saplings. "We began our journey in early October this year and started clockwise from Mumbai. So from west, we moved to the north and east; we'll hit south soon and then conclude in Mumbai," informs Hari.
It is a little bit of a challenge to look for a host and to get an institution to say yes, but Hari says that it is all worth it. Any unforgettable experience?
We didn't get any prior confirmation from schools or colleges in Agra. We were roaming around in Agra on Diwali in a rickshaw with saplings to plant. We didn't want to waste a day. Since Diwali is a night phenomenon, we thought we'll finish before it gets dark. We first went to an orphanage because where else can you find children on holidays?! They didn't have the space for two trees. We then got rejected by a junior college and a church because who's expecting random tree planting requests on Diwali day?! By this time the rickshaw walla turned to us and said, 'Aapko kya chaahiye? Yahi na ki aap pedh lagao aur koi ussko sambhaalein? Phir toh aap mere yahaan lagao. Hum sambhaalenge!' As someone who's looking for people to trust saplings with, did we need any more reassurance? So we landed up planting two saplings at his place!
The duo is currently at Jamshedpur and is having the time of their life. But what about the budget and funds? While he was exploring options, Hari came across www.wishberry.in which is an online crowd-funding platform. The platform allows you to have an account for three months during which you can raise as much as money you want to. "With our weekend trips, we had an estimate of how much money we would require per city. So our budget for the entire tour is 5 Lacs plus a contingency fund. We have been able to collect about 1.45 lacs through the platform, and need a lot more!" Hari goes on to say.
"Had the project got corporate back up, it would have been viewed differently. We're not doing this for ourselves and wanted it to be a people's project." The duo talks to forest officials across all the locations and tries to understand the prime reason behind the diminishing green cover and the ever growing environmental problems. Once they've understood this and got their documentary made, it is then that they plan to collaborate with corporates to provide a solution for the same.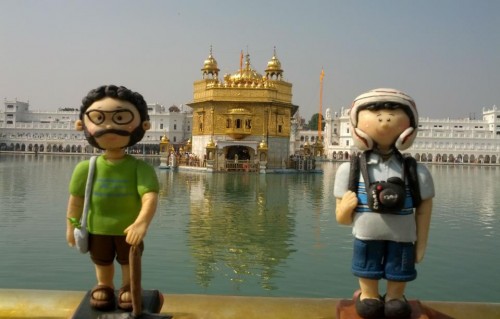 And yes! Hari and Anthony don't travel alone. They travel with Changu Mangu – the miniature clay replicas of the duo. Project 35 Trees also has a facebook page through which they share their updates and reach out to people. "We have one more month to go and need more funds. Our three month package at www.wishberry.in is expiring in 3 days and we need more people to contribute," appeals Hari.
Project 35 Trees has touched base with about 1200 students till now and this is just the beginning. They'll be sending a copy of their documentary to all the institutions that they speak at.
If you wish to contribute to their cause you can log on to this page.
An SIMC Alumni, Sweta has worked with a leading PR agency in the country. She finds happiness in writing and regularly contributes feature stories for newspapers. Sweta is also the pioneer member of Give Some Space, an initiative for the social inclusion of the differently abled.
We bring stories straight from the heart of India, to inspire millions and create a wave of impact. Our positive movement is growing bigger everyday, and we would love for you to join it.
Please contribute whatever you can, every little penny helps our team in bringing you more stories that support dreams and spread hope.