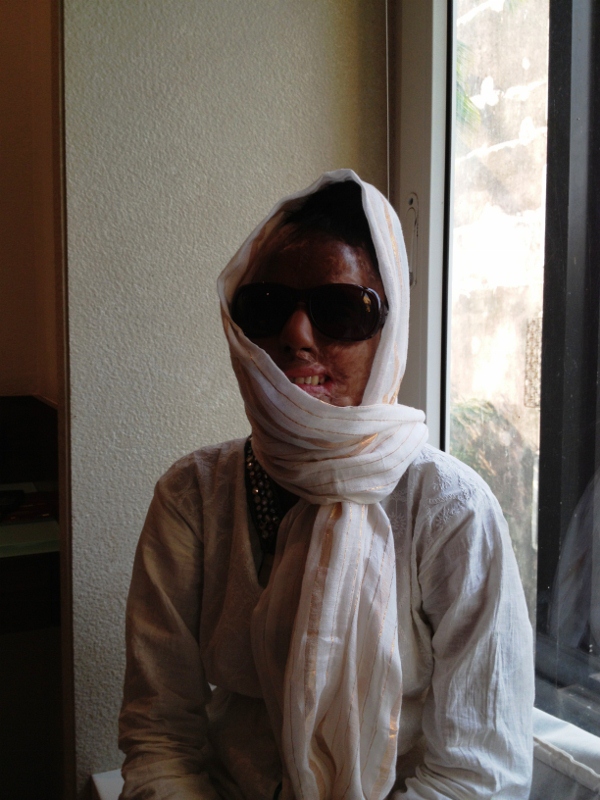 Sonali Mukherjee is a victim of a brutal acid attack that happened nine years ago. She and her family have had to suffer many hardships since then, with very little
Sonali Mukherjee is a victim of a brutal acid attack that happened nine years ago. She and her family have had to suffer many hardships since then, with very little governmental and institutional support. In spite of this, the gritty youngster fought the system and demanded her rights, and is now an active voice for seeking justice in cases of sexual crimes against women.
As I went to meet Dhanbad-based Sonali Mukherjee, who was visiting Mumbai to be in special episode of 'Kaun Banega Crorepati', various emotions raced through me. Then the door opened and a peppy voice broke through, "Didi aa jaye, aaj khana late ho gaya, aap bhi kha lo (I am having a late lunch, please join me)." I had heard about Sonali's case. She had been subjected to an acid attack nine years ago when she was 17, but I had not expected this bright young woman who stood before me.
I smiled back and told her I will wait until she ate. As her father guided her into the room after lunch, I realised her eyesight loss was total. I hugged her before we began our conversation on the struggles of her life.
She started with an irony: It was her call for euthanasia that gave her a new lease of life. "Until July this year I was a victim. Now I am a survivor. My friends and family had abandoned me when I needed them most. But the media and people I didn't even know came forward to help me live," she said.
The Mumbai-based NGO, 'Beti', in association with the media group, Headlines Today, has raised Rs 30 lakh as part of Project Hope, which aims to give Sonali a new identity with the help of facial reconstruction. The 22 surgeries will be carried out at the B.L. Kapur Super Specialty Hospital in Rajendra Place, New Delhi.
Clad in a white salwar kameez with a colourful collar – white is a favourite hue – she wore goggles before getting photographed. "I don't want the world to see me this way because I hope to be like any other woman soon," she said referring to her impending surgeries. She added, 'Yeh aadhi adhorri zindagi aadhe chehre ke saath nahi jeeni hai mujhey (I don't want to live half a life, with half a face)."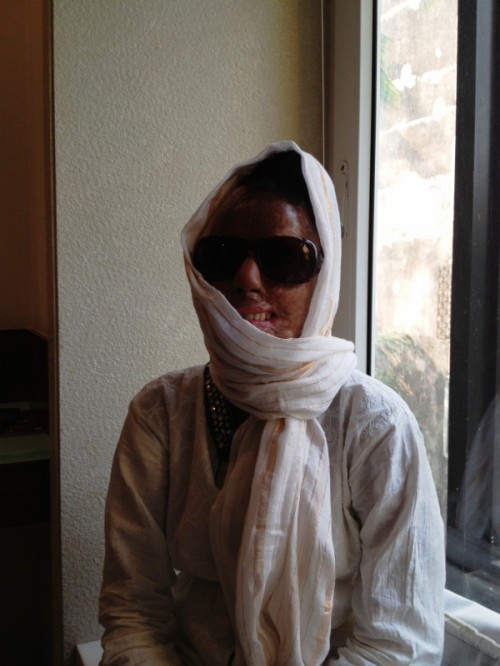 She grew up in Dhanbad, Jharkhand. History and Hindi had enthused her as a school student and the freedom movement and Indian scriptures inspired her. "I loved being a National Cadet Core (NCC) recruit," she remarked. College followed. She opted for sociology and planned to pursue a Ph.D, and go into academics. She also enjoyed films and was a big fan of Aishwarya Rai and Shahrukh Khan. "I saw all their movies – loved dancing to Aishwarya's numbers." She stopped here to poignantly remark that she hoped one day to re-gain her vision and watch films again.
Sonali, having experienced the horrific consequences of violence against women, had obviously thought deeply on the subject.
In India, women are advised to avoid sexual predators. But, think about it, society is directly responsible for the sexual harassment women face. Its patriarchal approach encourages men to 'tease' women, it's seen as a 'manly' thing to do. In my case, we had complained to the parents about the behaviour of their children, but they did nothing.
She also referred to the epics, "Take the 'Ramayana'. You have Rama denouncing his pregnant wife and ordering her to spend her life in exile even though she had accompanied him to the jungle to share in his afflictions. Why did Ram 'rescue' Sita if he was going to subject her to an 'agnipariksha' (trial by fire)?"
Rewinding to the dreadful night on April 22, 2003, she revealed that the family was sleeping on the open terrace of their home, "Around 2.30am I woke up with a sharp, burning sensation." She felt her face, neck, right ear, the right part of her chest, and lower torso melt away. "Three men, who had been harassing me for weeks, had jumped over from the neighbour's roof and doused me with acid. I suffered 70 per cent burns while my sister who lay nearby suffered 20 per cent burns," she recalled.
The words she used were searing. "Us raat laga main maut ke aalingan main pighal gayi, zindagi mano thaher gayi, woh ek lamha zindagi aur maut ke beech atak gaya (that night I felt I was engulfed in the arms of death and life stood still; in that one moment I was stuck between life and death)."
It was a huge crisis for the family. Her father, Chandidas Mukherjee, employed with a private company, had to quit his job to be with her after the attack and the family shifted to their ancestral home in Kasmar, in Jharkhand's Bokaro district. All the three youths involved in the attack were sentenced to nine years of imprisonment by the district court. They later managed to secure bail from the high court and began threatening the family.
A paltry sum of Rs 200 per month was made available to her from the government as a disability allowance. The entire sum went in medicines. The pain was overpowering. "For the first six months, I would scream in pain and sometimes fall unconscious. I would plead with God to kill me," Sonali recalled.
She then decided to search for justice. "My father and I met the chief minister, all the legislators, NGOs. I even approached the National Commission for Women – after all, it was not just my case but that of hundreds of other women who face violence every day. The NCW gave me assurances, but apart from providing quotes to the media they did nothing. It was then that I decided to demand my right to die."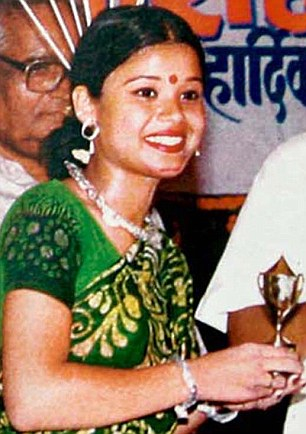 Legally, there is no separate provision for acid attacks in the existing law. They are dealt with through Sections 320, 322, 325 and 326 of the Indian Penal Code (IPC). Of these, only Section 326 refers to being attacked with a corrosive object but categorises it as 'grievous hurt'. Although this section allows punishment up to life imprisonment, most convicts get only a jail term of three to four years. Compensation, if ordered, is often paltry.
Says Sushma Varma of Campaign & Struggle Against Acid Attack on Women (CSAAAW), Bangalore, "CSAAW has documented around 75 cases from 1999 to 2012 in Karnataka. But there are many unreported cases. The National Crime Records Bureau cannot provide data because these attacks are not registered under a separate law or section. We want to stress that this is gendered sexual violence and needs to be recognised under a separate section of 326A."
Shruti Pandey, a Delhi-based Human Rights lawyer, agrees that there is an urgent need to amend the IPC and Criminal Procedure Code to specifically recognise acid attacks as a crime. States Pandey:
But it must also be seen as a sexual offence. Most acid attacks are made on women and for sexual reasons. Equally importantly we need legal provisions for compensation and rehabilitation. There should be a dedicated fund set up for immediate and assured availability of monies for the survivor's medical treatment as well as for their psycho-social support, reparation, and rehabilitation. Also, the trial needs to be fast-tracked keeping in view the severity of the crime.
Sonali also believes that the sale, use and storage of acid should be strictly regulated. She wants women to step up their campaign against violence. "Campaigns like One Billion Rising (OBR) are important because they signal global solidarity on the issue. We need to come together beyond borders to battle such violence. Look what happened to Malala in Pakistan. But, apart from social campaigns, we also need justice delivery. Only then can we have a gender just society," she said.
Two lines from a song penned by Kabir Suman, a Kolkata-based singer and political activist, expressed my thoughts as I emerged from my meeting with Sonali: 'One day you will see the face, smiling in the mirror, Sonali/Till then this song remains, waiting in your favour…'
We bring stories straight from the heart of India, to inspire millions and create a wave of impact. Our positive movement is growing bigger everyday, and we would love for you to join it.
Please contribute whatever you can, every little penny helps our team in bringing you more stories that support dreams and spread hope.