#ChasingTheGold: A series on the lesser known stories of India's sporting stars, presented by The Better India in collaboration with Knappily, the Knowledge App.
Tripura girl Dipa Karmakar has made history yet again by becoming the first female Indian gymnast to qualify for the Olympic finals.
On Sunday, India's Dipa Karmakar vaulted into history books by becoming the first Indian gymnast to qualify for the Olympic final. The 22-year old Tripura girl was also the first Indian female gymnast to qualify for the Games. While a qualification in the other categories eluded her, she secured a birth in the final for the vault, scheduled for August 14th, 2016.
What happened at the qualifying round?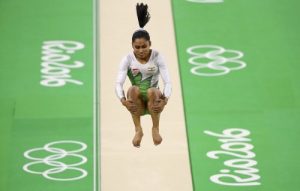 Dipa's scores in the four rotations were 14.850 (the vault), 11.666 (uneven bars), 12.866 (balance beam) and 12.033 (floor exercises).
She ended up with an average score of 51.665 and secured the 28th place overall. Qualifications in the other categories eluded her, but her best performance was in her favourite category, the vault.
There were some jittery moments when she was pushed to the 

8th spot 

from 6th by Simone Biles (the US) and Shallon Olsen (Canada), when they scored 16.050 and 14.950 on the vault respectively. The top-8 made the cut for the medal round.
Dipa will now compete in the Women's Vault in the Artistic Gymnastics final, on August 14th, 2016.
Why are Dipa's accomplishments special?
Dipa Karmakar became the first Indian gymnast to qualify for the quadrennial extravaganza after 52 long years. While these make Dipa's achievements remarkable, they are hardly surprising.
Given her stunning performance in the events leading up to the qualifiers, securing a berth to the Olympics was only to be expected.
She finished fourth in the 2014 Asian Games with only Olympic medallists finishing ahead of her. She bagged the bronze in the Glasgow Commonwealth Games despite nursing an ankle injury. She later won a bronze at the Asian Championships in Hiroshima. She progressed to the final and eventually finished fifth at the 2015 World Artistic Gymnastics Championships.
Since 2007, Dipa Karmakar has won 77 medals including 67 golds, in various levels of competitions, ranging from state to international.
"Dipa Karmakar is currently one of the best-known female vaulters in the world," Jim Holt, who has coached 7 nations at fourteen World Championships, certified, back in in 2014.
The Produnova vault, which she performed at the qualifying round to secure 14.850, has a narrow margin of error and even a small mistake could leave the athlete paralysed or with a broken neck.
The Produnova involves running full-tilt towards the springboard, a jump followed by blocking the hands, swinging the legs into full rotation while in flight for twin somersaults and then a frontal landing with complete balance.
When did the turning point arrive?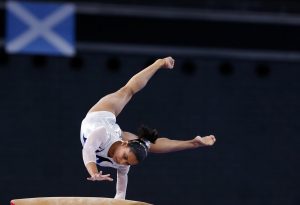 Dipa's adventure began 16 years ago when she was a flat-footed six-year-old. But the Tripura girl did not enter gymnastics by choice.
She went along with her father, Dulal Karmakar, who is a weightlifting coach and has served half a decade in the Andaman Islands, training athletes.
"But in 2007 when I won at the Junior Nationals in Jalpaiguri I started gaining interest," she says.
The real turning point came during the 2010 Delhi Commonwealth Games. There, Dipa saw Ashish Kumar create history by winning India's first ever gymnastic medal.
"That's when I told myself that I will win it for India in Glasgow, four years down the line," says Dipa.
And thus began Dipa's journey to the top!
Where did Dipa find her obstacles?
Tackling the system
In India, fews sports other than cricket get the recognition they deserve. Athletes are also forced to wrestle a poor system and lack of professionalism to get to the top.
The government doesn't offer a lot of support to gymnastics, and Dipa came from humble beginnings. In her first gymnastics competition, Dipa competed without shoes and borrowed an oversized, ill-fitting costume.
Up until the Commonwealth Games in Delhi in 2010, she had been practicing and competing on irregular sized landing mats (10cm as against the norm of 30cm).
On top of all this, for a long time the Gymnastics Federation of India was unrecognised, affecting practice and funding for the athletes.
Flat-footedness
As a child, Dipa had flat feet which makes her achievements even more commendable. Flat feet are a condition in which the arch of the foot is depressed and the sole of the foot is almost completely in contact with the ground. Having flat feet makes it difficult to run or walk because of the stress placed on the ankles.
Dipa had to work doubly hard to get the curve in her feet.
"I still remember Dipa coming to me as a flat-footed kid, which is not good for a gymnast. It affects the spring in her jump," says her coach Bisweshwar Nandi.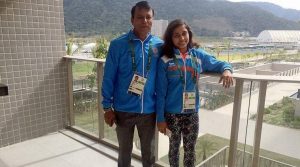 Who helped shape Dipa's career?
A lot of credit for Dipa's accomplishments must go to her father and her coach.
Dipa's father Dulal introduced her to gymnastics and got former India captain Bisweshwar Nandi to train her.
"She wants a medal at any cost there and if she does as well as she did before, she can even get gold," her coach Biseswar said after she qualified for Rio.
How has India fared in gymnastics in the Olympics so far?
While Dipa was the first female gymnast to qualify for the Olympics, Indian men have competed in the category before.
Till date, 11 Indian male gymnasts have competed in the Olympics – two in 1952, three in 1956 and six in 1964.
2 at the 1952 Helsinki Olympics
3 at the 1956 Melbourne Olympics
6 at the 1964 Tokyo Olympics
However, the last participation by India in gymnastics at Olympics was way back in 1964, and it should be noted that, at that time, there was no qualification system in place.
Knappily, short for Knowledge Application Daily, is India's highest-rated digital magazine that analyses news and features in its unique 5W1H framework, helping readers gain a 360-degree view on them. The app is free, and can be downloaded from Play Store or App Store.
Like this story? Or have something to share? Write to us: contact@thebetterindia.com, or connect with us onFacebook and Twitter (@thebetterindia).
We at The Better India want to showcase everything that is working in this country. By using the power of constructive journalism, we want to change India – one story at a time. If you read us, like us and want this positive movement to grow, then do consider supporting us via the following buttons.
Please read these FAQs before contributing.