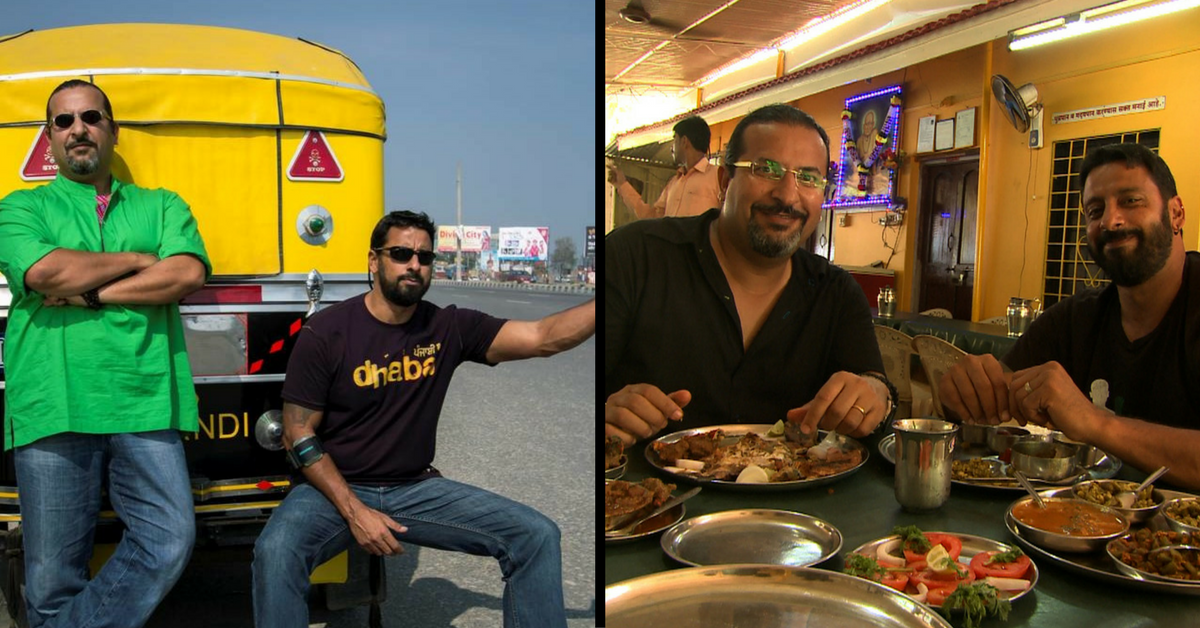 The irrepressible duo talk about their love for food, the incredible chemistry they share in reel and real life, and their journey from being corporate employees to becoming India's most loved foodies.
Food. You name it and they've eaten it. India's favourite foodies and co-anchors of the cult TV show, Highway on My Plate, Rocky Singh and Mayur Sharma have scoured the length and breadth of the country in search of good food on their very popular show that is part travelogue, part 'bromance' and part stand up comedy!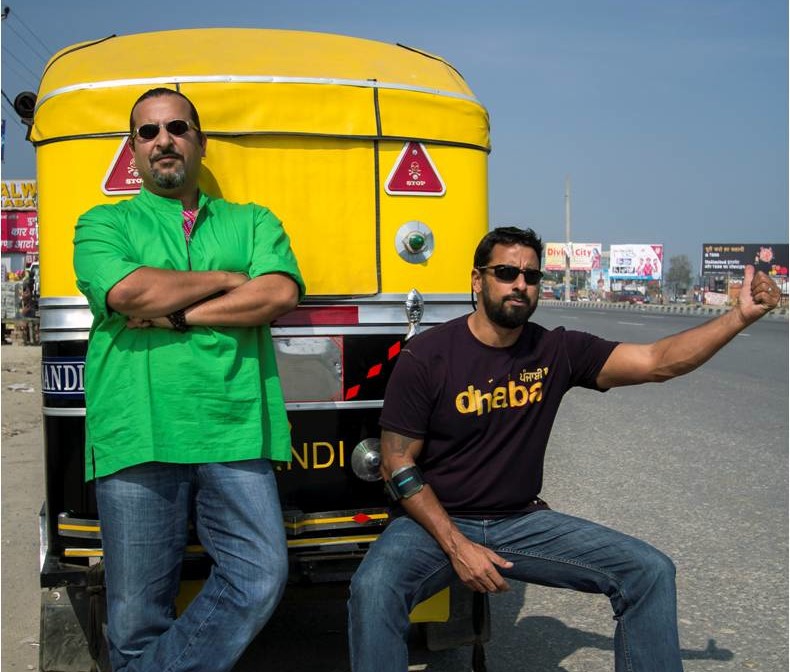 Other than Highway On My Plate, Rocky and Mayur have worked on entertaining shows like Jai Hind, Food Mad, and Food Xpress. Both their books, Highway On My Plate – the Guide to Indian Roadside Eating Vol . 1 & 2, won the Best Celebrity Cookbook awards at the Gourmand World Cookbook Awards in 2011 and 2014. They also became a runaway bestsellers in India.
The duo hosts the annual NDTV National Food Awards where their brand of irreverent humor and high energy makes for some highly entertaining evenings. . Recently they spoke at the TEDx to define the future of Indian food. When they are not on the road less traveled for work they still enjoy traveling with their respective families and to pursue their passions.
Here, Mayur Sharma talks about the duo's love for food, the incredible chemistry they share in reel and real life, and their journey from being corporate employees to becoming India's most loved foodies.
Q: Tell us a bit about yourself. How did the two of you meet?
A: We have been best friends since 1976 and have grown up together, living, laughing, poking fun at each other and of course, eating. We still live five houses down from each other in Delhi and spend most of our time together.
After finishing college at Sriram College of Commerce, Rocky chose the path of entrepreneurship. He worked at an airline, ran his own restaurant, and even set up a headhunting company abroad. After running many successful businesses, Rocky retired from his job in 2004 to pursue his love for food and travel. Passionate about discovering India, he drove all over the country in his car to explore new cuisines and remote destinations.
On the other hand, I studied abroad before working as the Head of Marketing in an international fashion organisation. In 2003, I left my job to backpack and hitchhike my way across 60 countries in 5 continents.
When I finally got back to India, I reconnected with Rocky over our common passion for food and travel. Both of us would jump into Rocky's car (he was the older one so he always had the car), make on-the-spot plans and be gone for many days in search of good food and new experiences.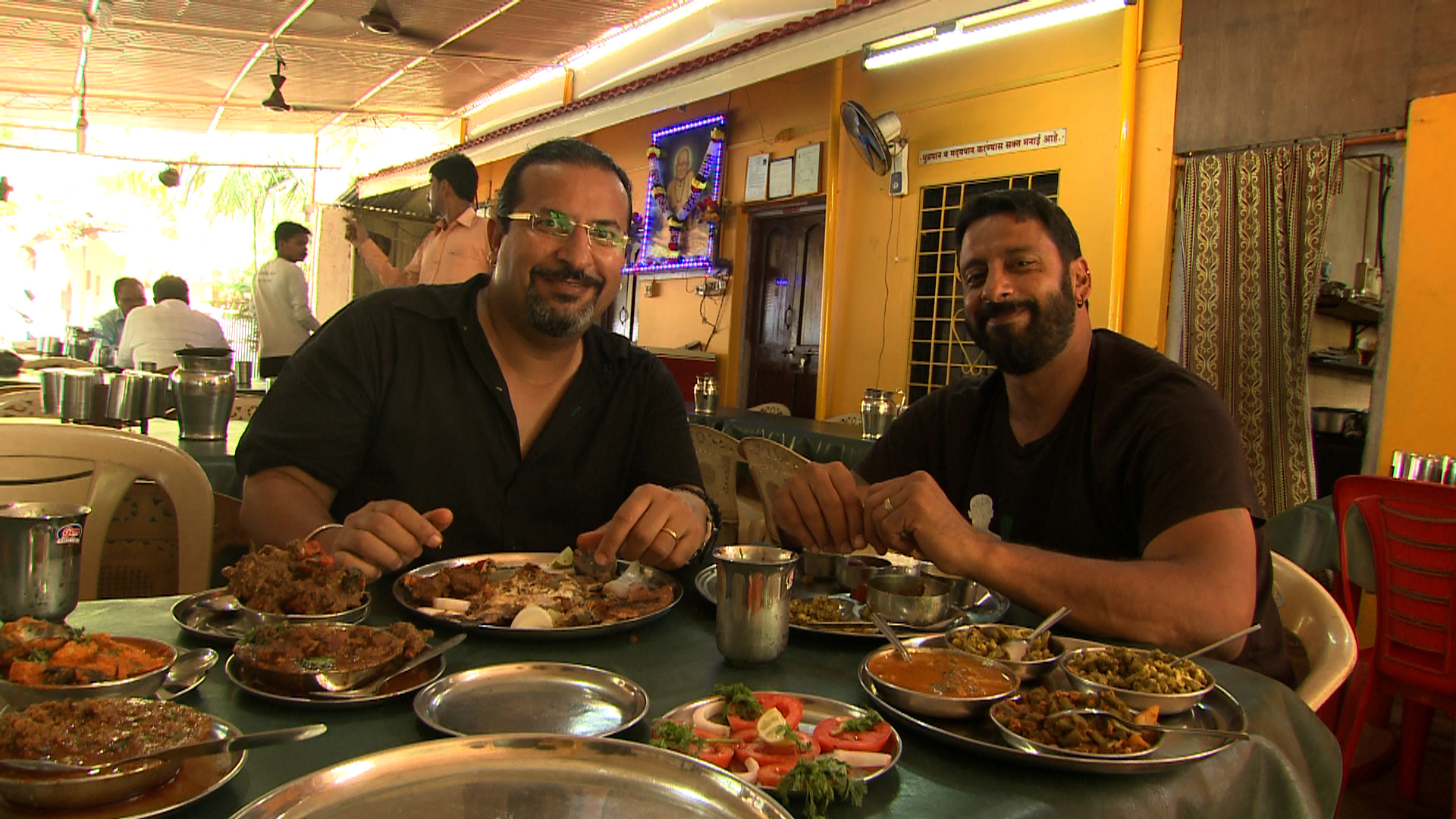 Oddly, I have five degrees – in computer science, zoology, textiles, fashion and English. And Rocky is a trained businessman. But we don't use any of our qualifications officially in our work!
Q.What is the story behind Highway On My Plate (HOMP)? How did the show start?
A: In 2007, NDTV Goodtimes was planning a quick show on the dhabas of India. Our friend and his production house were conducting auditions for the same. We were interested as we had been travelling and eating along the highways of India for many years. The audition happened on the spur of the moment, given our love for food and travel, despite the fact that we had no prior television experience. We told our friend that we fulfilled two of his three requirements and we could quickly learn the third! It was a decision which worked out great.
We came into the show with no preconceived notions about how food critics work, about how food shows work. We didn't do scripts as we weren't trained actors. Instead, we just told the camera guy to start the camera and point it at us as we sat down with food and had conversations like we always did. We asked the producers to capture what they could and see if it worked.
Q. Do the special madness and irreverent humour that both of you bring to the show exist behind the screen too? Where do you get the inspiration for your wonderfully funny food quotes?
A: We are like this all the time. We are two very different people with so many shared experiences that we know exactly what will tickle the other person's fancy. In fact, all our old friends don't watch the show. They have seen us behaving like idiots all our lives already!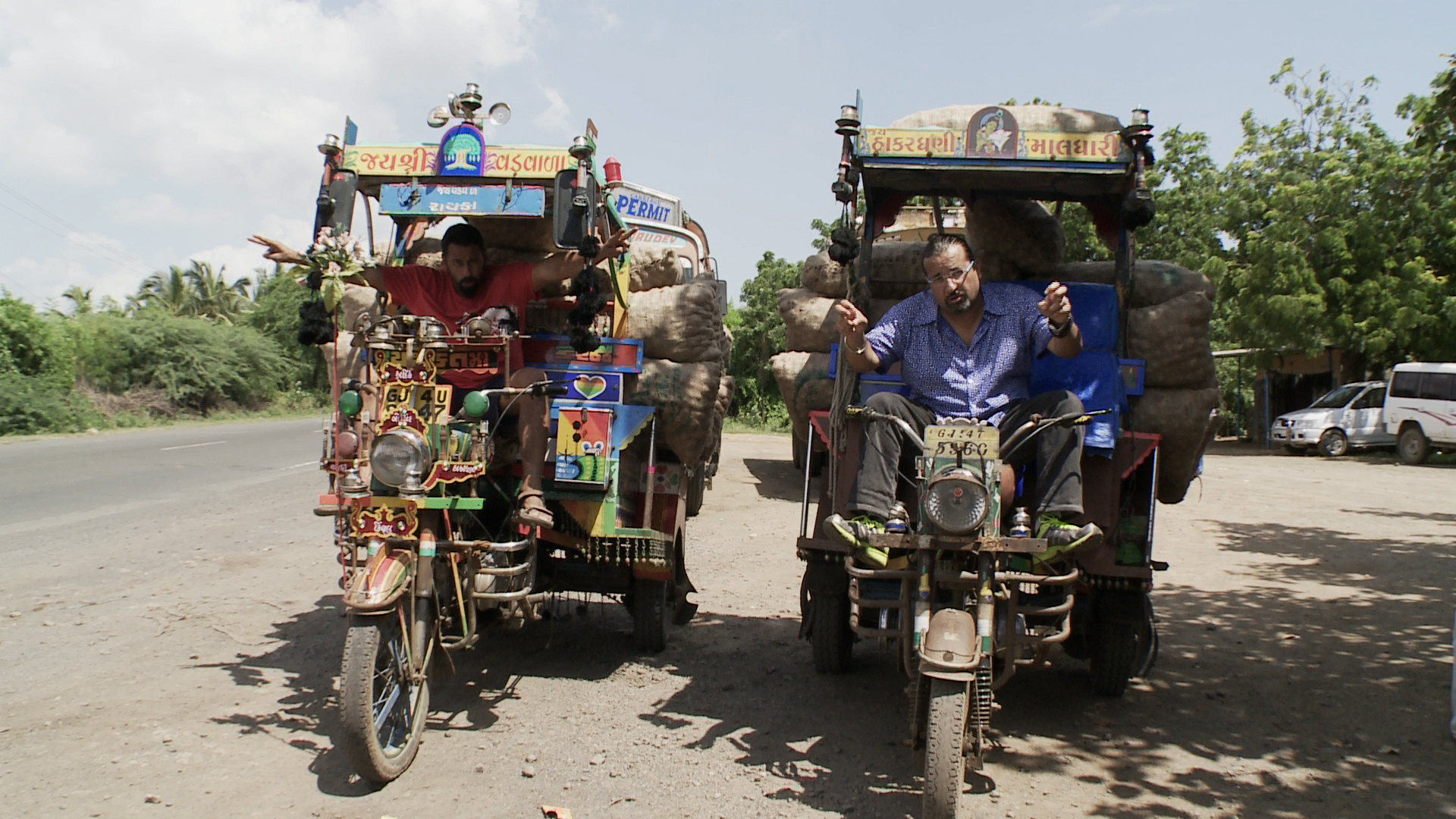 As for the jokes and the food quotes, there are multiple things that go into that. We have known each other for 4o years now. We have a great understanding, which has just gotten better in the last 7-8 years. We spent more time with each other than we do with our wives and kids. While our wives are at work and children at school, we are at home, sharing the same room as we work together. Even when we are relaxing, we are always discussing stuff, arguing over who is going to get the remote and cracking jokes over our nineteenth scoop of ice cream. That is when a lot of the jokes happen and when a lot of our ideas get conceptualised.
Also, I believe when there are two people bouncing ideas off each other, the creativity doesn't just double, it quadruples. Being on the road constantly is actually hard work and a lot of time and effort go into creating those moments of laughter you see on the show. The advantage of both being on the show is that when one person is tired or low on energy, the other guy is there to cheer him up and help him.
Q.What do you love and hate about your job ?
A: When you enjoy doing something, I don't think dislike comes into it. We came into television after doing all kinds of jobs. We literally retired ourselves and decided to do only what we love. So while we don't hate any part of it, there were and are challenges we have to face. Sometimes, we have been on the road for 20-25 days and have stayed away from our families for a long time. We have shot episodes with a strained back and a broken ankle. When there is a whole team on the road, you can't pack up no matter how sick or tired you are.
For us, this is a very small price to pay for the joy of doing what we like doing. It may not bring as much money, fame or accolades but when you love what you do, no matter how hard or crazy it gets, you are fortunate because you are doing what makes you happy.
Q. What were the funniest experiences you had on the show ?
A: This is a tough one. There have been so many that it is difficult to choose! Ok, here are two really funny incidents that happened on the show.
We were once shooting in Tawang in Arunachal Pradesh under extremely cold conditions. The Tawang monastery is the second largest monastery in the world, and its the monastery where the Dalai Lama came as a young child when he first came to India. When we were there, Tawang had just received heavy snowfall. We wanted to shoot the monks drinking butter tea before their morning prayers at 4 am. It was bitterly cold and we were all bundled up as we walked through the snow to the monastery. Rocky was complaining that his socks were wet, that he was going to get frostbite, and that they would have to cut his toes off. He had just managed to scare everybody into believing him when five or six boy monks walked past us in only their chappals, unconcerned by the freezing temperature. That was the end of Rocky's claims that we were all going to die!
The second one I can think of happened in Tamil Nadu. We were wearing lungis and had stopped for a roadside breakfast somewhere in the state. We decided to hitch a ride to the next town and got ready for the shot. So we were standing at the side of the road to hitch a ride, and I put my hand up with my thumb out and my lungi fell down! The cameras were still rolling so I just picked up the lungi and wrapped it around my neck like a muffler. So, I was standing there in my shorts and my t-shirt trying to hitch a ride. And the funny thing is they even put it on the show – in our 100th episode.
Q. What is the weirdest or more exotic thing both of you have tried on the show ?
A: There was this one episode we were doing on exotic foods in Arunachal Pradesh where woodworms are a local delicacy. These fat caterpillar like wood-boring worms are found only at the base of a certain kind of a tree. They have a hard chitinous exterior with a strong smelling, squishy interior. So, they brought these worms out and Rocky gamely agreed to try them and he did. On this one episode, I don't think anybody envied Rocky!
In my case, there is a dish, akhuni, in Nagaland. Assam and Meghalaya have it too where it is known by different names. This is a fermented paste of soy beans – soy beans are boiled in salt, kept in baskets with leaves and allowed to ferment for three to six months. A tiny bit of akhuni added to vegetables while cooking gives a beautiful smoky taste to the dish. But when its raw, it is extremely pungent and strong smelling.
Q. Which are your favourite food destinations in India? Also, in Delhi, where do you love eating out?
A: We have travelled over 300,000 kilometres in India, just by road, and have been to every state and union territory at least twice. The only exception is Tripura, though we have tried twice to get there. We hope to cover it soon. We have also done extreme climates, from dining with the army in freezing Siachen to eating in the scorching desert near Bikaner.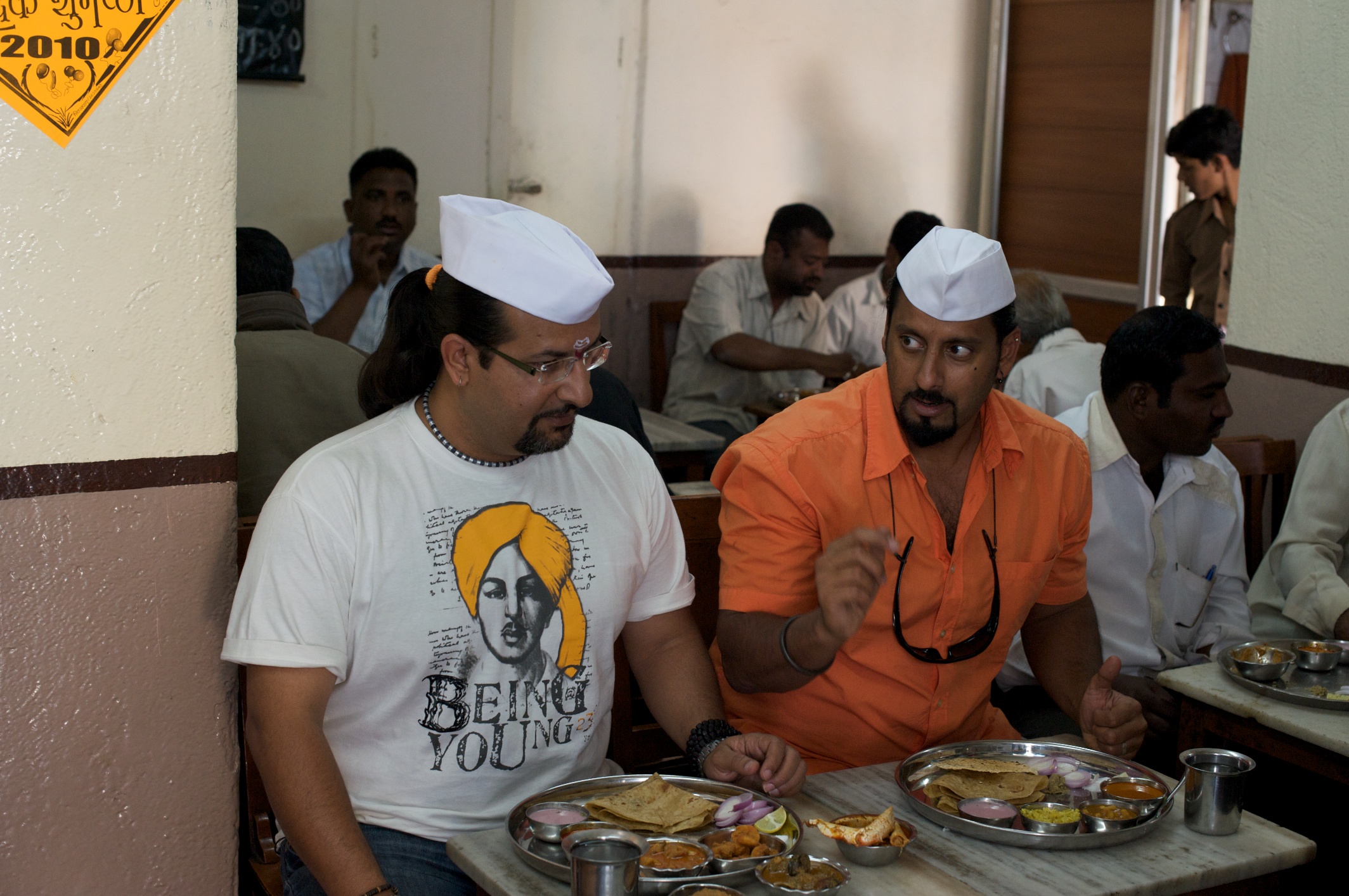 Rocky loves the beautiful and diverse state of Kerala. From the Muslim-influenced food in the north, Hindu influenced food in the centre and Syrian Christian food in the south, Kerala is a culinary powerhouse. In my case, it is Arunachal Pradesh. I love driving through the cloud shrouded roads of this mountainous state, where locals sell all sorts of strange foods you have never seen before on the roadside.
In Delhi, we like eating at Yum Yum Cha, the Carnatic Cafe, the Pot Belly, Indian Accent at the Manor Hotel, and our new favourite, Rustom's Parsi Bhonu that serves the best Parsi food outside of a Parsi home.
---
You May Also Like: Parsi on My Plate: How Bawa Cuisine Is Adding Spice to the Indian Palate
---
Q. What are the things you both are passionate about, other than food ?
A: Other than food, Rocky's abiding passion is birding. A keen birder, he has a phenomenal collection of photographs of birds from all over the world. The other thing he loves is diving and he has dived all over the world. I, on the other hand, prefer climbing mountains and trekking to being underwater. I have climbed Kilimanjaro, Aconcagua, and many other mountains across Africa, South America and Asia.
What we both are very passionate about is reading. Whenever we are travelling, we travel with books. And yes, we are old-fashioned readers who love the smell and the physical feel of a good book. Also, while Rocky is a passionate cook, I prefer eating to cooking. Recently though, I have discovered a liking for baking, an interest I share with my young daughter Amaya. I am also a very enthusiastic wine collector!
Q Tell us about MindsEye, the company you have co-founded with Rocky. 
A: The world has been our classroom and we both like working with people.That's what drives us and keep us looking for the next adventure. So we have co-founded a corporate training company called MindsEye. Other than our experiences from every field we have been in – from food and travel to media – Rocky brings entrepreneurial expertise to the table while I focus on bettering human interaction in business. We believe that inherent in everyone is a potential to be better and we take great joy in helping people discover their potential.
Q. Any upcoming projects you are excited about?
A: We are halfway through a project that curates the 1000 best places to eat, from fine dining to street food, in the country. We are making short videos that capture the essence of the places and give the viewer an idea about the food, ambience and best dishes to try at a particular place.
Also, we will be back on television by the end of this year. So for those of you who have been missing us, expect to see us back soon!
Q. Do you have any message for your fans?
A: Love what you do, do what you love. Keep smiling and stay fit while indulging yourself!
You can follow Rocky and Mayur on their facebook page here. Their twitter handle is @rockyandmayur.
---
Also Read: EXCLUSIVE: From IIT to US Air Force to TVF Pitchers – Journey of Arunabh Kumar, the Qtiyapa Guy
---
Like this story? Have something to share? Email: contact@thebetterindia.com, or join us on Facebook and Twitter (@thebetterindia). To get positive news on WhatsApp, just send 'Start' to 090 2900 3600 via WhatsApp.
We bring stories straight from the heart of India, to inspire millions and create a wave of impact. Our positive movement is growing bigger everyday, and we would love for you to join it.
Please contribute whatever you can, every little penny helps our team in bringing you more stories that support dreams and spread hope.
Tell Us More