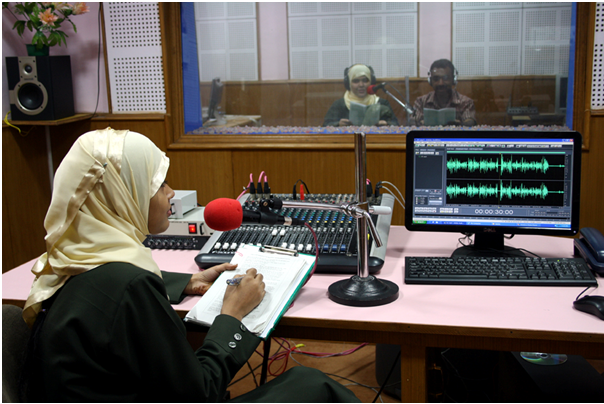 It is four pm, and sounds from 'Arogyavedi', a programme in the local dialect wafts into Kunjamma's home, from the radio set by the window. The show on Radio Mattoli,
It is four pm, and sounds from 'Arogyavedi', a programme in the local dialect wafts into Kunjamma's home, from the radio set by the window. The show on Radio Mattoli, a community radio station, is not only informative, telling her about ailments and illnesses she wasn't previously aware of, but is presented in the local dialect that she is at home with, narrated by a friendly voice that she can relate to. Since 2005, community radio in India has been making waves, playing a huge role in taking social messages to masses who have limited access to other forms of media, and sometimes, empowering local communities to produce their own content (Read about Radio Bundelkhand and Bol Hyderabad previously covered on The Better India). It is this potential that Project Axshya, an initiative to strengthen civil society engagement in tuberculosis control in India – with support from the Global Fund to fight AIDS, Malaria and Tuberculosis – seeks to tap.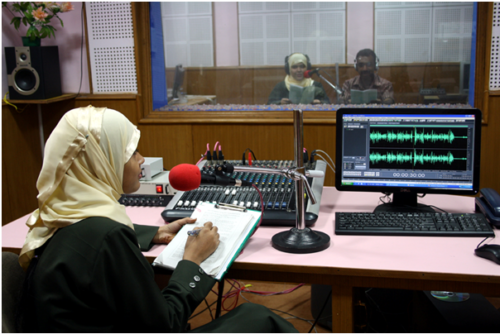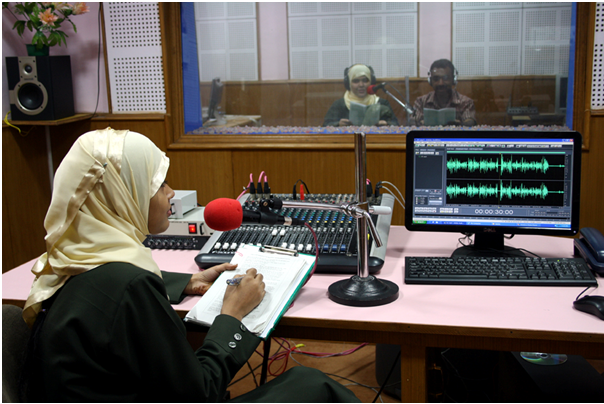 Tuberculosis (TB), though viewed as an 'ancient' disease, is a crucial health concern in contemporary India, killing two people every three minutes in the country. For a disease of its magnitude, the air time/ print space it gets is disproportionally minute. Not everyone is aware, for instance, that the government provides free diagnosis and treatment through the Revised National TB Control Programme, and a full recovery can be achieved in 6-8 months with proper treatment and care. Community radio stations can therefore play a critical role in informing listeners about TB, clarifying myths and misconceptions and connecting communities to local TB services.
Implemented by REACH, a Chennai-based non-profit organisation, this community radio intervention under Project Axshya has sought to involve a select number of community radio stations from across the country in the fight against TB. 'Community radio is a very powerful medium that has the unique quality of making an instant connect with local communities. What we essentially hope to achieve through this project, is to connect people with local TB services, via community radio,' says Dr. Nalini Krishnan, Director, REACH. The first year of the project (2010-2011) was more of a pilot, involving 5 stations in Tamil Nadu and Pondicherry. By March 2011, over 200 episodes on tuberculosis, had been broadcast (including repeats).
In the second year, 9 community radio stations, from all over the country, were shortlisted to be a part of Project Axshya. 'Our partners include a university station from Himachal, a station serving the slum population in Hyderabad, the North East's first community radio station based in Guwahati, among others,' cites Anupama Srinivasan, Technical Consultant with REACH. Over the course of the year, REACH offered technical and financial support to the stations, focusing on strengthening capacity in terms of both radio programming and knowledge of TB-related issues.
Harnessing the power of community radio talk show hosts to convey life saving information on TB was a twofold process. Working together on understanding about TB, its diagnosis, treatment and cure was one part. Hands on exercises to practice radio journalism skills such as interviewing, script writing and incorporating community voices and ambient sound in the programs, came next. The training was done through intense two or three day workshops,
says Dr. Jaya Shreedhar, Health Communications Consultant, who spearheaded the training process. Apart from technical know-how from health education experts and medical doctors, the participants were also trained in alternate programme formats, interviewing techniques, and increasing interactivity.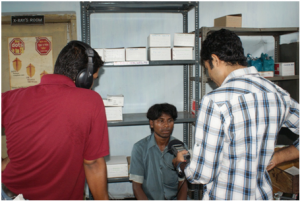 Starting August 2011, 32 half-hour episodes needed to be aired twice a week (one original show, and one repeat), until November. The cycle was repeated from January, the next year, culminating on March 24, World Tuberculosis day. While episode topics were provided, the execution was completely left to the various stations. 'We didn't want to cramp the local style too much – after all this is the USP of the medium. However, we did lay down some ground rules – like we limited the in-studio air time, as we were keen that they sent reporters to the field and captured some episodes in natural settings,' says Anupama.
REACH advocated meetings for reaching out to the community – by prescribing direct interface with health care providers, local panchayats/ government bodies and communities. These meetings could inspire on-air content or vice versa. 'Our biggest win from this project has been that we have been able to work for the community,' says Ashutosh of Radio MSPICM, housed in a college in Solan, Himachal Pradesh. He narrates the story of a rickshaw driver who approached them after listening in, and sought treatment for tuberculosis from the government hospital.
'We also encouraged stations to forge ties with local RNTCP (Revised National Tuberculosis Control Programmes) bodies and health workers and local non-profits working on health and wellness. This, for many stations, proved to be mutually beneficial,' says Dr. Nalini. Eventually RNTCP workers proved to be crucial contacts, as they stepped in to be local resource guides, often coming on air to talk about some aspect or the other. They were also helpful in giving diagnostic and treatment advice.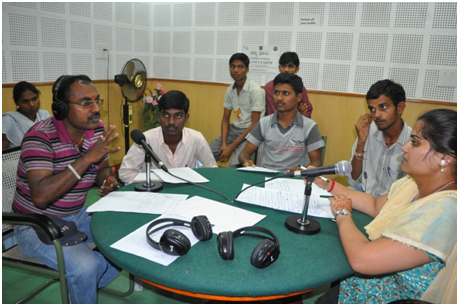 For the REACH team, the biggest success has been that they have been able to improve overall programming standards and influence output quality. 'The workshop sessions as well as the handholding and support over the past year has been very useful. We learnt new techniques like spots, vox-populi and group discussions, which we have tried to adopt to our regular programming as well,' says Professor Devendrappa of Krishi Community Radio, based in Dharwad in Karnataka. For Ansari and his team at Radio Namaskar in Konark in the eastern state of Orissa, Project Axshya has been a push to explore more health topics in the future. All the partner stations are working towards making the community meetings a regular feature in their work.
'This community radio initiative has been an impetus in that direction- in helping us understand grass route sensibilities and recruiting local ambassadors, who really think and feel for the cause of eradicating tuberculosis in the country.'' says Dr. Nalini.