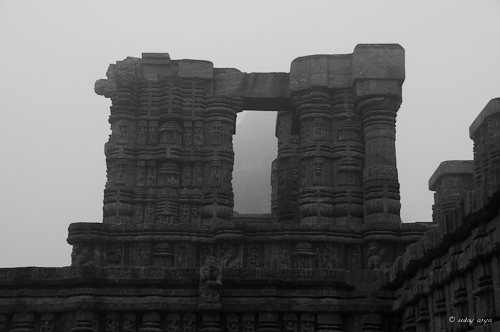 When the majestic Sun Temple came beckoning, Priya and Uday could not ignore the call. They packed their bags and headed to Odisha – Bhubaneshwar, Raghurajpur, Puri, Dhauli, Chilika and
When the majestic Sun Temple came beckoning, Priya and Uday could not ignore the call. They packed their bags and headed to Odisha – Bhubaneshwar, Raghurajpur, Puri, Dhauli, Chilika and Konark. Each was a rewarding experience in its own way.
We have not had a chance to travel much in India, least of all in non-southern states and non-metro cities. So, when we started planning for a holiday in Bhubaneswar and Konark, we expected grand architecture but little else. We spent a few days in Calcutta, and took the overnight train from Howrah into Bhubaneswar. It was the quickest, simplest journey putting us in the city before 6am.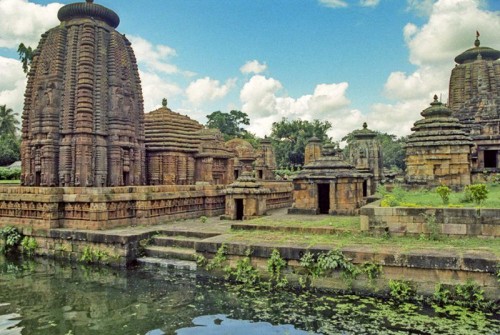 With its slower pace, lighter traffic, wider roads, Bhubaneswar was a welcome change from Calcutta. We rented a car for the day to visit the famous Lingaraj and Mukteswar temples. We had been informed about how different temples in this region were from those in the south, but we were not completely aware of what to anticipate. Architecturally, they are inspired by what has come to be called the 'Kalinga school', and even a brief contact with these immense structures will suffice to impress.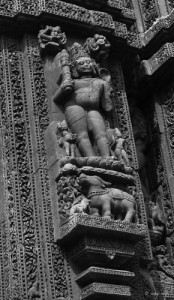 Spiritually though, it was a difficult experience. We could barely stay there long enough to collect our thoughts. I sorely missed the sense of sanctity I associate with temples. The sight of pan-chewing pandas (purohits) spitting their cud all around the temple premise was repugnant. Sadly, we had to escape to monuments without deities and pandas to lose ourselves in the splendor of their intended beauty and magnificence. The Raja-Rani temple, with a large garden around it and without a deity fulfilled our implicit need of silence, beauty and sanctity.
As the sun set, we visited the historic hills of Dhauli – the ground on which Asoka fought his last war. At its foothills, safely ensconced in a sealed glass enclosure (and hard to view) are the rock edicts of Asoka, primarily in Pali, in which the King codified the new principles of peace based on which his kingdom would thence be governed. From the vantage point up on the hill, standing beside the gleaming white Stupa with a large statue of the Buddha, we saw the plains stretch on – red earth and the Daya river winding through it. We had read somewhere that the destruction caused during the war had made the river run red for months. Perhaps symbolically, the river still runs a muddy brown; may we never forget.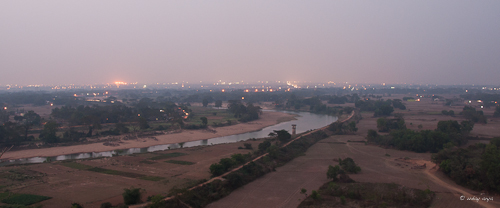 Early next morning, we set off towards Puri. The journey is only about 2-3 hours long, going through little villages and stretches of idyllic farms. If you have the time and flexibility, you must stop along the way at Raghurajpur – a little village in which every house is a museum and every person an artist. (Read an earlier post about the Art Village of Raghurajpur on The Better India here). While the pressure to sell is high and tourists stopping by rare, there was genuine warmth to the people inviting us – not to their shops, but to their homes, to share with us their art. This was a most humbling experience.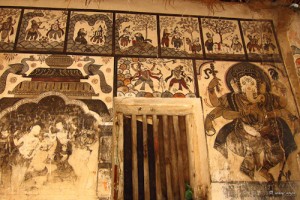 After checking into our hotel in Puri, and a quick lunch at what was to become our haunt for every meal during our stay, Krishna Bhavan (serving a delicious Gujarati vegetarian Thali), we set out for the customary visit to the Jagannath temple and continued with our adventures at Chilika Lake.It was about a 2 hour drive from Puri to the lake, passing by several tiny villages and more cows than I have ever seen on the street. I wonder if it's the relative smoothness of the surface that makes them want to come and rest along the streets after a hard day's work! The largest salt water lake of India, Chilika hosts a variety of marine life but is most famous for its Irrawady dolphins. During a 2.5 hour boat ride along the lake, we saw the sleek little fellows diving in and out, joyously playing with their family. As we pulled back into land, the sun took its cue and signed out with a glorious sunset into the waters.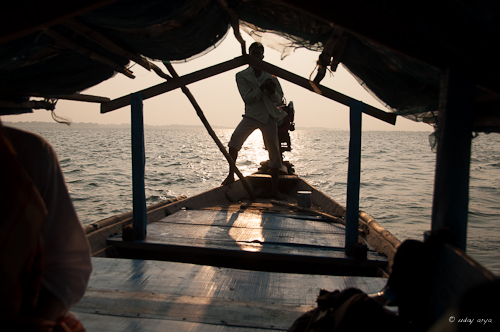 And then came the true highlight of the trip – The Sun Temple at Konark.Situated about an hour from Puri, it is a soothing ride to Konark on well-laid roads running along the sea, ducking behind a canopy of trees, winding in and out.
Considering that the temples in Orissa had not exactly overwhelmed us in terms of sanctity, our first reaction to the sight of the Sun Temple was "Thank God, this place is not a center of worship anymore!" It was incredibly clean, the lawns green and well maintained. This promised to be as good an experience as we had imagined! We hired a guide – an original at that, a 66-year old to whom the area nearby, Chandrabhaga, was home. Apparently, he was from the first batch of trainees recruited by the Govt of India when the site was declared a World Heritage Site.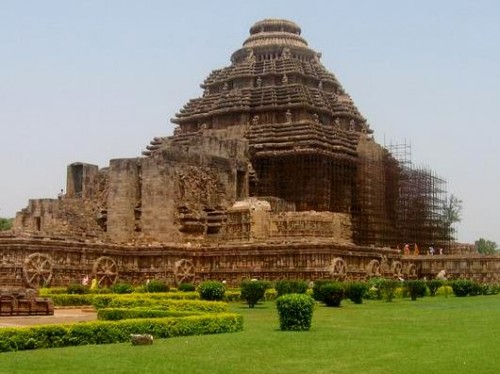 The temple at Konark (Kona=corner, Arka=Sun) was completed in the 13th Century under King Narasingha Dev I. It is designed as a celestial chariot with twelve gigantic wheels driven by seven leaping horses. It is easy to imagine the mighty Surya riding on his chariot into the timeless through the markings of the seven days of the week and past the twelve months of the year. The walls are adorned with statues depicting life in all its vastness. The lower portions depict animal and plant life, with humans and their community, family and social life forming the mid-section. Divine beings and Rishis (holy saints) reside in the higher levels.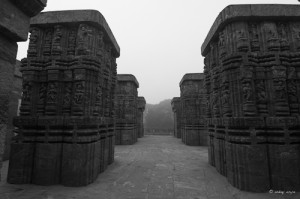 Perfect proportions, unimaginable detailing, immense care in design and expression – we spent over 4 hours walking around the temple. The Nata-Mandir (Dance Temple) was grand and unlike anything I had ever seen before. What an honor it must have been to offer an odissi recital to the majestic Surya and what an occasion it must have been for the devotees and patrons to be a part of this grand offering. I cannot imagine a better location for the annual Konark Dance and Music Festival. We finally came away saying we must see it again!
A couple of days later we even tried reaching there for sunrise, having left Puri at 4 am to receive the first rays of the sun on the Chandrabhaga beach. Sadly, it was not to be, as it turned out to be a cloudy day. That morning, the temple was steeped in mist, and in moments, it felt truly magical and a very fitting abode for the Divine.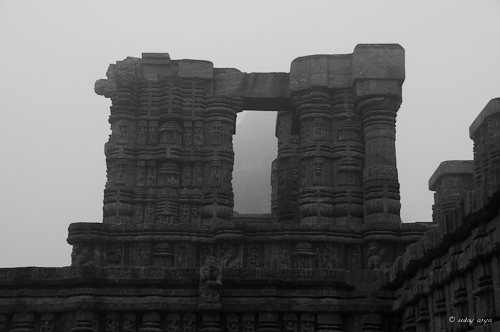 There is a beautiful poem The Stone Mason, which to us went straight to the essence of this piece of art in stone.
The Stone Mason
One learns to feel the nature of the stone
And understand the way it must be faced.
The artist's hands are rough but his heart is true,
He sees the beauty others cannot see
Who look at rock and rubble at their feet,
But more than this he knows that every stone
Must harmonize with others in the wall.
There is an architecture he must build,
A harmony that he alone can find
Among the dazzling patterns and the hues.
His art does not condone the use of lime
Or concrete peering from each interface.
With a level eye he measures pitch and point,
An elegance creates that must endure
All seasons and the wearing down of time.
The craftsman of the drywall reigns supreme.
He works with Nature and through Nature builds
Line by line his poetry of stone.
– Narad (Richard Eggenberger)
Although we left this odyssey in stone that day, its poetry has indeed been etched in our hearts, within easy reach and filled with light.
An Interesting Historical Context To The Temple: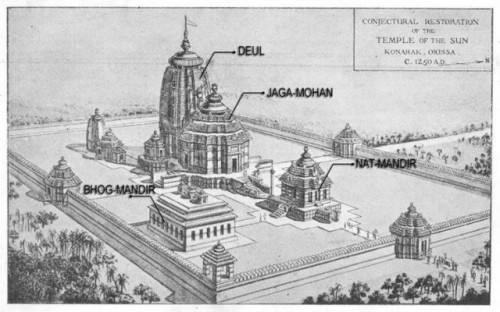 The DEUL no longer exists. There seems to have been a massive ring-shaped magnet, weighing about 53,000 Kgs that was at the top of the structure. Parts of the temple structure had iron running through them to be supported by the magnetic field. The stone deity it housed was suspended mid-air, again arranged by magnetic fields. Some European/Portuguese ships several nautical miles away from the then-shoreline had their compasses go haywire and eventually the magnet was either broken, dismantled and/or stolen. In any case, the details are perhaps secondary. What remains now is stellar by any standard, and a lasting record of the mighty achievements of our forefathers.

All Photographs: Priya Raghunathan, unless otherwise mentioned.

Priya currently lives and works in Paris. A lover of performing arts and sports in equal measure, she learns Kathak and passionately follows Rafael Nadal. She enjoys baguettes fresh from her neighbourhood boulangerie while whipping up rasam from her mother's recipe. She is on the European leg of her quest to explore the world in all its colors.
Tell Us More
We bring stories straight from the heart of India, to inspire millions and create a wave of impact. Our positive movement is growing bigger everyday, and we would love for you to join it.
Please contribute whatever you can, every little penny helps our team in bringing you more stories that support dreams and spread hope.