Organic food can be expensive but you make a long-term investment in your health when you go all natural. Here are some delicious recipes for fruit and vegetable smoothies you can make this summer. A smoothie is a thick beverage made from blended raw fruit and/or vegetables, with other ingredients such as water, ice, dairy products, or sweeteners. 
It's summertime, and the livin' is liquid! It's one of the hottest summers on record and we're thirsty. The sensation of a chilled mouthful making its way down the gullet is perhaps the best part of the day, isn't it? But, in these adulterated times, can we be sure that what we're eating and drinking is free of pesticides and chemicals?
Increasingly, we're becoming aware that we have to be careful about what we consume – and especially the things that we eat and drink in a hurry. Vegetables grown naturally, fruits that taste the way they are meant to, and grains that give as much nourishment as possible – this is what buying organic means. Every mouthful should do us only good.
The answer is organic
One natural and chemical-free way to beat the heat is with delicious, chilled smoothies. They're healthy, low-fat and full of nutrients. They can also be consumed at any time of the day, or as part of a meal replacement – an important point to consider given that many people aren't comfortable eating regular food in the heat.
The secret formula
There is none! Make smoothies from raw, unprocessed materials and add what you like. A thumb rule is to use two cups of chopped fruits or veggies and add up to two cups of nut milk or tofu, if you like, for a silky texture. Simply vary the amount of water by the amount of thickness you want in the smoothie.
Some more suggestions
Use fresh vegetables and ripe fruits. The taste of these can make or break your smoothie. You can also experiment with liquids like coconut water and coconut milk, or even use fruit juices, along with water. Honey is a good sweetener, as are natural syrups like agave and sweet fruit like dates. Finally, consider adding ground seeds like chia or flax for additional nutrients like essential amino acids, protein and beneficial fats. What's more, they give your smoothies an interesting texture.  
And now, here are some recipes!
Banana-Berry Smoothie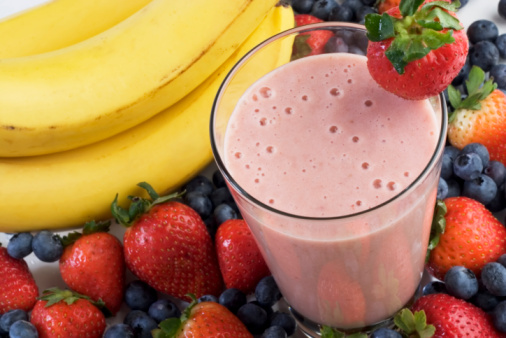 You'll need: 1 or 2 bananas, a handful of strawberries, 1 cup of nut milk and ground flaxseed or chia seed to taste.  
You can: blend all the ingredients together, adding ice and honey to taste. Alternatively, chill the banana and leave out ice.
Berry Cool Smoothie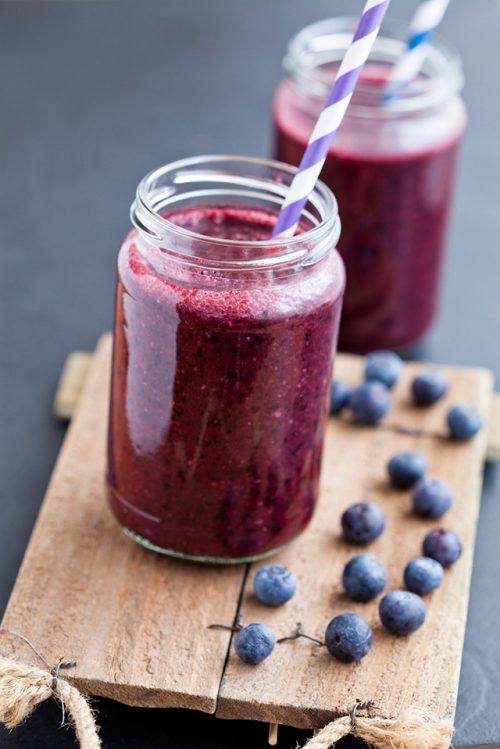 You'll need: a handful of berries (raspberry, strawberry, blueberry), half a cucumber (a full if small), 1 frozen banana, 1 cup chilled green tea, 4-5 drops vanilla essence, a handful of spinach (optional, depending on how sweet you like your smoothie)
You can: blend all the ingredients together, adding honey to taste. This is a cold smoothie so chill all ingredients before using.
 Yellow Fellow Smoothie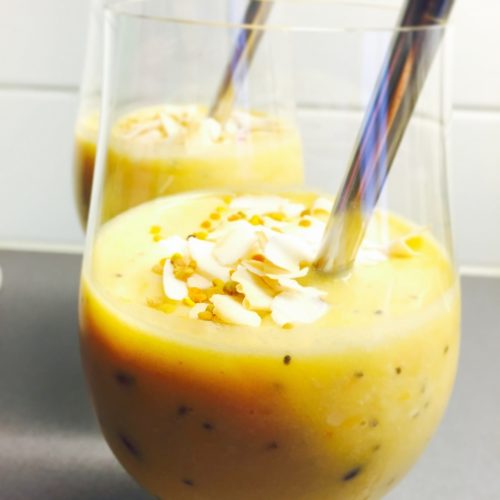 You'll need: 1 handful of spinach, 1 or 2 bananas, 1 mango, coconut water or coconut milk, and ground chia seeds.
You can: blend all the ingredients together, and drop in ice to chill. Coconut water is preferred  but coconut milk offers a slightly creamier consistency.
Pina Colada Smoothie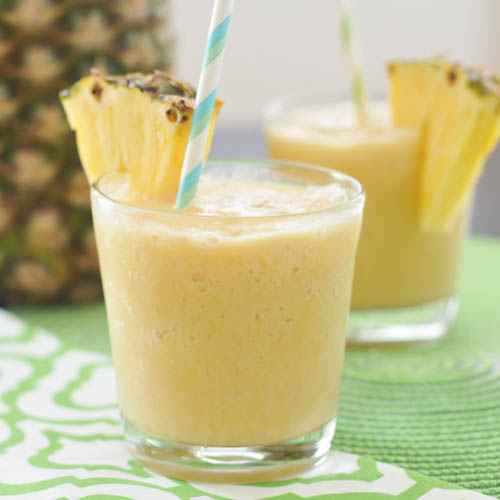 You'll need: pineapple chunks, 1 frozen banana, coconut water, coconut milk, and most importantly, a tiny colourful umbrella
You can: chill all the ingredients before blitzing them to a slightly grainy consistency in the blender. Garnish with pineapple slices and the umbrella before serving to rapturous applause.
Tip: Consider using ginger for a twist.
Chocolate Avocado Smoothie (oh yes, you read that right)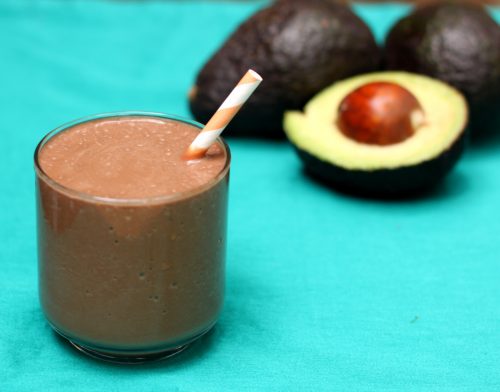 You'll need: 1 avocado (pitted), dark chocolate to taste, cocoa powder, 1 frozen banana, nut milk.
You can: blend all ingredients together to a creamy consistency and chill. Stir well before serving. Garnish with nuts for a crunchy treat.
Like this story? Or have something to share? Write to us:contact@thebetterindia.com, or connect with us on Facebook and Twitter (@thebetterindia).