Namrata Hingorani, an ex-Business Consultant who spent 22 years in the US and UK and has recently relocated to Mumbai wanted to celebrate her 40th birthday in a special way.
Namrata Hingorani, an ex-Business Consultant who spent 22 years in the US and UK and has recently relocated to Mumbai wanted to celebrate her 40th birthday in a special way. She met with the Project Chirag team and decided to "light up" a village. It takes INR 3000-4000 to light up one house and each village has anywhere from 15 to 150 houses. She managed to raise more than INR 2.5 Lakhs through friends and family, enough to light up 60+ homes. This is an account of how one person with determination can do something remarkable – without waiting for the "right time" or the "right opportunity" to come along.
This is her personal memoir of the day she went to the village of Dongaripada in Maharashtra and lit up their lives.
March 31st, 2012.  What a day! I'm overwhelmed, elated, inspired and speechless having just returned from rural Maharashtra, where four friends and I joined the incredible Project Chirag team to "light up" 47 houses in the village of Dongaripada, in Dahanu Taluka in Thane District.  Yet another village in India is now out of the dark, and onto a brighter future.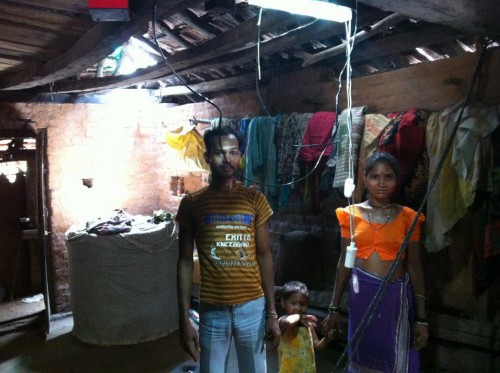 Rewind back two years to March 12th, 2010. Students from HR College in Mumbai lit up 91 houses in Ujjaini village in Thane district with solar lights.  Generations of villagers there had been living in the dark. After they saw what they could do in one village, there was no stopping the growing team of passionate 18 to 22 year olds.  Conceived and co-founded by Jyotirmoy Chaterji "JC", a few of his friends from HR College and faculty member Ms.Pratibha Pai, the project started as a SIFE (Students in Free Enterprise) initiative at HR College under the mentorship of Dr.(Mrs.) Indu Shahani, Principal of HR College & Hon. Sheriff of Mumbai.   This year, they registered as an NGO, Chirag Rural Development Foundation.  A project that started with a few students has today turned into the 'Chirag Light India Movement' that has spread across multiple colleges and schools.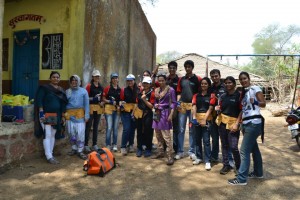 A few things that make the project unique:
– It is fully conceptualized and implemented by the youth
– Thus far, the project has been completely run by volunteers
– Project Chirag is targeted towards villages that have no access to electricity and where more than 75% of the population lives under the poverty line
– Differently abled communities are involved in the assembling, testing and maintenance of the solar lamps provided to the villagers
– The project team tirelessly raises funds in creative ways, partnering with corporations as well as schools
– The project members work with rural development NGOs in each state to communicate with the villages where they provide lights
According to some estimates, approximately 400 million people in India do not have access to electricity. The Project Chirag team is not afraid of the challenge.
"As the youth, we really need to step forward to contribute towards solving social problems facing India today and Project Chirag is a platform for the youth to be a part of the India growth story. We are looking forward to this initiative scaling up nationally and internationally in the next couple of years. Our belief is that we don't need extraordinary people to make a difference, but ordinary people with extraordinary passion" says Jyotirmoy.
Meeting JC and the rest of the Project Chirag team, it's difficult not to be in awe of the talent and passion of the youth of this country.  It is enough to make even the worst cynic believe in a strong future for India and its ignored rural population that lives so far below the poverty line.
So here I am on March 31st, 2012.
7:15 AM: We gather at a meeting point in Andheri before getting on the Western Express highway out of Mumbai.  I am joined by four friends and 11 members of the Project Chirag team. It's the first village trip for a few of us, including some of the student volunteers.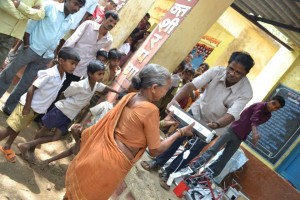 9:30 AM: We stop for breakfast at a local rest stop restaurant .  From here, we leave and head to a highway truck stop, where we wait for the team from the rural NGO (Pragati Pratishthan) that works with the villages.  Once they join us with the equipment, we make our way to the village.
11:30 AM: We arrive at Dongaripada village.  The village is only slightly off the highway.  All this while I've been really impressed by the roads in this area.  For some reason I expected them to be unpaved, dirt roads but they are probably the best roads I've seen in India.  We meet the villagers at the entrance to the village, at the only school in the village that provides education up to the 4th standard.  We are joined by Laxman Kaka, an Adivasi man himself, who has dedicated his life to bettering the lives of villagers in his district.  He helps the Project Chirag team translate and communicate with the villagers.  We each get a hammer, nails, a tool belt and glove and get divided into 3 teams.  Each team gets a walkie talkie to communicate.  The installation procedure is explained to us by JC and the team members who have been on village trips before.  Each household is provided with a solar panel that connects to a stationary light as well as a portable one. As each villager comes up to collect the equipment, he/she (in most cases he) has to sign a log and take ownership of the equipment. The signature in most cases is a fingerprint.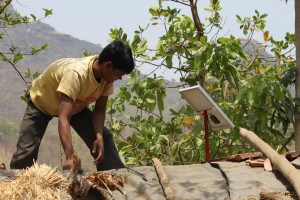 The teams work with a member of each household to install the lights. A member of the household climbs on the roof to hook up the solar panel.  The wire attached to the panel is dropped through the roof into the house.  We attach the stationary light to a central point in the house.  The portable lamp is stored close by and can be charged as necessary.  As simple as that! We move from house to house, in some cases almost a kilometer apart and at times we head back to the central point to join more villagers.
Each house consists of one large room, with no functional separation between the cooking, sleeping and living spaces.  On average, there are 5 members in each household.  We speak to the villagers, who in general are very shy.  Their main source of income is rice farming.  Right now, the fields are barren. The land is dry and cracked.  The kids follow us between houses and we even get some of them to speak on camera. When asked what they are most looking forward to now that they will have light after sunset, their unprompted, unanimous, one word response is "Abhyaas" (studying/reading).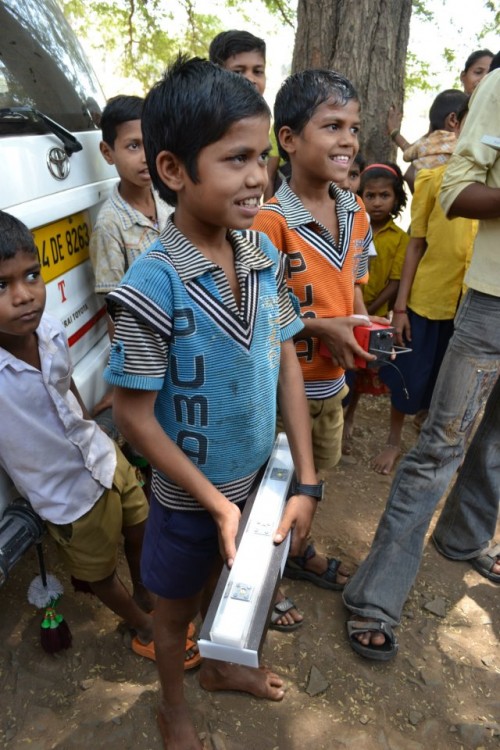 Three hours later, the entire village has light!! For the Project Chirag team, the total has now gone up to 2790 households in 79 villages!!
3:00 PM: We leave the village.  Overwhelmed. Elated.
We drive through beautiful countryside for an hour and arrive at the Pragati Pratishthan center in Jawhar Taluka of Thane District where we are served some delicious local cuisine. This NGO also runs a school for deaf and mute children in the same compound.  We meet some incredible kids who tell us who they are and where they come from by taking turns writing with chalk on a black slate.  We leave and head to a deaf and mute vocational center also run by this NGO. This is where the solar equipment is assembled.  We watch the assembly of the equipment and speak to a 21 year old, who works at this center.  He tells us that he is content because despite only a 4th standard education and what others might consider a disability, he is able to learn new skills and contribute to his family income.
5:00 PM: We start heading back to Mumbai. Inspired. Speechless.
8:30 PM: As the clock strikes 8:30 PM local time across the world, millions switch off their lights in observance of the sixth annual Earth Hour. Somewhere in rural Maharashtra, 47 houses switch on their lights for the first time in history.
9:00 PM: I am back home in Mumbai in my very well lit up room. I turn off the lights and sit in the dark. This has been one of the best days of my life.
To learn more about the "Chirag Light India Movement" and Project Chirag, log on to their website or facebook page.
We bring stories straight from the heart of India, to inspire millions and create a wave of impact. Our positive movement is growing bigger everyday, and we would love for you to join it.
Please contribute whatever you can, every little penny helps our team in bringing you more stories that support dreams and spread hope.
Tell Us More