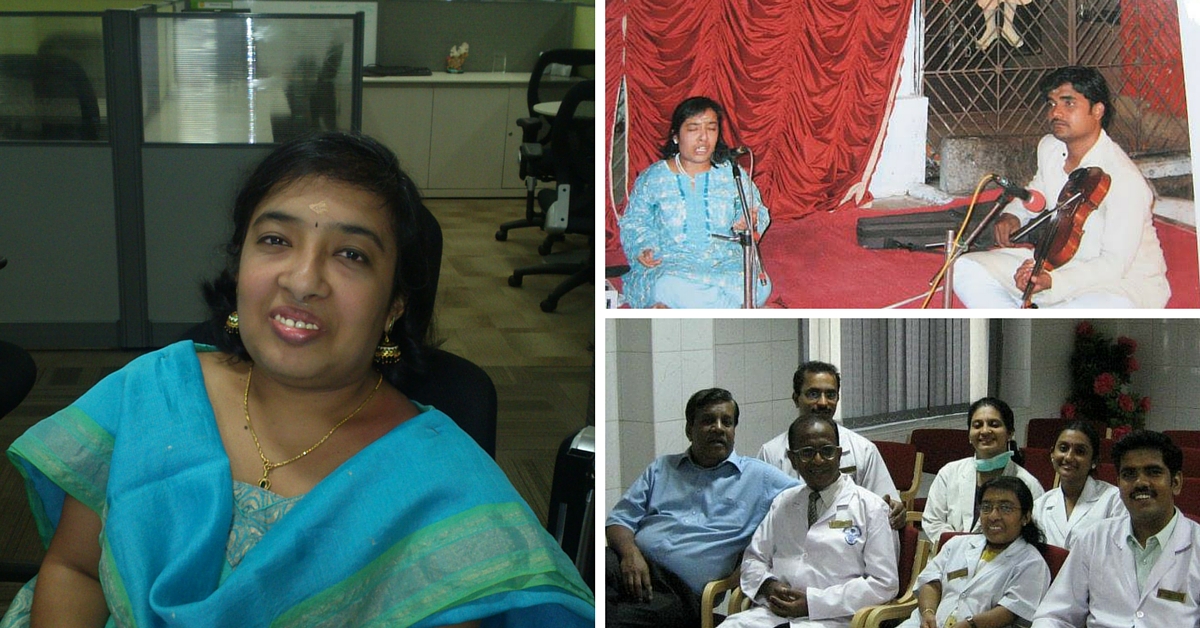 She was teased mercilessly by other children when she was young. She hated school. Yet, she went on to not only study medicine but also to win the hearts of all her colleagues and co-workers. Meet the lady who did not let her short stature come in the way of standing tall.
---
In the MY STORY section, we present some of the most compelling and pertinent stories and experiences shared with us by our readers. Do you have something to share? Write to us: contact@thebetterindia.com with "MY STORY" in the subject line.
---
She was teased mercilessly by other children when she was young. She hated school. Yet, she went on to not only study medicine but also to win the hearts of all her colleagues and co-workers. Meet the lady who did not let her short stature come in the way of her standing tall.
Long ago, in the early 80s, the shrill cry of a small girl used to emanate from an autorickshaw daily at around 8 am.
It was school time. The girl was terrified at the thought of leaving the comfort of her mother's arms and stepping into the midst of strangers. For the child, the unfamiliar attire of the nuns at school also added to her fears. She would be carried by her mother from the auto and seated in the classroom. A careful look at the child revealed that her right leg was in plaster from the thigh to the toe. The poor young mother used to move away and remain under the shelter of a tree till 12 noon. She used to hear the wailing of her daughter from a distance and pray that the child would not be sent out of the class as her husband had managed to get her admitted in that particular school with a lot of difficulty.
The girl had a good voice and a taste for music. Her parents put her into musical training early. As a girl of nine years, when she submitted her name to the teacher to enrol for the music competition among students, she was not included. Undaunted, her mother stood firm and fought with the teachers. She succeeded.
The girl never looked back. She won all the competitions in music, literary and other fields thereafter, till she completed her school education.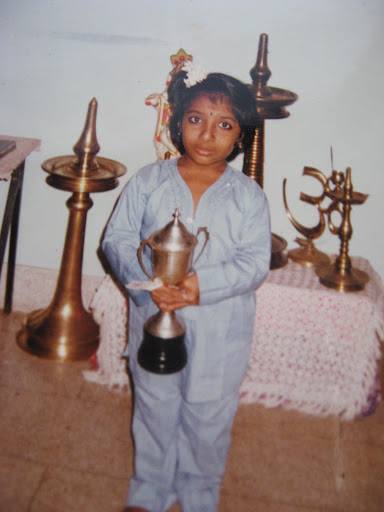 You may be wondering what all this fuss is about. The fact is that the little girl was special – she was born a dwarf and her height is only 3 ft. 9 in. today.
Her life has been one of struggle at every stage. Her father had a transferable job. Initially, schools were reluctant to admit her because of her short stature and her parents had to fight to get her admission every time. She faced scornful looks and words of ridicule. In every new school, she encountered stares, sly remarks from fellow students, and the teachers doubted her capabilities. She had to prove herself time and again.
She faced frequent health problems during her childhood and a major surgery at the tender age of three. The seed of passion to pursue medical education was ingrained in her at a very early age. She worked extremely hard to prepare for competitive entrance exams and secured admission in a dental course after performing well in the common entrance examinations. The principal of the college was reluctant to admit her because he felt she would not be able to perform clinical procedures due to her short height. She did not accept this verdict, fought with the principal, and convinced him to admit her after assuring him that he could dismiss her from the course if she was found wanting in the performance of clinical procedures. But, she performed all the clinical procedures.
After treating several patients successfully during the final year and internship, she graduated as an outstanding student from the Government Dental College, Trivandrum.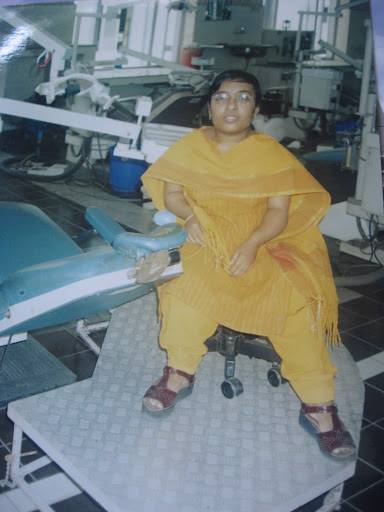 As a young doctor eager to plunge into practice, she approached several fellow dentists for opportunities. She experienced some of the greatest insults of her life. No one was willing to take her as an assistant and give her a job.  But her attitude had always been not to yield but to keep fighting.  She never let her spirits flag.
Her efforts finally fructified when she got a job as a lecturer in a private dental college, where she happily served in the company of dentists. She derived professional satisfaction in teaching and undertaking clinical treatment of outpatients. But the poor pay from the college forced her to look for other avenues.
In the meantime, the Information Technology sector was growing and encompassing new fields. Healthcare was one of them. She looked for and got an appointment as a consultant.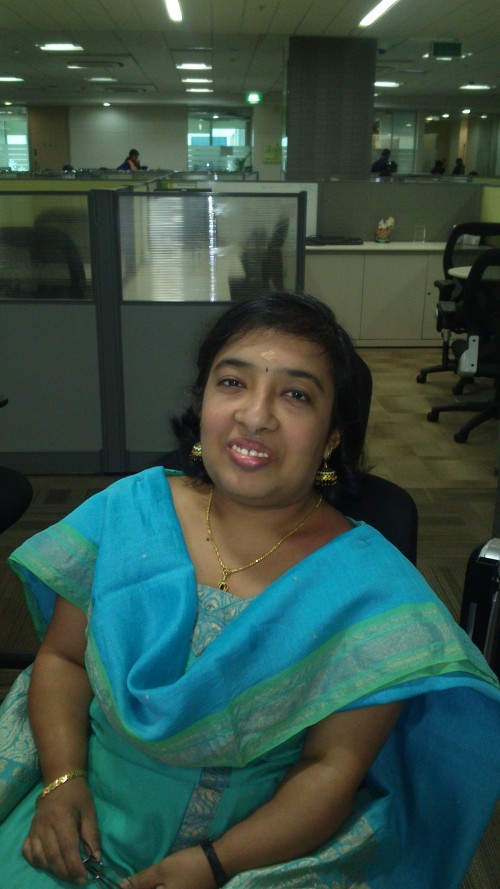 Her job was to coordinate between doctors abroad and the engineers in India who developed software. Initially, she again faced rejection from the engineers working with her who tried to put her down every chance they got. But with a vengeance, she fought back and won them over. She took an MBA degree in Healthcare & Hospital Administration. She was able to prove them wrong and was able to perform on par or even better than her peers at work. After a few years, she had become the most respected and loved person in the organization.
She now keeps herself up-to-date in the IT field, besides keeping abreast with developments in the medical field, by keeping in touch with her peers and through other media.
She has travelled to foreign countries alone, stayed alone and managed her official work, independently.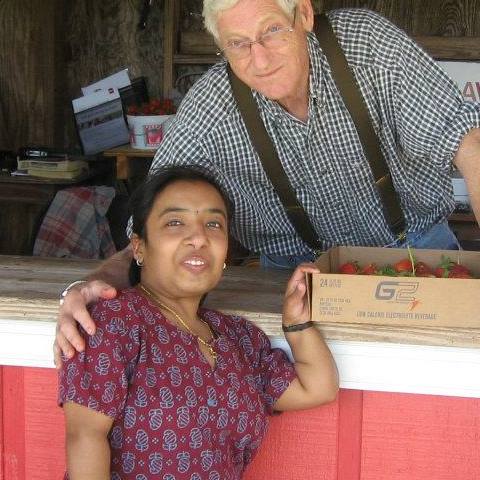 Music is her passion. She has also given a few Carnatic music concerts and wants to delve deep in this field too.
The wailing little girl who fought at every stage to become what she is today is me, Dr.Lakshmipradha Srinivasan. What you have read so far is my life story. I would have become a timid and useless woman, incapable of facing life, had not my parents (Srinivasan and Ganga) and my brother Karthik provided me with an encouraging and healthy environment. They taught me to rely on my strengths and not be defeated by my weaknesses. They taught me honesty, self-belief and resilience. Every struggle and impediment strengthened my resolve to fight against social stigma and injustice and prove my intrinsic worth and strength to the outside world. At this juncture, I wish to thank all those who stood by me and encouraged me to achieve success in my life.
Today, I have achieved an important place in society and am economically and socially independent. I am very confident and will achieve greater heights in life in the years to come. I have faced insults and denials all through my life. Yet, without getting cowed down by such behaviour, I have battled for my rights time and again.
Even though I am short in height, I have never allowed myself to be dwarfed in my thoughts and action. Today, I stand tall by my achievements.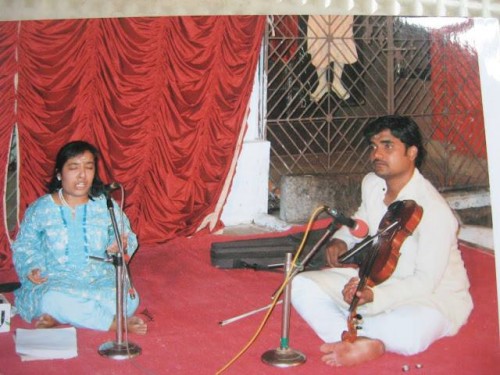 Having suffered in my life, I understand pain. So I help the needy and those requiring comfort. My small contributions to poor patients for meeting treatment expenses, or for the needy to pursue education, are the consolations I derive in my life.
My wish is that people like me and their parents should not yield to pressures by society but stand strong and fight for their rightful place in the sun like any other citizen.
All pics courtesy Dr. Lakshmipradha Srinivasan
Like this story? Or have something to share? Write to us: contact@thebetterindia.com, or connect with us on Facebook and Twitter (@thebetterindia).
About the author: Dr Lakshmipradha Srinivasan is a dental surgeon and healthcare IT consultant. She has received accolades for her several achievements in academics and music.
We bring stories straight from the heart of India, to inspire millions and create a wave of impact. Our positive movement is growing bigger everyday, and we would love for you to join it.
Please contribute whatever you can, every little penny helps our team in bringing you more stories that support dreams and spread hope.
Tell Us More