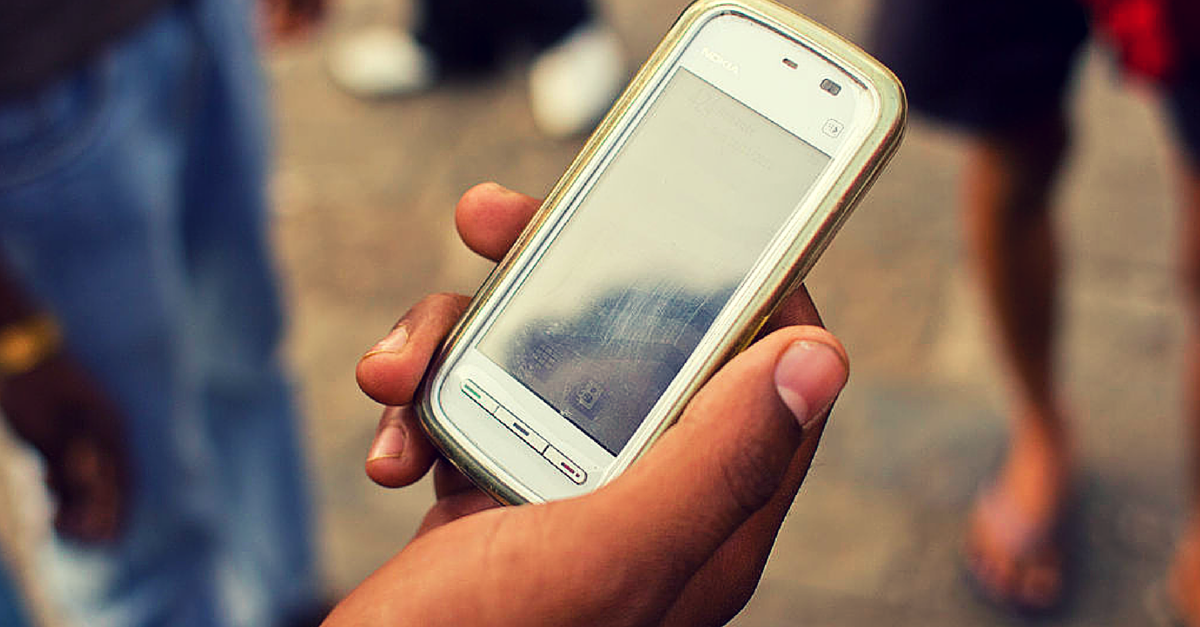 Just one click and ensure your child's safety – on the internet, on the streets, at home and more. Because parents won't rest unless they have tried their bit.
Many children today have very easy access to the latest technologies – internet being the scariest one of them, if you ask parents and teachers. While there is a very advantageous side to the fact that internet is being used by children to enhance their knowledge with just a few clicks, one of the major concerns remains that it is not a very safe place for a child. With cases of cyber bullying, frauds and scams surfacing so often, it is quite natural for parents to be worried every time their child picks up a smartphone or tablet to browse.
Thankfully, when technology causes distress, it is technology that comes to the rescue as well. There are numerous apps which have been developed with the sole purpose of giving parents peace of mind with regards to the safety of their children. And it's not just about protecting them on the internet; these apps are meant to keep an eye on their whereabouts, to find them in time of need, to provide them with tools to reach out for help, and more. Working parents are also anxious when they have to leave their kids behind for long hours. For them, and many others, here are 10 apps that can help ensure a safe environment for your child, and also help them sleep peacefully at night.
1. eKavach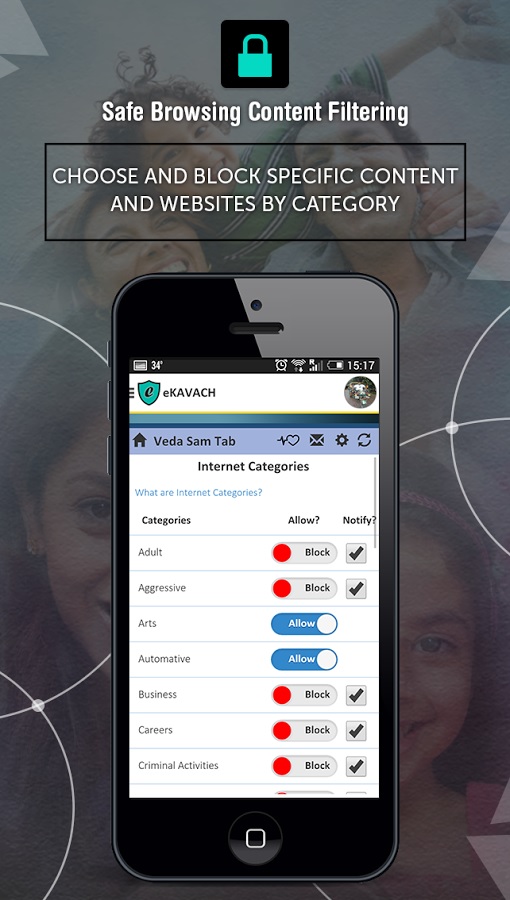 This is a digital parenting app meant to increase awareness among parents about their children's online activities. Available in Android and iOS platforms, eKavach was launched last year by a Delhi-based technology start-up, Certus Technologies. Noopur Raghunath, mother of a 10-year-old, is the brain behind the app. She was worried about her son's obsession with internet browsing, and decided to do something about it. Parents just need to download the app on their phone, and on their children's phones or tablets. This is how it helps them:
Manage applications: eKavach tells parents what applications are being used by a child, and how much time he/she spends on any particular app. It also provides information about new apps installed.
Web filtering: It allows parents to block certain web categories, content, websites etc. Parents can also set time limits on web surfing, and enable safe search options to ensure that a child does not come across any adult, profane, or objectionable content while searching for something.
Get real time alerts: eKavach monitors the child's online activities all the time. The instant any boundaries set by parents are breached, the app sends a notification on their phone. One can also receive SMS alerts in case the internet is not working. The app also makes the details of a child's whereabouts available on the map, and enables children to send SOS messages in case of a problem.
Download here.
2. Angel Child Monitoring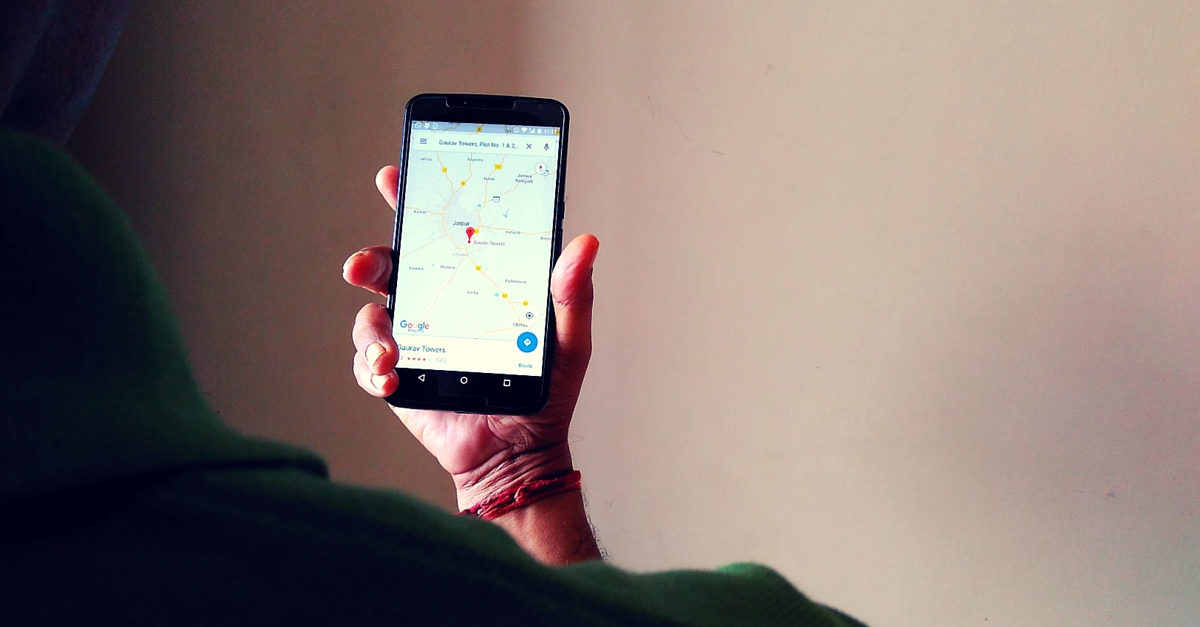 Bangalore based Krishnendu Dasgupta, a telecom industry veteran, developed Angel Child Monitoring device after the incident of rape of a 6-year-old girl at a school in the city. It is a GPS- and GSM-card-enabled device that can be carried by a child like a mobile phone, or can used like an ID card given in schools, thus tracking the location. It also enables parents to learn about the real time surroundings of a child. For this, they can call the gadget. It does not ring but the call gets answered automatically and parents can hear all that is happening around the child.
Parents can also create safe zones by including all the usual places that the child visits every day, and get alerts if the device is somewhere else. They get a notification when the child leaves one safe zone, and then again when he/she enters another. Parents can access the device through their computers, or the Safe In City Android app that was also developed by Dasgupta.
Weighing 25 grams, the device can register two mobile numbers that will be called automatically in case of an emergency. It has been differentiated based on age of children. For children below six, there are no buttons on the device, and it is completely remote controlled. Angel candy, made for slightly older kids, allows children to make a call as well.
"We're very particular about the devices being used for children below 12. Teenagers want their privacy and we have to respect that. The kids, however, actually like having the device, as do their parents!" Krishnendu Dasgupta told Deccan Chronicle.
3. IT Act, 2000 & Cyber Law India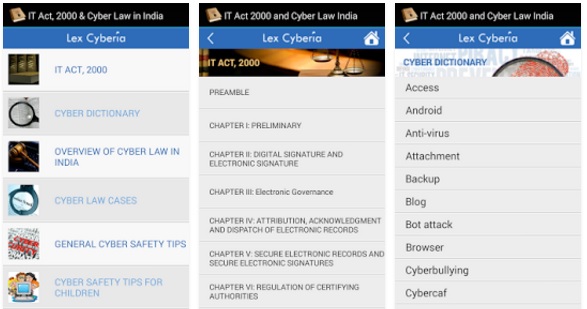 This is an app that was developed with the aim of creating cyber awareness in India among all sections of the society. With tips for general safety on the Internet, the app is very useful for children, educators, and parents. It provides information on how to be safe on the internet, and also explains the cyber law as applicable in India, including the Information Technology Act 2000, as amended by IT (Amendment) Act, 2008.
With the help of the cyber dictionary, the app helps people get familiar with the jargon, so they can understand the law and the various cases in a simple manner. There is a dedicated option named cyber safety tips for children that parents can go through, while also reading about different cyber law cases to understand situations better.
Download here.
4. Safe Browser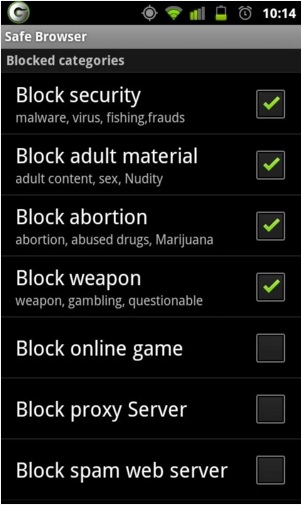 This is a cloud-based browser that monitors more than 8 million websites and a billion web pages every day to prevent children from opening inappropriate pages. Every time a child browses the internet, this app will make sure that he/she is not able to reach the wrong places.
Download here.
5. Kids Place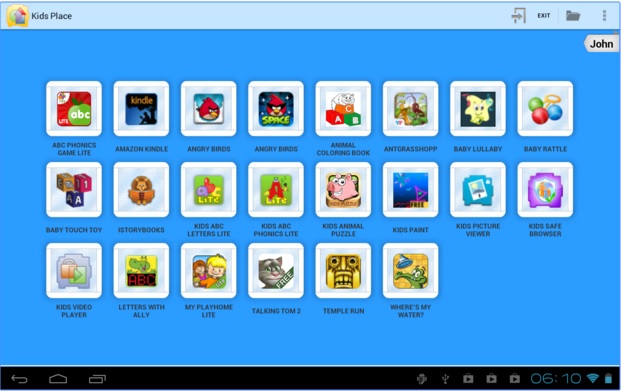 There are guests in the house. Your child asks for your phone and you know you will not be around to check what he/she is using it for. What do you do? This parental control app can come handy in such situations. It an app that launches parental control and child lock kits to protect sensitive data and restrict kids from accessing adult content or apps that are not age appropriate. It also prevents children from downloading unnecessary apps, materials etc. Just run Kids Place before handing the phone to the child and you will be set.
Download here.
6. Talkative Parents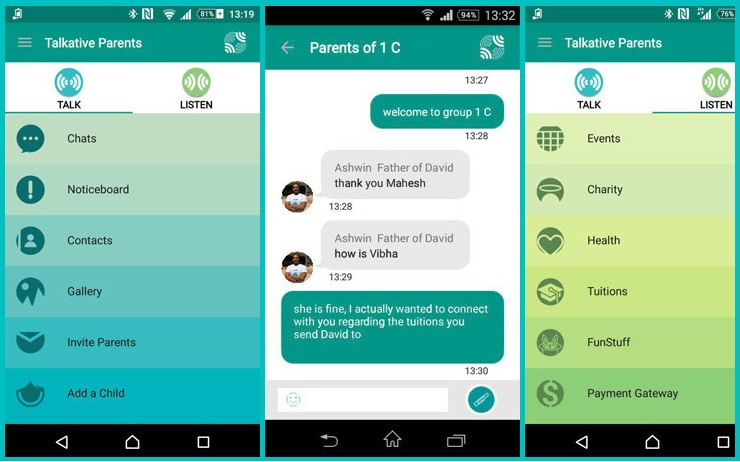 Wouldn't it be wonderful if you got a chance to interact with parents of other kids in your child's classroom? And not just during parent teacher meeting, but whenever you want? Well, now you can! It is sometimes important for different parents to interact with one another so they can help each other. So, Bengaluru-based Mahesh Vorkady, launched the Talkative Parents app last year.
With a database of 6,900 schools and over 2,000 active users, the app connects the parents of children studying in the same class. Called the social network for parents, this app enables parents to chat with one another. It helps them pool resources, share information, coordinate a child's travel to and from school, keep up with assignments, learn about tuition options, and so much more. It also offers schools the option to send notices, documents, files etc. to parents.
Download here.
7. BabyChakra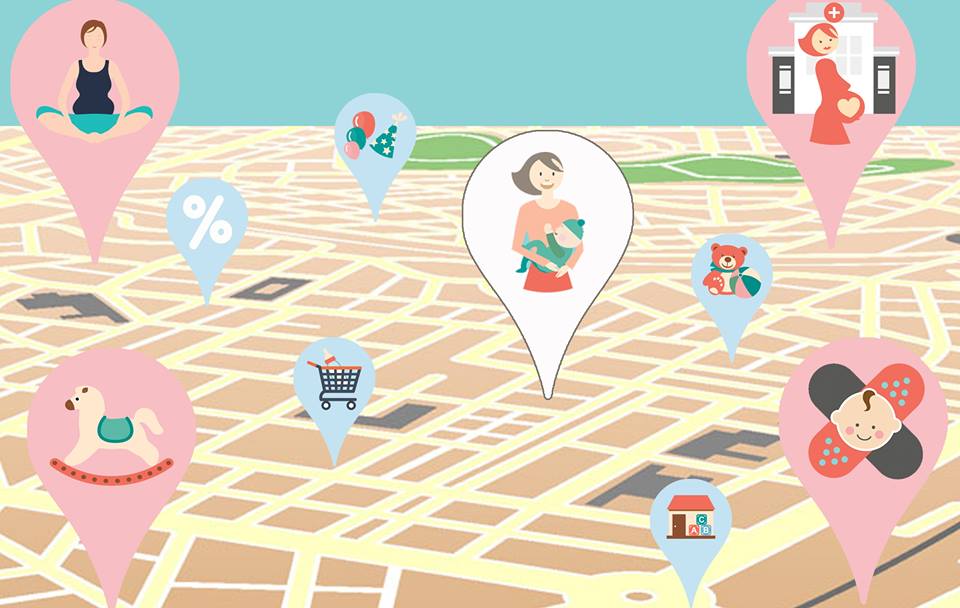 Many first time parents are often hassled by the numerous options of child care facilities available these days, with absolutely no information about which one is trust worthy. To help them out of their misery, Naiyya Saggi from Mumbai started an online platform that connects parents to childcare services and products. She came up with Babychakra after coming across several Facebook pages that were filled with questions from worried parents about various services available for their child. BabyChakra helps parents find plays schools, doctors, products, events related to children or parenting – all at one place. With the help of reviews from other parents, they are able to take more informed and confident decisions.
Visit here.
8. ItsMyChild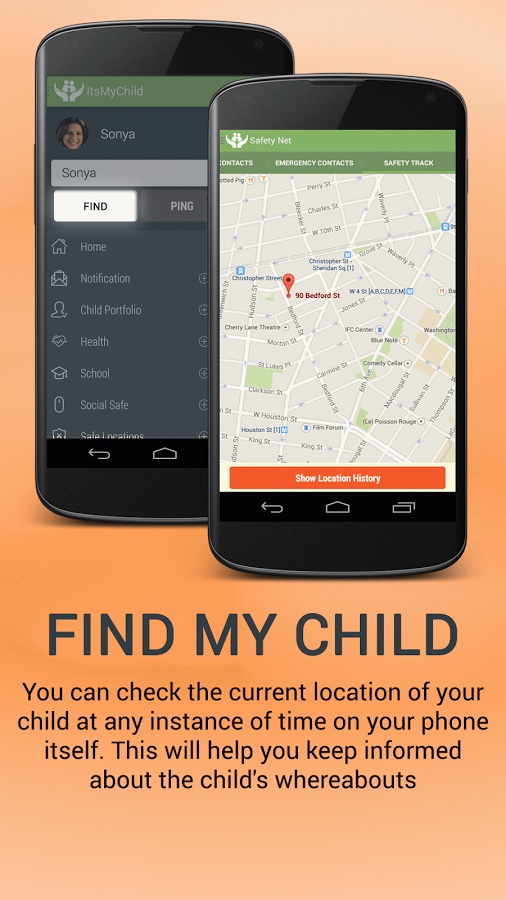 This is a comprehensive app that helps parents keep track of their child's physical safety and academic achievements, while also managing healthcare, digital communication and socialising. Developed by entrepreneur Adris Chakraborty and tech professional Animikh Sen, the app has the following options:
• Emergency Alerts – Sends an alert to six contacts from your child's phone in case of an emergency.
• Find My Child – Helps parents locate their child with just a click.
• Ping my child – Helps parents connect with their child.
• Find a Doctor – Quickly Search for a physician nearby in case of an emergency.
• Phone Safety – Parents can set usage limits, times and categories on their child's phone.
• Health – Enables parents to maintain complete health records online.
• Memories – Parents can also store special moments and achievements of their child, all at one place.
• Event Calendar & Reminders – Set up reminders for all academic and non-academic activities.
• School Notifications – Schools can send notifications to individual parents or common announcements to everybody.
Download here.
9. Children TV
Want to be sure that your kid is watching the right things online? Then this is the right app for you. Children TV is meant for children and adults to enjoy watching child friendly video clips on YouTube. Parents can search for their child's favourite video clips. The app also provides the option for parents to suggest a video clip that might not be available on the app but is there on YouTube, by filling out a simple form. Selection can be done on the basis of age group and language. This way parents can be sure that the child is watching age appropriate things online, and does not come across something objectionable.
Download here.
10. MamaBear

This all-in-one parenting app creates a private hub for families to interact. It has several social media monitoring features, family mapping features, alerts about cyber threats to children, and more. Parents can know where their child is, what is on their social media page, and also get alerts if someone in the family is over speeding.
Download here.
Like this story? Or have something to share? Write to us: contact@thebetterindia.com, or connect with us on Facebook and Twitter (@thebetterindia).
We bring stories straight from the heart of India, to inspire millions and create a wave of impact. Our positive movement is growing bigger everyday, and we would love for you to join it.
Please contribute whatever you can, every little penny helps our team in bringing you more stories that support dreams and spread hope.
Tell Us More