"If not a gay activist, I'd have been a musician," says Manvendra Singh Gohil. Manvendra Singh Gohil is the only known person of royal lineage in modern India to have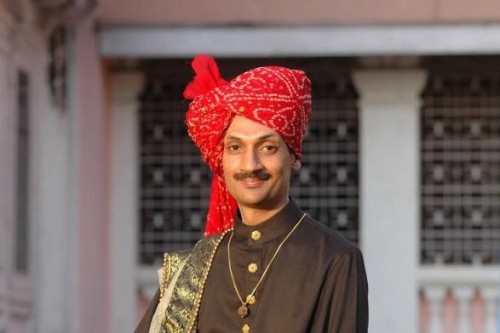 "If not a gay activist, I'd have been a musician," says Manvendra Singh Gohil.
Manvendra Singh Gohil is the only known person of royal lineage in modern India to have publicly revealed that he is homosexual. But there is much more to the gay prince of India. Founder of Lakshya Trust, his contribution towards HIV/AIDS prevention among men who have sex with men (MSMs), and towards gay activism in India is praiseworthy. In this telephonic interview with Unnati Narang, the 39th direct descendant of the Govinda Dynasty discusses his take on issues of homosexuality and how it can become more acceptable in India.
You come from a well-respected royal family in Rajpipla, Gujarat. When you decided to come out, the revelation of was not taken well. How do you feel about the Indian attitude towards homosexuality? Has your life and events from your life changed the broader realities of India?
I carry a very optimistic view on how the society views homosexuals. There is still a lot that needs to be done in creating awareness because the society at large holds many myths and misconceptions about homosexuals. Education and educational institutions need to be sensitized. They are the future of India. If this is done in an organised manner, I am sure the society's attitude towards homosexuals will change.
Since my entire coming out and working with gays and as a gay activist has been widely publicized here and world over, it did make a lot of difference. It shattered one of the biggest myths that upper class people cannot be gay. Since I had been in an organisation supported and funded by the government, this recognition itself has created a big impact in the society and the gay community as well. A lot of guys who have been struggling to accept their sexuality and be comfortable with it have come out to themselves and to their families, inspired by my life and story. My own Godson and media consultant Deepak Kashyap decided to come out to his family, and now publicly on TV. He is also one of the emerging gay activists in India. He's the first one to initiate the process of gay-straight alliance. The idea is to bring straight people into gay group meetings and sensitize them about issues of homosexuality. He is now encouraging gays to come out and share their experiences. There are many others who were inspired by my coming out. I know many stories of mothers who have openly accepted their gay sons. Now we have the parents' sensitization group for such mothers and fathers etc to sensitize other families. Finally, many gays have avoided succumbing to marriage pressure. A lot of them have written in to me about their lives and situations.
While you have inspired, and continue to inspire, many individuals in India and abroad, who is your source of inspiration?
My role model has been Mr Ashok Row Kavi, India's first gay activist. He introduced me to the gay world. He made me feel proud that I was gay. It is he who inspired Lakshya, Gujarat's first organisation for gays. It is started by gay men for gay men.
Can you discuss your work in the field of HIV/AIDS and the story of the Lakshya Trust? What is your role in making India a better India?
Lakshya was motivated by Ashok who started Humsafar Trust in India, a male sexual health NGO. We wanted to do similar work in Gujarat, where there was no such organisation. We got together as a group of four friends to create a platform for the community to come together and discuss common issues and their solutions, whether it was police harassment, discrimination, stigma, social pressures, or marriage pressure. After working in this field for quite sometime, we were approached by the government of Gujarat to work for HIV/AIDS prevention as a partner to work for gays. In 2000, we started out in Baroda and Surat, and then went on to Rajkot. Our focus is HIV awareness.
What is unique about what you are doing at Lakshya?
We are working for the health and safety of positive people who are gay. The unique bit is our involvement with senior gay men. We have pioneered in working with old gay men. I feel that old age is part of life, whether you are straight or gay. At such a time, you require support systems, help with health and medical issues. After working in this field for six years, we are now in the process of developing India's first old age home for gays. Oprah Winfrey is expected to come and launch when she visits India next year. Today, we are already reaching out to about 50 senior gay men in Baroda and working on their personal health. Some of them are not married, some are divorcees or widowers. Some have come out but families have disowned them. They need help.
Lakshya has a staff of 150 people – most of them are gay. We are also reaching out to the female partners of the gay community. We get them to see qualified counselors, doctors, etc, take their blood sample and look after their health issues too.
Lakshya is well known in the health field. My fight primarily began with Lakshya. As an individual, I would not have been that strong. Because I became part of it in 2000 and because my team is dedicated and committed, we could reach where we are.
What would be your message to the gay community in India? How can more and more people from the community come forward and join the cause?
You are gay. Be happy and proud of it – There is nothing wrong with it. It's normal to be gay. Once people accept the reality, it would make things better for them and for their loved ones too.
If not social and gay activism, what would be your next best alternative career?
I have been a student of Indian classical music – I have been creating awareness on music, encouraging people to learn classical music. It is an art that is depleting because of western influences. If not a gay activist, I'd have been a musician. I am also into organic farming.
Gay men and women often leave India and go abroad with a view to being accepted for who they are. Did such a thought ever cross your mind?
No, I never wanted to leave India. I am proud to be Indian. I am born in a family that is part of a 650 years old dynasty. I am always traditionally dressed. Leaving was never an option. I'd rather stay here amongst the homophobic society and reduce differences by sensitizing them. Today, whenever I travel abroad, I try and talk about Indian culture wherever go. People who have gone and shifted permanently are doing nothing but expressing antagonism.
Read all articles by Unnati Narang here.
We bring stories straight from the heart of India, to inspire millions and create a wave of impact. Our positive movement is growing bigger everyday, and we would love for you to join it.
Please contribute whatever you can, every little penny helps our team in bringing you more stories that support dreams and spread hope.