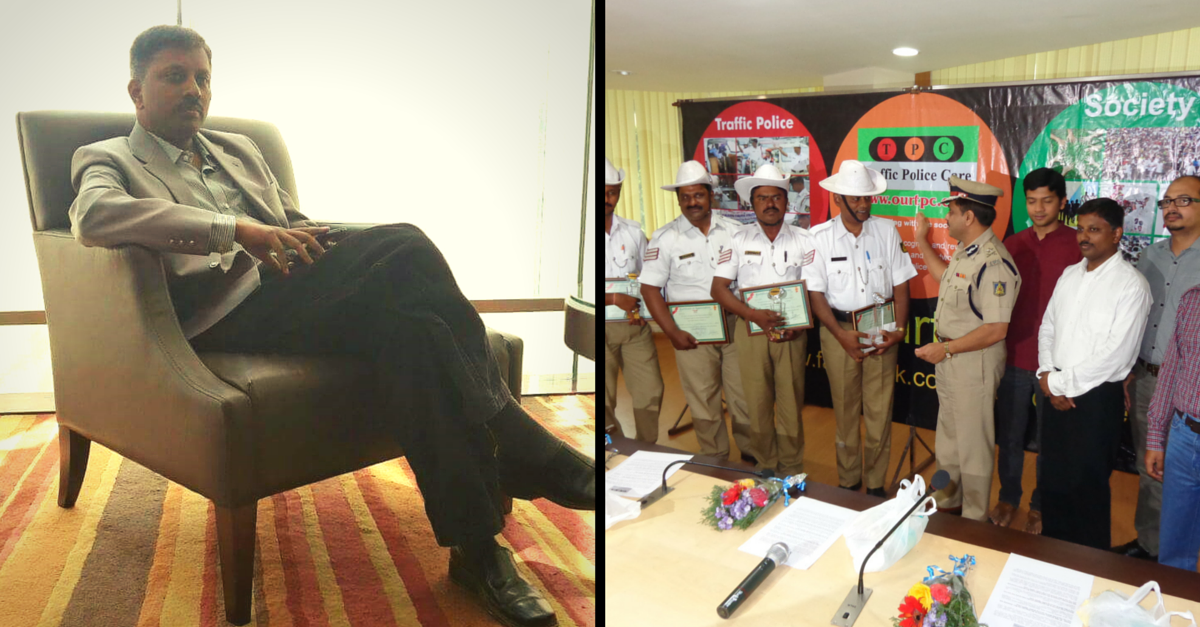 Everybody in Bangalore whines and moans about the traffic. Tell us something new, you say? Well, now there is something new to tell actually — about a man who thanks and rewards traffic cops instead of complaining about them.
Everybody in India whines and moans about the traffic. Tell us something new, you say? Well, now there is something new to tell — about a man who thanks and rewards traffic cops instead of complaining about them.
"Being a traffic police official in India is mostly a very thankless job. Talk to any person in Bangalore about traffic cops and the only things you will hear are complaints about how they indulge in unethical practices. But no one recognizes those officials who actually work extremely hard all day for our convenience and well-being," says G.S. Santosh Kumar, a resident of Bangalore.
It's not like Santosh, a 38-year-old software professional, was never bitten by traffic woes himself. "Ten years ago, I was staying near Marathahalli and working near Koramangala. It used to take 2.5 hours to cover a distance of about 10 kms. After some time, I was so frustrated that I took the first chance I got and moved to Canada," he remembers.
But on coming back after a few years, Santosh found that the situation was still the same, if not worse.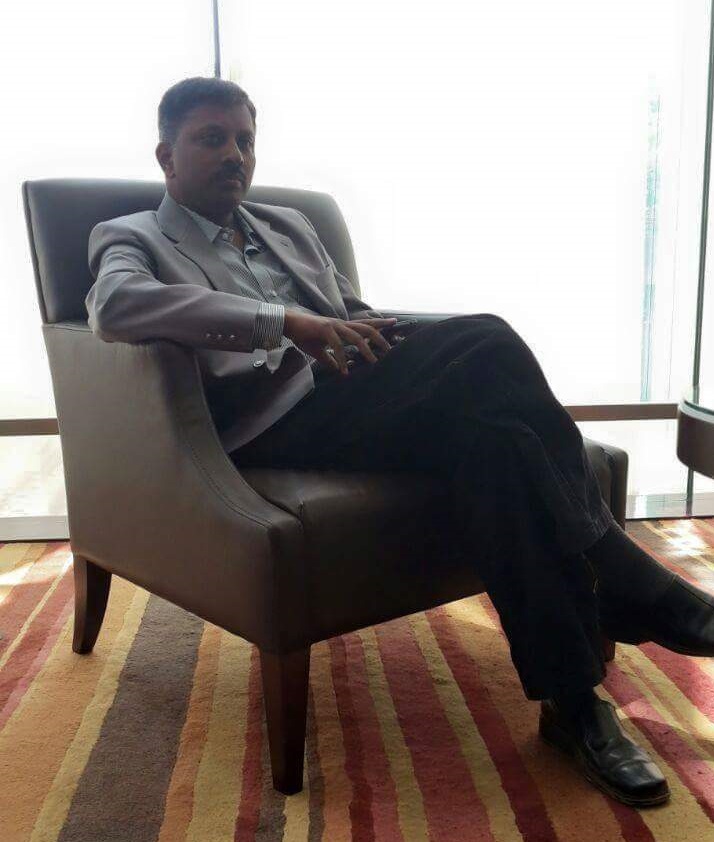 Santosh was so frustrated that he went to meet the Additional Police Commissioner (Traffic). On expressing his concern, he found that the Commissioner himself was very keen on implementing and adopting ways to improve the traffic. But, at the end of day, the work had to be done on the roads, not inside air-conditioned offices. So, Santosh began to research what the cops on the streets were up against.
He started by trying to understand the problems of traffic congestion and the increasing number of vehicles from the viewpoint of the traffic police officials. However, his main focus soon became the fact that these cops were receiving no appreciation or motivation for doing a very difficult job.
"In my effort to find out what was really happening on the streets and what was being done at the administrative level to solve the increasing traffic troubles of Bangalore, I learnt that more than 60 percent of the officials in the city are working really hard in many difficult and diverse situations like rain, heat, and increasing pollution," he says.
Another thing that struck Santosh was that these cops did not have easy access to basic facilities like a proper place to sit and eat, to obtain clean drinking water, or use clean toilets. They had to make their own arrangements.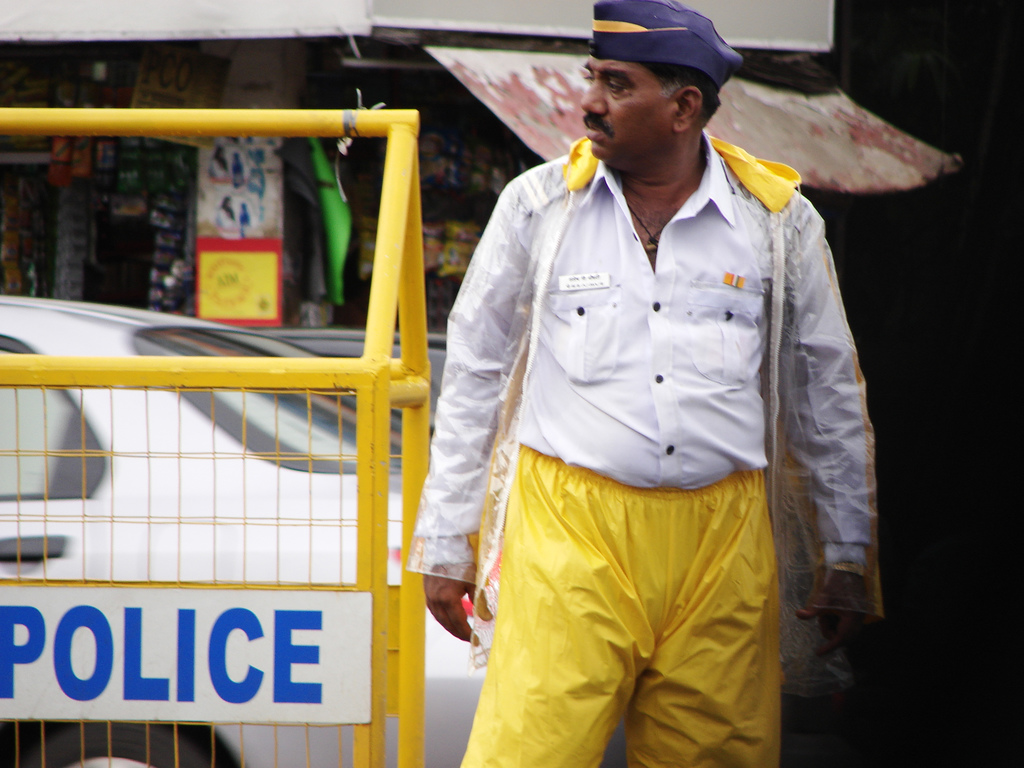 Picture for representation only. Source: Flickr
But the big question remained — how could these hard working individuals be appreciated and motivated? After about a year of research, which involved talking to traffic cops at signals and also to commuters about their problems, Santosh was struck by an idea. The basic premise of the idea was to use a unique software program to set up a transparent voting system to be used by commuters to vote for the best traffic cops in the city.
So, with the simple aim of recognizing and rewarding the work of the traffic officials, he started an organization called Traffic Police Care (TPC), in September 2014.
Every month, the team at TPC selects five junctions in the city of Bangalore that will 'compete with each other.' Two traffic officials from each junction (one each from the morning and evening shifts) are nominated for a reward.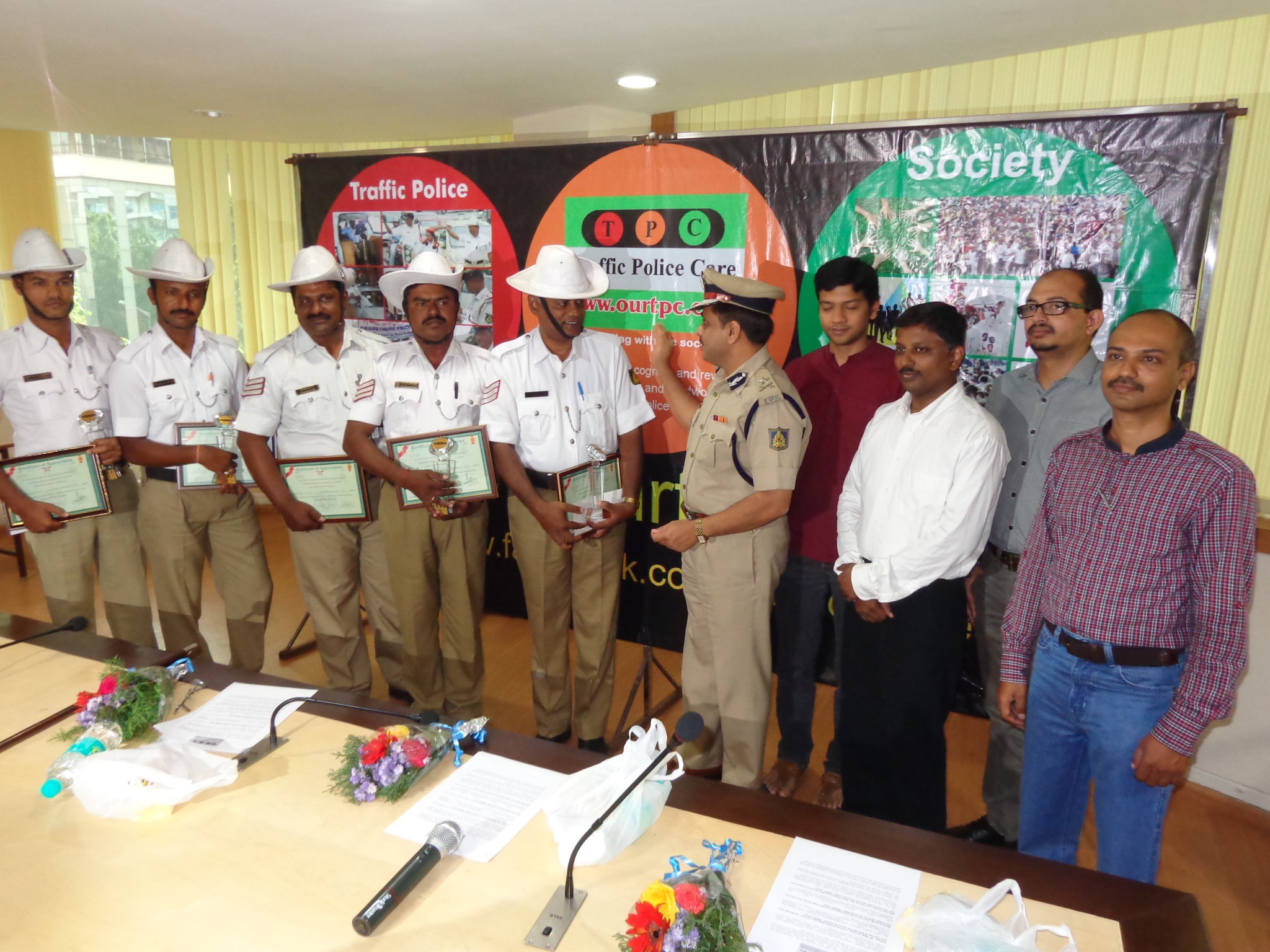 Two phone numbers, a 'happy' number and an 'unhappy' number, are assigned to each junction. These are the numbers people need to call to register their votes. They can also vote with the help of TPC's Android app.
The voting is open for a full month. Information about the nominated junctions is advertised with the help of social media, the TPC website, and also the app. Additionally, the team distributes pamphlets with all this information at the nominated junctions. All that people have to do is give a missed call to the 'happy' or 'unhappy' number. The call gets disconnected after two rings. There is no cost involved and the votes get registered in the TPC database. After a month, the junction with the maximum number of 'happy' votes wins.
[bctt tweet="Appreciating traffic cops and motivating them to do better has never been easier!"]
The winning officials are then rewarded at an event, which is conducted in the office of the Additional Police Commissioner. The media is also invited with a view to providing maximum visibility to the winners. The cops get a sum of Rs 10,000 each and a memento from TPC.
But more than the monetary prize, the officials are made to feel recognised and motivated.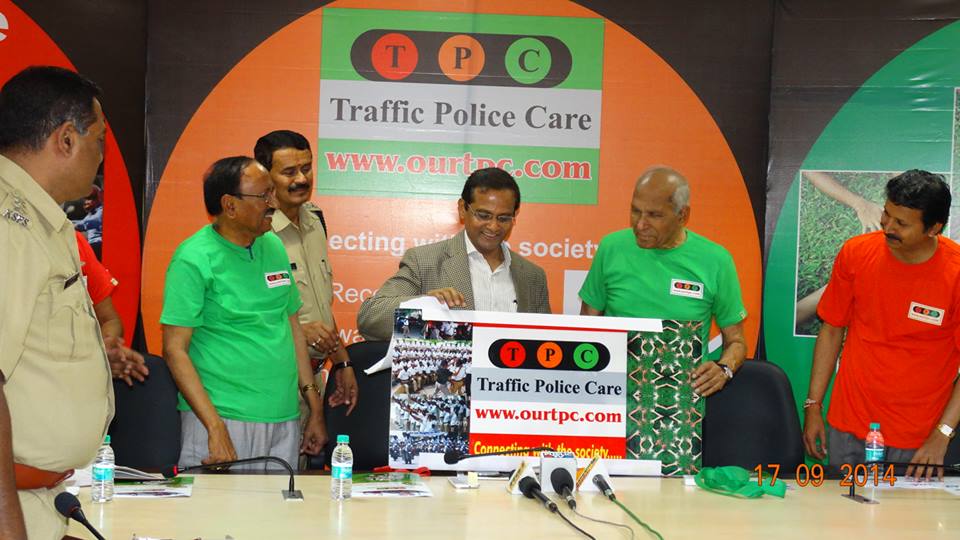 Even the voters stand a chance to win. They can go to the TPC website and register for a lucky draw. Five lucky callers are given small goodies as an incentive to vote in the future again. According to Santosh, the website has received about 6 lakh hits to date, and around 2 lakh votes.
This process serves two purposes. It makes the commuters who come across this information realise that they also have a role to play when it comes to the traffic problems in their city.
"If you look into traffic jams, you will find that 80 percent of them happen because we do not follow the rules. By encouraging people to vote for the best manned junction, we can get them to think about their own role in contributing to the traffic woes and how this impacts the traffic police," points out Santosh.
The second purpose that is served, of course, is that it makes the cops feel there is someone who is thankful for the job they are doing. This makes them feel special and encourages them to do an even better job. Also, the junctions with more 'unhappy' calls receive a thorough root-cause analysis from their respective traffic departments; corrective action plans can then be put in place.
As of now, the entire initiative is funded by Santosh alone. Therefore, ever since the project started, the team has had to take a few pauses because of the lack of funds at times. But they have rewarded about 20 cops to date. Currently, they are taking a break to work on the strategies and technology necessary to expand all over Bangalore and in other cities of the country as well.
TPC will re-launch itself in Bangalore on November 1, 2015, with a fresh set of nominations. The team is currently on the lookout for sponsors so they can expand to other cities. The organization works mainly with a small core team of volunteers. and is registered as a charitable trust.
Santosh is now trying to expand TPC in various ways. A new feature in the app will help people find the addresses and phone numbers of the police stations closest to them. "We live without any awareness about our police stations and whom to call at the time of need. People don't know where to go to get administrative help," Santosh says.
Other than this, the team is also working on developing a system by which people can upload their vehicle documents online so traffic police can verify them with just one click.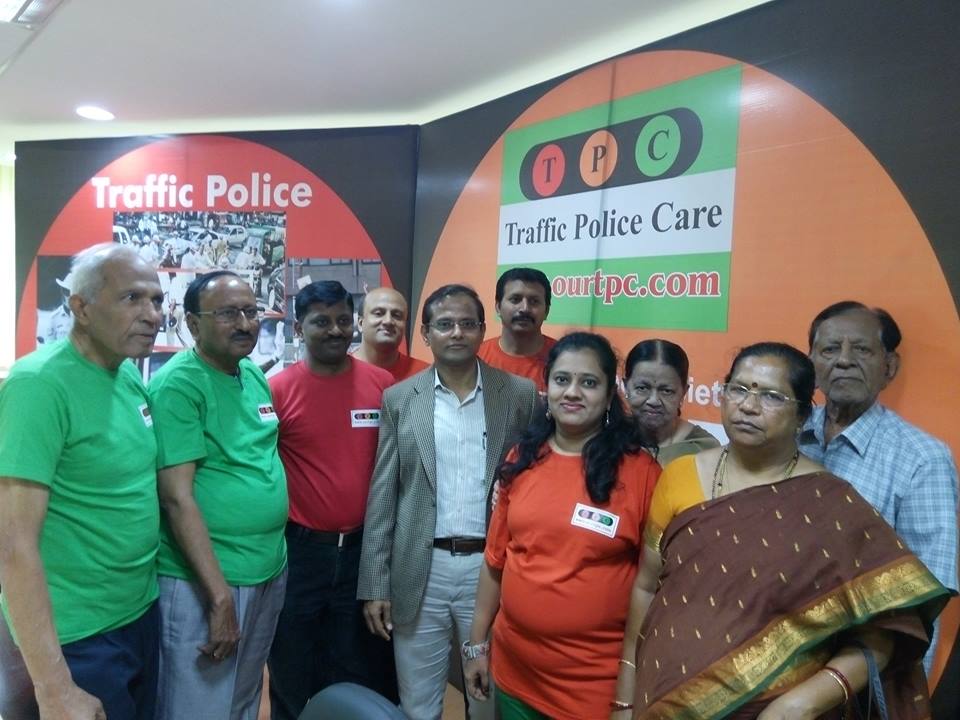 Overall, Santosh feels several initiatives are needed to control the burgeoning traffic woes in the city of Bangalore. And citizens need to get involved in efforts such as those by TPC to reward hard working cops. "We need to take this forward with help from as many people as possible," he concludes.
You can contact Santosh by writing to him at ceo@ourtpc.com
The TPC app can be downloaded here.
Like this story? Or have something to share? Write to us: contact@thebetterindia.com, or connect with us on Facebook and Twitter (@thebetterindia).
We bring stories straight from the heart of India, to inspire millions and create a wave of impact. Our positive movement is growing bigger everyday, and we would love for you to join it.
Please contribute whatever you can, every little penny helps our team in bringing you more stories that support dreams and spread hope.