Raipur (Women's Feature Service) As the train slowly chugged into Chhattisgarh's Raipur station, my eyes beheld a scene I had never imagined to find in a state that is considered
Raipur (Women's Feature Service)
As the train slowly chugged into Chhattisgarh's Raipur station, my eyes beheld a scene I had never imagined to find in a state that is considered one of India's least developed. A sari-clad porter was hurtling down the station with bags on her head. For a moment I was unsure whether she was indeed a porter. But then she most definitely was donning the signature red jacket and on her head was the rolled up piece of cloth porters use to cushion themselves from the heavy luggage they carry.
Determined to find out more, I set out to meet this woman. And what a saga of determination and optimism her life turned out to be.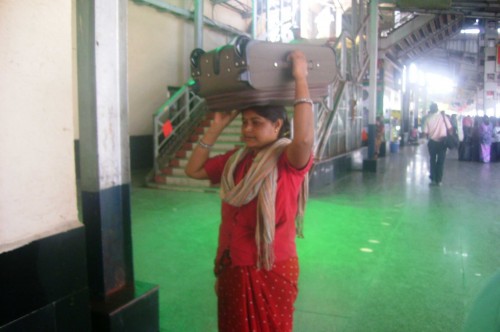 Born and brought up in Rajnandgaon, the pleasant looking and always smiling Parasai Sahu, 36, studied till Class Ten. When she turned 18, her parents got her married. Her husband worked as a bus conductor, earning about Rs 2000 per month (US$1= Rs 45.1) but the fragile state of his health meant that Parasai had no option but to look for a job to provide for her two children – a son and a daughter – and her old parents-in-law. So she turned to her uncle, a porter, who helped her get a sweeper's job at Raipur station.
She worked as a sweeper for four months, earning a modest Rs 2400, which helped to supplement the family income. Then her husband gave up his job as a conductor and began working in the village cycle repair shop. This meant a decrease in income. From then on, Parasai was always in search for a more paying occupation.
Opportunity came in the form of Maanbai, 30. Never in her whole life would Maanbai have thought that one day she would inspire another woman to seek a better future. But Maanbai, even if she did not acknowledge it herself, had already established herself as an unusual woman. A year ago, she was appointed as the first woman porter at the Raipur railway station.
Maanbai had been married to a porter working here. When her husband fell ill and died, the station authorities gave her his job. The work was arduous, without doubt, but now as the sole earning member of her family she had little choice but to carry on with all the courage she could muster.

Unknown to her, she was also quietly playing a part in transforming someone else's life. Remarks Parasai, "When I worked as a sweeper every day I would see Maanbai working as a porter. She seemed so confident and in control, I wanted to emulate her." So she mustered the courage to approach the station authorities and ask if she could do similar work. To her huge surprise, they agreed. She was given a form that she filled up with the help of her uncle and finally, in October 2010, Parasai – like Maanbai – started working as a station porter.
She is currently in her training period which will last another two months. Her work will then be evaluated by a station officer. The training has not exactly been a cakewalk. She has had to undergo a medical test to get a fitness certificate that entailed running a distance of 400 metres and walking for 200 meters within five minutes while carrying a weight of 40 kilos. She did it.
However, life as a woman porter has its challenges. It was not the punishing work as much as the jealousy of male porters that has occasionally queered the pitch. These men waste no opportunity to harass the two of them. Rues Parasai, "I don't think many of the male porters liked it when Maanbai and I began working as porters. They felt we were intruding in their territory and would always pass snide remarks about us. Sometimes they even dissuaded willing passengers from hiring us. We have to smile at passengers and be pleasant to them in order to get their custom, and even that has been misinterpreted by our male colleagues, who floated rumours that we flirt with the passengers."
Things came to a head when a male porter physically threatened Maanbai and Sahu. The women were forced to report this to the station master who fortunately stood by them. Things have been more peaceful since and both the station authorities and the passengers have generally been supportive. "Once I saw three VIPs. I don't know who they were, but when they saw us – me and Parasai – they were so encouraging they gave me Rs 10 as 'baksheesh' (tip)," recalls Maanbai.
The main problem they now encounter is that passengers are often reluctant to hire them. "Sometimes they feel sorry for us and prefer a male porter to carry their luggage; sometimes they are worried that by making a woman carry their luggage they would be committing a sin. 'Paap chad jayega', they say," reveals Sahu. She adds, "What they don't understand is that they are helping us when they make us work and that we need this work to survive."
Sahu recalls her first encounter with a passenger. "I was nervous on the first day. I fervently wanted my work to be appreciated. It was a family that hired me and paid me for the first time. I earned Rs 30 on that occasion and I am grateful to that family to this day."
For now, Maanbai and Parasai are the only women porters at the Raipur station. They are daily wage earners, earning Rs 100 each day on an average. The official rate for the services of a porter here is Rs 20 for every 40 kilos of luggage. Sometimes, however, passengers tip them a few extra rupees. They get no free days, but have to apply for leave when they want the day off.
For Maanbai, working as a porter was an imperative, but for Parasai it was totally a matter of choice. So what does her family think about her unconventional job? "They do not mind it. My husband is encouraging. Until now I have earned about Rs 3,000-4,000 a month, which is more than he does." Yet, it is her husband who remains the decision maker in the family. Parasai hands her entire earnings to him every day. From this sum, he gives her money to travel to work and to get something to eat. He also decides how the money is to be spent. "We rarely buy anything for ourselves. We buy what the children want. We don't have a TV, so we would like to buy one in the future. We are saving up for that," she says.
Parasai leaves home at six in the morning – it takes her about four hours to commute to the station and back. This means that she is home only around eight at night. So who looks after the house? "My daughter and my mother-in-law cook, clean and manage between themselves. I wash the clothes," she says. Her husband does not, of course, contribute to handling the daily chores.
The tough work schedule of these two women could faze many a strong man. But neither Maanbai nor Parasai regret being porters. Explains Parasai with great enthusiasm, "We are village women. We are strong and used to hard labour. I do not find the work tiring. I am very happy to do this work and enjoy it. I just want to get the training over and done with. Then I can continue to work with confidence, knowing that my job is permanent."
First it was Maanbai who inspired Parasai. Now she in turn is inspiring others. "Today the women in my village ask me if they can also apply for such a job," she smiles.
We bring stories straight from the heart of India, to inspire millions and create a wave of impact. Our positive movement is growing bigger everyday, and we would love for you to join it.
Please contribute whatever you can, every little penny helps our team in bringing you more stories that support dreams and spread hope.