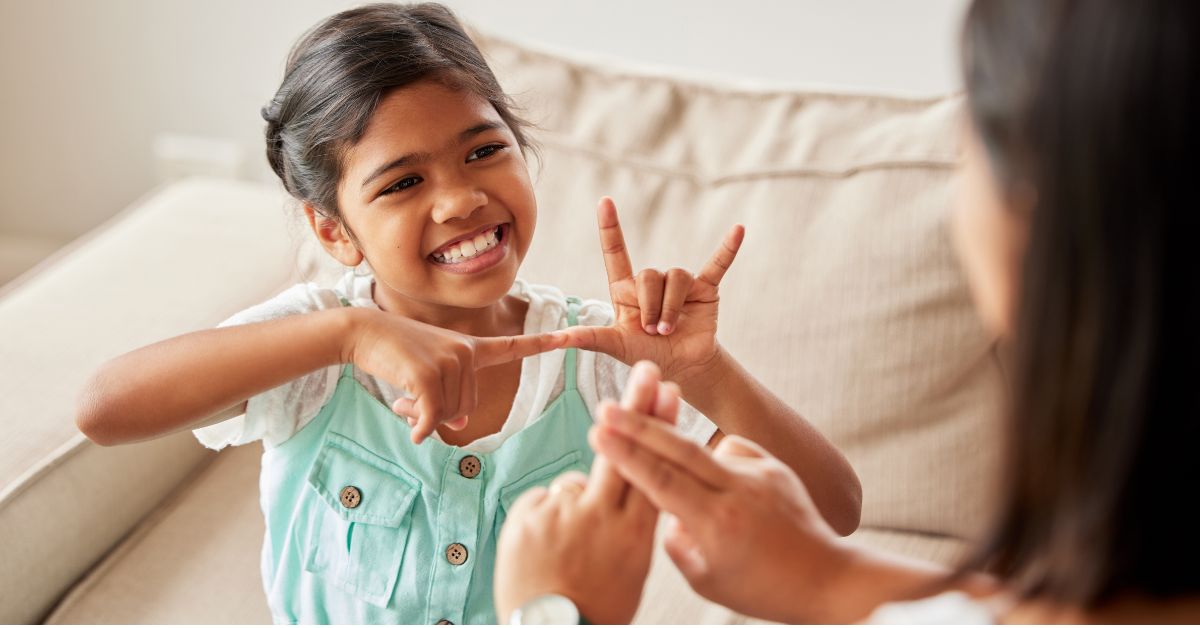 With the Indian Sign Language (ISL) being their only tongue to communicate in with their parents, these CODAs, or Children of Deaf Adults, share what it is like to live a day in their lives.
The excitement of a crowd can be either a very thrilling or a very daunting experience for us. If you are a child, then this can easily shape your outlook on life and personality. But for one such young person, back in 2015-16, participating in protests was a way of life. For Sarah Sharma, this was routine. Being a Child Of Deaf Adults or a CODA, fighting for her parents' rights was personal. 
"I remember when the Rights of Persons with Disabilities Act (RPwD Act, 2016) was being passed, I was there with my parents, protesting on the streets of Delhi and interpreting for them with the police and other officials. I must have been 7 or 8 and the entire experience was quite scary because I was a child after all talking to adults," recalls Sarah, now training to professionally be an Indian Sign Language (ISL) interpreter.
"Sign language was my first language. Both my parents are Deaf so sign language is my mother tongue. That is how we communicate with each other," she adds.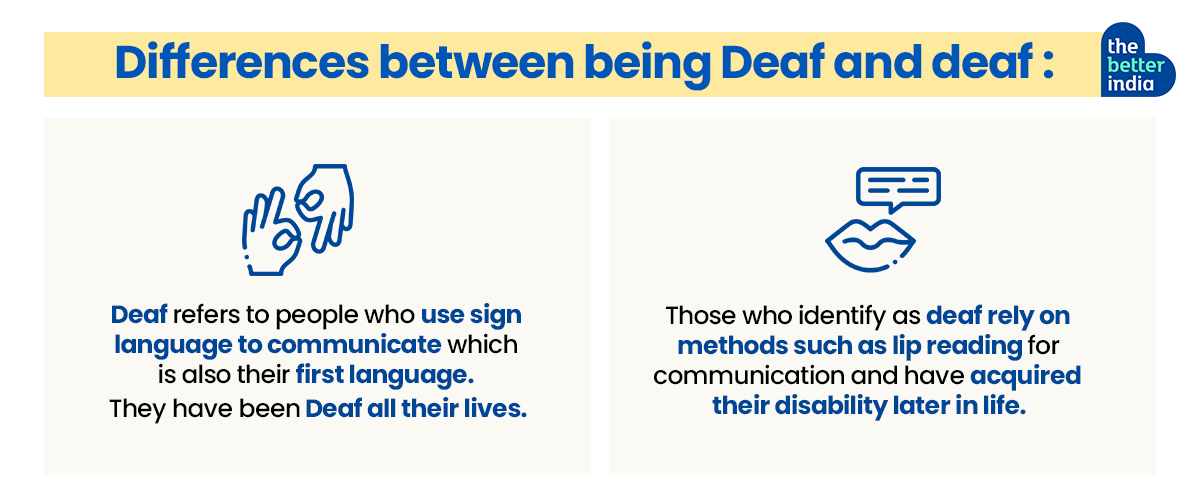 The term CODA recently gained popularity as a film of the same name made a big splash at the Academy Awards in 2022. In India, the 1996 film 'Khamoshi – The Musical' was among the first to portray the plight of the Deaf community as authentically as possible. From bringing forth the seclusion experienced by CODAs to highlighting the numerous barriers for Deaf communities, Sanjay Leela Bhansali's directorial debut was well ahead of its time.
In an attempt to become their parents' voice, CODAs grow up a little too quickly, often shedding innocence and befriending maturity at a tender age. These children form the bridge between the Deaf and hearing worlds.
This article aims to shed light on these young people doing incredible work for their loved ones and bring forward their lives, issues, and stories in everyday parlance.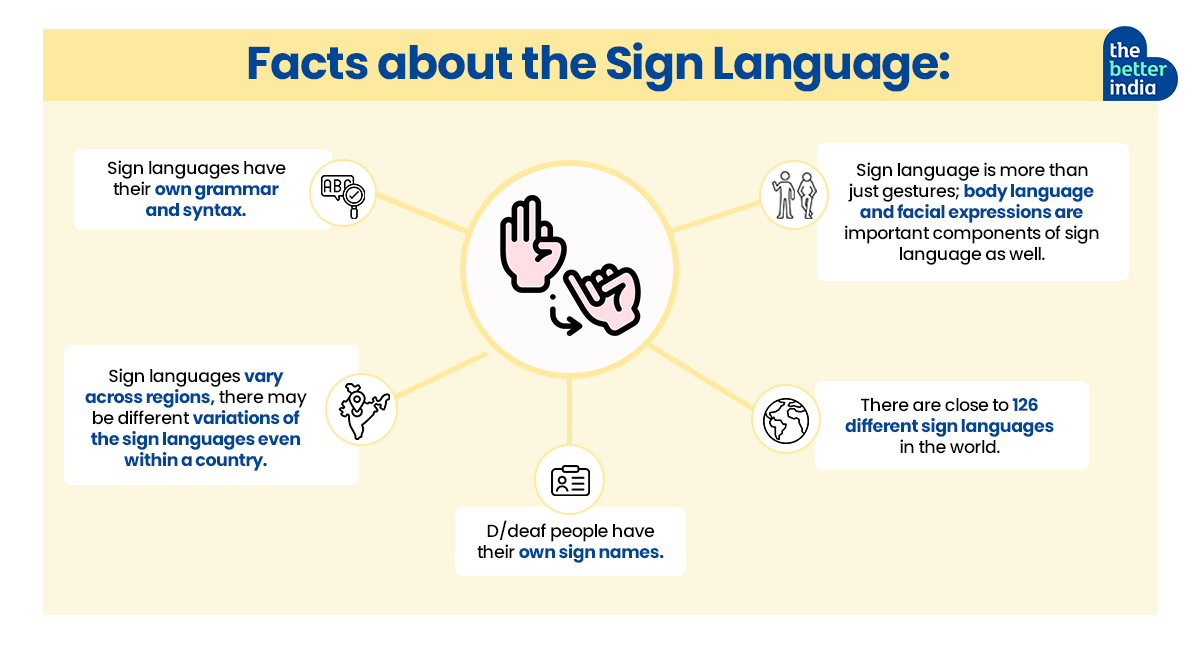 Through their own words 
Sarah explains, "I have been my parents' interpreter throughout my life. Despite my undertaking a professional course with the Indian Sign Language Research and Training Centre, I've been signing for as long as I can remember!"
Surbhi Taneja, another CODA, has been formally interpreting since the age of 10. "I was interpreting at conferences, trying to make sense of the complex language that I did not understand," she said. Surbhi is also a professional make-up artist. 
"At that time, sign language interpretation was not a formal profession so one could easily find CODAs interpreting in formal settings. It is often assumed that all CODAs are more likely to take up sign language interpretation as a profession but that is not true. The choice lies with the person and that is also one of the aspects we work on," Surbhi shares.
She is the founder of CODA India, a community that aims to foster a sense of identity among CODAs and solidarity. "The Deaf community is very isolated and people feel that they're alone in their journey. So, CODA India assists people, especially K/CODAs (Kid CODAs – CODAs younger than 18 years of age) to find their identities and take pride in them." 
"Since the child is hearing (able to hear) and often interprets for their Deaf parents, there's a lot of responsibility that is shouldered on them. This leads to the D/deaf person feeling disempowered. So we counsel them towards being the adult and taking responsibility for the child," Surbhi adds.
Oftentimes, family members of Deaf adults don't know sign language so their communication with them remains largely restricted to pleasantries. "Whenever our relatives visit us, they only ask my parents whether or not they had food because that is easy to convey even if one doesn't know sign language," she says. 
Over time, the conversations reduce and the bonds fade away. However, Sarah shares that now her family members try to learn the signs for a few words whenever they get a chance.
In India, there are only 250 sign language interpreters. There exists a wide gap between demand and supply. Even though CODAs have been signing for the longest time, they need a nine-month diploma in sign language training to be deemed professionals. There is a serious need for the government to incentivise sign language interpretation so that it is seen as a lucrative profession by others.
A general lack of awareness about the Deaf community tends to make people assume that the interpreter is conveying their own thoughts and not the D/deaf person's. "This is something that comes up quite often. People get offended when I shout or express anger or interpret something offensive on the Deaf person's behalf. I'm just doing my job," Sarah highlights.
It won't be wrong to say that Sarah has been a constant for her parents, which is reflected in the bonds they share. Ever since she was a child, be it for doctor's appointments or family gatherings, Sarah has been accompanying her parents everywhere as their interpreter. While it has helped foster a stronger and more open bond with her parents, 'age-inappropriate' interpretation can also sometimes lead to the parentification of children or reversal of the parent-child relationships.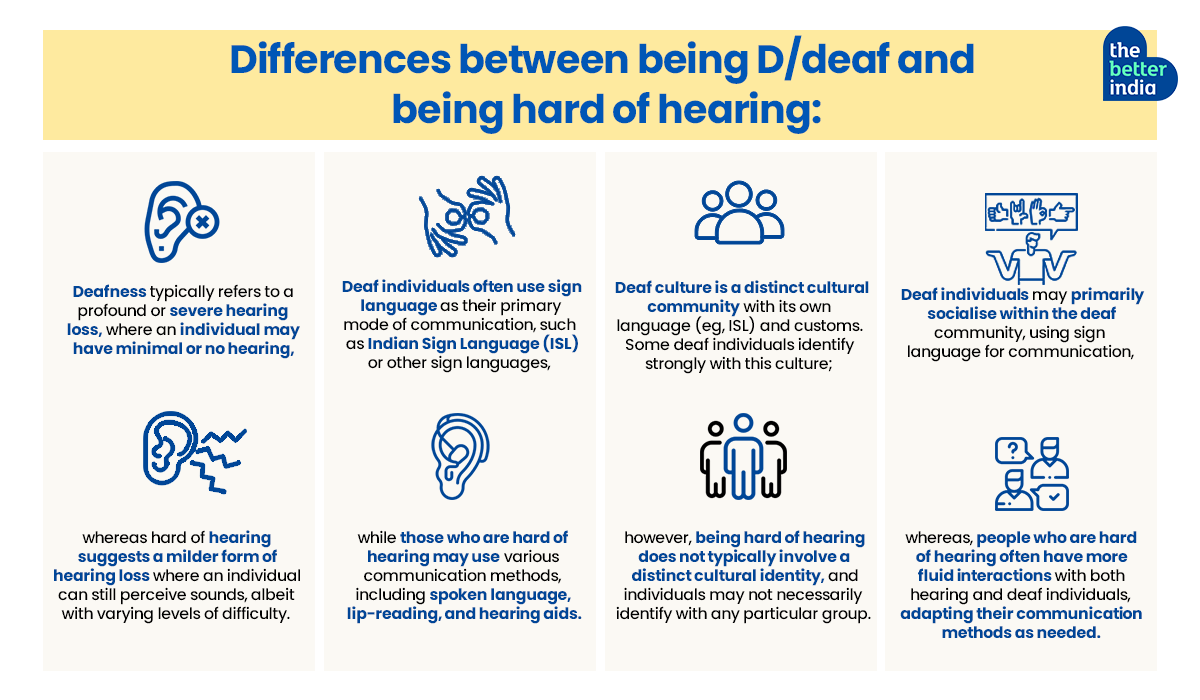 Lack of social support
Often, people with similar disabilities spend more time together either out of choice or due to the lack of proper socialisation opportunities. Similarly, D/deaf persons and CODAs grow up among others with similar or shared experiences.
Sarah, whose initial interaction with life was only through the lens of her parents', felt at odds with others.
"It was quite absurd for hearing people that I had Deaf parents or that we used sign language to communicate. But for me, it was the most normal thing ever because that's how we've always been. Once when someone sympathised with me I told them, 'Parents toh sabke Deaf hote hain' (Everyone's parents are Deaf) I realised much later that that is not the case!" Sarah says.
Surbhi, however, grew up in a joint family. "The hearing family members often tell CODAs that their parents are good for nothing. After listening to such remarks, how will the child come to accept their parent's identity and their own relationship with the community?" she shares.
"No one really told me that it was okay to have Deaf parents. There was a staunch stigma and people saw it as a matter of shame. So, it was difficult for me to accept their identity and be open about it. However, as I grew up, I knew that it was not their fault that they were Deaf. Eventually, I opened up and asked my parents to accompany me to PTMs in school," Surbhi adds. 
In the Indian community, there's a lot of emphasis on getting rid of one's disability or hiding it. It is believed that people with disabilities are unhappy with their lives.
For Sarah, there were times when random strangers came up to them in public places and offered unsolicited pieces of advice to her parents such as using a variety of oils to get their hearing back. This is not only a breach of the person's privacy and personal space but also disrespectful to their identity as a disabled person.
Several myths like these go around spreading misinformation about the Deaf community. "Not only the Deaf community, but there's also a lot of stigma around CODAs too, as most of us struggle with getting admission in schools because teachers feel that our parents would not be able to teach us, and that would lower the school's result," Surbhi highlights.
India occupies the first position among countries in South Asia in terms of size. This means that the number of people living with Deafness would also be the most. However, the data is not very clear on that.
While the National Association of the Deaf reveals that around 18 million people are Deaf, the Indian Journal of Otology estimates that close to 63 million people are either D/deaf or hard of hearing. 
Despite such large numbers, awareness about the disability is barely enough. It is not surprising that, at the onset of the pandemic, the community was pushed further to the periphery of society as many were unaware of what was happening. Communication challenges exacerbated for the community were already scarce as people wore face masks, practised social distancing, and met via virtual meetings.
While it is important to be aware and inclusive, one must also respect individual preferences and use communication styles that suit the needs of D/deaf people. Due to the missing numbers, the challenges D/deaf people experience get exacerbated which further pushes them to the peripheries of society. It is about time that we work on ourselves, become Deaf-aware, and foster an inclusive society.  
Written by V-shesh; Edited by Padmashree Pande.
We bring stories straight from the heart of India, to inspire millions and create a wave of impact. Our positive movement is growing bigger everyday, and we would love for you to join it.
Please contribute whatever you can, every little penny helps our team in bringing you more stories that support dreams and spread hope.
Tell Us More