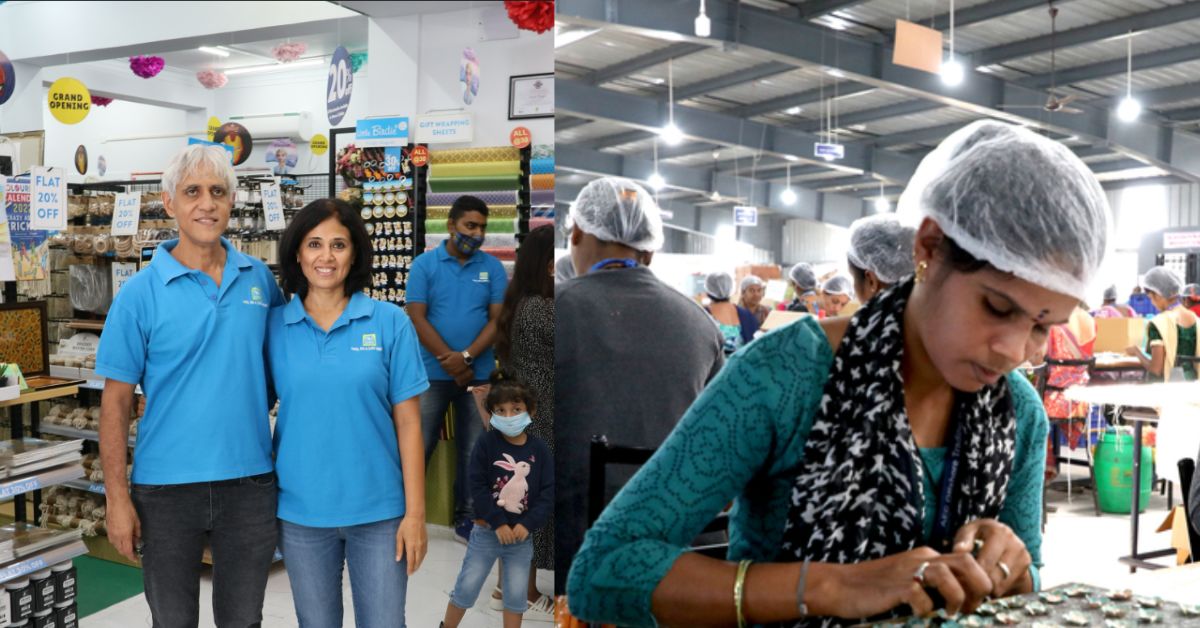 Itsy Bitsy founders Harish and Rashmi Closepet had flourishing careers in Australia when they decided to leave it all, with a vision to employ rural women in India. They share their journey.
While working as a confectionery buyer for a large discount retail chain in Sydney, Australia, Harish Closepet would frequent villages across Karnataka, UP, Rajasthan and Madhya Pradesh to procure Indian-made products.
He recalls that these travels, which lasted from 1996 till 2004, made him very aware of the rampant poverty and unemployment that persisted in the areas he visited.
"The families were always in debt, there were entire villages where the rainfall was too meagre for agriculture. And the condition of the womenfolk was worse, as they were confined within the four walls of the house. Being employed was unimaginable for them and many suffered abuse at the hands of in-laws as well."
At the same time, he noticed that many of them were really talented. "Talent and poverty should not be going together," Harish tells The Better India.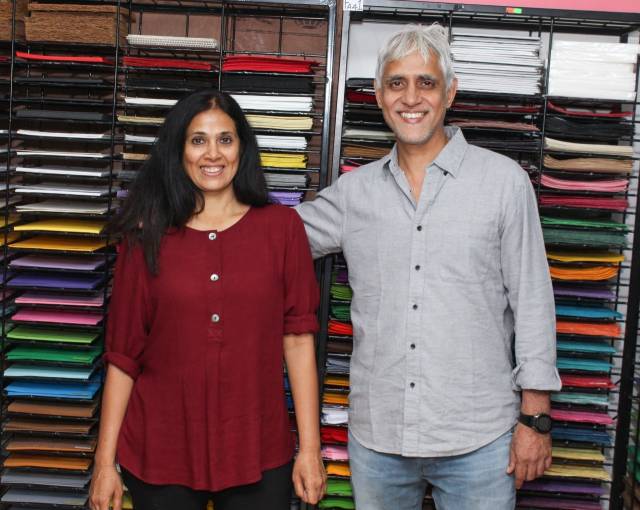 During these years, Harish and his wife Rashmi, who worked in wholesale for the same company, had started envisioning a business of their own in India, which would provide sustainable employment for rural women.
Sometimes, taking a leap of faith is the only way a dream can kick off. So one day in 2004, after ten years in Australia, the couple sold their house in Sydney, packed their bags, and moved to India with their two daughters, aged two and 10 at the time.
India's introduction to scrapbooking
At this point, recalls Rashmi, their only goal was to start a socially committed business that could empower rural women. "Considering our limited resources and the potential skill set of the women we had met, we decided to get into the export of handmade paper flowers to western markets, since scrapbooking was extremely popular in the West."
They chose to begin their work in the Chamarajanagar district of Karnataka.
The next step was to convince the women here to work for them, which Harish recalls was more complicated than they had imagined. "The women did not trust us initially. Apparently, people often approached them with claims of empowerment, but they would end up being cheated. We had nothing to show at that point, so we sought the help of local organisations, and they gradually came around," he notes.
They started off small with a cluster of 20 women who would make paper flowers and embellishments for export to western markets in the districts. "The work was easy for the women, and they could be trained in a week's time," says Rashmi.
Around the same time, Rashmi noticed that whenever her elder daughter had a craft project in school, finding suitable raw materials for it in local shops was impossible. "We found a huge gap between demand and supply of quality craft products, and an opportunity to start a one-stop shop for all art, craft and hobby supplies."
She continues, "That is when we decided to try retail."
"We opened our first craft store with scrapbooking products in Banashankari, Bengaluru, in 2007. We named it Itsy Bitsy."
The duo recalls that the initial period was challenging, because while people were curious, no one really knew what to do with Itsy Bitsy's products, resulting in few sales. Moreover, not many in India had heard of the concept of scrapbooking at the time. Harish and Rashmi started conducting free workshops on scrapbooking in apartment complexes and schools, and their efforts slowly paid off.
Since then, business has picked up, and today Itsy Bitsy runs 36 stores across India, and is arguably the largest craft store in the country. They also export their products to more than 30 countries including the US, UK and South Africa, and also to Australia and Europe, and have an expected turnover of Rs 100 crore by the next financial year.
Their product range includes raw materials for scrapbooking and card-making, but also soap-making, resin art, macramé, quilling, and more.
Empowering rural women, in their own spaces
Beyond introducing India to the intricate art of scrapbooking, Itsy Bitsy also has four factories in Hessarghatta, Mandya, Gabadi and Kanakapura in Karnataka, where they employ 1,000 local women directly, and 2,000 indirectly.
The indirect employment is through the making of handmade paper from T-shirt waste, which they collect from Tirupur and send to Sanganer, Rajasthan, where local women convert it to paper.
"We are the biggest consumer of handmade paper in the country and hope to keep alive the dying industry," Harish says.
Meanwhile, 50% of the products in their stores are handmade by women, and 90% of their workforce are women; they also operate the machinery in the factories.
"We did our research and picked the most backward of districts for our factories. The advantage is that the women get to work from their own villages, and the confidence of being self-reliant is palpable," says Harish, adding that the only difference now is that they have to come to the factories; whereas, they used to work from small clusters in rented houses before.
But the most heartening aspect of it all is the changes they have seen in the women, Rashmi tells us. "We still do export of handmade products and the women are proud and excited that what they make is going to other countries. When we first met them, they were not sending their children to school and many were staying in abusive marriages for the sake of the children."
But once they started earning with Itsy Bitsy, many of the women who were thrown out of their houses by in-laws were later invited back.
"But then they refused to go back. Almost all of them started sending their children to school, and one lady told us about how her daughter is now studying engineering. They all want a better future for their children, are able to find a safe space to interact with each other, and talk about their problems during work," Rashmi says.
Urban-rural partnerships
Rashmi terms their venture as a kind of 'urban-rural partnership' as well since both urban and rural women benefit. "There are urban women who buy our raw materials, make craft items out of them, and sell them in flea markets and their personal websites. Our customers are also happy that they are helping rural women with every purchase; it feels like we have come full circle," she says.
What worked for Itsy Bitsy and their women employees, the couple says, is that their products are all handmade and yet mass-production friendly; affordable and yet fit for the international market. "With every store we open, we are able to employ 20 more women. We hope to open 500 more in the next five years."
They had to take a hit when COVID struck, but they refused to let go of their employees. Harish says, "Instead, we cut down on margins and moved our main factory from Bengaluru city to the outskirts. We are still small, but we are proof that you can run a profitable business by employing rural women. If more companies did this, it would make such a difference to our economy per se."
Edited by Divya Sethu; Photo and video credits: Itsy Bitsy