"My oldest reader is 80. And she told me once: 'Don't stop yourself from printing anything in the magazine. If we cannot see it in our lives, it will be at least something we see though the magazine.'" Readers like this have inspired Upasana Makati to keep publishing India's first and only lifestyle magazine in Braille English.
U

pasana Makati, a graduate in Mass Media, had just returned from Canada after studying Communications and was, while working at a PR firm in Mumbai, mulling over what to do next.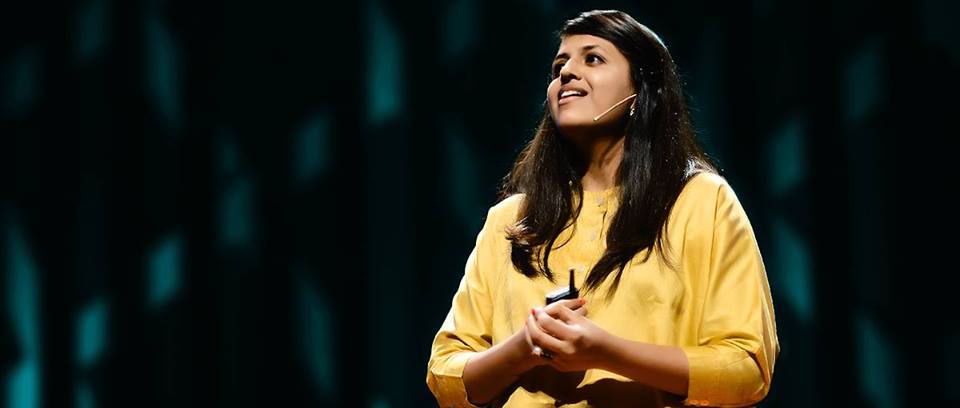 "I have this habit…just before sleeping, I review the day to think about what went right, what went wrong, and what I can do in life to make it more meaningful. And one such night, I just happened to wonder about what visually impaired people read. If we want to read, we have so many options. We can easily read so many magazines. But when this thought came to me, I couldn't think of even one newspaper or magazine that is there for the visually impaired in Braille."
Upasana decided to do some research. She went to visit the National Association for the Blind to find out what kind of reading material was available to visually impaired people. "Even there they told me that nobody has come up with a magazine dedicated to the visually impaired. The Association itself compiled a couple of newsletters every three months for the subscribers on its list. That was it."
And so, out of this one vague and random thought in 2013, was born White Print, India's first lifestyle magazine for visually impaired people in Braille English. This magazine is being read far and wide today, and is promoting Braille literacy with well-researched articles and stories.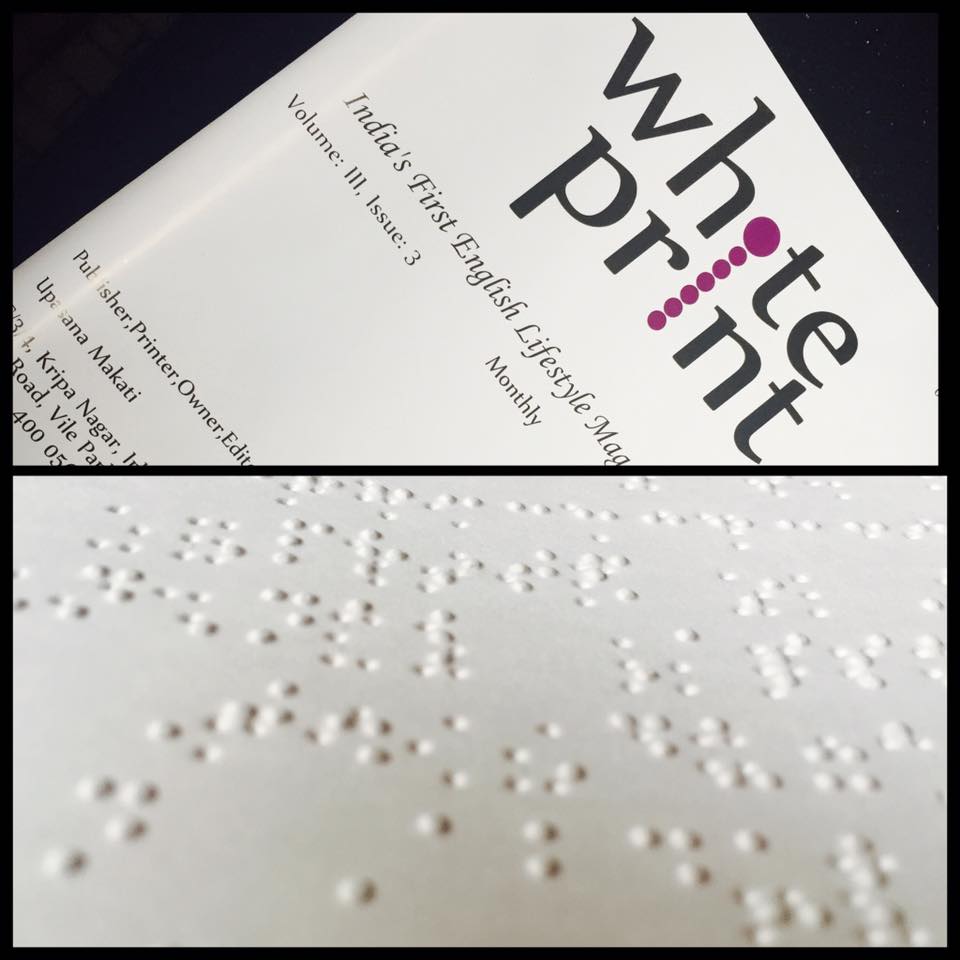 It took Upasana some time to plan the magazine and figure out how it should be structured. She spoke to many visually impaired people to find out what they wanted. "I realized that they were so tired of being sympathized with. So I decided that I would not make this magazine another charity venture and get it registered as an NGO. I would run it like any other full-fledged lifestyle magazine."
This, however, meant getting ads for the magazine, which was definitely a challenge because people had never advertised in Braille before. But Upasana had to give it a try. She wanted to make sure that the magazine was how her audience wanted it to be. "I sent almost 200 emails for advertisements, and out of that I got one reply which was from the marketing head of Raymond. That was how I got my first ad. We got a five page advertorial from them in the first issue of White Print," she remembers.
Upasana also learned the software used to convert text to Braille and familiarized herself with the other logistics necessary to run a magazine.
This is how White Print first started with sample copies, and a month after, she had 20 subscribers.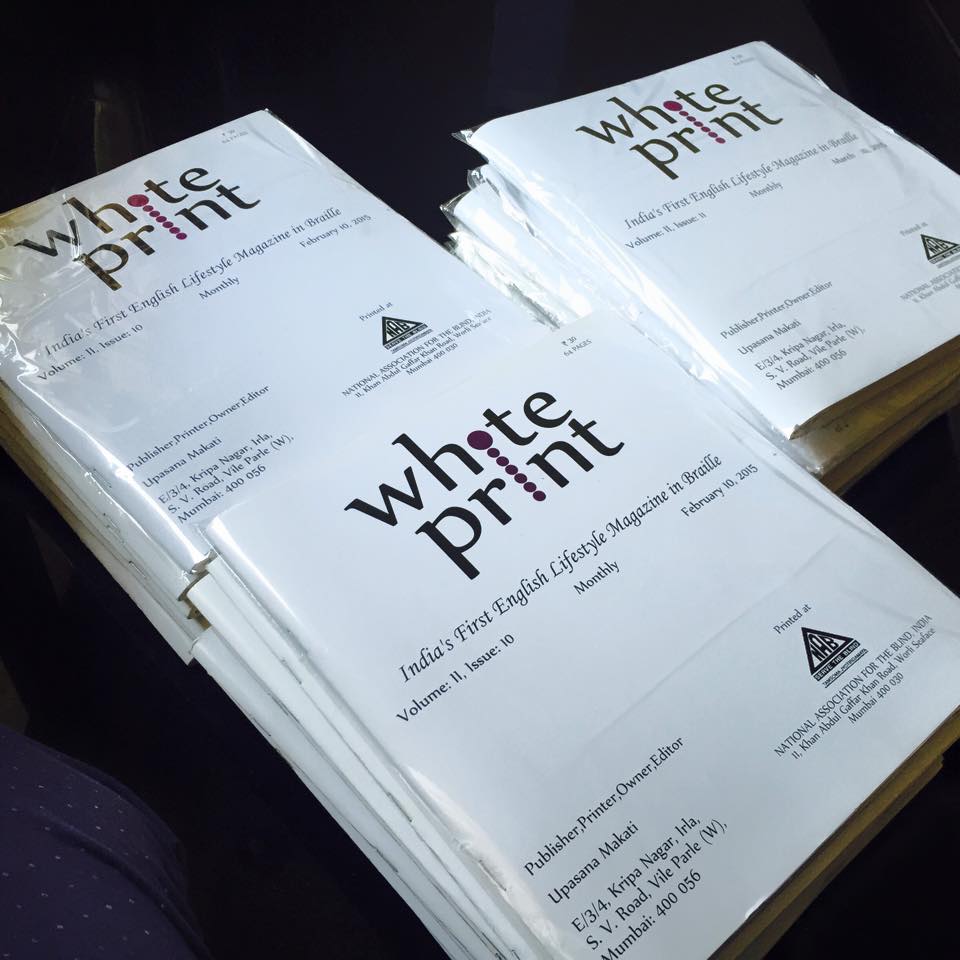 "Our readers started loving the magazine. I remember getting this call from a girl. When the first edition reached her house, she was so excited about getting a magazine in Braille with such amazing content. She called me at the end of the day and said – 'I just received the magazine in the morning, and I have already completed all the 64 pages. Can you send me the next one? It was really exciting for me. I could read it myself. I did not have to depend on anyone else to read it out to me.'"
Inspiring calls and messages like this from her readers motivated Upasana to keep going. "It made me think, that just a magazine means so much to some people. I had never imagined that something like this could happen. It also made me realize how much we take things for granted. We get the newspaper every morning, start our day, read it, keep it aside — we don't value it at all. But here was a bunch of people who were so eagerly waiting for their magazines to come in. And it was really encouraging."
On the corporate side of things, however, people were still hesitant to advertise with White Print. They felt this was not something mainstream and the returns were doubtful. But Upasana did not stop trying. She wrote to people like Ratan Tata (this got the magazine an advertisement from TATA) because she felt that visionaries like him would see some scope in her project and begin to contribute. Coca-Cola also designed an advertisement especially for White Print. "They made a sound clip and we installed it in every magazine. And it worked like a musical card. So, as soon as people would turn to the centre page, the song Umeedo Wali Dhoop would start playing. That received such an amazing response — it became a very popular edition among the readers."
While Upasana herself writes three columns every month, she has a group of freelancers from different parts of the country who contribute voluntarily.
She also wrote to Barkha Dutt, who liked the concept and contributes a political column. The magazine also got the rights to twelve of Sudha Murthy's short stories, which they have started publishing every month.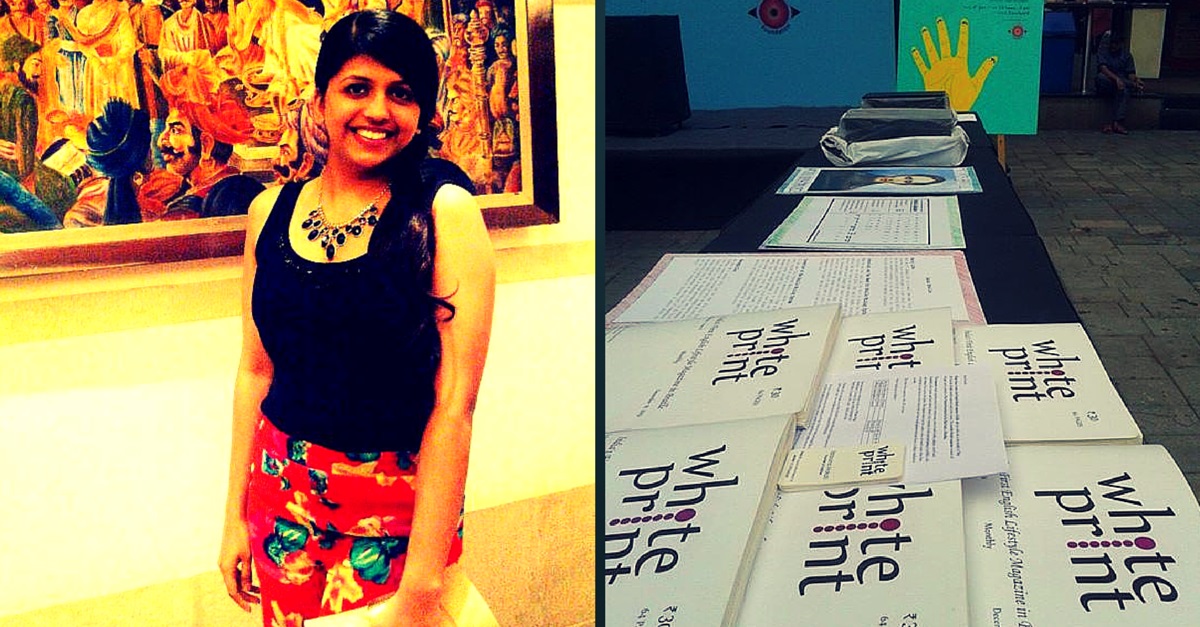 As of now, the magazine does not have a rigid structure (like different sections) but keeps changing based on feedback. For example, one reader told Upasana that everyone was talking about 100 years of cinema, so she did a column on cinema in the next edition.
"My oldest reader is 80. And she told me once, 'don't stop yourself from printing anything in the magazine. If we cannot see it in our lives, it will be at least something we see though the magazine.' That has stayed with me, always. So it is a little of everything in White Print."
Upasana is currently printing 300 copies every month. In the future, she wants to increase circulation to every corner of the country and also start a daily publication. If she gets a chance, Upasana says, she would love to publish in other languages as well.
To know more about White Print, you can visit the website here.
Like this story? Or have something to share? Write to us: contact@thebetterindia.com, or connect with us on Facebook and Twitter (@thebetterindia).
We at The Better India want to showcase everything that is working in this country. By using the power of constructive journalism, we want to change India – one story at a time. If you read us, like us and want this positive movement to grow, then do consider supporting us via the following buttons.
Please read these FAQs before contributing.