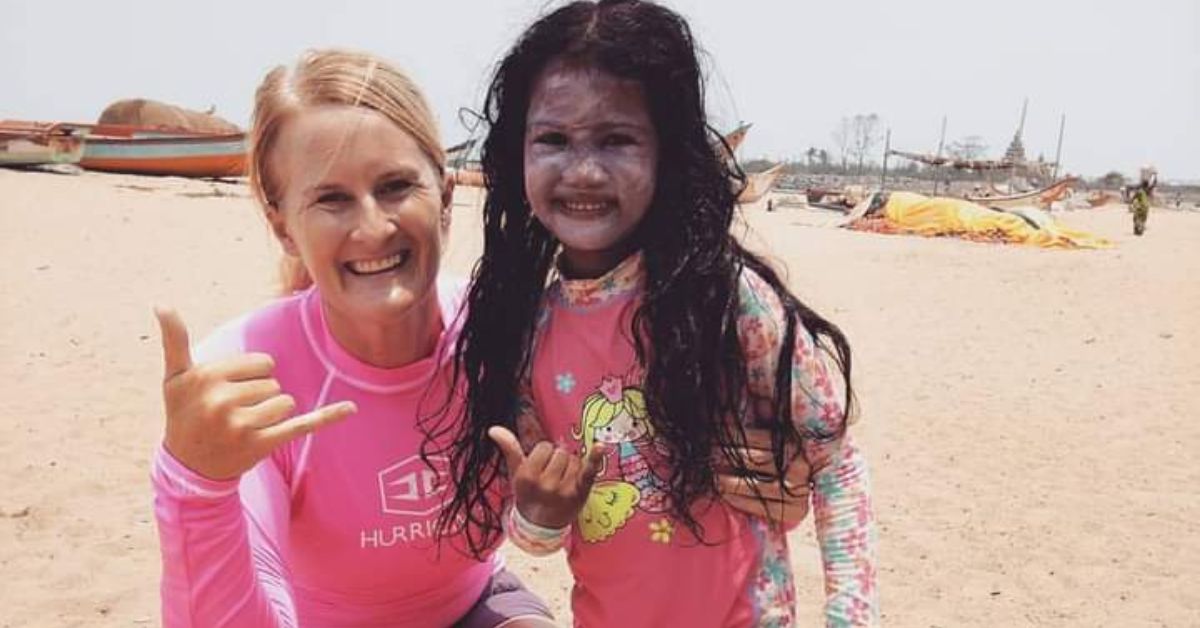 Áine Edwards, an Ireland-native who worked in Chennai for a decade, helped kids in Mahabalipuram become surfers and skateboarders of repute.
This article is part of #MakingSportWork, a series launched by The Better India and Sports and Society Accelerator. The series celebrates India's independence with stories of heroes who have spent years working to improve lives around them through sports. Stay tuned for inspiring tales of those who are #MakingSportWork.
The year was 2011, and Áine Edwards, a Chennai-based IT consultant, found herself again in Mahabalipuram on her weekend before she locked eyes with a three-year-old girl and thought she'd found an old friend. Much separated Kamali Moorthy and Edwards, age and background the least of it. What they immediately sensed was their shared love of surfing.
Edwards would spend much of her weekends surfing off the Mahabalipuram shoreline at the newly opened Mumu Surf School, interacting with the local surfers and the children. When Edwards saw Kamali for the first time, standing next to her mother in their new house, "She was so tiny," as Edwards, now 49, says. The pair connected immediately "like old soul friends who had found each other again."
Kamali was the only girl surfer in the community, and she helped draw Edwards deeper into her world. Originally from Ireland, Edwards spent more time in India over the next 10 years than in her home country, helping the surfing and skateboarding community with everything from getting equipment to handling the media while also running her consultancy. "I do what I do because I love it. It keeps me young at heart; therefore, I can balance my time between work, as this is my passion – to help young athletes as best as I can," she says.
The first time Edwards visited India was in 2003, when she spent six months volunteering at a school with 250 pupils in North Chennai. The project she was working on had three goals; two of them were to set up a computer lab and to fundraise for a school building and a bus. The third was to encourage sports, which doesn't always happen in Indian schools. Too often, sports are seen as a distraction from education rather than an enhancement of it.
But Edwards had trained as a swimmer in her teens and played competitive hockey, so she was well aware of the benefits of sports. "I was blessed to have had sport in my life," she says. "Team sports enabled me to build friendships with others and learn to compete with them also; to be an individual yet collaborate, which are brilliant foundational life skills to have."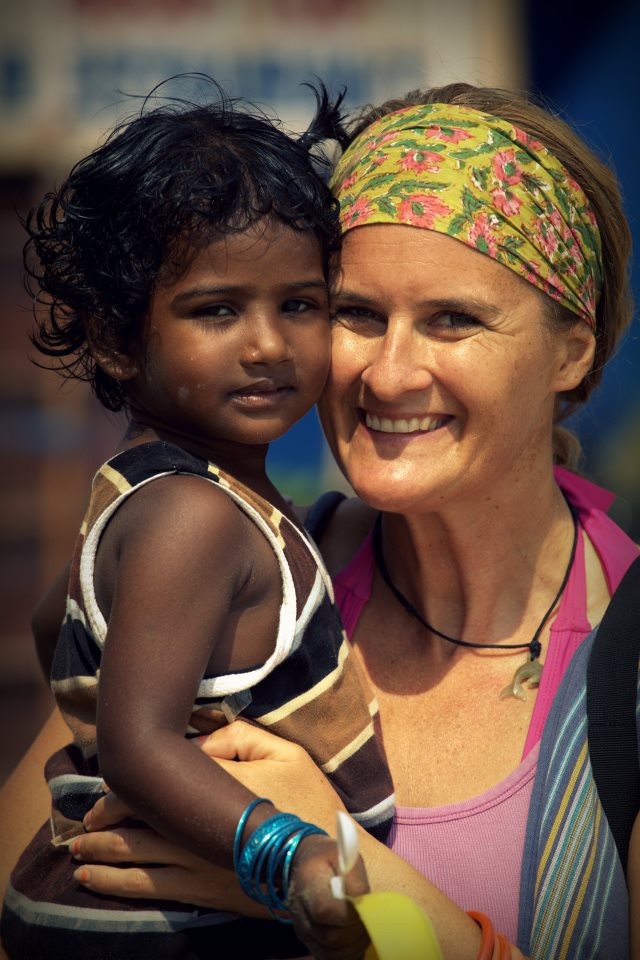 It was through Edwards that the soon-to-be-13-year-old Kamali gained international recognition. Edwards met Jamie Thomas, Founder of Zero Skateboards, when he was visiting India, and she introduced him to Kamali. Thomas was impressed with the then six-year-old and gave her one of his skateboards. He also taught her some new tricks and posted a photo of her on a skateboard in a white dress on his social media. Tony Hawk, the skateboarding legend, saw that post and shared it with his four million followers, adding, "This picture of a girl in India is my new favourite skate shot."
Kamali and her mother Suganthi were also the subjects of a BAFTA-nominated documentary titled 'Kamali' by Sasha Rainbow. The film won at the Mumbai International Short Film Festival 2018 as well.
Kamali is now focused on winning this year's national surfing competition. "I feel ready this year 'cause I've been practising a lot," she says.
About Edwards, Kamali says, "We are great friends and have a lot of fun together in all that we do. [Edwards] takes lots of videos and does my Instagram so people around the world can follow me. I won some video surfing competitions in Australia called BlastOff. We [also] travel together. My family trusts Edwards to take me travelling, and even now, we're planning a trip to the Maldives."
In 2020 Edwards was supposed to return to Ireland, but the COVID pandemic kept her in India. She took stock of her situation and decided to take a break from work and dedicate herself entirely to the surfing and skateboarding community.
"During the pandemic, we explored their needs and goals. Since there is no club, NGO, or infrastructure, I had to get involved. I'm proud of all we achieved together," she says.
Among those achievements are four national skateboarding participants and one silver medal for Kamali, but just as importantly, three athletes have earned sports scholarships to Hindustan University in Chennai, which will allow them to continue their education while also competing on the national stage. Edwards believes that this step "changes everything…it causes positive disruption in belief systems within the community and is history in the making".
Similarly, she believes that Kamali's "most important role will not be as a medal winner, but as an inspirational figure and mentor for girls".
It isn't possible for every single athlete to win a medal. But by developing and nurturing a sporting culture, Edwards has shown the local community how sports can benefit their children and help them expand their lives beyond what they had previously thought was possible.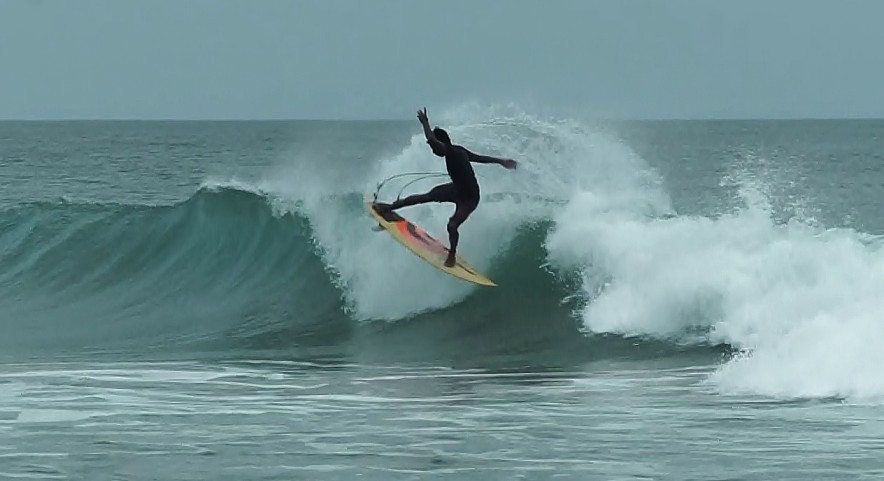 Today Edwards is back in Ireland but still extends support to the community over WhatsApp. "We are in touch every week by WhatsApp, video calls, messages, sharing photos," she says. She has been helping the athletes remotely with applying for University and Surfing scholarships and connected them with Spider Murphy, a shaper in South Africa, who will make custom surfboards for them. She is also in the process of collecting nine high-performance surfboards from her network of top surfers and friends in Europe to send back to Mahabalipuram. "I've proved that we can manage remotely. This is also learning for the future."
Nitish Varun, a 20-year-old from a fishing community, started surfing with a broken fridge door before Mukesh, the owner of Mumu Surf School, gave him a proper surfboard. More recently, he received a high-performance surfboard thanks to Edwards, who he says has changed the lives of many surfers in Mahabalipuram. "Some surfers had quit surfing because they couldn't get boards, but they are all surfing again after Edwards helped them get surfboards," he says.
Edwards also takes videos of the surfers so they can see their mistakes and correct them. Thanks to her support and encouragement, everyone in Varun's village supports surfing too. "They are also conducting local surfing competitions," he says.
It isn't all progress, though. In a heart-breaking demonstration of the community's challenges, the small skatepark by which Edwards used to sit and the film was dug up in July to make space for a beachside parking lot. "I felt this was the end of an era," Edwards says. If there is a silver lining to this development, it is that the athletes have already approached the village leaders about a replacement. "This is the time for them to take the lead and ensure a similar future is given to the next generation," Edwards says.
As with most sporting endeavours in India, sponsorships and funding are the main hurdle for the community. Edwards ran her first crowdfunding campaign to take the athletes to the Nationals. She's also received donations from people who have seen the community's social media posts and reached out independently. "It's been very organic and on a need-to-have basis. We are crossing each hurdle as it comes," Edwards says.
That's not to say Edwards doesn't have bigger goals. She plans to take a team to an international surfing competition down the road. According to Varun, being able to compete in other Asian countries such as Sri Lanka and Maldives "would help widen our perspective in so many ways".
But perhaps the dream closest to Edwards' heart is to take a team to Ireland to visit "the beautiful country" she calls home and establish a link between an Irish surfing town and Mahabalipuram, where both sides can learn about each others' cultures through surfing and skateboarding.
If you would like to, you can keep up with the surfers and skaters through @mahabssurfnskate and @Goodonyaae on Instagram.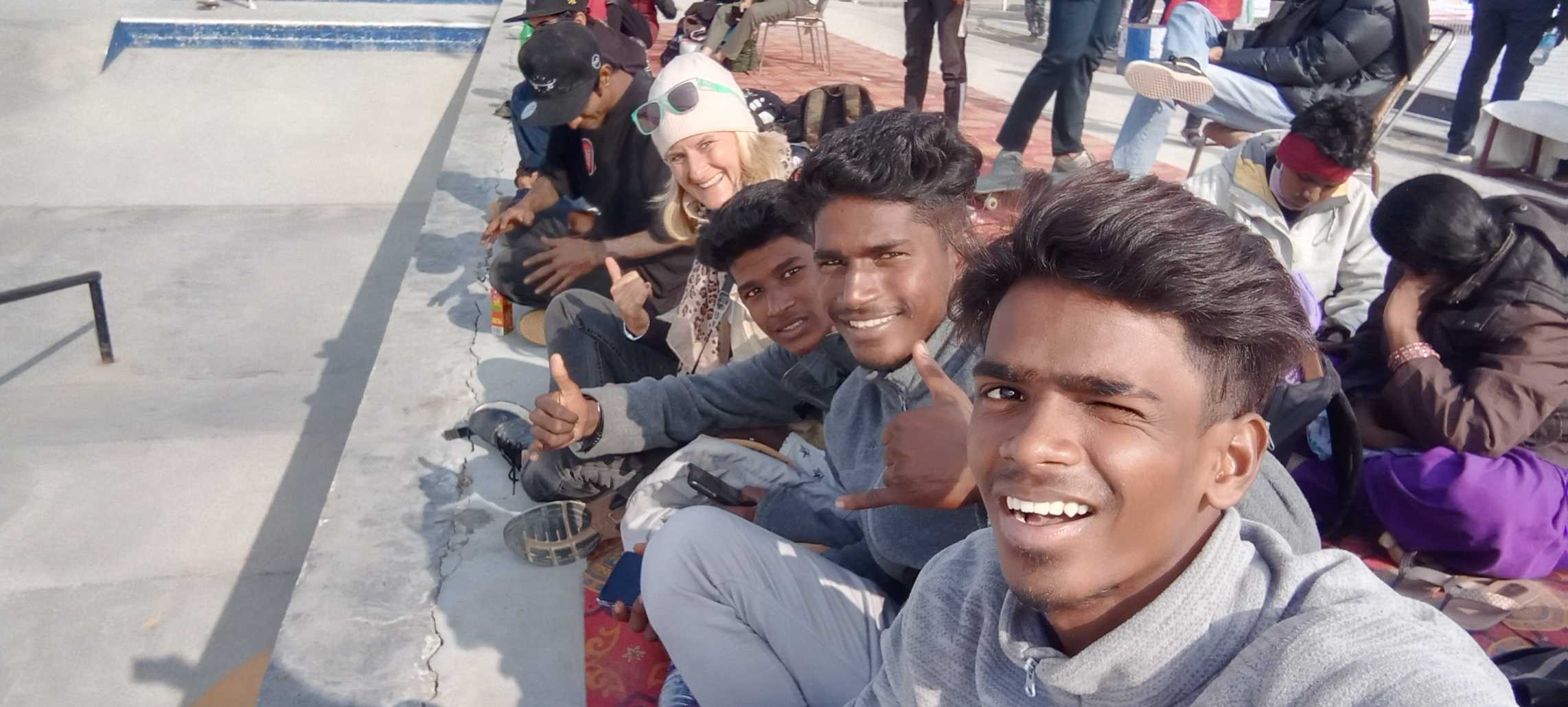 Written by Team Billion Plus; Edited by Yoshita Rao
We bring stories straight from the heart of India, to inspire millions and create a wave of impact. Our positive movement is growing bigger everyday, and we would love for you to join it.
Please contribute whatever you can, every little penny helps our team in bringing you more stories that support dreams and spread hope.